Progression of Art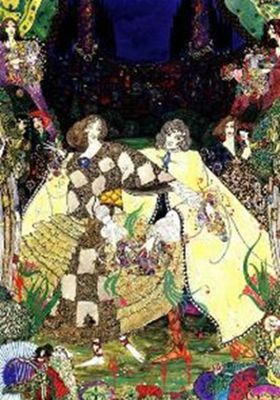 1916
The Garden of Paradise
Following his prize-winning success at the Dublin Metropolitan School of Art, Clarke was given his first significant book commission by the successful publisher, George Harrap of London. He was to produce 40 full page illustrations, 16 in color, and additional decorative embellishments for both special (some signed and bound in vellum with others boxed and bound in leather or cloth) and trade editions of Andersen's popular fables. The Christie's auction site records that Clarke (who was paid 200 guineas in instalments for the commission) worked "very hard to a scrupulously recorded timetabled routine in London, Dublin and in France [and] completed the job in April 1915. The book was published to acclaim in the autumn of 1916 and ran into a number of subsequent editions, some published by Harraps, others pirated". Christies also records that many of Clarke's original prints were exhibited (and sold) at Brentano's bookstore, Harrap's publishing partner, in New York and that this was "just as well as whatever original artwork by Clarke that had remained in Harraps' London premises was destroyed in the Blitz" (and thus making original coloured illustrations for Clarke's Hans Andersen collection "extremely rare").

Clarke's illustrations for the Fairy Tales of Hans Christian Andersen point towards his career-long penchant for a richly coloured palate and a love of ornamental detail. "The Garden of Paradise" illustrates the tale of a Prince who is lured into the Garden where he encounters a dancing fairy. She is flanked by "the most beautiful maidens, floating and slender, clad in gauzy mist". Clarke decorates the clothing of the figures with exquisite attention to detail; the mosaic, "Klimt-like", patterns coloured in rich reds, blues and dapples of gold helping to distinguish the female figures. The fairy herself is rendered with the whitened complexion and elaborate redhaired coiffure made popular by the Elizabethan miniature, while in the background, an indigo dark night's sky can be made out. If the Prince, who is distinguished by his plain creamy-yellow gown, ignores the fairy's warning not to kiss her he will cause all to vanish into its looming abyss.

Clarke produced many illustrations throughout his short career including single pieces for magazines, and even two rare promotional publications for the Irish whiskey distiller, Jameson. He is also known to have suggested potential future projects to Harrap including Dr Jekyll and Mr Hyde, Huysmans's À rebours, and Bram Stoker's Dracula.
Illustrated book, 16 colour plates and over 24 halftone illustrations - Harrap and Company, London
1916
Saint Gobnait
Between 1915 and 1918 Clarke created nine windows for the Honan Chapel of St. Finbarr, at University College Cork.. Some of those windows produced before 1917 went on show in Clarke's studio where they received rave notices. The Irish Times reported for instance that "the windows, in the opinion of some of the most competent critics, rival in beauty some of most remarkable products of Continental art", while Irish novelist Edith Somerville found them pleasantly shocking within the conservative atmosphere of Ireland at the time: "In a chapel dedicated to the Infernal Deities they should be exactly right, gorgeous and sinful".

The Art critic Tom Walker writes that "The cultural energy and idealism at large in pre-revolutionary Ireland lay behind Clarke's first major commission [for the Honan Chapel]". He cites Ann Wilson's essay on the chapel that "reframes these windows as diverging from Irish Catholicism's earlier 19th-century devotional revolution, which had sought to bring the Irish church into line with Vatican-approved norms [and that the] fantastical incorporation into Clarke's depictions of early Irish saints with their associated cults and miracle stories stands at odds with all this".

The legend of Saint Gobnait involves a fable that tells how she unleashed a swarm of giant bees on a group of unsuspecting robbers. Walker wrote: "giant bees and tiny figures of frightened robbers peering out anxiously behind the blue-robed saint, whose pointed, impassive profile, unnaturally long slim hands and geometrically stylised body give her an otherworldly, non-human appearance". Walker concludes that "For a brief period, such a vision precariously coalesced with Catholic as well as nationalist Ireland", but for Clarke, "[yet] more grotesque and degenerate images [will] start to crop up in the 1920s".
Stained glass - Honan Chapel, of St. Finbarr, University College Cork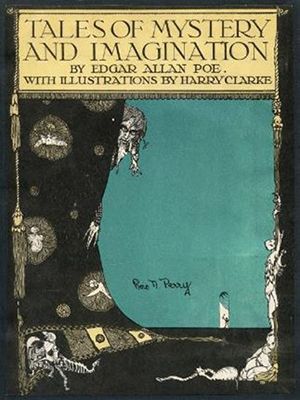 1923
The Colloquy of Monos and Una (Edgar Allen Poe's Tales of Mystery and Imagination)
While Clarke gained fame in Ireland for his stained glass, it was his illustrations that first brought him international recognition, particularly in the United States. Of the six volumes he illustrated between 1915 and 1931, Poe's Tales of Mystery and Imagination was the most widely disseminated. The book, first published by George G. Harrap in 1919, contained 8 full-colour plates and 24 black and white illustrations. It was reissued in 1923 with this more ominous cover/dustjacket. Poe's macabre exploration of the human psyche was certainly darker than Clarke's previous illustrations for Hans Andersen's fairy tales (and of course, darker than his various religious commissions).

On the cover for the second edition, a bearded and rugged figure pulls back a stage curtain with his skeletal hand, welcoming the reader to the world of Poe's (and Clarke's) fetid imagination. The stage is empty but for a small door through which a figure can be seen raising a mitre. The image evokes a sense of horror, which is echoed in its symbolist border. It is composed of decaying carcases, larval growths and distorted figures. In his review of Clark's illustrations, his friend and director of Ireland's National Gallery Thomas Bodkin wrote "Mr. Clarke gives full rein to his talent for the macabre, the fantastic and the terrible ... it is safe to predict that no one will ever produce more striking effects in black and white". The critic George Russell thought of Clarke as the ideal interpreter of Poe, and remarked on the closeness of their nature. Indeed, Clarke's capacity for darker work was well known at this stage and would be even more fully realized two years later on his illustrations for Goethe's Faust.
Illustrated book, 8 full-colour plates and 24 black and white illustrations
1920-23
The Crucifixion and the Adoration of the Cross by Irish Saints (The Terenure Windows)
In what was a major commission, Clarke created three stained glass windows for St Joseph's Catholic Church in Terenure, on the outskirts of Dublin City: The Crucifixion and the Adoration of the Cross by Irish Saints (1920), The Annunciation (1922) and The Coronation of the Virgin in Glory (1923). The windows exemplify Clarke's innovative techniques for which he was becoming increasingly well-known by the early 1920s. The Crucifixion and the Adoration of the Cross by Irish Saints was consecrated on May 23, 1920 and is positioned above the altar.

The top panels of the first light depict six golden-haired angels seen praying in profile. The top panels of the central light show five angels attired in gowns of gold and white, with elaborate wings of blue and red while the Holy Spirit, here represented by a dove, sits at the centre of the group. In the main panels, Jesus is shown on the cross, with dividing black lines representing scars, with the lower panel of the central light showing Mary, Saint John and Mary Magdalene at the foot of the cross. The top panels of the third light depict six angels dressed in robes of white, blue, green, gold and red. The main and lower panels feature ten Irish saints who kneel in their adoration of Christ. Saint Brigid of Kildare kneels in the foreground in blue robes while she is mirrored by Saint Patrick, who is bedecked in traditional green robes, at the front left panel.

As part of his preparation for the Crucifixion, Clarke turned to photography, recording in his work diary that he spent a day "mucking about and taking photos". Clarke posed semi-naked for his brother Walter as Christ (complete with loin cloth and tied hands) with his own emaciated and gaunt frame matching that of Christ's. The photographs were, in effect, his own self-portraits. Commenting on the "crucifixion" photographs, art critic Philip Hoare suggests that, like Christ, the artist's own body would be ravaged, but in his case "by tuberculosis and the toxic chemicals he used in his art". For Hoare, these "astonishing photographs [...] evoke the terrible vacuum of a Francis Bacon canvas" while adding that it was "as if his body were echoing the psychic [Irish] trauma of famine, revolution and war - as well as auguring the wasting disease [tuberculosis] that would kill him".
Stained Glass Panels - St Joseph's Catholic Church, Terenure, Dublin
1923-1924
The Eve of Saint Agnes (detail)
This is a stained glass window made up of twenty-two small panels and divided into two lights. It was commissioned by the prestigious Jacob's Biscuits family in Dublin and is based on Irish writer John Keats's poem of the same name. In it, Madeline is in love with the forbidden Porphyro, an enemy of her family. According to legend, if she sleeps early on St Agnes's Eve (20 January), and carries out certain rituals, her love will come to her.

The window is testament to Clarke's love for fantastical themes in folklore and literature. Typically, he illustrates the scenes with intricate detail. In Section 2, Panel 3, the so-called "merry revellers" dance to an orchestra. Their headdresses, elaborate sleeves and shimmering sequins illustrate the blues, purples, rose, gold and red referenced throughout Keats's poem. Such was the attention to detail, some scenes are presented as if they were a room in a doll's house. Madeleine sleeps in her bedchamber as moonlight from her own stained-glass window falls across her creating a sort of trompe-l'oeil effect. The room is elaborately furnished. A dainty chair is placed beside the bed. It is draped in a richly decorated blue and silver quilt, complete with hanging tassels. The ornately carved base of the purple bed and its black and gold mattress, just visible beneath Madeline, create a sense of luxury, comfort and romance. The picture detail is further enhanced through the miniature perfume bottles and a casket of jewellery that sit on Madeline's inlaid cabinet (which was based on an actual design by Dublin furniture maker James Hick's). It is testament to Clarke's great skill that he is able to convey the texture of exotic wood through the medium of glass.

Clarke enjoyed using irony in his work. In the frieze of section 5, panel 11, a sinister character holds a dagger (presumably Madeleine's father). To the right of the panel, Porphyro plays a lute. He is oblivious to the characters in pursuit of him. Not for the first time, Clarke presents himself in the work, here he occupies the top left border, staring out to the viewer. These methods bring Clarke's works to life as if he wanted to recreate the spectacle of his beloved theater through the medium of glass.
Stained Glass Panel - The Hugh Lane Gallery, Dublin
1925
Methinks a million fools in a choir/Are raving and never will tire
Darkest of all of Clarke's illustrations were those for Goethe's Faust. Clarke believed these illustrations to be his best, "full of stench and steaming horrors", while admitting, "I had to laugh at my creations or I would have become morbid". The darkest of these illustrations are hidden in the tail pieces and small designs. Just like his depraved figures who lurk in the borders of his stained glass windows, horrific depictions of faces gnawed by rats, and skewered bodies on a sword, hide as small details in his Faust illustrations.

Many self-portraits are evident in these illustrations. In one instance, Clarke appears as Faust when attempting to free Margaret from her dungeon, in another he even travels with Mephistopheles on horseback. Some caricature-like portraits offer a break from the heaviness of Faust's macabre imagery. A recurring self-portrait is the image of Clarke's eye which is placed in several borders to create a sense of surveillance throughout the book. The decorative motifs surrounding the eye are evocative of the Art Nouveau style. An earlier artist who illustrated Faust in this style was Mikhail Vrubel (1856-1910). Comparing the two artists' work, it is clear that Clarke was influenced by Vrubel who used a very similar colour palette and had the same love for decorative art, rich in detail and fantastical themes.

In Clarke's illustration of the witch's kitchen scene the newly young protagonist "stands beneath a canopy of slimy sexually suggestive larval growths sprouting eyes, tentacles and rodent-faces". Critic Tom Walker suggests that "such images of disease and decay" can be linked directly to Clarke's "own doomed struggle with tuberculosis" while elsewhere "in the volume, this darkening shift in sensibility [can be] also traced against the backdrop of the aftermath of the First World War and of conflict in Ireland".
Illustrated book featuring 8 color plates, 13 black and white full page drawings plus partial page drawings - Harrap and Company, London
1926-31
Mr. Gilhooley/Deirdre (Panel 6) The Geneva Window
Nicola Gordon Bowe, Associate Fellow in the Faculty of Visual Culture at Dublin's National College of Art and Design, writes that in November 1926, Clarke, who had already got wind of the project, received the green light from Ireland's Department of Industry and Commerce to prepare a draft scheme for a stained glass window to be the new Irish Free State's proposed gift to the International League of Nations (ILO) in Geneva. Clarke was, as Rowe points out, "at the peak of his career". Having already surveyed the building earlier that year, Clarke submitted a formal report to the Government on the practicalities and costs for the project. Rowe writes, "As for subject, his recommendation was 'not necessarily' to 'do with labour, but preferably something from the work of a modern Irish writer'". The eight stained glass panels would feature vignettes and citations from fifteen (afore mentioned) twentieth century Irish writers with the intention of adorning the ILO's main staircase.

Sadly, Clarke's Celtic Revivalist vision of modern Ireland, which featured nudity, poverty, prostitution, drinking and dancing, caused great consternation amongst state officials and the Catholic church. For instance, his reference to Sean O'Casey's Juno and the Paycock "celebrated" the life of an alcoholic ex-mariner who struggles to support his family who live in a tenement during the Irish Civil War. The issue of religion was also a cause for disquiet. The Irish population was predominantly Roman Catholic but Clarke's window was dominated by protestant authors. It was this observation that President W. T. Cosgrave was broadly alluding to when he wrote to Clarke suggesting that "the inclusion of scenes from certain authors as representative of Irish literature and culture would give grave offense to many of our people". One such figure was James Joyce whose Ulysses had been banned in several countries for its explicit content, and though Clarke tried to avoid controversy by representing one of his poems (rather than Ulysses), Joyce had long since secured his reputation as a "debauched" lapsed-Catholic who was passionately anticlerical.

It was, perhaps the scenes of nudity and allusions to sexual liaisons, however, that threatened to do most to besmirch the vision of a newly independent Irish state. In this respect, the panel featuring Liam O'Flaherty's (another banned author), Mr. Gilhooley that was the cause of greatest consternation. A stout middle-aged man sits smoking a cigar with a wine goblet in his left hand. He is being entertained by a nude dancer. With her alabaster complexion and dandelion yellow hair, she is swathed in a diaphanous gown of shimmering color and forming the very image of seduction. The promise of sexual pleasure was only reinforced by Clarke who added a quote from O'Flaherty's book: "She came towards him dancing, moving the folds of the veil so that they unfolded slowly as she danced". Commenting on the reclining semi-nude figure from George (AE) Russell's, Deirdre, in the near foreground, meanwhile, Philip Hoare described a "languid female with a blond helmet bob stretches out her pallid body, veiled in diaphanous crimson. Her dead-eyed look would easily find a place in a contemporary avant-garde fashion spread".
Stained Glass Window - Wolfsonian-FIU, Miami Beach
Related Artists
Related Movements & Topics