Artists
Giuseppe Arcimboldo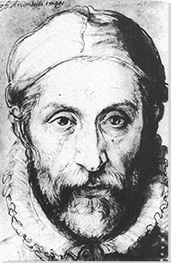 Giuseppe Arcimboldo
Italian Painter
Movement: Mannerism
Born: c.1527 - Milan
Died: July 11, 1593 - Milan

"Arcimboldo was recognised as an ingenious talent in his age, but he is much more famous in ours."
Art critic Jonathan Jones
Synopsis
Arcimboldo was an Italian Mannerist painter known for his extraordinary, and sometimes monstrous, human portraits. His unique collage style, which embodies a true surreal wit, is comprised of fruit and vegetables, animals, books, and other objects. Though he was viewed as an eccentric (or, at worst, insane), and though his most famous works were sometimes dismissed as little more than curiosities, Arcimboldo's paintings were in fact complex compositions, rich in both paradox and allegory. It is thought that the subtleties in his paintings might have been lost on the general public but the Habsburg emperors (for whom he worked for more than 25 years) were so pleased with Arcimboldo's work that Rudolph II made him a Count Palatine in 1592, after he had returned to Milan. His paintings have been cited as precursors to Surrealism and were highly prized by Salvador Dalí and other members of the movement.
Key Ideas
As the most radical and extravagant exponent of the Mannerist style, Arcimboldo's artwork is remarkable for the way he pushed the theme of the parallel between mankind and the natural world to new limits. His portraits, made of composite flora and/or fauna arrangements, have been at the same time likened to symbolic picture puzzles.
Arcimboldo honed his talent for playing tricks on the eye through his fantastical - such as a three-headed dragon costume to be fitted to a horse - and allegoric - drawing on such themes as "grammar," "geometry," "astrology," "music" and "rhetoric" - pageant outfit designs.
The idea of the reversible image - known subsequently as the "Arcimboldo palindrome" - saw the same image take on a different meaning once it is reversed (a regular palindrome is a word that reads the same frontally and in reverse). Seen from one angle we have a still life; when rotated 180 degrees we discover a typical Arcimboldo composite head. The fashion for picture puzzles notwithstanding, the "Arcimboldo palindrome" represented something more like a pictorial metamorphosis and can be read thus as the artistic equivalent of "elite magic" as advocated by his court colleagues, the alchemists.
Historians have speculated over possible precursors (such as the ceramicist Francesco Urbini) to Arcimboldo's unique style of so-called teste composte ("composite head") painting. What one sees so unambiguously in Arcimboldo's unique compositional cornucopias, however, is his strong leaning towards the more imaginative and fanciful elements of the Mannerist style. Though his portraits were truly idiosyncratic (and therefore not to everyone's tastes) the progressive Habsburgs delighted in inventive artistic interpretations and it was well known that the Imperial Court was welcoming of intellectuals and avant-gardists.
Though he remained true to his signature teste composte technique, portraits in his later period could be executed with the skill of a miniaturist possessed with the scientific knowledge of a botanist. His mature portraits were less indebted to collage offering more in terms of an exquisite accuracy in the merged detail of their flora.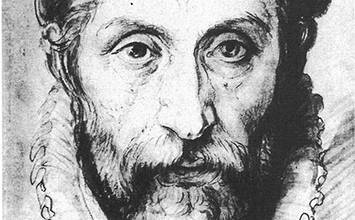 The lineage of the Arcimboldo family was documented by his friend, the Milanese art critic and travelogue author, Paolo Morigia. From his account, we know that Giuseppe Arcimboldo came from a noble background. His great uncle had held the position of Archbishop of Milan and, as a result of his influence, the young Giuseppe would likely have been introduced to artists, scholars and writers from a young age. His father, Biagio Arcimboldo was himself a lesser known painter (fabbrica) who worked in the Duomo (cathedral) in Milan. Although precise details of his upbringing remain scarce, it is reasonable to suggest that, through his father's influence, Giuseppe would have been introduced to painting as a young boy and that he developed his skill and talent from an early age.
| | | |
| --- | --- | --- |
| Giuseppe Arcimboldo's childhood, life, career, and various anecdotes | | Read Giuseppe Arcimboldo's Biography |
Influences and Connections
Influences on Artist
Artists, Friends, Movements
Influenced by Artist
Artists, Friends, Movements

Interactive chart with Giuseppe Arcimboldo's main influences, and the people and ideas that the artist influenced in turn.
View Influences Chart

Artists

| | |
| --- | --- |
| | Hieronymus Bosch |
| | Pieter Bruegel the Elder |
| | Cranach |
| | Hans Baldung-Grien |
| | Altdorfer |

Personal Contacts

Movements

| | |
| --- | --- |
| | Mannerism |

Influences on Artist

Giuseppe Arcimboldo
Years Worked: c.1538 - 1592
Influenced by Artist

Artists

| | |
| --- | --- |
| | Octavio Ocampo |
| | Sandro del Prete |
| | Philip Haas |
| | Salvador Dalí |
| | Pablo Picasso |

Personal Contacts

Movements

| | |
| --- | --- |
| | Mannerism |
| | Surrealism |
If you see an error or typo, please:
tell us
Cite this page

Content compiled and written by Dawn Kanter
Edited and published by The Art Story Contributors
" Artist Overview and Analysis". [Internet]. . TheArtStory.org
Content compiled and written by Dawn Kanter
Edited and published by The Art Story Contributors
Available from:
[Accessed ]