Tangible piece of luminous matter, they confront us with a reconstruction rather than a mere representation of the visible world.
Jan van Eyck is considered the greatest painter of our times, cultivated as well in letters but chiefly in geometry and the disciplines that have to do with painting..." Bartolomeo Facio:
The Adoration of the Lamb ... contains a great number of figures in a hard manner, but there is great character of truth and nature in the heads; and the landscape is well-colored...the art here is in its infancy; but still having the appearance of a faithful representation of individual nature, it does not fail to please...
A painting by Jan van Eyck is as perfect in itself as a cut crystal resplendent with deep colors. No movement, no suffering, but rather the happy unfolding of an existence. By this quality he ennobled all that he touched. A fruit upon a windowsill becomes like a jewel, a bronze planter or a chandelier are transformed into precious objects. Especially in his interior, nothing looks common.
Biography of Jan van Eyck
Childhood and Education
Jan van Eyck was born in the small town of Maaseyck, then known as Eyck, near a bend of the river Maas about 14 miles from Maastricht, the provincial capital of modern-day Limburg. The history of the region can be traced back to the Roman Empire era, and later grew into a religious center during the early medieval period. Notably, the nearby district of Aldeneik traces its history back to the early eighth century, with the founding of the Aldeneik Abbey by two sisters from a noble landowning family who had been educated at a Benedictine Abbey in Valenciennes.
Few details are known of van Eyck's childhood, including the artist's exact year of birth, which most scholars date between the years 1385 and 1395. He is commonly believed to be the younger brother of Hubert (also: Huybrecht), with additional siblings Lambert (or Lambrecht) and Margaret, all of whom are identified as painters. Hubert is theorized to have taken charge of Jan's artistic education and made him his younger "disciple" at his home in Ghent. Because little was written of Hubert during his life, he died in 1426 before the completion of the Ghent Altarpiece, his role as an artist and relationship with Jan remains a point of contention among historians. The younger brother, Lambert, is mentioned in later court documents and believed by some to have taken charge of Jan van Eyck's workshop after the death of his brother.
Early Period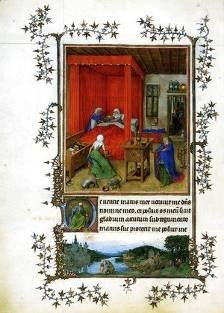 Although van Eyck is considered among the greatest masters of European art history, continued debate around the biography of the artist and even the authorship of some of his works abounds. The few works attributed as van Eyck's earliest paintings are among those works in contention. The best-known examples are the miniatures in the Turin-Milan Book of Hours, an illuminated manuscript with an astonishing history of its own. The book was commissioned c. 1380, soon thereafter the most famous section of the book, Tres Belles Heures de Nortre Dame painted by Jean d'Orléans, Maelwael brothers, and Limbourg Brothers was produced under the commission of Jean, duc du Berry, whom Friedländer describes as "a passionate bibliophile." The book came into the possession of John of Bavaria, aka "John III the Pitiless, Count of Holland and Hainaut," in the early 1420s around the same time Jan van Eyck came into his service, leading scholars to believe that a selection of illuminations created by an anonymous artist, known simply as "Hand G," were created by the hand of Jan van Eyck. In addition, "Hand H" is theorized to demonstrate the work of Hubert van Eyck. The book later came into the possession of Philip the Good, leading to further speculation of the artist's involvement. Lacking specific documentation, and with the added misfortune of a fire in 1904 that destroyed much of the prayer book in question, leaves these attributions far from certain.
The early 1420s did, however, prove a pivotal time for both Hubert and Jan van Eyck, as the former received the commission for what would become the Ghent Altarpiece in 1420 and the latter, earned the rank of court painter to John of Bavaria. Two of the four surviving documents naming Hubert relate to the altarpiece itself. Jan's court position is first documented with payments dating to 1424, though the position presumably began earlier. With a formal painting studio and hired assistants to assist and copy his paintings, as was the custom of the time period, van Eyck's reputation began to spread throughout Europe. His innovative technique of layering thin glazes of oil paint brought an astonishing realism to viewers of the time. Nearly a century later, the 16th century painter, architect, writer and historian Giorgio Vasari went so far as to credit the artist with the invention of the medium, writing: "It was a very beautiful invention and a great convenience to the art of painting, the discovery of oil coloring." This legendary history ascribed to the artist was widely believed until the early 19th century. In his own time, Jan van Eyck was internationally recognized for the exquisite details in both his religious paintings and secular portraiture; he was entrusted with painting the portraits of some of Europe's most influential people during his career.
Mature Period
After John of Bavaria's death in January of 1425, Philip the Good, Duke of Burgundy, incorporated Holland under his rule, as well as many of the former duke's possessions and court appointees. Friedländer notes, "As soon as possible after the death of his Dutch-Bavarian cousin, the duke appointed the painter to his own court, taking pride in the fact that the master, whom he honored and esteemed so highly, was at least formally, a member of his entourage." Court records document that Jan van Eyck was appointed both court painter and valet de chambre on May 19, 1425, and was compensated for the expenses of a journey from Bruges to Lille in August of that year. In addition to his duties as court painter, the position of valet was a title of distinction that gave him official standing in the court, an unusually high status to an artist in the early 15th century. His emergence as a collectable painter generally followed this appointment, and from this point on his activity in the court is comparatively well documented.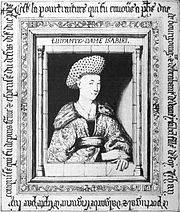 With his exceptionally well-paid court employment and social standing, van Eyck maintained independence from the painters' guild of Bruges while also maintaining his own commissions beyond his court duties. In 1427, the artist traveled to Tournai to attend a banquet on the feast of St. Lucas, with other leading artists Robert Campin and Rogier van der Weyden in attendance. Some write that he was named a senior member of the guild at this time. Van Eyck visits again the following year, though the reason is not known. Philip the Good also sent Jan on missions of extreme trust, described in records as "certain distant and secret journeys," possibly including a pilgrimage for Philip into the Holy Land, and extensive travels to Italy, where he met Florentine artists, Masaccio in particular, to England, and perhaps to Prague between 1427 and 1436. His strong visual memory allowed him to recall many people and historic scenes that were forever useful in his paintings. Better-known is the well-documented diplomatic voyage to Lisbon in 1428, where he painted two portraits of Princess Isabella of Portugal who was to be Philip's third wife. The paintings were sent back to the duke separately, one by land and the other by sea. Unfortunately, although both betrothal portraits were received by Philip, they are now lost and only copies remain.
The trust placed in van Eyck on these travels representing the duke suggests the closeness and even admiration Philip held for the artist. Although not formally educated, van Eyck could read and write, demonstrating his knowledge of Latin, Greek and Hebrew through inscriptions on his paintings and their distinctive frames. A well-known incident transcribed in Wolfgang Stechow's Northern Renaissance Art: Sources and Documents highlights the respect Philip held for the artist. When the exchequer withheld payment from the artist, the duke rebuked this decision, writing: "We have heard that you do not readily verify certain of our letters granting life pension to our well-beloved equerry painter, Jan van Eyck, whereby he cannot be paid said pension; and for this reason, he will find it necessary to leave our service, which would cause us great displeasure, for we would retain him for certain great works with which we intend henceforth to occupy him and we would not find his like more to our taste, one so excellent in his art and science." Subsequently, van Eyck received his annual payments without fail.
An unusual, and perhaps less documented, achievement of van Eyck is pointed out by author and lecturer of science and humanities, Scott L. Montgomery who credits van Eyck with creating the earliest known naturalistic representations of the moon in Western art, predating the drawings of the same subject by Leonardo da Vinci by 85 years. He credits this achievement to "the Flemish artist Jan van Eyck, possibly in partial collaboration with his brother, Hubert" as occurring between 1420 and 1437. "These images, which portray the Moon in daytime, appear in the following paintings: the Crucifixion (1420-25), St. Barbara (1437) and the Knights of Christ panel of the renowned Ghent Altarpiece (1426-1432)." He contrasts this with the allegorical rendering usually given to celestial objects, or "personification of a religious of mythic figure," by concluding, "Such realism is undeniably the result of careful, direct study of individual objects in the natural environment."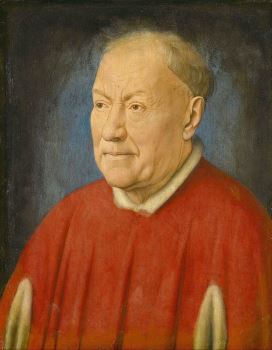 Art historian Jelte Dijkstra who wrote on the technical aspects of the early Netherlandish artists singled out the artist from his peers, writing: "Jan van Eyck seems to be exceptional: if any of the early Netherlandish painters could be said to have produced 'authentic' works, it is this artist. Eight signed and dated paintings survive, not including the Ghent Altarpiece with its contended inscription." The technical analysis continues a multi-century probe into the exquisite surfaces of Netherlandish painting, most notably van Eyck and Rogier van der Weyden. The search has sought both to understand the type of oil and other pigment binders used by the artist and a secure level of connoisseurship to accurately determine authorship. Describing the initial results of these tests, Dijkstra continues, "The technical data on the panels published so far create a very consistent impression of the style of under drawing, the working method, and the application of the paint. This consistency and the small size of the majority of these panels suggest the Jan van Eyck did all of the painting himself, though that is by no means certain."
Late Period
By the end of his career, van Eyck and his contemporaries established portraiture as a major art form. The artist held an international roster of wealthy patrons who commissioned him to have their likenesses recorded or create devotional paintings. In his more complicated compositions, Jan was able to construct a convincingly unified and logical pictorial world with absolute physical stillness and filled with spiritual energy. His international fame is best documented in Italy, as Susie Nash, professor of Renaissance Art, notes in her book titled, Northern Renaissance Art, in which she documents humanist writers, "such as Cyriacus d'Ancona (1449), Bartolommeo Fazio (1456), Francesco Florio (1477) and Giovanni Santi (1482)...[who provide] a testimony to the fame of Netherlandish painters." D'Ancona, for example, wrote that van Eyck's paintings seemed "not by the artifice of human hands but by all-bearing nature herself." Bartolommeo Fazio, who described van Eyck as "the leading painter" of his day in his De viris illustribus, also noted: "He is not unlettered, particularly in geometry and such arts as contribute to the enrichment of painting, and he is thought for this reason to have discovered many things about the properties of colors recorded by the ancients and learned by him from reading Pliny and other authors."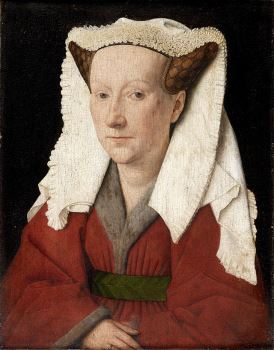 In 1431, after his many extended journeys for the Duke, Jan purchased a house with a stone-gabled front in Bruges. He married a much younger woman named Margareta, from a lower but still noble class, who bore him ten children. In 1434, Duke Philip was the godfather at the christening of their first child, named Philip or Philippina, increased Jan's salary and gave him six silver goblets made by a goldsmith in Bruges especially for the baptism of the child. Two years later is the last documented "secret journey" van Eyck would make on behalf of the duke. Philip continued to support the van Eyck family, even after the esteemed artist's death in 1441. He helped one of the artist's daughters purchase entrance to a convent and extended the artist's payments to his widow. Upon Jan's death, his younger brother, Lambert, is said to have settled the estate, taken over the artist workshop with its many unfinished commissions, and then oversaw its closing. Lambert was also responsible for exhuming the body of his brother for reburial inside St. Donatian's Cathedral in Bruges.
The Legacy of Jan van Eyck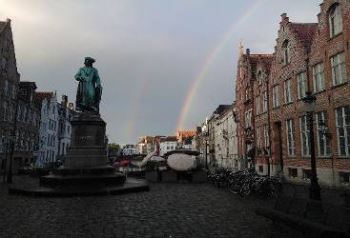 Jan van Eyck was a leading force in 15th-century Flemish painting, due to his innovations in the use of optical perspective and handling of oil paint. Gradual transitions between color areas were now possible due to the slower drying time of the oil paint which, as compared to egg tempera, allowed the colors to be used more specifically to depict perspective, deep space and realistic modeling. Although the specter of his brother, Hubert, raised by Jan's own dedication found on the Ghent Altarpiece, has stirred doubts to the true authorship of this and other early works, what remains clear is the sheer amount of documentation and praise accorded to Jan during, and after, his life eclipses the dearth of materials in regards to Hubert's career.
Alistair Smith, former curator of Flemish and German painting at the National Gallery in London described, "In terms both of the development of the oil medium, and of naturalism, Jan van Eyck is one of the founders of modern painting." Indeed, van Eyck's reach has far outlived his own time, when he was a major influence to other northern painters, such as contemporaries Rogier van der Weyden and even the later works of Robert Campin, and his successors, including Petrus Christus and later, Hans Memling. Notably, on a trip to Ghent in April of 1521, the famous German Renaissance painter and engraver Albrecht Dürer was taken to view the Ghent Altarpiece where he described, "... I had just been taken for something great. Then I saw Jan van Eyck's picture; it is a most precious painting, full of thought. The Eve, Mary, and God the Father are especially good." Dürer absorbed many facet's of van Eyck's style, in addition to the precise nature of his naturalism, also evoking his three-quarter portraiture, creating a stylized signature, and noted by art historians Jeroen Stumpel and Jolein van Kregten, his "Eyckian contrast between the very near and the very far."
The influence of the later-named Flemish Primitives seemed to weaken as the Classical revival of Italian painting gradually moved into the northern regions of Europe. However, as collections of important Netherlandish works moved into new hands, notably in 1516 to Margaret of Austria, Habsburg Regent of the Netherlands, whose artwork was later inherited, via Mary of Hungary by the King Philip II of Spain where it was first noted in a 1558 inventory. Here, a minor painting of Philip's daughters may have been influenced by the postures in van Eyck's famous Arnolfini Portrait. What is more widely recognized is the influence of this painting on the famous Las Meninas by Philip IV's prized court painter and leading figure of the Spanish Baroque, Diego Velazquez. In the latter work, the Spanish painter's similar use of a mirror to complete the visual and conceptual narrative of the painting has proved as confounding to scholars as van Eyck's earlier work. Velazquez's Las Meninas would, in turn, influence the Romantic painter Francisco Jose de Goya y Lucientes, as is evident in etchings made of the Velazquez's masterpiece along with Goya's own depiction of the royal family, albeit with a sense of irony. During the Romantic period, interest in the Northern Renaissance was revived, along with a rising interest in the accomplishments of the artists and architects working in the Gothic era.
The seemingly small and unassuming Arnolfini Portrait would turn heads once again after coming into the possession of the National Gallery of London in 1842, over 400 years after it was first commissioned by the wealthy merchant. It was at this time, a group of rebellious young artists at the British Royal Academy sought to overturn the influence of founding president Sir Joshua Reynolds, on whom they bestowed the condescension Sir "Sloshua" Reynolds, and centuries of what they described as mimicry of the Renaissance masters, Raphael above all others. For the Pre-Raphaelites, as they were collectively called, the striking veracity of this small painting echoed the fine details seen in early photographs, a process recently invented. This painting was almost prescient in its modernity. A recent exhibition at the National Gallery in London, titled Reflections: van Eyck and the Pre-Raphaelites (2017-2018) continued the exploration of this relationship focusing closely on the use of the mirror by the latter group of artists. The style of van Eyck and the Flemish Primitives is also credited as a key element of Grant Wood's move away from his early Impressionistic canvases, both of which he viewed during his early travels through Europe. More recently, artists associated with the contemporary Pop Surrealist movement, including leading figures such as husband and wife Mark Ryden and Marion Peck, count the Flemish masters and Jan van Eyck as a key early influence.
Content compiled and written by Cheryl Van Buskirk
Edited and revised, with Summary and Accomplishments added by Molly Enholm
"Jan van Eyck Artist Overview and Analysis". [Internet]. .
TheArtStory.org
Content compiled and written by Cheryl Van Buskirk
Edited and revised, with Summary and Accomplishments added by Molly Enholm
Available from:
First published on 07 Jul 2018. Updated and modified regularly
[Accessed ]