"My art should suggest imaginative ways of negotiation without claims to complete reconciliation."
"I am a fisherman of social absurdity, if you will... My focus is to politicize disenfranchisement, to make it neut, to reinvent what's beneath us, to remind us where we all come from."
"Like the African shaman who chews his pepper seeds and spits seven times into the air, I believe art re-ritualizes the everyday to reveal something fresh about our lives. This revelation is a vitality and it is a power to change the world."
"I can choose how I construct the legend of where I come from."
"Black folks' political and historical circumstances are at odds with whiteness, whether we want them to be or not. There are societal limitations to how much one can reconstruct one's conditions."
"the idea that there's a pure good blackness or a pure bad whiteness is untenable for me."
"Humans can make a difference with culture. It's a leap of faith to do any sort of cultural work. I choose to make troubled culture."
"I've discovered that performance art is as black as the skin on my ass."
"Blackness is a lack worth having."
Summary of Pope.L
Crawling on his belly in the street is, for Pope.L, a way to critique the American dream, the invisibility of unacknowledged poverty, and the experience of being a Black man in the United States. His varied and diverse artworks range from these performative crawls, including his horizontal journey along the entire 22 miles of Broadway in New York, to the 720-square foot American flag he installed in a gallery, waving continuously in the breeze of an industrial fan for a week. His artworks have pushed the limits of his body and challenged audiences to react to the complexity of the questions he raises, whilst also often finding the humor or absurdity in tragedy and inequality. His business cards proudly proclaim him to be "The friendliest black artist in America©".

These sustained practices of performance, installation and participatory projects address power and discrimination, and speak fundamentally to questions of racial identity, masculinity, and class in the contemporary United States. As the urgency and relevance of performance art is increasingly being acknowledged by major institutions and the wider art world, Pope.L's diverse and continuing career is now recognized as deeply significant to the development of the form in the United States and beyond.
Accomplishments
Pope.L's work interrogates what he calls "have-not-ness", the quality of vulnerability that derives from being poor and/or not-white in America. He embodies this in his performances by staging and revealing absurd dynamics of power, challenging them by intervening in public spaces through his own body or the objects he places in a gallery.
Pope.L's work is influenced by and engages with a wide range of art forms, including theatre, poetry and literature, sculpture and painting. Paramount across all his work though is the physical interaction between the artist, the artist's body, and the audience or viewer, a goal that accounts for his continuing focus on public intervention and his significance to the development of Performance Art.
Pope.L argues that whilst a document such as a photograph or short video might encapsulate the core idea of a performance (such as his endurance crawls in city streets) it is through the work's existence in the physical world that they derive their meaning. Documents for Pope.L are about 'lack', and looking at documentation of a performance or artwork is a fundamentally different experience from being exposed to them in the real world.
Race, class and gender exist in dialogue throughout Pope.L's work, prefiguring what is often thought of as a contemporary awareness of the intersectional nature of identity. As a working-class Black man, Pope.L's experience is derived from the unique interaction of these identity positions, an interaction that he reflects on throughout his artworks and asks the audience or viewer to confront, in all their messiness. This work has proven inspirational for a generation of artists interested in exploring their identity, particularly African-American artists. Whilst he might resist the label, Pope.L therefore has an important relationship to the history of Identity Art.
The Life of Pope.L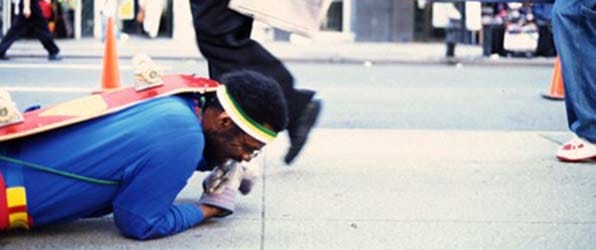 Pope.L's art reflects his identity and experience as a working-class Black man in America, staging his perspective on the way the world sees him. As he puts it "I act out in the street for myself, but also because I see myself in the street".
Important Art by Pope.L
Progression of Art
Biography of Pope.L
Childhood
William Pope.L was born in New Jersey, and grew up with three siblings and his single mother in a predominantly Black neighborhood. The family later moved to an apartment on Fifth Street on the Lower East Side of Manhattan. Pope.L's mother, who was a nurse, struggled with drug addiction and spent periods of his childhood in prison. As a result of this difficult and at times fraught relationship with his mother, Pope.L came to view himself as "separate from her", defining himself on his own terms even as an adolescent. He took his last name, Pope.L, by combining his father's last name, Pope, with the first letter of his mother's maiden name, Lancaster.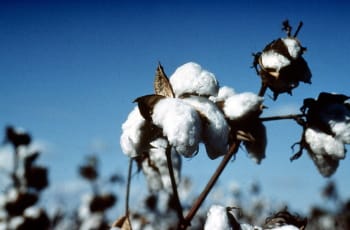 The working-class family struggled to make ends meet, though he remembers his mother's efforts to make the most of their situation. He recalls "In all the houses we ever lived in, no matter how screwed up they were, no matter how many holes in the walls, my mother always tried to make it a home. [...] she'd discovered some old architectural plans of the building and used them as wallpaper to cover the holes. I found that very 'artistic.'"
Pope.L's has described his earliest happy memories as involving language and family. He recalls how his mother would iron whilst quoting passages from authors like Nikki Giovanni, Gwendolyn Brooks, or Langston Hughes, whilst he and his siblings sat with his aunt and uncle.
As he remembers, "Then my Aunt or my Uncle would respond, making up their own lines. And it would fly like that. Like freestyling rap it would take on a life of its own. I was really impressed. These people - their hands and hearts all beaten up [...] and they'd all had off and on run-ins with drugs and alcohol, and here they were doing this wonderful thing with language."
Throughout his youth, Pope.L often found himself in trouble with the police as a result of his habit of playing with explosives and breaking into places he wasn't supposed to be. He explains that he "thought it was exciting. I wanted to forget. [...] I wanted the tension. I wanted attention [...] In my family, I didn't feel we had much control over things. It was all crisis, and more crisis. [...] I was always afraid. By going out and constructing crime scenarios in the street, I could construct my fear. I could put it in a framework that made sense to me, and I could control it."
Pope.L's mother wanted him to go into military service, although this was not something that he was attracted to. His grandmother, who worked as a cleaner for affluent clients, had brought him at the age of eleven to the home of a portrait painter and introduced her grandson as an "aspiring artist". As his grandmother cleaned, the client sat down with Pope.L and taught him to draw, igniting a passion for art and creativity that he would continue to explore.
Education and Early Training
Pope. L attended the prestigious Pratt Institute in New York City from 1973 to 1975, but dropped out as he couldn't afford to continue with his studies. He spent some time working in factories, before enrolling in Montclair State University in New Jersey, from which he earned a Bachelor of Arts degree in 1978. He was also part of the Whitney Museum of American Art Independent Study Program from 1977 to 1978. In 1981 he received a Master of Fine Arts degree in Visual Arts from the Mason Gross School of the Arts at Rutgers University in New Jersey.
It was during his studies that Pope.L became enamored with performance and theatre, training with Fluxus artist Geoff Hendricks and experimental theatre company Mabou Mines.
It was also during his studies that he first delved into performance art and developing what would become his signature "crawl" pieces. These public performances began in 1978, with the artist crawling down the Bowery and around Times Square in New York City while wearing a suit as a commentary on the homelessness and inequality he saw around him. As awareness of these public interventions grew, he began also performing at downtown performance art venues like Franklin Furnace, where he found a sustained audience.
Mature Period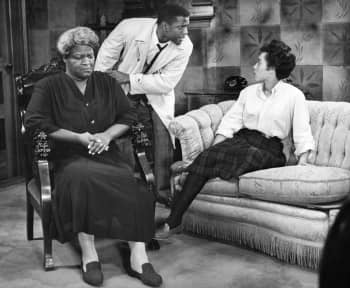 In 1990 Pope.L began to lecture in theater and rhetoric at Bates College in Lewiston, Maine, where he would remain as part of the faculty until 2010. During this time his students began shortening his name to simply 'Pope.L', and the artist began using this shorthand (without 'William') as a professional name in his artistic practice. During this time at Bates College he continued to make art whilst also producing and directing more explicitly theatrical work. Most notably he directed a theatre production of Lorraine Hansberry's A Raisin In the Sun, in which he cast both Black and Caucasian actors as members of the same family. This conscious casting choice echoed the subject of his artworks and demonstrated the interconnectedness of his practice across various art forms.
Pope.L cites a 1991 residency at Franklin Furnace as an important moment in his development, with the encouragement of his friend Martha Wilson and mentor Geoffrey Hendricks leading him to develop and perfect his approach to producing performance art. Pope.L made several works for the proscenium stage, such as Egg Eating Contest (1990-91) and The Aunt Jenny Chronicles (1990-91), again emphasizing the relationship between his art practice and more explicitly theatrical projects. He also continued to develop interventions on the street throughout this period, including more crawls and later works like Member a.k.a Schlong Journey (1996) and ATM Piece (1997). In these pieces he used more theatrical props and costumes, such as a large cardboard phallus, and a skirt made of dollar bills. Like the crawls, this street work drew attention to the unspoken rules of supposedly public spaces and the unique way that Pope.L's body as a Black man took up space within them.
For Pope.L, engaging with the wider public and doing what he calls "street theater" has been an important way of staying true to his roots. He explains, "I'm not used to this middle-class way of life. [...] My class status was changing. I had just gotten this job at an expensive college in Maine, and it didn't sit right with me. I would go home and be reminded that my brother or my aunt was on the street or God knows what, and felt - distant, guilty. I had to reconcile that in some way. I didn't want to lose those experiences, that connection."
In 2010 Pope.L joined the faculty at the University of Chicago. Whilst working as a lecturer he continues to produce artworks, enact his "crawls" and create other artistic interventions, installations, and performances. Much of his recent work involves larger groups of people and bodies beyond his own, allowing a concurrent increase in scale.
The Legacy of Pope.L
Pope.L is now acknowledged as a key figure in the history of performance artists who draw on their own identity as a wellspring for their practice, reflecting the close connection between the development of performance art and the recognition of identity art as a distinct practice. As his work demonstrates, participatory art projects and feats of endurance in performance can be used to generate wide-reaching conversations about racial inequality and Black masculinity, using his body as a locus for experiencing, inviting, learning about, and generating dialogue. This might be enacted in different ways, whether by crawling through city streets on his hands and knees in his crawls (1978-ongoing), or by actions like burying himself up to his neck in the earth in Sweet Desire a.k.a. Burial Piece (1996), but each action is dense in symbolism and personal resonance, as is now being increasingly written about by scholars and critics.
Art historian Joanna Fiduccia sees Pope.L's crawls as works comparable to those of artists like VALIE EXPORT, Adrian Piper, and James Luna, in that he "challenges the invisibility enforced on him in public space by redoubling his difference through actions considered improper or gauche". The increasing recognition for Pope.L and these other artists' public interventions and performative actions exemplify the way that the art world (and particularly museums) are devoting increasing time and resources to recognizing performance as an important practice and history. Whilst this results in increasing recognition, fame and financial support for artists like Pope.L who have struggled to gain it in the past, the practical imperative to display artefacts and objects related to these performances tends to place the institutional emphasis on documentation of performance rather than the live experience of attending or witnessing. Pope.L has, like many other performance artists, expressed discomfort with the way that legacies are achieved and sustained through this "looking-back" at historical works, rather than focusing on the immediacy of new experiences and interactions.
As Pope.L's work interrogates difficult questions about the meaning of "Blackness" in America, most obviously in conversation works like The Black Factory (2003-ongoing), he is increasingly cited as an influence and peer to a number of currently practicing Black artists who use performance, installation, identity, and language-based art to explore issues of racism in the public sphere. This is particularly true for those whose work engages with the complex symbols and connotations of contemporary blackness. These artists include Senga Nengudi, Lorraine O'Grady, Dave McKenzie, Jean-Ulrick Désert, and Lyle Ashton Harris. As Artist and critic Aria Dean argues, "Pope.L's relationship to blackness - or, dare we say, his use of blackness, whether his own or that of others - departs from the precedents set by the Black Arts movement of the early 1970s, glimmering with rhetoric of empowerment and pride. For Pope.L, affirmation is always couched in negation." This negation prefigures many of recent works of these artists that deal with the legacies of racism in America, and reflects a post-Black Lives Matter understanding of the burden this legacy places on people of color.
Pope.L also inspires students and young artists across the country as a teacher and lecturer, with many of them deploying similar strategies to produce trans-disciplinary works that explore social issues that matter to them, including trauma and marginalization. In 2011, for example, Canadian artist Didier Morelli enacted Five Dollar Crawl After William Pope L., "(re)performing" a Pope.L crawl in the streets of Toronto while wearing a Québec Nordiques hockey jersey and carrying a photograph of Pope.L, in order to "make[...] evident the intrinsic relationship between affect and pedagogy."
In 2019, Pope.L was the subject of a major exhibition at New York's Museum of Modern Art (MoMA), member: Pope.L 1978-2001, staged alongside two other exhibitions of his work in New York during the same period. Together they formed the city-wide retrospective Instigation, Aspiration, Perspiration. Conceived and organized by theatre and performance curators at MoMA, these three complimentary exhibitions presented an overview of his key works, a new installation Choir at the Whitney Museum as part of his 2017 Bucksbaum Award and a new crawl organized by the Public Art Fund, Conquest. This crawl featured a group of 140 volunteers chosen to reflect the cultural diversity of New York crawling across the streets and public parks of downtown Manhattan. The breadth and scale of this retrospective event reflects Pope.L's increasing recognition as a major figure in the development of performance art as a form and the "provocative questions about a culture consumed with success yet riven by social, racial, and economic conflict" that his practice still raises.
Influences and Connections
Influences on Artist

Influenced by Artist
Artists
Samuel Beckett

Robert Wilson

Mikhail Bahktin

Lorraine Hansbury
Friends & Personal Connections
Geoffrey Hendricks

Martha Wilson

Mabou Mines
Artists
Clifford Owens

Kenyatta A. C. Hinkle

Ashanti Owusu-Brafi

Didier Morelli

Nyeema Morgan
Friends & Personal Connections
Jim Calder

Adam Pendleton

Dieter Roelstraete

Catherine Sullivan
Useful Resources on Pope.L
Books
The books and articles below constitute a bibliography of the sources used in the writing of this page. These also suggest some accessible resources for further research, especially ones that can be found and purchased via the internet.
biography
written by artist
artworks