Biography of Fra Angelico
Childhood
Baptised Guido di Pietro, little is known of the friar-painter Fra Angelico's childhood. Giorgio Vasari, writer of Lives of the Artists (1550), proposed 1387 as Angelico's date of birth, but many art historians, citing his stylistic correlation with contemporary Italian painter Masaccio, think it more likely that he was born around 1395. While his birth date remains unknown, we do know he was born in the Mugello valley near the town of Vicchio, situated near Florence, and that he was one of three children. Angelico's brother, Fra Benedett, also became a friar, his sister's name was Checca. The identity of his parents remains unknown, but it is widely assumed that Angelico was born into a prosperous family to have received the training as an artist that established the foundations for his artistic career.
Early Training and Work
Angelico likely apprenticed with the artist Lorenzo Monaco (c. 1370-1425), a manuscript illuminator who was in considerably high demand in Florence at the time. Art historian Diane Cole Ahl explained the two artists' stylistic similarities, writing that they shared a "distinctive palette, unequalled in subtlety by any other artist of the day, in which colors are brilliant and myriad in hue, highlighted by thinly brushed filaments of white."
On the recommendation of manuscript illuminator Battista di Biagio Sanguigni, Angelico joined the confraternity of San Niccolò di Bari n 1417. A year later a document recording payment for an altarpiece in Santo Stefano al Ponte (now lost) suggests the beginning of his career as a painter. Sometime between 1418 and 1423, Angelico entered the convent of San Domenico in Fiesole as a friar, alongside his brother, Benedetto, who also worked as a painter and illuminator. His contemporaries, including the likes of Filippo Brunelleschi and Masaccio, would have known him by his new religious moniker Fra Giovanni da Fiesole. As a friar in the Dominican Order, Angelico's devotional practices likely included self-flagellation and fasting in addition to the study of Latin, scripture, and theology. Many have gathered that Angelico was a particularly pious individual, with Vasari going so far to claim that the artist would have never painted a crucifix "without tears running down his cheeks." While undoubtedly a romanticized account, it likely bears some truth as we see within Angelico's work and lifestyle his devotion to the Order and its values, but it is also the case that the Dominican order was one of the leaders of intellectual and artistic activity in Florence at the time and was on the verge of exercising great influence.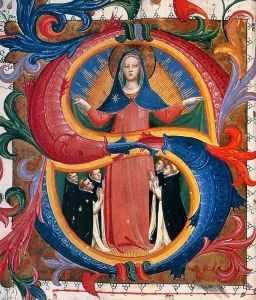 During Angelico's time in San Domenico, he painted an illuminated choir book known as the Messale 558 and three altarpieces for the Dominican convent, including The Virgin and Child with Saints Thomas Aquinas, Barnabus, Dominic and Peter Martyr otherwise known as The San Domenico Altarpiece (c.1422-3). Angelico's works at this time demonstrate his loyalty to Dominican ideals, which revolve around the adoration of Christ and Mary.
By the late 1420s, the artistic sphere in Florence had drastically changed with the passing of several of Angelico's most-noted contemporaries including Masaccio who succumbed to the plague in 1428. Subsequently, Angelico became one of the leading artists in Florence. Garnering the attention of the wealthiest private patrons in the city state, including Cosimo de' Medici and Palla Strozzi, Angelico's popularity increased, and his work extended beyond commissions for the Dominican Order. He was so sought after that he and his brother Benedetto had a fully established workshop by the 1430s, which aided him in completing a vast array of work in a timely manner.
Mature Period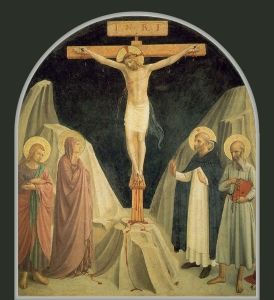 In 1436, Pope Eugenius IV granted ownership of the convent at San Marco to the Dominican Observants, and here Fra Angelico created some of his most famous works. During the renovation of the convent in late 1437-8, Cosimo de' Medici undertook the financing of the complete renovation of the complex and commissioned Angelico to decorate the walls of the convent and to paint perhaps his most known altarpiece for the high altar, known as The San Marco Altarpiece (c. 1438-42). Angelico, along with a retinue of assistants, including Benozzo Gozzoli, took five years to complete the various frescoes and altarpieces that adorn the convent. Inspiring the devotion of the monks, the frescoes at San Marco are considered to be one of the most significant and comprehensive examples of the collaboration between Dominican ideals and art.
Late Period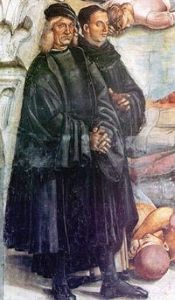 By July 1445, Angelico was summoned to Rome by Pope Eugenius IV, where he stayed until 1450. In 1447, however, Angelico was recorded in Orvieto, working closely alongside his pupil and assistant Benozzo Gozzoli decorating the Chapel of San Brizio in the city's cathedral. The project was left unfinished due to financial issues stemming from the magistrate and was later completed by Luca Signorelli over fifty years later, who included a portrait of Fra Angelico in one his frescoes. Back in Rome, Angelico executed a number of works for Eugenius IV's successor, Pope Nicholas V, many of which were unfortunately destroyed, with the exception of a fresco in his chapel that depicts the lives of Saints Stephen and Lawrence.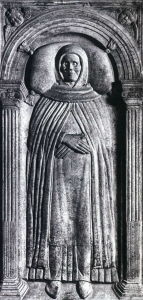 Little is known of Angelico's last years, but he assumed the responsibility as prior of his old convent in Fiesole from about 1449-52. By 1450, Benedetto (Angelico's brother) had passed away. During these years, Angelico likely fulfilled some commissions, including The Silver Chest (c.1451-2), he then returned to Rome one last time, before passing away in the Dominican Convent of Santa Maria sopra Minerva, on February 18, 1455.
Angelico was remembered as somebody who was devoted to his faith and abstained wealth. He was buried in the church of Sant Maria sopra Minerva, where Isaia da Pisa created his effigy; two epitaphs were carved and fixed to the chapel, in which he was referred to as "Angelicus," a description that initiated the name he has been known as since, Fra Angelico, the Angelic Friar.
The Legacy of Fra Angelico
In 1982, Pope John Paul II expressed his admiration for Angelico and beatified him.
While Fra Angelico's piety was legendary, his artistic innovations and his use of color inspired many Renaissance artists, including Luca Signorelli and Raphael, who went so far as to incorporate his portrait into their respective works Sermon and Deeds of the Antichrist (c. 1499-1502) and Disputation of the Holy Sacrament (c. 1509-10) as symbols of devoutness.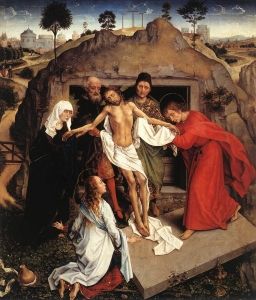 Angelico's reputation moved well beyond Italy, as his compositional inventions were also widely influential for Northern Renaissance artists, including Rogier van der Weyden, who clearly utilised Angelico's compositional structure to create his Lamentation of Christ (c.1460-3).
Much closer to the present, Angelico also influenced the Pre-Raphaelites in England in the middle of the 19th century. Throwing off the high classicism perpetuated by the academy, artists such as Dante Gabriel Rossetti looked to the Early Renaissance not only for techniques but for a more expressive subject. Rossetti's Ecce Ancilla Domini (The Annunciation) (1849-50) exhibits compositional similarities to Angelico's work.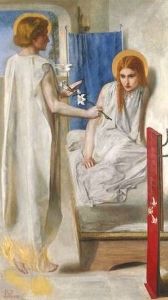 Even today, Fra Angelico's work still serves as an inspiration for many artists. The Pop artists Richard Hamilton cited Angelico as being particularly influential to his work, and this can be seen in his digital collage entitled The Annunciation (2005) which infuses Angelico's color palette and composition into his own personal narrative.
Despite the religious nature of his subject matter, which had largely fallen out of favor in the modern era, Angelico's rendering of narrative built around the innovative construction of space and embodied in brilliant color and painterly grace inspired a range of artists spanning over different eras and cultures.
Content compiled and written by Libby Festorazzi
Edited and revised, with Summary and Accomplishments added by Valerie Hellstein
"Fra Angelico Artist Overview and Analysis". [Internet]. .
TheArtStory.org
Content compiled and written by Libby Festorazzi
Edited and revised, with Summary and Accomplishments added by Valerie Hellstein
Available from:
First published on 16 Sep 2018. Updated and modified regularly
[Accessed ]