Artists
Albrecht Dürer
Biography and Legacy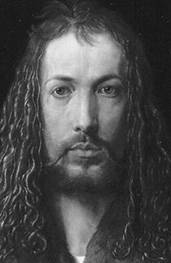 Albrecht Dürer - Biography and Legacy
German Renaissance Draughtsman, Engraver, Woodcutter and Painter
Movement: Northern Renaissance
Born: March 21, 1471 - Part of the Holy Roman Empire (Modern Day Nuremberg, Germany)
Died: April 6, 1528 - Part of the Holy Roman Empire (Modern Day Nuremberg, Germany)

From Our Sponsor
"If a man devotes himself to art, much evil is avoided that happens otherwise if one is idle."
Biography of Albrecht Dürer
Childhood
Dürer was born in the city of Nuremberg on March 21st 1471 to Albrecht and Barbara Dürer as the third child of the two, who would go on to have at least 14, and possibly as many as 18 children. His father, a successful goldsmith, had moved to Nuremberg from Ajtós near Gyula in Hungary in 1455. He changed his surname from the Hungarian Ajtósi to its German translation Türer, meaning doormaker. Due to the local pronunciation, the family name eventually became established as Dürer.
Education and Early training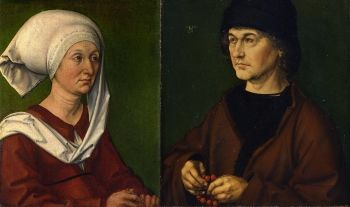 The artist's depictions of his parents: Portrait of Barbara Dürer, née Holper(1490) and Albrecht Dürer the Elder with a Rosary (1490)
Albrecht Dürer started an apprenticeship in his father's workshop at the age of 13, but showed such exceptional talent as a draughtsman that aged fifteen he began to be apprenticed under the painter Michael Wolgemut, much to the disappointment of his father at the time. He trained with him for three years from 1486 to 1489.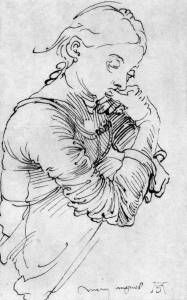 My Agnes, 1494, Graphische Sammlung, Vienna
From 1490 to 1494 he spent time as a journeyman, or traveler, as was custom at the time, in order to expand his knowledge and skills by working with various other artists. In July of 1494 Dürer returned to Nuremberg to marry Agnes Frey, the daughter of a local coppersmith and lute maker. The marriage, which was arranged by Albrecht's parents, was not a particularly happy one, which is evident from letters to his close friend Willibald Pirckheimer where Dürer describes Agnes as an "old crow". The couple remained childless. Nonetheless, Agnes became instrumental in her husband's success, selling his works at market stands and fairs, following him on some of his travels and running his workshop during his absences.
Dürer traveled to northern Italy for the first time in late 1494, where he remained until 1495, finding much inspiration in the local art scene. Upon his return to Nuremberg in the same year, he opened his own workshop.
Mature Period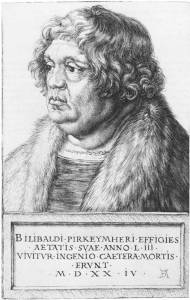 Willibald Pirckheimer at 53, 1524, various locations
Dürer's success as a printmaker rapidly spread across Europe, fueled by his popular Apocalypse series of woodcuts from 1498. He was highly aware of his artistic image and authorship, which is evident in his bold monogram signature. As his art became increasingly valuable, Dürer's maker's mark was repeatedly forged, which even led him to file a complaint with the Venetian government against the engraver Marcantonio Raimondi, who had repeatedly copied his works and maker's mark, selling them off as originals. In the end, the court ruled that Raimondi could continue making copies of Dürer's, as long as he didn't reproduce the artist's monogram. The case famously stands as an early dispute in the development of intellectual property law.
Pirckheimer was Dürer's closest friend and advisor. A lawyer and humanist, he sat on the Nuremberg city council and had powerful connections throughout Europe.
Back in Nuremberg, he was made a member of the Great Council in 1509, underlining his social standing as a renowned citizen. Dürer was in close contact with Nuremberg's humanists, among them Pirckheimer, with whom he frequently discussed his work and subject matters, making sure they appealed to his cultured clientele.
Late Period
After 1519 Dürer's health slowly began to decline. His eyesight became poorer and it has been suggested that he suffered from arthritis in his hands. Despite this, he continued to travel, going to the Netherlands in 1520, followed by a trip to Brussels. When he returned to Nuremberg in 1521, he had contracted an unknown illness, possibly malaria, which left him with recurring fevers and greatly reduced his artistic activity. He began a number of larger religious works, which were left incomplete, and created a handful of smaller paintings. His last major work, the Four Apostles (1526), was given to the City of Nuremberg.
In the final years of his life, Dürer became increasingly engaged in scientific topics, publishing treatises for which he also drew and engraved illustrations.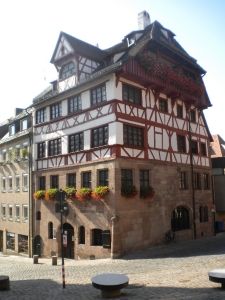 Dürerhaus in Nuremberg - Dürer's home and studio from 1509 - now offers guided tours of the historical rooms.
Dürer died in Nuremberg on 6 April 1528 aged 56. His large estate, including his house in Zisselgasse, now a museum, went to his widow. He was buried in the Johannisfriedhof cemetery where his tombstone reads, "What was mortal of Albrecht Dürer lies beneath this mound", a dedication written by his life-long friend Pirckheimer. Hans Baldung, one of Dürer's pupils, was sent a lock of his hair, which is today kept at the Vienna Academy of Arts. A macabre possibility is that some of his admirers are said to have secretly exhumed his body shortly after his death to create plaster casts of his face and hands.
The Legacy of Albrecht Dürer
Albrecht Dürer mastered various artistic media including painting and drawing, but during his lifetime it was as a printmaker that he became most renowned. His reputation spread throughout the continent as his prints were disseminated widely. Promoting his name through this relatively new medium inspired the Italian masters especially, among them Raphael and Titian, who frequently engaged printmakers to create copies of their works. Other followers copied Dürer's originals (Marcantonio Raimondi, Agostino Veneziano) or included elements from his landscapes into their backgrounds (Giulio Campagnola, Benedetto Montagna).
In Northern Europe many of his successors never created works of equal scale, focusing on smaller compositions instead. Only the Dutch master Lucas van Leyden produced larger engravings.
Dürer's pupils in Nuremberg included Hans Schäufelin, Hans Baldung Grien and Hans Süß von Kulmbach, all of whom went on to be renowned painters. In comparison to his prints, Dürer's paintings were less influential during his lifetime, mostly due to the fact that the majority were private commissions and therefore not widely accessible. His output as a painter however became increasingly valued in recent centuries. His works were admired particularly in Germany between 1870 and 1945 as they were seen as the epitome of German artistic accomplishment. After World War Two, the German Democratic Republic took his art as inspiration for Socialist Realism.
Most Important Art
The Four Horsemen of the Apocalypse (1498)

This is the third woodcut in Dürer's terrifying Apocalypse series, which contains altogether fifteen scenes from the Book of Revelations. It depicts the four Apocalyptic Riders as they are described in the Old Testament. From left to right we see Death, Famine, War and Plague on their horses, trampling on a group of helpless people. An angel oversees the scene, with dramatic clouds and rays of light in the background.

In the Bible the three riders are mainly distinguished by their horses' colors. Dürer, having to make do with the black and white that the woodcut medium dictates, instead prominently depicts their weapons - bow, sword, a set of balances and a trident - as identifying attributes. Death is furthermore distinguishable as an old haggard man with a beard on an emaciated horse. The four figures are riding next to each other but are in slightly overlapping positions, denoting their order of appearance in the text. Death as the last to enter the scene brings with him Hell, depicted in the form of a wide-mouthed monster, who swallows a man wearing a bishop's miter and crown. The clergy and nobility are devastated by the Apocalypse just as the rest of society. Their contemporary clothing makes it easy for the 16th-century viewer to imagine their own suffering ahead.

Apocalyptic scenes became particularly popular in the years leading up to 1500, which was predicted by many to be the time of the Second Coming of Christ. Dürer's Apocalypse series was published in 1498 as a collection of 15 folios, each verso showing the illustration and the recto containing a descriptive text in German or Latin. In 1511 the woodcuts also became available to purchase as single-sheet works. Today the prints still survive in large numbers, which indicates that they were produced on a big scale, probably to meet their increasing demand and popularity, and circulated widely.

Dürer masterfully captures the panic and chaos of the end of times by filling almost the entire page with painstaking detail. The diagonal shape formed by the riders placed on top of the minutely thin horizontal lines that create the dark background gives the scene a sense of forward-thrusting dynamic. This work, as well as the accompanying illustrations of this series, shows the artist's unrivalled ability to achieve in the so often crude unwieldy woodcut medium the same kind of fine dynamism and depth of expression as in a drawing.

Read More ...

Albrecht Dürer Artworks in Focus:
Albrecht Dürer Overview Continues Below
If you see an error or typo, please:
tell us
Cite this page

Content compiled and written by Alexandra Rivett-Carnac
Edited and published by The Art Story Contributors
" Artist Overview and Analysis". [Internet]. . TheArtStory.org
Content compiled and written by Alexandra Rivett-Carnac
Edited and published by The Art Story Contributors
Available from:
First published on 03 Oct 2018. Updated and modified regularly.


[Accessed ]