Artists
Jan van Eyck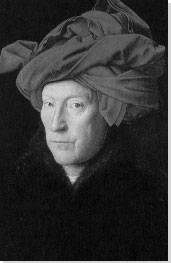 Born: c. 1385 - 1390 - Maaseyck (also: Maaseik), near Maastricht, Holy Roman Empire (now Belgium)
Died: July 9, 1441 - Bruges, the Netherlands

"Tangible piece of luminous matter, they confront us with a reconstruction rather than a mere representation of the visible world."
Summary
Part artist, part alchemist and some might claim part magician, the legacy of artist Jan van Eyck is shrouded in both mystery and legend. In his work, he achieved an astonishingly sophisticated level of realism, heretofore unknown in the art of painting. Glimmering jewels, reflective metals, lush satins and velvets, and even human flesh were each rendered with their own distinctive qualities with such a high degree of naturalism it seemed he had conjured a new artistic medium. A century after his death, this notion was put in writing as the 16th-century Florentine painter and art historian Giorgio Vasari credited the Netherlandish painter with the very invention of oil painting, a myth that continued well into the 19th century. But even as this legend was extinguished he reserves the title "Father of Oil Painting" and is credited with inventing the modern portrait, with his enigmatic Man in a Red Turban and confounding genre scene, The Arnolfini Portrait. Moreover, the search for his miraculous, and notoriously secretive, recipe for paint has continued through centuries, withstanding the scrutiny of connoisseurs, conservation, and the ever-changing developments in x-radiograph technology seeking the true formula of his lustrous, and enduring, oil medium. Questions once answered, lead only to more questions. The artist and his paintings remain an enticing enigma. As Max J. Friedländer, renowned early 20th century specialist in Early Netherlandish painting, once described: "Here as there - and indeed, in every old reference, the first name is van Eyck."
Key Ideas
The vast majority of artists working during the medieval era remained anonymous. In Northern Europe, this tradition changes in the early 15th century, around the time of Jan van Eyck's appointment to the court of Philip the Bold. The artist, who held a high position and seemed to have also served the duke in a diplomatic role, was among the first to sign his paintings, with his name "JOHANNES DE EYCK," sometimes followed by what has been described as his personal motto, Als ich kan (As well as I can), painted to look as though etched in the wood. His high status and fame throughout Europe, set the stage for the elevation of the painter from an anonymous craftsman to a celebrated figure.
Art historian Erwin Panofsky coined the term "disguised symbolism" to describe early
Northern Renaissance
paintings in which everyday objects were theorized to hold symbolic meaning that required decoding by the viewer. This theory was born in his analysis of
The Arnolfini Portrait
as a wedding scene, in which nearly every object in the room provided clues to the sacred nature of the event underway. Although Panofsky's interpretation of this painting is largely disregarded today, his focus on iconography remains a key element in the interpretation of Flemish painting.
The level of technical sophistication achieved in Jan van Eyck's paintings was unprecedented, leading to speculative theories about the superiority of his materials, tools and techniques ever since. Recently, the major British
Pop artist
David Hockney
published an investigation of such matters in his book titled,
Secret Knowledge
, in which he contends that Jan van Eyck and others of his time used optical devices, such as concave mirrors, to project images onto the working surface of his canvas. This would allow the artist to capture the nuanced forms of complex objects, such as the gold-toned chandelier in
The Arnolfini Portrait
, to the viewer's astonishment. Although no written evidence from the time supports Hockney's theories, the British artist points to the concave mirror in the very painting itself as evidence of this advancement in the painter's knowledge.
Jan van Eyck is a leading figure of early Netherlandish painting and considered, along with artists Robert Campin and Rogier van der Weyden, one of the "Flemish Primitives." This term was first used in the early decades of the 19th century replacing the previous designation as peintures gothiques (gothic painters) as interest in this period was revived during the Romantic era. Far from pejorative, Vanessa Paumen of The Flemish Research Centre for the Arts describes the term: "primitive stood for a sentiment, for frailty and a Christian softness that was embedded in the paintings." The Flemish Primitives are defined by geography, realistic artistic style and distinguished by their refinement of oil painting techniques.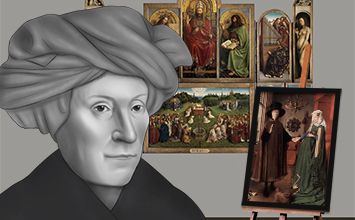 Jan van Eyck was born in the small town of Maaseyck, then known as Eyck, near a bend of the river Maas about 14 miles from Maastricht, the provincial capital of modern-day Limburg. The history of the region can be traced back to the Roman Empire era, and later grew into a religious center during the early medieval period. Notably, the nearby district of Aldeneik traces its history back to the early eighth century, with the founding of the Aldeneik Abbey by two sisters from a noble landowning family who had been educated at a Benedictine Abbey in Valenciennes.
Influences and Connections
Influences on Artist
Artists, Friends, Movements
Influenced by Artist
Artists, Friends, Movements

Interactive chart with Jan van Eyck's main influences, and the people and ideas that the artist influenced in turn.
View Influences Chart

Artists

| | |
| --- | --- |
| | Hubert van Eyck |
| | Robert Campin |
| | Tommaso da Moderna |
| | Melchior Broederlam |

Personal Contacts

Movements

Influences on Artist

Jan van Eyck
Years Worked: c.1420 - 1440
Influenced by Artist

If you see an error or typo, please:
tell us
Cite this page

Content compiled and written by Cheryl Van Buskirk
Edited and revised, with Synopsis and Key Ideas added by Molly Enholm
" Artist Overview and Analysis". [Internet]. . TheArtStory.org
Content compiled and written by Cheryl Van Buskirk
Edited and revised, with Synopsis and Key Ideas added by Molly Enholm
Available from:
First published on 07 Jul 2018. Updated and modified regularly.


[Accessed ]