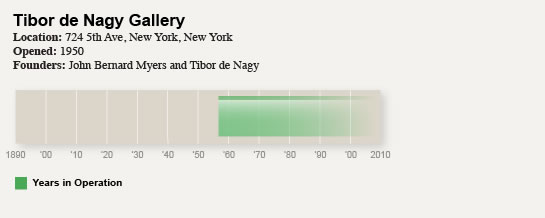 Summary of Tibor de Nagy Gallery
The Tibor de Nagy Gallery was instrumental in promoting the art of what is commonly referred to as the Second Generation of Abstract Expressionists, which included Helen Frankenthaler, Kenneth Noland and Larry Rivers. In later years, as Abstract Expressionism gave way to multiple offshoots, the gallery became a champion for the American resurgence of Realist painters. Perhaps most importantly, Tibor de Nagy developed a reputation over the years as a place for collaborative artistic ventures, bringing together visual artists and poets.
Myers and de Nagy
John Bernard Myers, a writer, poet, editor and art enthusiast from Buffalo, NY, first met Tibor de Nagy, a Hungarian banker, in 1948. One of Myers' special interests was puppetry, and together with de Nagy they started the Tibor de Nagy Marionette Company (in order to legally remain in the U.S., de Nagy needed a business that bore his name). The Company staged performances at schools in and around New York City. After a few years, the business collapsed financially, but the two were determined to keep their partnership alive.
The Gallery Opens
Myers was connected socially with many art dealers, critics and artists in New York, including Clement Greenberg, Jackson Pollock and Lee Krasner. After years of encouragement to open a gallery of his own, Myers and de Nagy, along with the financial backing of Dwight Ripley, opened the Tibor de Nagy in 1950. Myers was the Gallery Director and de Nagy its business manager.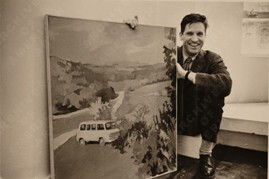 Initially unsure as to which artists to show at the Gallery, Greenberg and Pollock urged Myers to seek out artists of his own generation. As a result, the artists who soon developed close ties to the gallery were Helen Frankenthaler, Grace Hartigan, Alfred Leslie, Barnett Newman, Kenneth Noland, Fairfield Porter and Larry Rivers.
Semi-Colon, Gallery Editions and The Artists' Theatre
Between 1953 and 1956, the gallery began publishing a poetry newsletter (edited by Myers) called
Semi-Colon
, which promoted short verse poetry and prose. Also during this time, Myers recruited his poet friends Frank O'Hara and John Ashbery to write a series of plays for a new collaborative venture which Myers dubbed the Artists' Theatre. Myers had turned the Tibor de Nagy into more than just an art gallery; it was a publishing house and a producer of dramatic stage productions as well.
In 1959, the gallery began publishing
Gallery Editions
, a series of pamphlets that paired the works of poets and painters. This venture marked an important moment in the multi-media arts. Such collaborations included John Ashbery and Jane Freilicher, Frank O'Hara and Larry Rivers, Kenneth Koch and Nell Blaine, and Barbara Guest and Robert Goodnough.
Myers Leaves
In 1970, Myers stopped publishing
Gallery Editions
and left the Tibor de Nagy Gallery to open his own space on West 57th St. He only kept this gallery open for 4 years before leaving to become a private art dealer. Tibor de Nagy remained at the gallery that bore his name until his death in 1993.
Legacy
Most of the uptown art galleries that opened in the 1940s and early 1950s established themselves by first showing European paintings (the first exhibits at both the Janis and Kootz were devoted to Léger), and then introducing American works. The Tibor de Nagy took a different and more ambitious approach by opening with relatively unknown American artists; first with abstract paintings and then venturing into even more experimental media. As the home for both the resurgence of American Realism and the Artists' Theatre, the Tibor de Nagy may have seemed contradictory in nature, but it gave avant-garde artists a venue to freely experiment with various crafts.
Most Important Exhibitions:
Larry Rivers
Opened:
1951


Artists Represented:
Larry Rivers


Importance:
This was the first of 11 annual solo exhibitions Larry Rivers had at the Tibor de Nagy, between 1951 and 1962. Myers was the first gallery owner to recognize Rivers' unique talent. Rivers' pseudo-abstractions were known for their self-effacing irony and subtle infusion of pop culture references that many first-generation Abstract Expressionists loathed. Rivers eventually became known as a member of the Neo-Dada and Pop art phenomenon that followed AbEx, but it was at Tibor de Nagy that he received his big break.


Fairfield Porter
Opened:
October 27, 1952


Artists Represented:
Fairfield Porter


Importance:
For the first few years the gallery was open, Porter made frequent visits to review shows for Art News. But it was due to John Bernard Myers' friendship with the de Koonings and Larry Rivers that Myers was convinced to give Porter his first solo exhibition in New York. The Tibor de Nagy had previously been known as a place to show more abstract work, but with this Porter exhibition (the first of 15 over the next 18 years), the gallery eventually became a popular site for renewed interest in American Realism in the New York art scene.



Quotes

"Above all art has divorced itself from literature and reason. 'Words and pictures' as defined by Meyer Schapiro no longer exist except in silly and puerile ways."

- John Bernard Myers

"[The Artists' Theatre] was one of those few and far between enterprises aimed at a merger of writers, painters, and composers."

- Herbert Machiz (friend of Myers'), co-founder of The Artists' Theatre

And it is a mistake to regard [Frank] O'Hara simply as a 'painter's poet' because he was close to so many artists of the New York School. His grasp of literature and the practice of poetry was too sure, his intelligence too keen to limit himself to simple depictions of the visible world, or the process of making art."

- John Bernard Myers

"Oh, yes. We were friendly. John was friendly with him. Through John he used to come to our marionette company performances. Once we did our marionette performance practically only for artists in a Bridgehampton church sponsored by Harold Rosenberg, the Pollocks and so on."

- Tibor de Nagy, discussing his relationship with Clement Greenberg
THIS PAGE IS OLD
The Art Story Foundation continues to improve the content on this website. This page was written over 4 years ago, when we didn't have the more stringent/detailed editorial process that we do now. Please stay tuned as we continue to update existing pages (and build new ones). Thank you for your patronage!
WORKS OF ART:
BOOKS:

Frank O'Hara: Poems from the Tibor de Nagy Editions, 1952-1956

Tracking the Marvelous: A Life in the New York Art World

Action, Precision: The New Direction in New York, 1955-60
RESOURCES:
Articles about The Tibor de Nagy Gallery

Tibor de Nagy, 85, Gallery Owner Who Helped Cultivate 50s Artists
New York Times
December 28, 1993

Excerpt from Eyewitness: Reports from an Art World in Crisis
By Jed Perl
Records and Archives

Tibor de Nagy Official Website

Tibor de Nagy Gallery Records, 1950-1988
Smithsonian Archives of American Art

About the John Bernard Myers Papers

Letters from John Bernard Myers
From The New York Review of Books
Interview

Interview with Tibor de Nagy, conducted by Paul Cummings
At the Tibor de Nagy Gallery, March 29, 1976