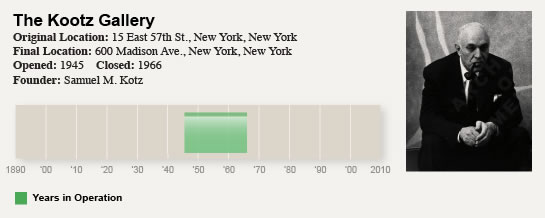 Summary of Kootz Gallery
The Kootz Gallery was one of the premier art galleries in mid-century New York. Started by art dealer Samuel Kootz in 1944, it not only helped finance the works of emerging artists like Motherwell and Baziotes in the late 1940s, but it also offered the first post-World War II retrospective of Picasso in 1947. Kootz had a finely-tuned eye for great Abstract Expressionist artwork: when Jackson Pollock rose to fame in the late 1940s with his signature "drips," Kootz reminded the public that Hans Hofmann was producing "drip" paintings as far back as 1940. With prior experience as an advertising executive, Kootz was also a relentless promoter for his gallery's exhibits, trying to appeal to as wide an audience as possible. Kootz attempted to imbue his gallery's shows with a sense of grandeur, as if each one was a true cultural event.
Background of Samuel Kootz
Samuel Kootz (1898-1982) switched careers several times before making Modern art his primary focus. Originally a law student at the University of Virginia, Kootz briefly practiced law in his home state of Virginia before moving to New York City in the early 1920s where he worked as an account executive for motion pictures and movie stars.
By the 1930s Kootz changed careers once more. In 1930 he independently published a textbook entitled
Modern American Painters
, and in 1934 he became involved in apparel designs, commissioning artists Stuart Davis and Arthur Dove to design patterns for silk scarves.
The Macy's Show and Kootz's View on "Chauvinism"
In 1942 Kootz was commissioned by Macy's department store to select several Abstract Expressionist paintings for a store-wide exhibition. Kootz selected works by Adolph Gottlieb and Mark Rothko, among others. One year later, Kootz published his groundbreaking book,
New Frontiers in American Painting
, which critic Dore Ashton later called Kootz's warning against American chauvinism in the arts. Ashton wrote, "In 1943..he still saw [chauvinism] as a prevalent attitude, even though 'we happen to be, geographically, the art center of the world today.' "The "chauvinism" to which Kootz referred was referencing the American-centric attitude that many artists, particularly in New York, had adopted in recent years. Kootz wanted to remind people that even following the supposed
Fall of Paris
, not all great art was being produced by Americans.
Robert Motherwell and William Baziotes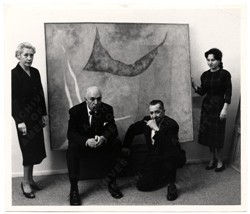 In 1944 Kootz began subsidizing Robert Motherwell and William Baziotes: rather than take a commission on their paintings, Kootz placed each artist on a $200 stipend, provided they meet a yearly quota of 75 paintings. Motherwell later recalled, "It was really bad for a young artist such as myself to be committed to so much work. He was always desperate for money and drove himself and us very hard."
The Kootz Gallery Opens
In April of 1945 the Kootz Gallery officially opened to the public. Its first exhibit was devoted to the works of Fernand Léger, further emphasizing Kootz's disdain for American-centrism; although he was a champion of great American artists, he wanted his gallery to open with a European.
Hans Hofmann and Adolph Gottlieb both signed with Kootz in 1945. That same year, Motherwell signed a 5-year exclusive contract with Kootz. Two years later, when Peggy Guggenheim's Art of This Century Gallery closed, Baziotes' representation switched from Guggenheim to Kootz, while Guggenheim's beloved Pollock moved over to the Betty Parsons Gallery. Motherwell once commented that "Nearly everybody who had showed with [Guggenheim] went either to Kootz or to Betty Parsons."
Kootz and Pablo Picasso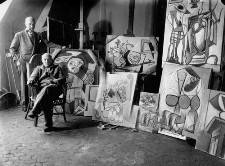 In 1947, the first ever Picasso exhibition in the U.S. following the end of World War II took place at the Kootz Gallery. For a time, Kootz was Picasso's exclusive representative and dealer in the U.S. Malcolm Goldstein, in his 2000 book
Landscape with Figures: A History of Art Dealing in the United States
, described the relationship in these terms: "Kootz had worked his way into Picasso's favor by presenting him with a copy of Harriet and Sidney Janis'
Picasso: The Recent Years, 1939-46
, as Kootz was pleased to tell Sidney Janis on his return."
The Gallery Closes
Throughout the 1950s, the Kootz Gallery continued to champion big names in Abstract Expressionism, from de Kooning to Motherwell, but it also introduced the gallery-going public to figures like Morris Louis and Helen Frankenthaler. By 1966, Kootz had become disgusted with what he perceived as co-optation of the art world by "merchants." While many of the other prominent art galleries that had opened in the 1940s and 1950s remained open and were eventually forced to compete in the gallery-crazed era of the 1960s and 1970s, Kootz decided to close up shop after concluding that his gallery was no longer culturally relevant.
Legacy
Although the Kootz Gallery exhibited many impressive one-artist shows, particularly for Motherwell and Hofmann, the gallery's legacy was solidified as early as 1950 with its
Talent 1950
exhibit (more on that below). Furthermore, the Kootz was an international gallery, showcasing the finest contemporary American art of mid-century alongside older Modern "masters" like Léger and Picasso. By the 1950s, the Kootz began promoting the avant-garde on a newer, grander scale, by bringing together painters of large canvases, muralists and architects for exhibitions that came to redefine how the artist and audience coexist.
Most Important Exhibitions:
The Intrasubjectives
Run time:
September 14 - October 3, 1949


Artists Represented:
Hans Hofmann, Jackson Pollock, Robert Motherwell, Arshile Gorky, Willem de Kooning, Adolph Gottlieb, Mark Rothko, William Baziotes, Ad Reinhardt and others.


Importance:
This group show was billed by Kootz as a sensational cultural event. Never before had an art gallery owner so flamboyantly played the role of a promoter of Modernism. Kootz believed that there was a wide audience in waiting for such artists, but no one had come along before to announce the spectacular nature of their art. Kootz used his gallery as the staging point to close the gap between artist and audience, and to bring Abstract Expressionism to a new level of public appreciation.


Talent 1950 (also goes by: New Talent 1950)
Run time:
Late April - May, 1950


Artists Represented:
Esteban Vicente, Al Leslie, Elaine de Kooning, Franz Kline, Larry Rivers, Sue Mitchell, Manny Farber, Hyde Solomon and many others.


Importance:
For this exhibition, Kootz sought out Clement Greenberg and Meyer Schapiro to select new artists and curate a show at the gallery. Talent 1950 occurred right around the time a slew of new galleries popped up in downtown Manhattan, all vigorously promoting the works of young, fresh American artists; these are what became known as the Tenth Street Galleries (Hansa, Tanager, Brata and several others). The Kootz, however, had better resources and connections than all of them combined, and with the help of Schapiro and Greenberg, the gallery showcased 1 work each by 23 different emerging artists. The critic Weldon Kees admired the attention paid "to outcast and unrecognized painters who are ordinarily brushed off by Fifty-seventh Street."



Quotes

"Paintings American, paintings from France,

Paintings dynamic by Hofmann, Hans

..a Gottlieb with symbols mysterious,

It surely will get a reception delirious"

- Samuel Kootz, excerpts from his promotional banner for winter holiday show in 1952

"The modern painter is in constant search of a wall - some large expanse upon which he can employ his imagination and personal technique on a scale uninhibited by the average collector's limited space."

- Samuel Kootz

"It wasn't a large picture, about 10" x 14", something like that, which was reshown in about 1955 or '56 in our gallery when I allowed Clement Greenberg to have a show for two weeks of early paintings of Hofmann. This was one of the paintings that he showed ... That picture, seemed to me [sic], antedated everything that Pollock began in 1947. It had the drip; it had the all over linear pattern and for many years could have been purchased for $150." - Samuel Kootz, commenting on Hofmann's early use of the "drip" method

"From the first, Kootz championed internationalism, fashionable in the years when he was starting out (1945-56). He represented not only artists like Motherwell, Gottlieb, Baziotes, Holty, Browne and Bearden but also painters from the Paris school such as Léger, Picasso, Arp, Braque, Miró and Mondrian."

- Serge Guilbaut, from his 1985 book,

How New York Stole the Idea of Modern Art

"The important thing that motivated my taking the various men was the highly subjective expression that the men were giving, the sort of thing that led to the, oh, introspection and almost automatism, in a way, of a number of the better Abstract Expressionist painters ... although my first show was Léger, my second show was Fritz Glarner, who of course was a strong adherent of Mondrian's painting. At one, we thought that we would take on Glarner. But this exposure to his painting militated against it, and we felt that this was not the direction we wanted to go in. This was objective, highly objective direction, and we wanted to go in a more subjective direction."

- Samuel Kootz, referring to his selection of artists for

The Intrasubjectives
THIS PAGE IS OLD
The Art Story Foundation continues to improve the content on this website. This page was written over 4 years ago, when we didn't have the more stringent/detailed editorial process that we do now. Please stay tuned as we continue to update existing pages (and build new ones). Thank you for your patronage!
WORKS OF ART: