Biography of Francisco de Zurbarán
Childhood and Early Training
Francisco de Zurbarán was born in the small Spanish town of Fuente de Cantos to the merchant Luis de Zurbarán and his wife Isabel Márquez. He was the youngest of six children - four brothers and a sister - but little else is known about his childhood. It seems, however, that Zurbarán must have demonstrated an aptitude for drawing at an early age given that his family was willing to support his pursuit of art as a career. While some biographical accounts suggest that he may have first studied under a local artist, records show that in January 1614 his father arranged formal training for him in Seville where he entered into a three-year apprenticeship. Under the guidance of Díaz de Villanueva, Zurbarán interacted with leading artists of the day including Francisco Herrera the Elder. It was in Seville in fact that he formed what would become a lifelong friendship with fellow student Diego Velázquez. It is true that Velázquez was/is considered the greatest painter of Spain's Golden Age, but Zurbarán was/is considered more representative of the period given that Velázquez would work exclusively for the royal court in Madrid whereas Zurbarán (before joining his friend later in his career) consistently produced ecclesiastical and monastic subjects for his patrons in the south (the heartland) of Spain.
Zurbarán's early training had a lasting impact on the direction of his art. According to art historian Odile Delenda, "the workshops of Seville were extremely busy at the time due to the demands of the religious orders to decorate their new ecclesiastical buildings and also to renew the ornamentation of the established houses in conformity with the dictations of the Council of Trent". It was by executing these religiously themed works that Zurbarán learned his craft. Indeed, he would tackle religious themes throughout the majority of his career even though historians have been left puzzled as to whether or not the artist was himself a man of devout faith. Having had a practical, rather than academic, training, however, Zurbarán's mature style was honed by assiduously studying the works of past masters, not least the works of Caravaggio.
Mature Period
On the completion of his apprenticeship in 1617, Zurbarán turned down the opportunity to enter Seville's city guild of painters choosing instead to return home where he established a business as a painter in the town of Llerena. Though his business thrived, his personal life was beset with tragedy. His first marriage to María Páez Jiménez, a woman nine years his senior, in 1617, lasted just six years due to her premature death. María left her husband with three young children, including a son Juan, who would also become an artist. In 1625, shortly after María's death, Zurbarán married another older woman, Beatriz de Morales, who came from a wealthy family. However, their only child, a daughter, died in infancy.
Still early in his career, Zurbarán received important commissions from religious groups including an early request in 1626 for fourteen pictures for the Dominican Order in Seville. In 1628, after accepting a commission to paint a series of twenty-two paintings of the life of Saint Peter Nolasco, he moved to Seville and lived in that monastery with his assistants while completing the commission; and then, following the promise of more work, he permanently relocated his family to the city. Once settled in Seville, evidence of Zurbarán's growing independent streak started to reveal itself. In 1630 he refused to sit the exam necessary for admittance into the Seville Guild of Painters, seemingly unwilling to submit to the "petty" behavior of the city's artistic elite. His reputation had grown enough however that the City Council continued to support him on the grounds that it was more advantageous to have a painter of such skill and vision working in Seville.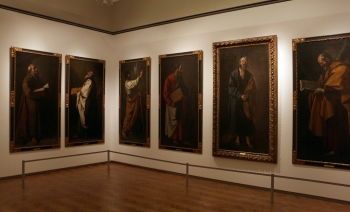 In the immediate years that followed, Zurbarán secured a number of important commissions. While these were mostly religious in nature, he was invited to Madrid where he undertook the task of decorating the Great Hall of the royal palace. As a guest of his old friend Velázquez (who was directing the project), he worked on mythological paintings that were analogous with the King's glory. Legend has it that so impressed was he with Zurbarán's contribution, Philip IV placed his hand on the artist's shoulder and declared "Painter to the king, king of painters".
Unfortunately, the ebb and flow of artistic success and personal tragedy continued to affect Zurbarán. Political troubles in Seville had already resulted in a reduction of local commissions. But, with the assistance of his son, Juan, Zurbarán looked to the Americas and the Spanish colonies - including Argentina and Peru - for new markets. While this new enterprise proved prosperous, it was offset by further personal tragedy when his second wife died in May of 1639. Five years later, a 46-year-old Zurbarán entered into his third and last marriage to Leonor de Tordera, a widow who was eighteen years his junior. She would give birth to six children, but only one, a daughter, would survive beyond infancy. Zurbarán's terrible personal loss was only compounded in 1649 when Juan lost his life to the plague which was ravaging Seville.
Later Period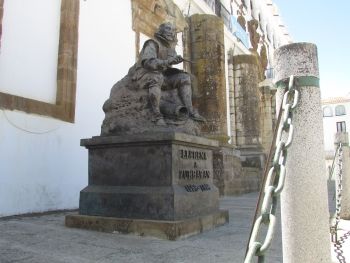 During the last decade of Zurbarán's life, his beloved city of Seville become less receptive of his work as his style fell out of favor due to the rising popularity of other Spanish artists, notably Bartolomé Esteban Murillo. Seeking a change of fortune, he relocated his family to Madrid in May of 1658. Joining a circle of fellow artists, including his friend Velázquez, Zurbarán received some royal commissions, and requests from individual patrons looking for paintings for their private religious devotions, but he failed to recapture his earlier success. His financial situation duly declined which, according to Odile Delenda, "seem to have mainly derived from the difficulty he had in getting paid by his debtors".
Zurbarán's health declined significantly in his final years. It is believed he was forced to stop painting in 1662 causing further financial strain on his family. It is generally thought (though some accounts query this assumption suggesting rather that his estate was valued at 20,000 silver reales) that his dire financial situation was exposed in the will he drafted on the day before his death. According to art historian Jonathan Brown, "[the will] is short because the painter had little to leave his heirs except three small debts still owed him. He bequeathed the money from them to his wife, together with the 'few possessions that we have,' which were to be auctioned for his widow's benefit".
The Legacy of Francisco de Zurbarán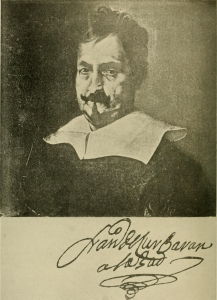 Zurbarán's legacy has followed an uneven trajectory in the history of art. According to Jonathan Brown, his "powerful, monumental style held no appeal for [an eighteenth century] Rococo audience, [and] many of his best works were hidden from view in the monasteries and churches that had commissioned them". Opinions changed, however, when his work began to be recognized during the beginning of the 19th century. According to Brown once more, two key historical events - "the Peninsular War (1808-14) during which French generals looted the churches, monasteries, and convents of Andalusia and appropriated paintings for their private collections [and] the Secularization Act of 1835, which disestablished Spain's monasteries and caused the dispersal of their artistic fittings and decorations" - directly benefited his legacy by allowing Zurbarán's art to gain a wider visibility in the international art world.
For contemporary audiences, Zurbarán's place is secured as a leader of seventeenth century Baroque art, and one of the great artists of Spain's Golden Age. Two centuries on, his work, and attitude, would inspire the first generation of Modern artists. Brown asserts that, "to [Jean-François] Millet, [Gustave] Courbet, [Théodule] Ribot, and others, Zurbarán furnished a model of nonacademic art. His willingness to ignore the conventional rules of painting [...] and his refusal to follow a classical conception of man and nature encouraged painters who themselves wanted to approach their art with a fresh eye".
Content compiled and written by Jessica DiPalma
Edited and revised, with Summary and Accomplishments added by Antony Todd
"Francisco de Zurbarán Artist Overview and Analysis". [Internet]. .
TheArtStory.org
Content compiled and written by Jessica DiPalma
Edited and revised, with Summary and Accomplishments added by Antony Todd
Available from:
First published on 24 Dec 2019. Updated and modified regularly
[Accessed ]