"I have made up my mind to paint a great picture, even if I fail."
"I have no color on the brain. All I have on the brain is paint."
"I am disgusted with our Artists in Europe. They are mean Copiests. My trip to Europe has to some extent enabled me to judge of my own talent. Of all the landscapes I saw in Europe (and I saw thousands) I do not feel discouraged."
"My heart has always been with the downtrodden race."
Summary of Robert S. Duncanson
A key figure within a so-called "second generation" of Hudson River School of landscape painters, Duncanson achieved fame in North America and Europe during his own lifetime, and in so doing, he became a torchbearer for future generations of Black American artists. Referred to in the press of his day as "the best landscape painter in the West", Duncanson earned his reputation on the back of a series of picturesque vistas featuring serene rivers, glassy lakes, and luxuriant mountain ranges. Given his close connection with abolitionist leaders, many historians and critics have argued that his beautifully executed panoramas carry coded commentaries on the evils of the slave trade. With the onset of the American Civil War, Duncanson went into self-imposed exile, moving to Canada where he helped launch a dedicated Canadian landscape school.
Accomplishments
Duncanson first established himself as an artist in the prosperous city of Cincinnati, Ohio. Known at the time as the "Athens of the West", Cincinnati had vigorous cultural scene and was home to a large free Black community and an active convergence of White abolitionists (some of whom would become his patrons). It was in this environment that Duncanson became the principal artist among a group of Ohio River Valley landscape painters. The art historian Richard Powell called his achievements a "victory over society's presumptions of what African-American artists should create".
At the height of Duncanson's fame, he was put in the same category as the great Hudson River Valley painters, Thomas Cole,

Asher Brown Durand

, and John Frederick Kensett. Like them, Duncanson painted idyllic North American vistas that helped promote national pride and validate the country's cultural identity. His Romantic vistas of the landscape in and around the Ohio river were perceived as more than mere grandiose pastoral views, however, with his scenes conveying grand ideas and moral lessons.
Duncanson was instrumental in promoting the beauty and majesty of the North American landscape overseas. He undertook a successful tour of Europe where he achieved the reputation as America's preeminent landscape painter. Indeed, his great masterpiece, Land of the Lotus Eaters (1861), established Duncanson as a new American master. His European tour also introduced him to the spectacular Scottish highlands of which he painted several majestic landscapes.
There is a strong element of historical intrigue surrounding Duncanson's landscapes. In spite of the fact that he routinely minimized the human narrative in his paintings (so as not to distract from the splendor of his natural landscape), his racial birthright, and the abolitionist cause to which he donated several works, have led many historians and critics to read subtle antislavery allegories into his paintings.
The Life of Robert S. Duncanson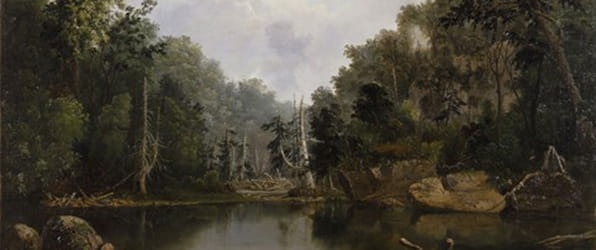 Art historian and curator Claire Perry says of Duncanson, "[he] invented a unique place for himself that no other African-American had attained at that time. It was a position as an eminent artist recognized both within the United States and abroad as a master".
Important Art by Robert S. Duncanson
Progression of Art
1845
Ruins of Carthage
Ruins of Carthage was likely Duncanson's first Romantic landscape, and likely his first history scene on canvas. Carthage was a politically powerful Phoenician city-state, in what is now Tunisia, before it was burned to the ground by the Romans in the second century BCE. Carthage was later rebuilt by Julius Caesar who operated it as a strategic seaport of the Roman Empire, and which was occupied subsequently by Vandals, Byzantines, Muslims, and Crusaders. Carthage had become an important allegorical site for African Americans following the State Convention of the Colored Citizens of the State of Michigan, held in Detroit in October 1843, at which committee chair William Lambert called on African Americans to demand equal rights. He announced: "Tyre and Carthage, the most industrious, wealthy and polished states of their time, were also once founded by Ethiopians and Egyptian colonies and peopled by blacks. [...] The sun of civilization rose from the centre of Africa, and like the bright luminary of the celestial regions, it cast its light into the most remote corners of the earth, giving arts, sciences and intellectual improvement, to all that lay beneath its elevating rays".

It is possible that Duncanson wished to reference a neighborhood near Cincinnati, also named Carthage, which was known for its religious gatherings, attractive scenery, and a number of important Democratic conventions during the early 1840s.

Art historian Theresa Leininger-Miller argues that "with this work Duncanson established some of the hallmarks for which he became internationally recognized, including the use of literary sources, imagined settings in ancient civilizations, Claudian [a Latin poet associated with the court of the Roman emperor Honorius] compositions, sets of pairs and/or opposites, and small pairs of foreground viewers, one of whom gestures with an outstretched arm toward the vista". This was also the first time he signed an artwork (on the front) indicating "his increasing confidence in his technical ability and choice of subject matter not directly derived from others' compositions in prints", as well as his willingness to assert openly his "political sympathies in favor of enfranchisement and against slavery". With this painting Duncanson also drew inspiration from earlier artistic and literary descriptions of Carthage, such as William Wallis's 1833 print, Caius Marcius Mourning Over the Ruins of Carthage, Henry Adlard's 1837 print The Ruins of Carthage, and Stephen Alonzo Schoff's 1842 engraving, Marius on the Ruins of Carthage.
Oil on canvas - Ohio History Connection, Columbus, Ohio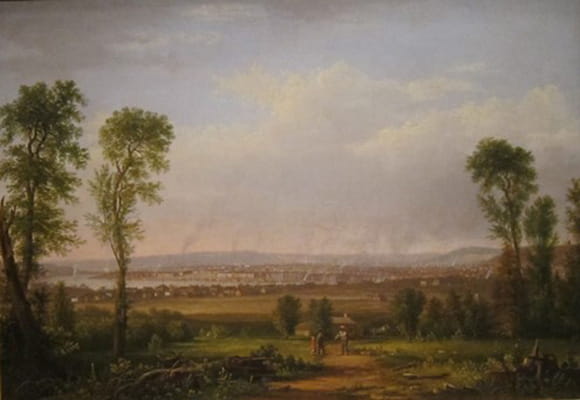 c. 1851
Cincinnati from Covington, Kentucky
Curator Julie Aronson and arts educator Emily Holtrop note that Duncanson did not sign or date this work, but it has been attributed to him and given an approximate date "based on the painting style". This work presents a distant view of Cincinnati, Ohio, as seen from Covington, Kentucky. Several pillars of smoke rise into the air from the city's industrial production centers. In the middle and near foreground lay grassy stretches of countryside with small dwellings, and the composition is framed by tall trees on either side. In the foreground, just to the right of the center, is a group of figures: a Black man with a scythe who interacts with two white children. Meanwhile, a Black woman further back and just to the right hangs laundry on a clothesline next to a house.

Aronson and Holtrop note that this work was clearly inspired by "a print, based on a daguerreotype, from an 1848 issue of 'Graham's Magazine'" (although it includes several details not found, or altered from those found, in the original print), and represents "the first visual representation of Duncanson's attitudes toward slavery". They explain that "Kentucky's agricultural economy contrasts sharply with the bustling industrial city across the river, where Duncanson was free to become a symbolising painter. Yet Cincinnati's development had its costs; the manufacturing prowess of the Queen City, depicted in such detail in this painting, depended upon the South, where people's enslavement drove the economy".

From this point forward, the majority (though certainly not all) of Duncanson's paintings contained details that include what art historian David Lubin calls, "hidden allegories on racial themes whose meanings were available only to certain audiences" (namely Black viewers). Art historian and editor Alex Greenberger adds that "for some, these images have been considered more [than] just pretty pictures. Various art historians have suggested that, in addition to touting the beauty of the American landscape, these [paintings] are poignant statements about the horrors of slavery and the importance of maintaining the Union, with natural formations and the people who populate them acting as veiled metaphors". Yet not all scholars agree with these socio-political readings of Duncanson's work. For example, Judith Wilson, a specialist in African-American art history, wrote in 1993 that she believes such readings are based on "a false set of assumptions". It was a view shared by art historian Margaret Rose Vendryes called his entire oeuvre "race-free".
Oil on canvas - Cincinnati Art Museum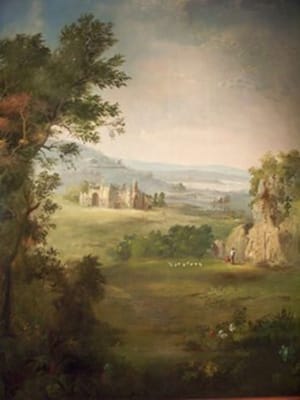 1850-52
Belmont Mansion Murals
Between 1850-52, Duncanson completed a sizable commission for Nicholas Longworth, a wealthy horticulturalist and abolitionist, who was one of the artist's most important early patrons. Art historian Claire Perry writes, "Longworth was one of the richest men in the United States. He knew everyone and had connections with everyone. When he gave Duncanson this very important commission for his home, he gave him the Good Housekeeping [completed on budget and on schedule] stamp of approval". The commission was comprised of eight monumental landscapes, each measuring nine feet tall by six feet wide, each with a trompe l'oeil frame, for the main hall of Longworth's Belmont mansion in Cincinnati. The Arcadian landscapes in the murals were inspired by European masters and by works by the Hudson River School.

The murals are imagined landscapes which were connected by the theme of a river. In the opinion of many scholars, at this time Duncanson had begun regularly including subtle anti-slavery symbolism in his paintings, and it is quite possible that in the home of Longworth such symbolism would be viewed favorably. The art historian Joseph Ketner adds that "These are the most ambitious and accomplished domestic mural paintings in antebellum America", and the commission gave Duncanson his best opportunity to explore landscape painting on a massive scale.

Associate Curator Tamera Lenz Muente, posed the question: "Duncanson did not reveal his thoughts about slavery. Or did he? In the mural to the left of the front doors, a group of people participate in a baptism in the river. Might Duncanson have intended these figures to represent African Americans? Did he, as some scholars suggest, use river imagery in his paintings to evoke the yearning for a passage to freedom? We may never know for sure, as he did not write extensively about his work. What we do know is that Duncanson, as a free man, owned his own creative labor and was paid for it. While he painted his moving murals in a white man's mansion, just across the Ohio River - literally in sight of Longworth's house - enslaved men, women, and children with skin the same color as Duncanson's toiled for nothing. That certainly weighed heavily on his mind while he worked". The murals were covered with wallpaper after Longworth died in 1863 and the house was sold. They were not rediscovered until the early 1930s, when the mansion was under renovations to become what is now the Taft Museum of Art.
Oil on plaster - Taft Museum of Art, Cincinnati, Ohio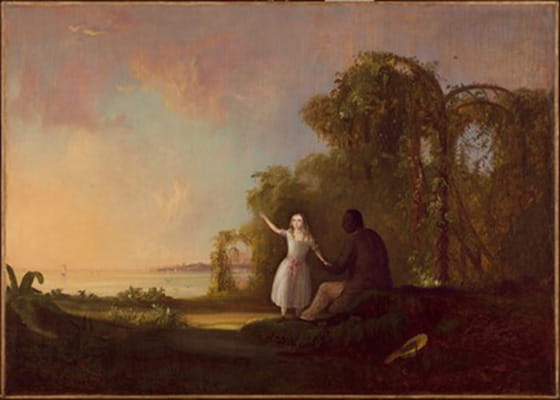 1853
Uncle Tom and Little Eva
This painting presents two figures from American abolitionist Harriet Beecher Stowe's best-selling 1852 novel, Uncle Tom's Cabin, which played a significant role in shifting national attitudes toward slavery and, some argue, contributed to the onset of the Civil War. The two figures are the central character: the slave, Uncle Tom, and Eva, a young (white) girl whom Tom befriends based on their shared Christian values. When Tom saves Eva from drowning in a river, her grateful father purchases Tom. Two years later, Eva falls ill, and before passing away, she shares that she has had a vision of heaven, leading those close to her to strive to become less prejudiced. Duncanson's painting was commissioned by Reverend James Francis Conover, an outspoken abolitionist minister and editor of The Detroit Tribune.

Visually the painting was inspired by an engraved illustration featured in the novel, and shows an idyllic landscape with Tom seated on the grass, with Eva standing in front of him in a white dress with a pink bow around the waist. While Tom is seated in the shadows, Eva is mostly illuminated by sunlight, and she looks upward and gestures toward the heavens with her right hand, while holding Tom's hand with her left. In the background lays a body of water (Lake Pontchartrain, Louisiana) dotted with sailboats. The rosy pink of the sky indicates either a dawn or dusk setting. Art historian Theresa Leininger-Miller suggests that "The scene represents spiritual salvation for Eva and for enslaved persons, as well as physical emancipation for the latter".

The curator and critic Norman Kleeblatt provided a cross-section of negative views about the painting. He writes, "One early writer severely criticized the work, citing the crude rendering and the common, even stereotypical, quality [...] David M. Lubin has even read the picture as evidence of [Ducanson's] struggle between the need to please his white patrons and his desire to assert his own African American identity. And Frances Pohl has convincingly demonstrated that, in the way it so closely follows the text [of the novel], the painting maintains Stowe's patronizing attitude toward Tom". Kleebatt's own view is that it "could express group pride by clever selection of subject matter [but] the appropriative use of master texts to validate alterity [such as racial difference] must be seen as simultaneously clever and accommodating". Indeed, while many scholars interpreted works by Duncanson through various symbols as metaphors for contemporary race issues, Uncle Tom and Little Eva was his only work to explicitly addressed such issues.
Oil on canvas - Detroit Institute of Arts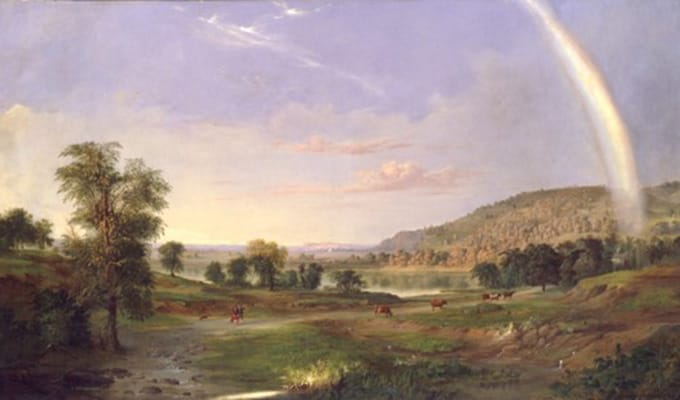 1859
Landscape with Rainbow
Recently, Landscape with Rainbow brought Duncanson renewed national attention when it was selected as the 59th inauguration painting in 2021. It was the first time a work by an African-American artist was chosen for this presidential tradition. With its classically organized composition, and soft atmospheric effects, the painting demonstrates the influence of seventeenth-century French landscapist Claude Lorrain. It also reveals the influence of Duncanson's friend, landscapist William Louis Sonntag, in its fine detail and expressive use of color. The work shows an idyllic pastoral landscape, quite possibly the Ohio River near Cincinnati, beneath a golden pink and blue sky, with one end of a shimmering rainbow, a symbol of hope, visible to the far right. Just to the left of the center, a young couple and their dog stroll through the grassy pasture, the woman looking up lovingly at the man as he gestures at the rainbow. As arts and culture writer Kelsey Ables notes, "With tiny figures and enveloping valleys, [Duncanson's] landscapes do not make a grandiose claim to the land, justified by the heavens. Instead, they ask humbly and humanly for a place in it".

At the far left of the painting stands a large elm tree, often interpreted as a symbol of freedom. Meanwhile, to the right of the young couple, a group of cows meander toward a tiny cabin at the base of the rainbow. Ables explains that in the image, "diagonals in the foreground weave you into the image. Crisscrossing grass and gravel creates an uneven sightline, evoking the sensation of finding your footing in the woods. The undulating landscape - its homeward-bound cows, a couple traversing a dirt road, the man pointing toward the end of the rainbow - all draw your gaze ever so slightly rightward. Lacking a decisive, climactic focal point, this is not a painting with an obvious conclusion". Yet at the same time, the movement of the human and animal figures, and the spotlighting of the cabin by the rainbow work together to convey a message of freedom. Curator Eleanor Harvey states that "This is not a landscape that's threatening [...] if there's anything that speaks to Duncanson's life, it is the idea of a landscape that is welcoming you home".

Although opinions vary as to whether Duncanson painted with the intention of making social and political undertones, it is difficult to dismiss such theories in light of the fact the work was produced just two years before the start of the Civil War (when tensions were rising across the nation). Arts and culture writer Victoria L. Valentine argues that Landscape with Rainbow "speak[s] to brighter horizons [and] channels a hope for peace as the Civil War looms". The symbolism in the painting also made it a powerful choice for the 2021 inaugural luncheon which was held shortly after the United States Capitol attack. Writes Ables, "In it, [Duncanson] found a rare, radical hope - it came as a gray-toned rainbow, an elm tree symbolising freedom and an Edenic valley scene. A century and a half later, hope arrived again in the small miracle of having his work [...] displayed in a space that, just two weeks earlier, had been desecrated by a Confederate flag-carrying mob. [...] Duncanson's restrained rainbow feels solid, unshakable".
Oil on canvas - Smithsonian American Art Museum, Washington, D.C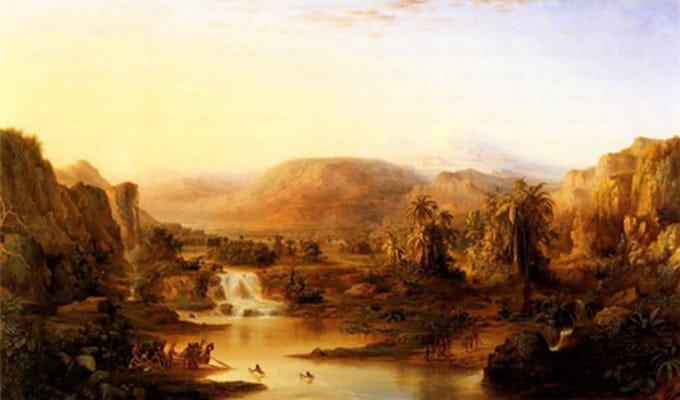 1861
Land of the Lotus Eaters
Generally considered to be Duncanson's magnum opus, Land of the Lotus Eaters was exhibited two months after the outbreak of the American Civil War. It was inspired by English poet Alfred Tennyson's 1832 poem The Lotos-Eaters (itself a reinterpretation of an episode from Homer's Odyssey), which describes the Elysian paradise in which ancient Greek mythological character Odysseus (Ulysses to the Romans) and his soldiers encountered a race of people who existed in a stupefied haze due to their consumption of the lotus plant. Here, Duncanson presents a lush, tropical landscape with palm trees, a waterfall cascading into a river in the foreground, and dramatic mountains and cliffs in the distance and framing the image on both sides. In the foreground, white-skinned figures lounge on the riverbank, as dark-skinned "natives" serve them food.

Historian Peter Betjemann writes "As a genre, nineteenth-century literary painting was commonly based on popular works by authors whose cultural stature (Scott, Tennyson, William Shakespeare, William Cullen Bryant, Washington Irving, James Fenimore Cooper) or religious themes (Stowe, Milton, John Bunyan) sanctioned their works for the drawing room. Literature offered artists and their patrons familiar incidents from an established canon, but also a trove of details, plots, and characters that could be subtly altered and transformed such that the painted version could tell a different story - or, at least, harbor a different implication - than the textual original. The nature of literary painting invited viewers to imagine events beyond the moment portrayed on the canvas".

Art historian and curator Adam Lauder notes that "Unlike Homer's long-suffering protagonist, who eventually returns home, Duncanson's explorer appears to stay in the company of the Indigenous inhabitants of a lotus land, which conspicuously resembles an imaginary American tropics more than the Mediterranean settings of its literary referents". Art historian Anna Arabindan-Kesson notes, meanwhile, that Tennyson was known to have anti-slavery sentiments, and with Land of the Lotus Eaters, Duncanson "uses the allegorical narrative of poetry and the sublime possibilities of paint to also comment on the racial politics of his time". She adds that "rather than imagining a time 'before' slavery, we might also read the painting as projecting a future in which slavery comes to an end". Lauder argues, in fact, that the work could be interpreted "in autobiographical terms, as an allusion to Duncanson's own forthcoming odyssey of wartime self-exile". Land of the Lotus Eaters was later purchased by the King of Sweden.
Oil on canvas - Swedish Royal Collection, Stockholm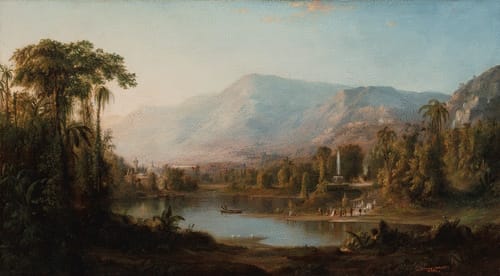 1867
Vale of Kashmir
For Vale of Kashmir, Duncanson drew on Thomas Moore's epic, and hugely popular, ten-part poem, "Lalla Rookh" (1817), which he first came across during his involvement with the Cincinnati Sketch Club in the late 1850s - early 1860s. In Moore's poem, a Persian princess (Lalla Rookh) travels to the Indian subcontinent to be married by arrangement to a prince she has never met. The poem has a "happy ending", however, when princess Lalla's discovers at the alter that her true love, a man she believed to be a minstrel-poet names Feramorz, was all along the prince in disguise. In Duncanson's painting, the princess and her courtly entourage are shown arriving by boat at the foot of a vast staircase that leads to a plaza where the ceremony is due to take place, and before the narrative revelation.

The primary debate centered on Duncanson's landscapes relate to whether racial metaphors could have been read into his paintings, or whether this painting was to be taken at face value and therefore lacking in any kind of coded abolitionist commentary. The historian Peter Betjemann clearly leans towards the former view. Betjemann argues that the Vale of Kashmir paintings (he produced three large-scale works based on Moore's poem after he first came across it at the Sketch Club) "upset established narrative sequences in order to secure alternative, antislavery futures". Betjemann bases his conjecture first on Duncanson's known "devotion to the poem" and what he calls its "merits of rebellion", and second his knowledge that Moore was an Irishman committed to independence and who, having visited the United States at the turn of the century, would have felt solidarity with the antislavery activist.

Betjeman's interpretation of the painting reads thus: "Duncanson eliminates the salon, presenting the top of the steps as an open-air and largely empty landing. No prince is visible, an intervention into the poem that heightens what every reader [of Lalla Rookh] would have known: that this painting represents its heroine not at a romantic, but at a miserable moment, facing an unknown and empty future. [...] But what every reader of Lalla Rookh would have known as well is that the prince has in fact won her hand freely (rather than taking it by arrangement), because he has disguised himself as the minstrel Feramorz [...] The moment Duncanson chooses thus represents a frightening ascent toward an unknown future [...] but one that ends in a union with the man who all along has told the stories about rebellion from coercion. [...] In the narratives the minstrel-prince tells, romantic love founded on free choice [...] correlates with militant antislavery action; each match is conducted across enemy lines and is associated [...] with heroic, physical resistance to enslavement".
Oil on canvas - Cleveland Museum of Art
Biography of Robert S. Duncanson
Childhood
Robert S. Duncanson was one of five sons born to John Dean Duncanson, a Scottish-Canadian tradesman, and Lucy Nickles, a free African-American from Cincinnati, Ohio. His paternal grandfather, Charles Duncanson, had been a slave in Virginia before he was emancipated by his master and able to learn the skilled trades of carpentry and house painting (quite possibly because he was the illegitimate son of his master). The Duncanson family settled in Fayette, New York, where Robert was born in 1821. In 1828 (his grandfather having now passed away) the family moved to the rapidly growing town of Monroe, Michigan, where his father found new employment. However, while he was born free, Duncanson still faced day-to-day prejudice, and in order to ensure he received the best education, his father took him to Canada to be schooled. It is known that he and his brothers also received training in carpentry and house painting. However, in 1839, just one year after establishing a house painting business with partner John Gamblin, Duncanson left the business to pursue a career as a portrait painter.
Early Career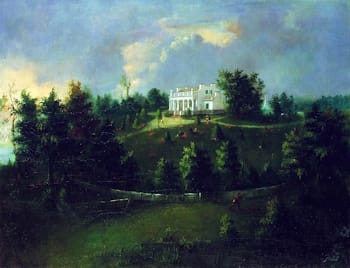 In 1840, Duncanson moved to Mount Pleasant, Ohio, which had a significant population of free Blacks, as did nearby Cincinnati. The Studio Museum in Brooklyn writes, Cincinnati "was a stronghold for both pro - and anti-slavery movements [and] home of many stops on the Underground Railroad and often the first sight of freed land for escaped slaves. Duncanson himself supported the abolitionist movement, involving himself in abolitionist societies". The city was also well known for its booming arts and exhibition scene, and counted amongst its citizens a number of esteemed white nineteenth-century landscape painters, including William Louis Sonntag, Godfrey Frankenstein, and T. Worthington Whittredge.
In Mount Pleasant, Duncanson lived with the Reuben Graham family, who were also descended from slaves in Virginia. Though he had no formal arts education, he learned by copying prints and engravings of European master works and by sketching from nature. Like many African-American artists at the time, he also worked as an itinerant portrait painter in Cincinnati, Monroe, and Detroit. In 1842, three of his portraits were accepted to the second exhibition hosted by the Cincinnati Academy of Fine Arts. His work was well-received, but none of his family were permitted to attend the show because of their race (his mother is reported to have said, "I know that [his paintings] are there! That's the important thing"). Moreover, as a Black man, he was barred from taking classes at the Academy. Nevertheless, his talents shone through and in 1846, the Detroit Daily Advertiser praised his skill and use of color: "Mr. Duncanson deserves, and we trust will receive the patronage of all lovers of the fine arts".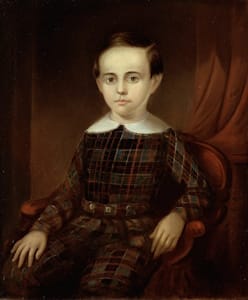 In the fall of 1845, Duncanson established himself primarily in Detroit, launching himself in business as a "Portrait and Historical Painter", and adverting his services as: "Portraits warranted, and finely executed, or no pay". During the 1840s, he also started to experiment with photography. Soon, however, he found himself becoming increasingly drawn to landscape painting, especially after becoming familiar with the work of the Hudson River School and travel prints such as those printed in John Stevens and Frederick Catherwood's Incidents of Travel in the Yucatan (published in 1841 and based on the authors' adventures through southern Mexico and Central America).
In 1848, Duncanson was commissioned by anti-slavery activist Charles Avery to paint Cliff Mine, Lake Superior. Avery was a Pennsylvanian reverend who, having profited from the cotton industry, helped slaves escape the South via The Underground Railroad (the secret route and network of safehouses). The commission was the beginning of what was to be a lifetime of close relations between Duncanson and abolitionists, and others who wished to support Black artists, like Nicholas Longworth, a wealthy, well-connected horticulturalist with anti-slavery sentiments, who became one of his major patrons.
Historian Peter Betjemann writes, "Duncanson fell under the influence of the Cincinnati landscapists T. Worthington Whittredge and William Louis Sonntag in the 1840s; they introduced him to Hudson River School techniques, even as the Western Art Union and the popularity of Cincinnati as a venue for traveling exhibitions brought the national enthusiasm for landscape painting to his doorstep. But other factors drove Duncanson's choices. He struggled to paint the human figure. An African American painter living in Cincinnati - a city situated at the border of slave and free territory and at the western frontier of industrial development - he sought refuge from racial and social tensions on sketching trips into the northern Woods". The 1848 Avery commission also appears to have been the turning point that saw Duncanson commit fully to landscape painting. Indeed, he developed a close friendship with Sonntag with the two men working out of adjacent studios. They often undertook many sketching trips around the country, sometimes also accompanied by Whittredge.
Mature Period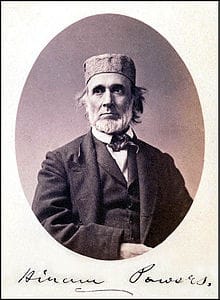 In 1853, Duncanson and Sonntag undertook a nine-month Grand Tour of Europe (financed by Longworth), making him the first African-American artist to have done so. Studying the Old Masters, they visited England, France and Italy. While in Florence he became friends with the American Neoclassical sculptor, and fellow Cincinnatian and abolitionist, Hiram Powers. Duncanson wrote, "My trip to Europe has to some extent enabled me to be judge of my own talent. Of all the Landscapes I saw in Europe, (and I saw thousands) I do not feel discouraged. [...] Someday I will return". And return he did, later in life. Historian Walter Gable notes that "Besides incorporating elements of European artists into his artwork, the time he spent among intellectual artists and committed opponents to slavery on these European trips spurred Duncanson's abolitionist feelings. In the years before the Civil War he increasingly donated paintings to abolitionist causes and personally participated in several demonstrations and activist rallies".
Once back in Ohio, Duncanson became increasingly involved in anti-slavery activism, joining abolitionist societies, and donating paintings to help with fundraising initiatives. Between 1854-58, Duncanson worked as the principal artist at Cincinnati's premiere daguerreotype studio, which was owned by African-American photographer, and publisher of the abolitionist newspaper, The Philanthropist, James Presley Ball. At the studio, Duncanson retouched portraits and colored photographic prints. In 1855, he also assisted Ball in the creation of the anti-slavery pictorial presentations that went by the title: "Ball's Splendid Mammoth Pictorial Tours of the United States". Gable explains that the presentations were comprised of a "600-yard-wide panorama that utilized narration and special sound and lighting effects to portray the horrors of human bondage from capture and trans-Atlantic passage to slave markets and escape to Canada". Betjemann adds that "No direct evidence exists that Duncanson painted part or all of Ball's panorama. Like almost all panoramas, it has not survived; we know what it looked like only from the descriptive pamphlet. Scholars widely agree, however, that Duncanson was involved, and probably headed up the Project". One of the most important figures in Black American history, Frederick Douglass, visited Cincinnati several times, and it is likely that Duncanson attended his lectures and, given that Ball photographed him, he perhaps even met with him personally.
During the late 1850s - early 1860s, Duncanson became involved with the Cincinnati Sketch Club (which existed between 1858-64) whose aim was to elevate the status of the artist to that of a "literary man". Betjemann writes that the Club "followed the model of the New York Sketch Club (1827-69), in which meetings often used literature as the basis for drawing and painting. The New York group, for instance, devoted sessions to such authors as Felicia Hemans, Lord Byron, Edmund Spenser, George Crabbe, and [Sir Walter] Scott; at many meetings, a literary excerpt would be offered as an inspiration not just for sketching but also for improvisatory writing by the authors present. The Cincinnati Sketch Club included fewer authors [...] Nonetheless, its sessions - on [Lord] Byron, [Thomas] Moore, John Keats, [Lord] Tennyson, [John] Milton, and others - and its short-lived periodical, The Sketch Club, promoted a wide range of reading". For his part, Duncanson had been especially drawn to Moore's hugely popular and influential ten-part poem, Lalla Rookh (1817), and produced several small paintings based on Moore's Oriental romance, leading ultimately to one of his career defining works, Vale of Kashmir (1867).
Late Period and Death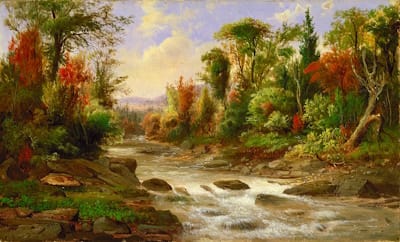 Throughout the 1850s, Duncanson had continued to find success as a landscape painter in Ohio. However, when the Civil War broke out in 1861, writes art historian Alex Greenberger, "something within Duncanson shifted" and he traveled north to Canada. The Birmingham Museum of Art states that "In Canada, as one contemporary reviewer noted, Duncanson's 'color did not prevent his association with other artists and his entrance into good society.' [...] Given the turmoil in Duncanson's native land at the time [...] it is difficult not to read [paintings such as] A Dream of Italy as the artist's longing for a place of peace and serenity". Duncanson lived in Montreal between 1863-65 and during that short time he became central to the development of a Canadian school of landscape painting, influencing artists like (his pupil) Allan Edison, Otto Jacobi, and C.J. Way. Gable observes that in Montreal Duncanson also worked with "the prestigious gallery of William Notman, who was known as the 'Photographer of the Queen,' to promote arts and culture", adding that, "he was heralded as a 'cultivator of the arts in Canada' [and] having spent early years in his youth in Canada, he was perceived as a native son".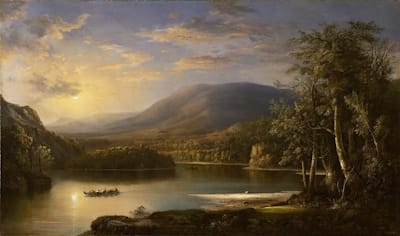 In 1865, Duncanson left for the British Isles, primarily to tour his masterpiece. Land of the Lotus Eaters (1861), a painting of Tennyson's take on Homer's epic poem, "The Odyssey". The painting had already been well-received in America, with the Cincinnati Daily Gazette reporting that "Mr. Duncanson has long enjoyed the enviable reputation of being the best landscape painter in the West, and his latest effort cannot fail to raise him still higher". Tennyson himself viewed the image, and told Duncanson, "your landscape is a land in which one loves to wander and linger". Duncanson had big plans for this work, arranging a Canadian and European tour before he had even begun painting. One London reviewer wrote "It is a grand conception, and a composition of infinite skill. This painting may rank among the most delicious that Art has given us, but it is wrought with the skill of a master". Duncanson was warmly received by European artistic and aristocratic communities. Queen Victoria even bought some of his works, as did the Duchess of Sutherland, the Duchess of Argyll, and the Marquis of Westminster. During the trip, he was captivated by the Scottish highlands, and later made several inspirational paintings based on his sketches of Scottish landscapes.
Duncanson returned to Cincinnati at the end of 1866. In his final years, he developed dementia (some have even posited he was schizophrenic), quite possibly from the lead paint he was exposed to throughout his life, (and even dating back, perhaps, to his early days as a house painter). He began to act erratically, became obsessed with spiritualism, and came to believe he was possessed by the spirit of an unnamed deceased master painter. Art historian and curator Claire Perry has also advanced the hypothesis that his psychological state broke down after a lifetime of struggling to straddle the line between Black and White societies, as well as between his humble background and the affluent circles in which he later found himself part of.
Despite his mental and physical problems, Duncanson continued to paint and to exhibit his work (although those close to him became increasingly concerned about his worsening mental state). Some scholars believe that the turbulent seascapes he painted in his final years, such as, Storm Off the Irish Coast (1870), were a direct reflection of his disturbed moods. In October 1872, Duncanson suffered a seizure while mounting an exhibition in Detroit and was placed in a mental institution. He passed away (for unknown reasons) two months later, aged just fifty-one. Duncanson is buried at the Woodland Cemetery in Monroe, Michigan. His grave was originally unmarked. But in June 2019, following a lengthy campaign by local artist Dora Kelley, the Detroit Fine Arts Breakfast Club donated a headstone to the site. Since 1986, the Taft Museum of Art in Cincinnati, Ohio has maintained the Duncanson artist-in-residence program to support contemporary African-American artists.
Duncanson had been married twice in his life. Very little is known about his wives, except that his second wife, Phoebe, was bi-racial. He had two children with his first wife, Reuben and Bertha, and one son, Milton, with Phoebe. Late in life, Duncanson clashed with Reuben, who accused him of attempting to "pass for White" in order to advance his social and economic status. Duncanson firmly denied this, writing in a letter to Reuben in 1871, "my heart has always been with the down-trodden race" but adding that he had the right to choose his own company. He concluded the letter by stating "Mark what I say here in black and white: I have no color on the brain, all I have on the brain is paint".
The Legacy of Robert S. Duncanson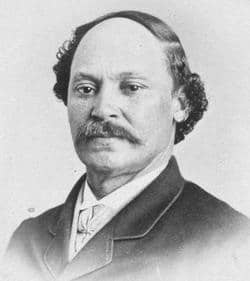 When Duncanson's, Landscape with Rainbow (1859), was officially selected in 2021 to be presented to President Joe Biden at his inaugural luncheon, the artist's reputation was rejuvenated. But not only was he the first African-American artist to have a work chosen for the inauguration (since the traditional began in 1985), during his lifetime he had laid claim to other notable "firsts". He was the first African-American artist to embark on a Grand European Tour, and the first African-American artist, as a second generation member of the famous Hudson River School, to gain international recognition during his own lifetime. Indeed, the Daily Cincinnati Gazette hailed him in 1861 as the "greatest landscape painter in the West".
The art historian Joseph D. Ketner writes: "Duncanson's progression from a humble housepainter to recognition in the arts signaled the emergence of the African-American symbolically from a people predominantly relegated to laborers and artisans," and that the artist's greatest contribution was "his distinctively picturesque-pastoral [...] landscape painting with allusions to popular romantic symbolism". Moreover, when Duncanson relocated to Canada during the American Civil War, he managed to change the course of Canadian Art. As art historian and curator Adam Lauder notes, "Prior to Duncanson's 1864 [move to Montreal] there was no established tradition of landscape painting in Canada. There were exceptional landscape painters, but no community of practitioners or unified style. [...] Duncanson's atmospheric perspective would come to dominate a long line of Canadian landscape paintings produced in his wake, culminating in the romantic vistas of the Group of Seven in the early 20th century".
Influences and Connections
Influences on Artist

Influenced by Artist
Friends & Personal Connections
Charles Avery

T. Worthington Whittredge

William Louis Sonntag

Hiram Powers
Artists
Otto Reinhold Jacobi

C. J. Way

Allan Edson
Friends & Personal Connections
Charles Avery

T. Worthington Whittredge

William Louis Sonntag

Hiram Powers
Movements & Ideas
Black American Art (BAM)
Useful Resources on Robert S. Duncanson
Books
The books and articles below constitute a bibliography of the sources used in the writing of this page. These also suggest some accessible resources for further research, especially ones that can be found and purchased via the internet.