Progression of Art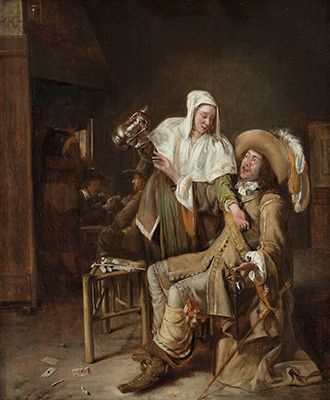 1652
The Empty Glass
De Hooch's early paintings, known as "koortegardje" pictures, showed scenes of disorderly soldiers in stables and taverns depicted through shades of dark browns and yellows. The Empty Glass painting shows just such a tavern interior. In the foreground, a seated soldier, who appears drunk (due to his red nose and overly jovial expression and gesture) is handing his empty glass to a barmaid who holds a pitcher of wine. In the dark background of the tavern sit two men playing cards. On the floor lays discarded playing cards and cigarettes.

Although these works bear the hallmarks of Dutch painter Adriaen van Ostade, de Hooch used the genre to finesse his skills in lighting, color, and perspective. Comparisons have also been drawn between his works and the tavern interiors by his contemporaries, Gerard ter Borch, Gerbrand van den Eeckhout, Ludolf de Jongh, and Pieter Codde, particularly in terms of the palette of browns and yellows, and the painting's chiaroscuro effects.

Shortly after he produced this work, De Hooch moved to Delft, where he abandoned tavern scenes in favor of the popular genre paintings and domestic scenes. His domestic scenes were characterized by quiet and order, and served as models for a fully realized Calvinist family life. What citizens of the newly independent Dutch Republic wanted were not scenes of rambunctious drunkards, but images that foregrounded the importance of the stable family unit, which was seen as foundational to the health and resilience of the Republic.
Oil on panel - Museum Boijmans Van Beuningen, Rotterdam, The Netherlands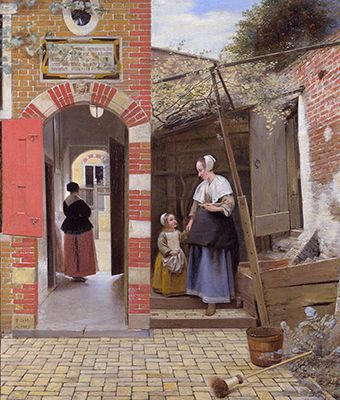 1658
The Courtyard of a House in Delft
In this work, the setting is an interior domestic courtyard. A woman and a young girl enter the courtyard hand in hand. The pair look lovingly into one another's eyes suggesting a mother/daughter relationship. To their right, we look through a brick and stone archway onto an open doorway, where another woman, dressed in black and red, stands with her back to the viewer looking out onto the adjoining street. Above the archway, a stone tablet in the wall reads "This is in Saint Jerome's dale, please be patient and meek, for we must first descend, if we wish to be raised. 1614″. On the floor of the courtyard lie a broom and bucket. To the top right, blue sky and fluffy white clouds can be seen.

Around the mid-1650s, de Hooch stopped painting soldiers and peasants, and began to focus instead on domestic scenes featuring the middle classes engaged in quotidian activities. In most of these works, the interaction between the figures is restrained, giving the scenes a sense of stillness, and in the case of mother-child tableaux (of which he painted several), a sense of intimacy. Art historian Simon Schama asserts in fact that de Hooch provided "the first sustained image of parental love that European art has shown us".

These domestic interiors are considered to be de Hooch's greatest works, and were popular subjects for many Delft School painters, and Golden Age Dutch painters generally. Curator Alejandro Vergara suggests that de Hooch's work shows the influence of Nicolaes Maes, "Particularly the dignity of the treatment of domestic subjects, [...] and above all, the geometry of the spaces and the warmth of the light which illuminates them". Vergara adds that de Hooch organizes space "following a strict geometry" and that in his works, "light plays a key role, creating strong contrasts between the illuminated areas and those left in shade and emphasizing the differences between the various materials".
Oil on canvas - National Gallery, London, England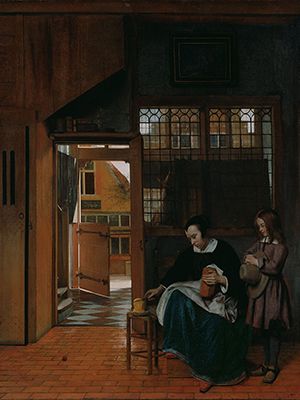 1660-63
A Woman Preparing Bread and Butter for a Boy
This painting, one of few surviving works from de Hooch's early years in Amsterdam (before the deaths of his wife and two of his children), shows a domestic interior, with a doorkirkjie to the left leading out to the street. To the right are a seated woman dressed in a black jacket and blue skirt, and a young boy standing to her right, wearing red and clutching a hat under his folded hands. The woman has a loaf of bread on her lap, and is carving a piece of butter from a plate on a chair to her left. The boy's folded hands indicate that he is saying grace before receiving his morning meal. We can assume that after eating, he will head to the school visible through the doorkirkjie.

De Hooch and his contemporaries often included simple symbolism in their domestic interiors in order to convey moral lessons regarding education, child-rearing, and the importance of keeping busy. In this painting, for instance, the books and candle in the niche above the doorway symbolize enlightenment through education. The small top lying on the floor in front of the door likely refers to a Dutch proverb that states that a child and a top will both fall idle unless continually "whipped" (a toy spinning top that has to be "spun" by striking it with a stick).

In de Hooch's work, his meticulous rendering of architectural elements like brick and stonework indicate that he learned some aspects of masonry from his bricklayer father. But these elements can also be read for their moral and religious overtones by communicating the importance of maintaining order and simplicity within the private home. The interior space is dark, moreover, and this contrasts with the daylight spilling through the front door. The dark interior connotes, perhaps, the importance of leading a still and deferential life.
Oil on canvas - Getty Center, Los Angeles, California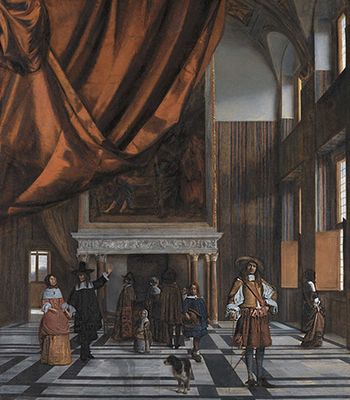 1663-65
The Council Chamber in Amsterdam Town Hall
De Hoochshows one of two mayor's rooms of Amsterdam Town Hall, with its patterned black and white marble floors, high ceiling, double bay windows, and impressive chimney-piece with a cornice and frieze supported on pilasters. To the left, we see a second room and window through an open doorway. The upper-left section of the image is dominated by a red curtain. The painting serves as an important historical document as it faithfully represents the day-to-day activity in the city's civic offices.

Several figures populate the scene, all of whom are upper/middle-class individuals and families enjoying their visit to one of Amsterdam's most important buildings. To the left, a woman dressed in red and yellow holds hands with a man dressed in black who gestures with his left hand at the vaunted ceiling. They appear to have just arrived. At the centre, in front of the fireplace, is a group of people that includes two men, one woman, and three children. In front of them is a dog. To the right stands a solitary man carrying a stick facing the viewer, and behind him, a solitary woman, seen in profile, gazing out the window.

During the 1660s, De Hooch began to paint for wealthier patrons in Amsterdam, and he became known for his "merry company" scenes and family portraits in opulent interiors (as opposed to his previous domestic interiors), with marble floors and high ceilings (influenced by an increasing taste for French art and culture). Amsterdam's Town Hall became one of his favorite settings (the building also appeared in his Musical Party in a Hall (1663-65), and Going for a Walk in the Amsterdam Town Hall (1663-65)). This painting exemplifies de Hooch's talent for using various lighting sources to create a play of shadows. The work also demonstrates de Hooch's skill in architectural views and perspective, something he likely learned from Carel Fabritius.
Oil on canvas - Museo Nacional Thyssen-Bornemisza, Madrid, Spain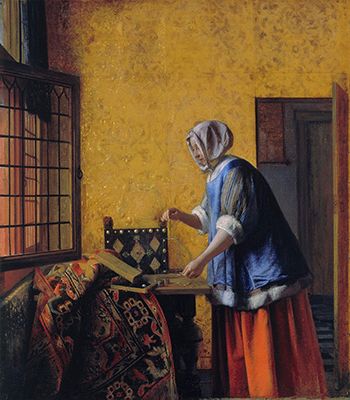 1664
Interior with a Woman Weighing Gold Coin
In this mature work, a wealthy woman, signified through her blue top trimmed with fur and her fine red skirt, stands in front of a small table, holding a small scale with her right hand, and picking up coins with her left. A patterned carpet is hung over the corner of the table. The wall behind the woman is painted vibrant gold. To the right is an open door, through which we see another room and a second closed door. To the left of the frame, finally, de Hooch paints an open window.

According to curator Alejandro Vergara "The quality of light in [de Hooch's] paintings and the pleasure with which he recreates the textures and the beauty of everyday objects contributes to the welcoming, comforting mood of his interiors. The great innovation of de Hooch's painting is the importance which it gives to the middle-class setting, while its most unique quality is the absolutely convincing naturalism of his paintings which rely on the treatment of light and space and the psychological proximity of the figures. As we stand before one of De Hooch's paintings, we feel that we have stepped inside a seventeenth-century home".

This painting is frequently compared to Johannes Vermeer's Woman Holding a Balance (also from 1664). Indeed, many of de Hooch's and Vermeer's works are similar in style and subject matter, and scholars continue to debate which artist exerted the greater influence over the other. Study of this work and its preparatory drawings indicates that de Hooch's slightly pre-empts Vermeer's painting. Vergara argues that "De Hooch's sensibility towards the effect which the representation of space has on the psychological mood of a painting may have influenced Vermeer. Other shared features such as their interest in describing textures and the effects of light on materials, are the result of shared sensibilities which they must have mutually reinforced".
Oil on canvas - Gemäldegalerie, Berlin, Germany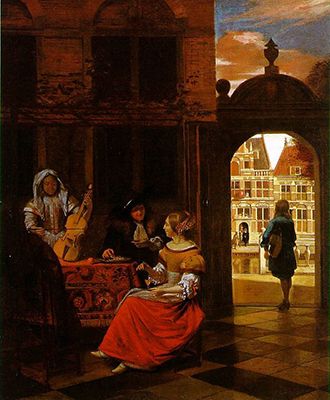 1677
A Musical Party in a Courtyard
In A Musical Party in a Courtyard, three people (two women and one man) are seated in a dark courtyard, enjoying their leisure time together. The woman at the far left plays a violin. The man smiles at the second woman. The figures all wear fashionable clothing and fine jewelry, and on the table lays an expensive Turkish rug. A fourth figure, with his back to the viewer, stands in the arched doorway at the right of the frame, looking out at the street, the canal, and the houses beyond.

Despite the opulent elements (the carpet, clothing, and jewelry) depicted in this painting, de Hooch does not render the courtyard architecture in any detail, instead giving us only a glimpse of the area. Curator Arthur K. Wheelock Jr. writes that, by the 1670, "De Hooch's work had lost much of its delicacy and finesse. His later compositions be¬came grander and more contrived, and his color harmonies and light effects harsher". The only section of this work which bears the lightness and fine detail of his earlier masterpieces is the city view seen through the doorway. It is generally surmised that the quality of de Hooch's work suffered due to his grief and anguish following the death of his wife and two of his children in the 1660s.
Oil on canvas - National Gallery, London, England
Related Artists
Related Movements & Topics