Basquiat Iconography
01

Crowns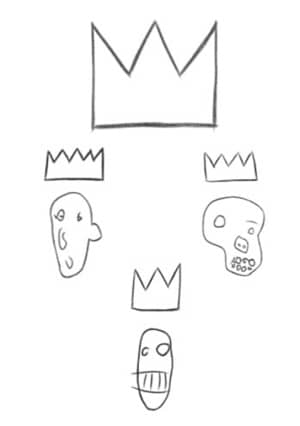 Basquiat Iconography: Crowns
The crown became Basquiat's most commonly used and iconic symbol, or, as curator Nick Curtis puts it, a "proxy artist's signature". A former girlfriend of Basquiat's offers a simple explanation for where the artist got the inspiration to use the crown in his works, stating that he "watched The Little Rascals religiously […] At the end of The Little Rascals, if you notice, there is a crown – sketched on the screen – and a title: King World Productions." Basquiat's friend and fellow painter Victor Littlejohn proposed that the form referenced Basquiat's hairstyle, stating that "A few people had dreads back then, but nothing like Jean-Michel's. They had a shape and a form of their own, kind of like a crown."
Yet Basquiat no doubt imbued this symbol with new meaning in his works. As much of his oeuvre aimed to critique and re-write American history, it is often believed that the crown was used in his work to elevate, venerate, and recognize Black men as important, even majestic, figures within that history. At the same time, it is believed by many scholars (including art historian Simon Abrahams) that the combination of the crown symbol with self-representations in his works was an attempt to elevate himself to a level of stardom within the art world. Art historian Jordana Moore Saggese similarly understands Basquiat's crowns as "an assertion of the artist's power". Artist Francesco Clemente asserts that the three peaks of Basquiat's crowns allude to the three "royal" pursuits/inspirations: poetry music, and boxing.
02

Cars and Ambulances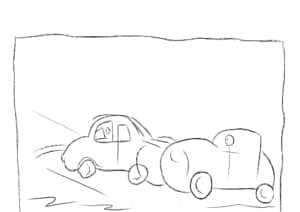 Basquiat Iconography: Cars and Ambulances
A number of Basquiat's works include images of cars and ambulances. These would seem to be autobiographical symbols, alluding to an important early event in his life that steered the direction of his art. As a young boy, Basquiat was hit by a car while playing in the street, and had to be rushed to hospital where he underwent a long period of recovery from numerous internal and external injuries. It was during this time the his mother brought him a copy of the classical textbook of human anatomy, Gray's Anatomy (originally published in 1858). This book went on to influence his later artmaking career, and the fact that he recreates (or at least alludes to) the scene of his accident in many of his works (including three works from 1980 known as Untitled (Car Crash)), leaves no doubt that he looked back on that incident as a serendipitous, pivotal moment in his life.
03

Snakes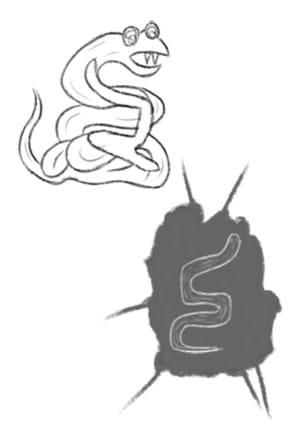 Basquiat Iconography: Snakes
Curator and art historian Fred Hoffman asserts that the snake in Acque Pericolose (Poison Oasis) (1981) implies "imminent death". Yet Hoffman also presumes that the snakes and serpentine figures in Basquiat's works carry religious undertones, symbolizing the dangerous evils that pervade modern society. Snakes also feature prominently in Haitian Voodoo belief systems, which Basquiat was familiar with due to his father's involvement in such practices. In Voodoo, snakes are not necessarily associated with evil, as they are in Western and Christian belief systems. Thus the variety of snakes found in Basquiat's works, and the high likelihood of their holding different significations in different contexts throughout his oeuvre, serves as an excellent example of the high level of complexity that exists within Basquiat's personal iconography.
04

Masks and Skulls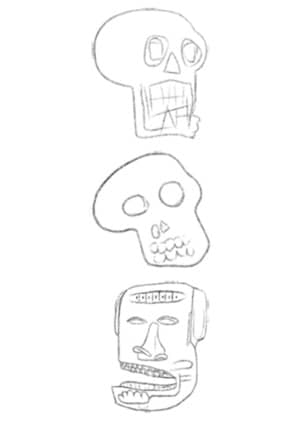 Basquiat Iconography: Masks and Skulls
Another common motif in Basquiat's visual iconography is the mask/skull, largely influenced by Voodoo practices and rituals, which his Haitian father practiced. Yet at the same time, it is commonly believed, as arts editor Shannon Lee asserts, that Basquiat's skulls reference the appropriation and fetishization of African (and other so-called "primitive" masks) "which have been so fetishized by the art market [and] modernists like Picasso.[…] For Basquiat, these skulls are gestures toward cultural reclamation."
Art dealer Brett Gorvy also believes that this idea of race was foundational to much of Basquiat's iconography, stating "You realize that he was completely aware of how he was the only Black man in this whole art world and how there were no Black people in art history. Basquiat was already completely involved in that thought process before anyone else. He was highly aware of his race."
Basquiat's skulls and masks can also be understood as a form of grappling with identity more broadly. For instance, in some works, such as Untitled (Skull) (1981), some portions of the skull reveal bare bone, while others contain organic human matter, including eyes and hair, thereby presenting a form that is neither fully dead nor alive. As much of his oeuvre makes clear, the idea of life versus death was somewhat of an obsession for Basquiat. Moreover, as curator and art historian Fred Hoffman notes, "Basquiat throughout his career focused on other suggestive dichotomies, including wealth versus poverty, integration versus segregation, and inner versus outer experience."
05

Text

Words and phrases are major components of nearly all of Basquiat's works, with many works being comprised nearly entirely of text. Basquiat included text in a variety of languages, reflecting the diversity of his personal cultural and linguistic background. The words and phrases he selected may often seem random and incoherent, but according to curator Richard Marshall, Basquiat "continually selected and injected into his works words which held charged references and meanings — particularly to his deep-rooted concerns about race, human rights, the creation of power and wealth."

Critic Roberta Smith asserts that the improvisational manner in which Basquiat blended text and image produced "chattering, chanting, excoriating fields of competing ideas, information and emotions." Art historian Robert Storr considers Basquiat's approach to art making, with the inclusion of image and text, as a sort of visual hip-hop, or what he terms "Eye-rap", a highly unique visual language that conveys "startling visual syncopation." Basquiat also sometimes crossed out some of the words in his artworks. He once explained that he did this "so you will see them more; the fact that they are obscured makes you want to read them."
Basquiat Bonus Facts
06

Basquiat on Screen

Basquiat made regular appearances on writer Glenn O'Brien's anarchic public access TV show TV Party. The show was a showcase for bands, artists and scenesters from downtown New York in the late 1970s, produced on a shoestring. Many figures from the worlds of music and film who became well-known in the 1980s were featured as guests.

In Basquiat's first appearance in 1979 he appeared as SAMO, discussing the graffiti that had begun to appear all over the city. Basquiat also appeared in O'Brien's 1981 film Downtown 81, playing a character that was a thinly veiled version of himself.
07

Jim Jarmusch and Basquiat

Basquiat and movie director Jim Jarmusch were close during the artist's life, living and working in the same downtown environment. Basquiat would often stay with him whilst homeless or at a loose end, and Jarmusch remembers that whilst filming his first feature film, Permanent Vacation, he would have to drag Basquiat around in his sleeping bag to ensure that he was not visible in the shot. Jarmusch has spoke publicly about their close relationship several times, and been somewhat critical of the nostalgia and capitalisation of others on often tenuous connections to Basquiat.
08

Gray

Basquiat formed the band Gray in 1979 with performance artist Michael Holman. They were named after Gray's Anatomy, the anatomical textbook which had influenced Basquiat's visual art since childhood. The band had an industrial sound, built around ambient electronic soundscapes, found sound and looped vocals. At the height of the New Wave movement that included Blondie and Talking Heads in the late 1970s and early 1980s they played at several historic venues, including CBGBs, The Mudd Club and Hurrah's.

Other members of Gray included Nicholas Taylor, Justin Thyme (also known as Wayne Clifford), Shannon Dawson and the actor Vincent Gallo. Basquiat left the band in 1981 after deciding that he did not want to maintain a career as both a musician and a painter. For the band's final performance at the Mudd Club, they designed a large set from scaffolding, lumber and assorted trash.

After Basquiat's death several members of the band reformed to play at his memorial, and they also reconvened to recreate their Mudd Club gig for Julien Schnabel's 1996 film Basquiat. The band enjoyed this process so much that several of the original members recorded their first album, 'Shades Of [Gray]' and began performing live again in 2010.
09

Art World Recognition

Basquiat was the youngest artist to appear in the prestigious Documenta art festival in Kassel, Germany. Director Rudi Fuchs included his work in Documenta VII in 1982, when Basquiat was only 21 years old. The recognition of his talent and importance was not universal though, particularly in the US. Both the Museum of Modern Art and the Whitney Museum rejected his work during the 1980s, although pieces are now in the collections of both museums. It was his friendship and collaboration with Andy Warhol that brought him to the attention of many of these major institutions, reinforcing his perception of institutional racism and art-world insularity.
10

Basquiat as Hip-Hop Producer

Basquiat produced a single, 'Beat Bop', featuring hip-hop artists Rammellzee and K-Rob in 1983. The single featured Basquiat's artwork on the cover and was only a limited release, meaning that it is highly sought after by record collectors and fans of the artist's work.
11

Basquiat and Fashion

In 1987, Basquiat modelled on the runway for Comme des Garçons alongside actor Dennis Hopper, to the surprise of the fashion world. At the height of his fame, this walk down the runway at the request of designer Rei Kawakubo reflected the influence that Basquiat had on the world of fashion. After reaching celebrity status Basquiat regularly wore high-fashion clothing from brands including Comme des Garçons and Armani, alongside Adidas sneakers and other street clothing. This relaxed look, mixing couture and the street, became a touchstone for many artists and celebrities of the era.
12

Basquiat (1996)

Artist and contemporary Julien Schnabel directed a biopic of Basquiat in 1996, titled simply Basquiat. Jeffery Wright played the artist, alongside David Bowie as Andy Warhol and several other well-known actors (such as Benicio Del Toro, Gary Oldman and Sam Rockwell). There is some controversy around the film, however. Several of Basquiat's friends and contemporaries have suggested that it misrepresents him as a person, overly mythologising his life and early death. Jarmusch, for example, refused to speak to Schnabel about Basquiat during research for the film. He claims to have never seen (and will never see) the film on the basis that Schnabel was never close to Basquiat and 'Jean-Michel was not a fan of Schnabel as a person back then'. Basquiat's estate refused Schnabel permission to use images of his artworks in the film, and so Schnabel himself painted the reproductions used on screen.
13

Breaking Records

In the years following his death, the value of Basquiat's work has increased massively, a trend which has continued into the 21st century. In 2017, Basquiat's painting Untitled (1982) was sold to Japanese art collector Yusaku Maezawa for a $110.5 million, which broke the record price for any Basquiat work and set a new record for an American artist at auction. Maezawa, who had also purchased other work by Basquiat, announced that he intended to display the piece in a museum he was planning in his hometown of Chiba.