Summary of Louise Moillon
Moillon emerged as one of the most important early 17th century French still life painters. Most of her works were produced over a relatively short period of around ten years but this didn't stop her from becoming perhaps the best-known female painter of her day. Part of a community of Dutch Protestant expatriates, Moillon helped pioneer the Dutch and Flemish genre of table-top still lifes in France through her sumptuous fruit and flower arrangements (although the latter are much fewer in number). Moillon distinguished her works further by introducing human figures into her paintings, often in charming market scenes. But it is for her simple still lifes that she remains most admired. Moillon's reputation was confirmed through important commissions from the Kings of France and England, and other prominent public figures.
Accomplishments
Moillon can stake her claim as heir apparent to the pioneer of female 16th century still life painting, Fede Galizia. Moillon painted exquisitely detailed arrangements that are composed through a delicate balance of compositional elements. She is celebrated for her treatment of light, and especially her mastery of the chiaroscuro technique that attests to the influence of Caravaggio.
Moillon's depictions of fruit were unusual insofar as they ignored the theme of decay. The memento mori theme (reminding the viewer of his or her own mortality) was a convention of Dutch and Flemish still life painting at that time. Her plump crops were painted at their moment of full ripeness thus allowing her to capture the full range of tonalities in her fruits' - such as apricots, peaches, strawberries, melon, and cherries - luminous flesh.
Moillon's style embraced the trompe l'oeil technique. This effect, which in her paintings often featured the subtle realist illusion of fruits and leaves leaning or hanging over the edge of her tabletops, complimented her superb feeling for the texture of her objects. Moillon's reputation was built thus on still lifes that embodied an unfussy and highly cultured quality.
The Life of Louise Moillon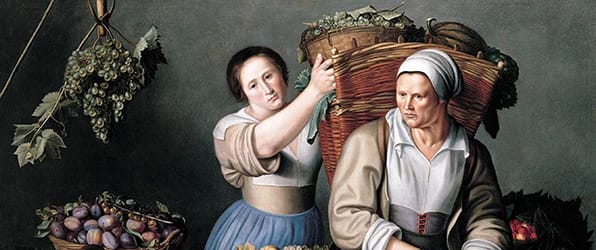 The Norton Simon Foundation states, "Whether the still-life paintings by Moillon and her French contemporaries, including Jacques Linard, lacked or eschewed the sophistication and panache of their Dutch counterparts, it is apparent that these painters embraced an entirely different aesthetic - one that was quieter, more contemplative and still satisfying in its own right".
Important Art by Louise Moillon
Progression of Art
1630
Still Life with Cherries, Strawberries and Gooseberries
Paintings such as this helped establish Moillon as one of the finest still-life painters in France in the first half of the 17th century. It amply demonstrates her scrupulous brushwork, her vivid coloring, and her eye for compositional balance. Historian Claire Papon even referred to "velvetiness and rendering of her fruits [as] more realistic than real life".

The Norton Simon Museum says of this work, "Her specialty was the meticulous rendering of fruits, and this still life epitomizes her success, displaying a restrained elegance and an idealized, classical perfection in all its components. Gooseberries, strawberries, cherries and a sprig of currants are represented as flawless specimens. The pristine blue-and-white porcelain bowls, the droplets of water and the small basket reflect her conservative but intense and highly ordered vision of the world. Whether the still-life paintings by Moillon and her French contemporaries, including Jacques Linard, lacked or eschewed the sophistication and panache of their Dutch counterparts, it is apparent that these painters embraced an entirely different aesthetic - one that was quieter, more contemplative and still satisfying in its own right".
Oil on panel - Norton Simon Museum, Pasadena
1630
Bowl of Lemons and Oranges on a Box of Wood Shavings and Pomegranates
In this work, Moillon places lemons and oranges in a bowl atop a metal wood-shavings box on a wooden tabletop. In front of the box, a pomegranate, which has been ripped open to expose its seeds, sits on the edge of the table, separating it from the other fruits somewhat. An apple, some pomegranate seeds, and a twig with leaves also rest on the table near the box.

Moillon most frequently painted still lives of fruit and/or vegetables with simple compositions. The still life was highly popular in the Netherlands at the time, and Moillon would have seen many of these works in the Parisian neighborhood where she grew up, as it was populated by Protestants from the southern Netherlands. She, along with local painter Jacques Linard, is in fact credited with pioneering the still life in France. Moillon's paintings were of particular interest, however, as she used tromp l'oeil devices to trick the viewer's eye, and create illusions of space. This strategy can be seen in the way that the pomegranate on the table appears to "jut out" of the picture into real space.

Sotheby's states in its catalogue on Moillon that she "often reused objects in her still lifes over the years [and that she] incorporated the small boîte en copeaux (wood-shavings box) in a few of her works". Sotheby's suggests, in fact, that the inclusion of "this small wood shavings box [was] likely inspired by the work of Alsatian painter Sebastian Stoskopff, one of the great still life artists of the first half of the 17th century [and] lived in Paris from about 1622 to 1639, when it is likely that Moillon encountered his work".
Oil on panel - National Museum of Women in the Arts, Washington D. C.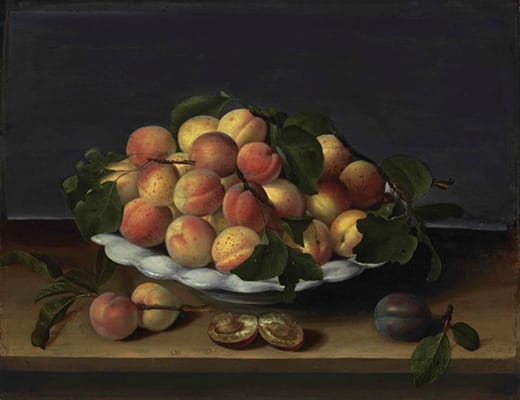 1631
Apricots in a Ceramic Bowl with Plums on a Stone Ledge
Here Moillon presents several apricots in a ceramic bowl that sits on a wooden tabletop. In front of the bowl are more apricots (including one split in half, revealing its stone) and a single plum. The realistic texture of the fruit, and the small droplets of water on the table, give the image an almost photo-realistic quality, an attention to detail for which Moillon would become highly respected. As in other works, she includes a trompe l'oeil element (the plum leaf hanging off the edge of the wooden table) to give the viewer the feeling they are looking at an image that exists in real space.

Unlike most Dutch still life artists, Moillon did not paint fruit in its various stages of decomposition. Rather, every single fruit is perfect, unblemished, plump, and ripe. Moillon was also known for her exceptional handling of chiaroscuro, creating a sense of drama through shadow, even in simple still lifes such as this. Indeed, her works are imbued with a classical sense of stillness and idealized beauty that saw her compared to the female Italian Renaissance still life pioneer, Fede Galizia.
Oil on panel - Private collection
1631
The Fruit and Vegetable Costermonger
In this charming narrative painting, we see a market stall upon which a few baskets, and bowls of fruits and vegetables, sit. To the right, a black, brown, and white cat lies on an adjoining tabletop. In the stall, the costermonger (vendor) holds a basket of fruit from which a client (identifiable as a wealthy woman, from her elegant black dress) selects her purchases. The background is dark, while the figures and produce (all of which are, typically of Moillon, ripened and in perfect condition) are beautifully illuminated.

Moillon produced several works that blend still life with genre painting. All present market scenes with female merchants and customers selling and buying fruits and vegetables. These works bear a strong resemblance to the elaborate market scenes painted in the 16th century by the influential Flemish master Joachim Beuckelaer. Moillon's figures are, however, static and isolated, appearing almost as still lifes themselves.
Oil on panel - The Louvre, Paris, France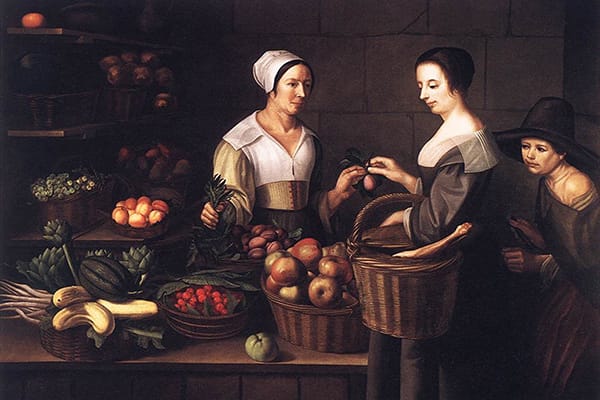 c. 1630
Market Scene with a Pick-Pocket
This painting depicts a market stall, with baskets of fruits and vegetables along shelves to the left. In the center, two women (the owner of the stall and a customer) are engaged in a transaction. To the right, a figure dressed in all black dress and hat crouches behind the customer, holding what is presumably money in both hands (as the title of the work informs us that this is a pickpocket). While Dutch artists tended to imbue their paintings with moralizing messages, Moillon seems to present this curious scene as a simple matter-of-fact observation of an incident of theft, as it appears that the pickpocket is going to get away with their crime unnoticed.

Although her market scene paintings proved less popular than her dedicated still lifes - what historian Reed Enger referred to as "her quietly sultry paintings" - Moillon's willingness to blur the lines between different genres saw her earn the patronage of King Charles I of England, and prominent members of the French nobility.
Oil on panel - Private collection
Biography of Louise Moillon
Youth and Education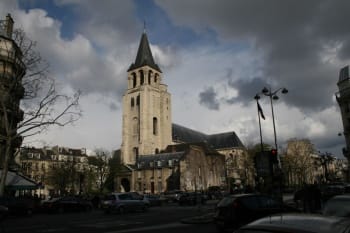 Louise Moillon was one of seven children born to devout Calvinist/Protestant parents Nicolas Moillon, a portrait and landscape painter and art dealer, and Marie Gilbert, the daughter of a goldsmith. She grew up in the St-Germain-des-Prés district of Paris, which became a refuge for Protestants (where they were protected under the 1598 Edict of Nantes, which had come at the end of the French Wars of Religion) who had experienced persecution elsewhere. Many of the Protestants in the area were expatriates of the southern Netherlands and brought with them the tradition of still life painting.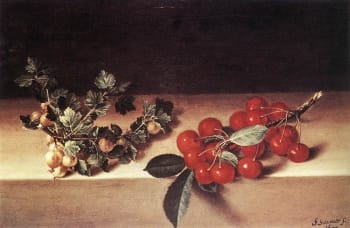 Moillon's father, who taught Louise to draw and paint, had an art shop called the Franc Galois, and ran several stalls in the neighborhood market. He was also one of the earliest members of the Royal Academy of Painting and Sculpture, as was Louise's brother, Isaac. Sadly, Nicolas Moillon did not reach old age. Historian Sharon L. Jansen writes, "[Nicolas] Moillon may also have begun the process of training his [other] children as artists - Louise's [younger] brother Isaac (1614-73) became a portrait painter at the French court - although there are also doubts about the extent of her father's influence, since he died when Louise was just ten years old". Her mother remarried another wealthy painter and art dealer, François Garnier, with whom she had two more children.
Garnier took over Louise's artistic education having no doubt recognized her innate talent. Indeed, even before he and Louise's mother were married, Garnier had drawn up documents providing for the sale of Moillon's future works. It is also possible that Moillon had other teachers and/or influences. Art historian Sam Segal writes, "Looking at her compositional methods, style and subject-matter, the possibility of Jacques Linard [being her teacher seems] likely, and there is also a certain similarity with René Nourisson".
Mature Period
In 1630 Moillon's mother died (Louise was still just nineteen years old). It is known that she had already completed several still lifes, as thirteen completed works, and nine still in progress, were listed in her mother's inventory. Historians Pierre Rosenberg and Marc Fumaroli said of one of these, Basket of Red Currants (1630), that it is "one of the most perfect examples of the lucidity and precision of Louise Moillon's art. Here she paints a basket richly garnished with fruit, a bunch of asparagus, peas, broad beans, and red currants on a table viewed from above. The carefully juxtaposed motifs are isolated from each other. The execution is severe and dry, coldly objective, and without warmth of tenderness. The palette has an acid charm, and the composition is imbued with a strict sense of order".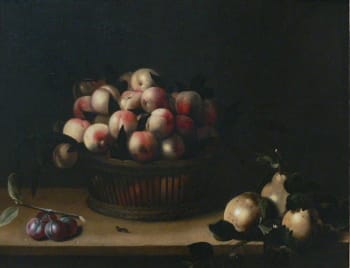 Moillon painted avidly for the next decade, producing about forty works between 1629 and 1640. An early still life of peaches caused quite a sensation, bringing her to the attention of Louis XIII, who commissioned future works by the young female artist. King Charles of England also acquired five of her works, and Claude de Bullion, the French Minister of Finance, owned twelve.
In 1640, Moillon married Etienne Gijrardot de Chancourt, a timber merchant from a Huguenot family in Burgundy, with whom she is believed to have had at least three children. Her duties as a wife and mother took up most of her time, and she stopped painting until the 1670s, when she completed just a few more works.
Late Period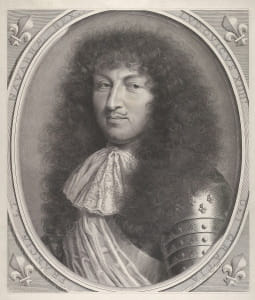 In 1685, Louis XIV passed the Edict of Fontainebleau, which revoked the Edict of Nantes, causing Protestants to endure further religious persecution. It is believed that Moillon, who was now 75 years old, was billeted in her home while members of the family were tortured by the King's soldiers (Dragoons). She fled to England with two of her children (possibly daughters), and another of her children was either imprisoned in the Bastille or sent to a convent for "new Catholics" for conversion.
It is also believed that Moillon's husband was imprisoned after refusing to convert to Catholicism. If he was, indeed, the Gijrardot referred to by Naval Secretary Jean-Baptiste Colbert de Seignelay in 1686, he and two other men prompted revolt by banding together and urging other prisoners to resist conversion to Catholicism. Seignelay signed a declaration in 1686 which read thus: "We have informed the king that the wood merchants, new converts, do not carry out their duties as good Catholics. There are three men imprisoned in Fort l'Evêque, called La Chappelle, Gijrardot and Louis Le Verroux, who give each other mutual support and prevent the other prisoners from converting to Catholicism".
Moillon eventually returned to Paris, quite possibly to avoid confiscation of her works, where she was forced to convert to Catholicism. She passed away due to heart failure at the age of eighty-six, received last rites on her deathbed, and was given a Catholic burial. Before her death she thanked God that she had been born into his church and had continued to live as a Christian.
The Legacy of Louise Moillon
Despite a relatively limited output, art historians Ann Sutherland Harris and Linda Nochlin have called Moillon "one of the finest still-life painters of the first half of the 17th century in France". Indeed, with her contemporaries Jacques Linard and Peter van Boucle, she helped popularize the Dutch and Flemish genre in France (and in England). The outstanding delicacy of her brushwork, her lush use of color, and her mastery of chiaroscuro and trompe l'oeil effects brought her work a tranquil realist quality and a reputation as one the finest female artists of her era; a reputation that was confirmed through commissions from the Kings of France and England.
Historians Pierre Rosenberg and Marc Fumaroli wrote, "in 1646 [Moillon] was famous enough [...] to associate her with both van Boucle and Linard in the execution of a 'Large Painting of Fruit and Flowers.' [Yet] Removed from the Academie Royale, unlike her brother Isaac, a history painter, [...] and persecuted for her faith after the revocation of the Edict of Nantes, Louise Moillon died abandoned and alone. Our century, which is enamoured of austere still lifes and is drawn to the sober and honest talent of this painter, will have assured her a stunning revenge".
Influences and Connections
Influences on Artist

Influenced by Artist
Artists
Nicolas Moillon

François Garnier

René Nourisson

Jacob van Hulsdonck

Sebastian Stoskopff
Friends & Personal Connections
Isaac Moillon

Jacques Linard

Peter van Boucle
Artists
François Garnier
Friends & Personal Connections
Isaac Moillon

Jacques Linard

Peter van Boucle
Movements & Ideas
Still Life
Useful Resources on Louise Moillon
Books
The books and articles below constitute a bibliography of the sources used in the writing of this page. These also suggest some accessible resources for further research, especially ones that can be found and purchased via the internet.
biography
artworks