Artworks and Artists of Public Art
Progression of Art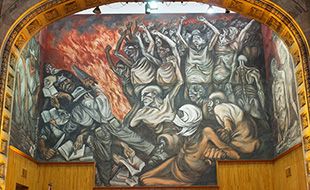 1935-1937
El Pueblo y sus Falsos Líderes (The People and their False Leaders)
The People and their False Leaders poses a mass of emaciated, bald, blind, and unclothed men (at the right) in opposition with a group of "leaders" (to the left), who appear plump and well fed, and are dressed in workers' overalls. While the gaunt figures are indistinguishable from one another, each of the leaders bears individualizing features. The mass of skeletal figures, with arms raised and fists clenched, attack the leaders, who recoil from the aggression. Several of the leaders hold tools and weapons (like saws and knives, symbolizing the use of force) as well as opened books, pointing to the pages (symbolizing the way that those in power use theory, recorded "history" and codified "knowledge" to strengthen and maintain their authority). Blood-red flames (which, for Orozco, symbolize energy and transformative force) lick up and outward from the attacking mass, threatening to consume the flammable books.

The work exists in the Enrique Díaz de León Auditorium of the former rectory of the University of Guadalajara, Mexico, where muralist José Clemente Orozco produced two murals during the late 1930s that deal with injustices suffered by the most vulnerable members of society, the hypocrisy of those in power, and the prevalence of violence in the country. Both murals demonstrate Orozco's Expressionist style and use of warm, bold colors. Although Orozco was well versed in theories of proportion and composition, he also believed that a true genius knows when to break those rules. Contemporary painter Roberto Rébora says, that "In Orozco a descriptive force cohabits in intimate relationship with geometry and technical drawing."

Like most Mexican Muralism, this work offers a message in alignment with Socialist ideals, highlighting the injustice of abuse of power by the ruling class wielded against the common man, and the resultant suffering of the latter. Having lived through, and fought in, the Mexican Revolution, Orozco tended to express strong emotions, violence, and torment in his works.

His decision to place this particular mural in a university auditorium was likely well-considered. Although much Mexican Muralism aimed to communicate to a largely illiterate audience, Orozco may have wished, for this commission, to communicate to the students, professors, and other intellectuals who would have attended lectures and other events in this space, that knowledge is power, and with great power comes great responsibility. In other words, the mural may have been intended as a reminder to this more literate and academically-minded audience that, as leaders in their local and national communities, they have a responsibility to ensure that their research and theories do not contribute to social injustice and the abuse of power. To this day, the auditorium continues to host academic lectures and events, and Orozco's murals speak to new generations.
Fresco - Rectory of the University of Guadalajara (Now the Art Museum of the University of Guadalajara (MUSA))

1938
Old Pioneers
This mural, painted for the city of Big Spring's Post Office, depicts a scene of family frontier life, with a father, mother, and their children standing heroically in front of their modest home. Big Spring's Signal Mountain is visible in the background, making the mural relevant to its local audience. The family is surrounded by farming equipment and plump poultry, indicating that they are industrious people whose work ethic allows them to prosper from the land. At the bottom of the mural, Hurd included a line from a Walt Whitman poem, which reads: "O Pioneers, democracy rests finally upon us, and our visions sweep through eternity." This line reinforces the main message of the work, that the nation was built on the backs of hard-working rural Americans, who therefore deserve to be honored as heroes.

The work, painted by artist Peter Hurd, is one of the many artworks that were sponsored by the Works Progress Administration (WPA). Taking a cue from the Mexican Muralists, these pieces aimed to motivate and empower the American public in order to work towards progress and prosperity following the Great Depression. They presented the hard-working citizen focused on the importance of agricultural labor, and the core "American" values such as close-knit family units.
Tempera fresco - Former post office building in Big Spring, Texas (now the 118th District Courthouse)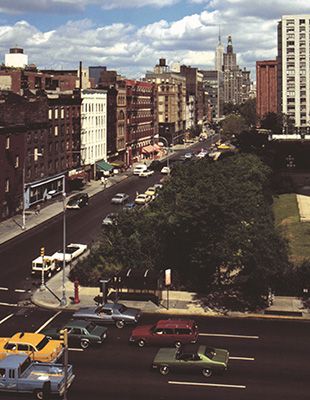 1965-present
Time Landscape
In 1965, Alan Sonfist began planning this work, which wouldn't be installed (or rather, planted) for another thirteen years. The project involved planting a variety of plant species that had been indigenous to the New York City area in pre-colonial times, on a 25 by 40 foot rectangular plot of land belonging to the Department of Transportation, at the corner of La Guardia Place and West Houston Street in Manhattan. Sonfist explained, "As in war monuments that record the life and death of soldiers, the life and death of natural phenomena such as rivers, springs, and natural outcroppings need to be remembered."

As in many of his Land Art projects, Sonfist began Time Landscape by undertaking extensive research on New York's regional botany, geology, and history, and he designed the artwork to grow and evolve naturally, making Mother Nature a co-collaborator in his work.

The New York City Department of Parks and Recreation explains, "When it was first planted, Time Landscape portrayed the three stages of forest growth from grasses to saplings to grown trees. The southern part of the plot represented the youngest stage and now has birch trees and beaked hazelnut shrubs, with a layer of wildflowers beneath. The center features a small grove of beech trees (grown from saplings transplanted from Sonfist's favorite childhood park in the Bronx) and woodland with red cedar, black cherry, and witch hazel above groundcover of mugwort, Virginia creeper, aster, pokeweed, and milkweed. The northern area is mature woodland dominated by oaks, with scattered white ash and American elm trees. Among the numerous other species in this miniforest are oak, sassafras, sweetgum, and tulip trees, arrowwood and dogwood shrubs, bindweed and catbrier vines, and violets."

Curator Todd Alden says of the work, "Neither a park nor a wilderness preserve, Sonfist's unusual hybrid combining both backward and forward-looking registrations radically re-conceived not only the idea of what a public monument might be (as a means of historical commemoration), but it also proposed nothing less than a re-formulated possibility frontier for art itself, including also man's historical (and future) relationship to nature."

Moving into the second half of the twentieth century, many artists began to focus on the contemporary dilemmas associated with environmental destruction, a problem that was increasingly being seen as having potential to affect the global population. In response to growing ecological concerns, land artists opted to create site-specific works that would not only highlight the threat of these issues, but that also employed carefully selected sites and natural (often living) materials as opposed to merely installing unnatural man-made constructions into public spaces. Many of these artists, like Michael Heizer, Walter de Maria, and Robert Smithson tended to execute Land Art projects in remote locations like deserts and dried-up lakes.

On the other hand, Sonfist chose to bring Land Art to densely populated urban environments, highlighting the importance of preserving nature within city centers. He explains, "My feeling is that if we are going to live within a city, we have to create an understanding of the land. And that includes suburban dwellers as well. We have to come to a better understanding of who we are and how we exist on the planet."
Earth, indigenous trees, bushes and flowers - Greenwich Village, New York City
1975-85
The Pont Neuf Wrapped
For the Point Neuf project, married couple Christo Vladimirov Javacheff (born in Bulgaria) and Jeanne-Claude Denat de Guillebon (born in Morocco to French parents) enveloped Paris' oldest bridge in 430,000 square feet of sand-colored polyamide fabric. After a full decade of planning, the work of wrapping the bridge began on August 25, 1985 and was finished on September 22. Over three million viewers saw the work before it was removed on October 5.

This work serves as an example of New Genre Public Art, and more specifically, of Site-Specific Art, in that the project was designed for one specific location, with the aim of working with and "metamorphosing" the existing structure and surrounding urban landscape. The artists' aim was not to conceal the bridge, but to transform it into a new sculptural form, revealing and highlighting the bridge's geometry, proportions, and angles. The color chosen for the fabric was intended to blend in with the color of the sandstone streets in Paris at sunset.

Moreover, the in-person experience formed a crucial element of the work. As Christo explained, "Our work has to be experienced, lived, touched [...] People have to feel the air, see the work breathing, living, moving in the wind, changing colours every time of the day. Images, whether they are books, postcards, posters or films do not substitute. They are a souvenir, a record but they do not substitute the real experience."

Writing about New Genre Public Art, art historian, critic, and curator Arlene Raven notes that "Often these works are temporary, leaving traces in the hearts and minds of all those affected by the process rather than merely leaving monuments in their midst." Similarly, curator and art historian Miwon Kwon identifies impermanence as an important element of much site-specific art, as evidenced by Christo and Jean-Claude's aversion to creating permanent artworks. As Christo explained, when it came to their work, "If you didn't see it, you missed it."

The artist couple were famous for creating large-scale, outdoor, site-specific interventions, such as this one, from the 1960s until Jeanne-Claude's passing in 2009, frequently altering or "wrapping" pre-existing historical buildings and monuments. Christo passed away in 2020. The duo always refused sponsorship, funding their projects themselves (usually through the sales of preliminary drawings). Their projects often required the involvement of large teams of people (such as the nearly 300 workers involved in The Point Neuf Wrapped), years of planning, and extensive public outreach and collaboration with local communities and governments.

In this way, Christo and Jean Claude's work demonstrated more of a participatory ethos that intimately involved the local community, offering possibilities for urban citizens to refuse succumbing to the "blasé attitude" and the "crowd of strangers" that sociologists George Simmel and Ernest W. Burgess associated with metropolitan life, and instead forge new forms of community and discover "new possibilities of unity," as desired by Welsh Marxist theorist Raymond Williams.
Polyamide fabric, secured by rope and steel chains - Pont Neuf, Paris
1981
Tilted Arc
One of the more controversial examples of site-specific art is Tilted Arc by American minimalist sculptor Richard Serra, comprised of a single, solid, slightly curved, slightly tilted, 120-foot-long, 12-foot-high plate of Cor-ten steel. The work was originally conceived for, and installed in, the Federal Plaza in downtown Manhattan, New York City, and was commissioned by the United States General Services Administration Art-in-Architecture program.

The sculpture boldly bisected the plaza, and Serra's intent was for "The viewer [to become] aware of himself and of his movement through the plaza. As he moves, the sculpture changes. [...] Step by step, the perception not only of the sculpture but of the entire environment changes." However, local office workers viewed the work as an eyesore and an obstruction, as a "graffiti catcher" and an "iron curtain." An employee of the nearby U.S. Department of Education remarked that, "It has dampened our spirits every day. It has turned into a hulk of rusty steel and clearly, at least to us, it doesn't have any appeal [...] and for those of us at the plaza I would like to say, please do us a favor and take it away."

Eventually, the displeased locals officially petitioned to have the sculpture removed. Serra responded by suing the government for thirty million dollars, saying that it had "deliberately induced" public hostility toward his work, and that removal of the work constituted a breach of contract and a violation of his constitutional rights (as it would negatively impact his sales and commissions as well as his artistic reputation). Serra argued that "To move the work is to destroy the work," and, as professor of Performance Studies Nick Kaye notes, this simple phrase serves as a "key definition" of site-specific art.

In the end, the Federal District Court ruled against Serra in July of 1987, and the sculpture was cut into three parts and removed from the site in March 1989. However, as intellectual property lawyer Judith A. Bresler notes, the controversy surrounding Tilted Arc likely contributed to the 1990 enactment of the Visual Artists Rights Act (VARA), which provides "moral rights" to the artist so that they have rights to attribution and integrity when it comes to paintings, drawings, and sculpture, although a 2006 decision by the U.S. Court of Appeals established that VARA does not protect location as a component of site-specific artwork.

Artist, art historian, and art critic Suzi Gablik writes that "What the Tilted Arc controversy forces us to consider is whether art that is centered on notions of pure freedom and radical autonomy, and subsequently inserted into the public sphere without regard for the relationship it has to other people, to the community, or any consideration except the pursuit of art, can contribute to the common good. Merely to pose the question, however, indicates that what has most distinguished aesthetic philosophy in the modern paradigm is a desire for art that is absolutely free of the pretensions of doing the world any good." As cultural theorist Malcolm Miles explains, the controversy surrounding this work "demonstrated the bankruptcy of late modernist art in terms of social relatedness."
Cor-ten Steel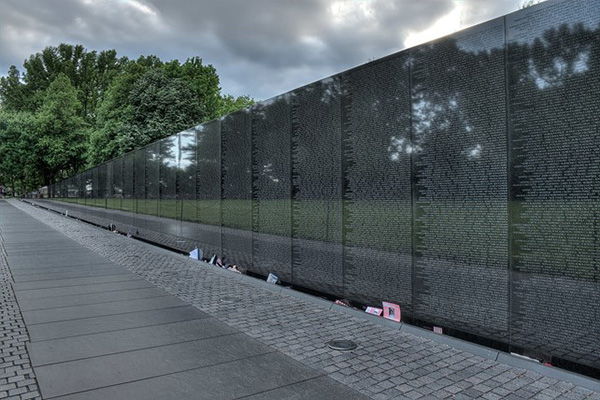 1982
Vietnam Veterans Memorial
While many Modern and Contemporary artists continue to create traditional, figurative monuments and memorials, others employ newer styles, challenging preconceived notions of the "appropriate" visual language of memorialization. For example, Maya Lin's Vietnam Veterans Memorial (VVM) honors service members of the U.S. armed forces who died or went missing in action in the Vietnam War. The design for the memorial draws from Lin's experience working with Land Art. The main portion of the memorial is the Memorial Wall (or Wall of Names), comprised of two 246 foot-long polished black granite walls, which meet at a 125˚ angle, and taper vertically downward toward the two ends. The walls are engraved with nearly 60,000 names of the servicemen being honored. The walls are sunken into the earth, representing a healing wound.

Despite being the most visited of all memorials in Washington D. C., the VVM has sparked a great deal of controversy, with critics attacking the unconventionally abstracted design (which contrasts with most of the other classically-inspired figurative monuments and memorials on the National Mall), as well as what is seen as the "negative" (or at best, ambiguous) political stance on the Vietnam war suggested by the form of the VVM and the use of the color black. These criticisms have been catalyzed by the fact that Lin, a first-generation Asian-American woman, was selected to create this particular memorial.

Professor of philosophy Charles L. Griswold undertakes a more thoughtful reading of the VVM. He writes that "The list of names both ends and begins at the center of the monument, suggesting that the monument is both open and closed: open physically, at a very wide angle, like a weak 'V' for 'victory'[...]; but closed in substance - the war is over. This simultaneous openness and closure becomes all the more interesting when we realize that the VVM iconically represents a book. The pages are covered with writing, and the book is open partway through. The closure just mentioned is the closure not of the book but of a chapter in it. The openness indicates that further chapters have yet to be written, and read."

Griswold asserts that the VVM "is not a comforting memorial; it is perhaps because of this, rather than in spite of it, that it possesses remarkable therapeutic capacity." He attributes this to the particular form of ritual that many visitors to the VVM enact, explaining, "when people find on the VVM the name they've been looking for, they touch, even caress it, remembering. One sees this ritual repeated over and over. It is often followed by another, the tracing of the name on a piece of paper. The paper is then carefully folded up and taken home, and the marks of the dead left in stone thus become treasured signatures for the living." Artist Suzanne Lacy asserts that this sort of "experiential engagement" accounts "in large part for the work's success." The memorial further implicates the viewer and the surrounding area, as the highly polished black granite acts as a mirror, reflecting the living visitors to the site, as well as the Lincoln and Washington monuments further in the distance.

Griswold notes that the VVM "is a memorial to the Vietnam veterans, not the Vietnam War," and asserts that it is patriotic without being heroic, and in this way it is "apolitical" and "fundamentally interrogative; it does not take a position as to the answer."

However, it is precisely the VVM's ambiguity in content, and abstraction in form, that troubles many. In response to these criticisms, two figurative sculptural additions were later installed close to the Memorial Wall. The first of these was Frederick Hart's bronze statue The Three Servicemen that depicts three servicemen who are identifiable as European-American, African-American, and Latino-American, thereby acknowledging the ethnic diversity of those who fought. Hart's statue was meant to please those who prefer a more traditional and heroic approach to memorialization, but Lin was upset, calling the decision to install Hart's statue "a coup" which "had nothing to do with how many veterans liked or disliked my piece," and she asserted that she had not received a single critical letter from a veteran.
Black granite - National Mall, Washington DC
1991-1992
Domestic Violence Milk Carton
American artist Peggy Diggs became concerned with the issue of domestic abuse in the United States, and after educating herself by reading extensively about the psychology and sociology of domestic violence, and by conducting interviews with rape counselors, police officers, and women's shelter workers, she decided to raise awareness of, and potentially aid victims of, domestic violence. Diggs then met with a Rhode Island woman serving a prison sentence for murdering her abuser, and the woman suggested that creating an artistic intervention at grocery stores may allow for more victims to see it, as, according to the woman, the supermarket had been the only place that her abusive husband allowed her to go to on her own.

Diggs then created four different designs for milk cartons, and with the support of domestic violence coalitions in six states, as well as Creative Time (a nonprofit arts organization in New York City), she convinced the Tuscan Dairy Company to produce and distribute one-and-a-half million cartons with her designs throughout New York, New Jersey, Connecticut, Maryland, Delaware, and Pennsylvania in January and February of 1992. Each carton design featured the black silhouette of a grasping hand, the words: "When you argue at home, does it always get out of hand?" and the phone number for the National Domestic Violence Hotline.

Diggs states, "I love public art. [... It] is not limited. It's not isolated. It's not elitist. It doesn't exist in a corner of the culture somewhere." Her Domestic Milk Carton project demonstrated a strong participatory approach, in that it involved extensive consultation and collaboration with a variety of community members before and during its execution. In projects such as these, the concept of experience gains importance. American philosopher John Dewey understood experience as the result of the interaction (comprising participation and communication) of an organism and its environment. Likewise, German art historian Juliane Rebentisch defines experience as "a process between subject and object that transforms both," and recognizes that "differently situated subjects might [...] experience the same work differently."

The project also exemplifies the social turn (or, as artist Suzanne Lacy puts it, the focus on social responsibility, to which aesthetic concerns become secondary) that characterizes much New Genre Public Art. In order to affect social change, Diggs centered her project upon a pressing social issue, and disseminated her artwork as part of everyday life, leading to an impact that would never have been possible were her artwork confined to a gallery or museum space. In the later part of the twentieth century, many artists began to challenge the commodity status of art by creating works that were dematerialized, participatory, dialogical, and multisensory.
1.5 million milk cartons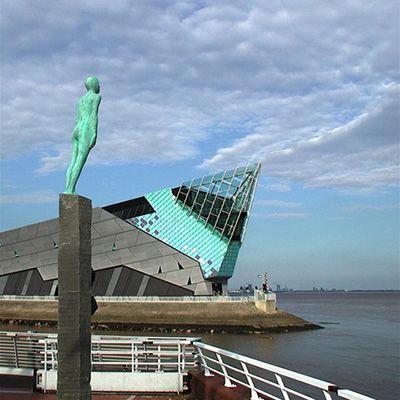 2006
Voyages
Despite the increasing prevalence of immaterial and participatory public artworks in recent decades, many artists continue to create sculptural works in order to beautify public space, and to serve an educational or instructive function. Icelandic sculptor Steinunn Thorarinsdottir, who has trained in England and Italy, was commissioned by the British and Icelandic governments to design two twin sculptures titled Voyages that would reside in both the port city of Hill, England, and the fishing village of Vik, Iceland. The pair of androgynous figures stand as instructive monuments to the historical relationship between the two locations, both peering out across the sea as if viewing one another. Thorarinsdottir explains that her aim in this project was to "symbolize the bond created by more than a thousand years of sea trading between Hull and Iceland" and to memorialize those who had lost their lives at sea.

Thorarinsdottir notes that "Of all the art projects I have been involved with, [Voyages] has been by far the most special and meaningful." She explains, that throughout her artistic career, "What has inspired me the most is the environment, and people. Society. The larger picture." It is her hope that her sculptures can "connect individuals to each other and to the wider environment." The unveiling of the Voyages sculptures was a community event, for which poets Angela Leighton, Carol Rumens, Cliff Forshaw, and David Wheatley composed poems.

Thorarinsdottir's sculptures can be found in cities across the world. They all share the same androgynous, anonymous appearance, with the rough finish of their surface calling to mind the Icelandic wilderness, which may seem austere and cold to some. However, she asserts "Using human figures makes it possible for people to relate to this work very directly, but at the same time the characteristics of the figure are reserved and anonymous - they don't force themselves on the viewer." Moreover, the idea of family forms the basis of her artistic practice as Thorarinsdottir creates the molds for her sculptures using her sons' bodies. Philosophy professor Peter Osborne asserts that Thorarinsdottir's works are "magical alchemical creations that she infuses with life, humanizes and sets forth to take their place in the landscape."
Bronze - Hull, England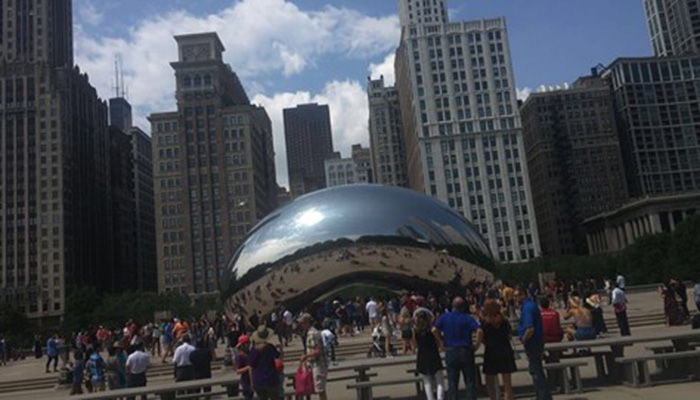 2006
Cloud Gate
After winning a design competition, Indian-born British sculptor Anish Kapoor created Cloud Gate (also referred to as The Bean due to its shape) to stand as the centerpiece of AT&T Plaza at Millennium Park in Chicago, Illinois. It sits at 33 feet high, 42 feet wide, and 66 feet long, and weighs about 110 tons. The work's seamless and highly-polished stainless steel exterior gives it a weightless quality, while also conjuring a fun-house mirror quality, reflecting and distorting the image of the visitors to the park, as well as the surrounding urban environment. In this way, the work integrates itself into the city, rather than acting as a visual imposition or physical obstruction. The work lends itself to interactivity, as its reflective nature makes it a popular photo-opportunity destination, and as its arched shape invites visitors to pass underneath it.

The form of liquid mercury, as well as spirituality and Eastern theologies like Buddhism, Hinduism and Taoism all informed Kapoor in making this piece. He envisioned the sculpture as a sort of gate between man and sky, reflecting the images of both in unison. Project manager Lou Cerny of MTH Industries explains that, "When the light is right, you can't see where the sculpture ends and the sky begins." Art critic Edward Lifson considers Cloud Gate to be among the greatest pieces of Public Art in the world, as it has become a popular tourist attraction and a symbol of Chicago. Its unveiling was honored by local jazz trumpeter Orbert Davis, who wrote "Fanfare for Cloud Gate" for the occasion. Not merely beautiful, this piece of Public Art inspires viewers to take a moment to remember the presence of nature all around and their unique relationship to it, even amidst the urban environment.
Stainless steel - Millennium Park, Chicago, Illinois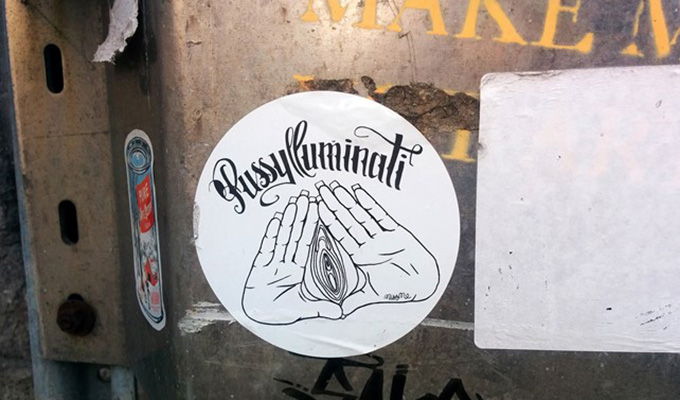 2015
Pussylluminati
Montreal-based street artist MissMe creates her unsanctioned works (usually wheat paste posters and stickers) in public spaces in cities on all continents, with the aim of promoting female empowerment, challenging toxic masculinity, and supporting feminist and anti-racist activism. Many of her works use aggressive and/or graphic imagery, for instance of female genitalia, and of rage-filled women shouting obscenities, to elicit a shock response in her viewers. In other works, she creates portraits of strong women from history (often women of color), such as Helen Keller, Frida Kahlo, Maya Angelou, Billie Holiday, and Malala Yousafzai, in order to keep these minority leaders and their achievements alive in the public imagination.

Pop culture writer Johannes Stahl notes the way in which graffiti artists employ methods that mirror those of political campaigns. He points out that although graffiti is generally thought to be a spontaneous activity, any successful action involves thorough planning of both the process, and the desired effect on the viewer. MissMe's work exemplifies this (drawing on her past career in advertising), for instance, in the way that she repeatedly paints or posts her "Pussylluminati" symbol (two hands touching at the thumbs and forefingers, with the representation of a vagina in the central space) in various locations, and promotes this symbol online as representing a sort of "gang" of empowered feminists.

MissMe pushes her objectives further, by using social media platforms (primarily Instagram) to explain her political stance and the intent behind her works more in-depth, as well as to generate public discussion of the pressing socio-political issues she deals with in her art. She also manages to maintain her anonymity, wearing a mask when she appears in photographs and videos. She writes that, "The mask hides my face. But what it truly does is reveal myself. I argue that this mask frees me from my more heavy and bounding social and cultural identities."

In the case of MissMe, "the medium is the message" (to borrow a quote from Canadian communications theorist Marshall McLuhan). The illegal and public form of MissMe's art is just as, if not more, crucial than the content of the works. She explain that "one of the recurring criticisms I would get, since I've been a teenager, is that I 'take too much space,' that I'm too assertive [...] I've spent a lot of time trying to "fix" it. And so I made myself smaller, less present, less visible [...] Until I made myself so small that I nearly disappeared. [...] Now, I'm healing from all this bullshit. I see mean fake criticism for what it is: others' insecurities. [...] I take space. My space. And if you can't handle it, get the fuck out of it."
Sticker - Montreal