Beginnings of Metaphysical Painting
Giorgio de Chirico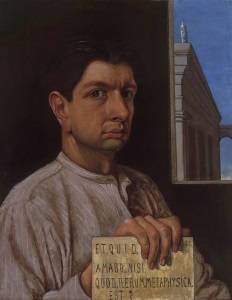 In 1912, preparing for his exhibition at the 1913 Salon d'Automne, Giorgio de Chirico described the genesis of his Metaphysical Painting, Enigma of an Autumn Afternoon (1910). "One clear autumnal afternoon I was sitting on a bench in the middle of the Piazza Santa Croce in Florence. It was of course not the first time I had seen this square. I had just come out of a long and painful intestinal illness, and I was in a nearly morbid state of sensitivity. The whole world, down to the marble of the buildings and the fountains seemed to me to be convalescent...Then I had the strange impression that I was looking at all these things for the first time, and the composition of my picture came to my mind's eye. Now each time I look at this painting I again see that moment. Nevertheless the moment is an enigma to me, for it is inexplicable. And I like also to call the work which sprang from it an enigma."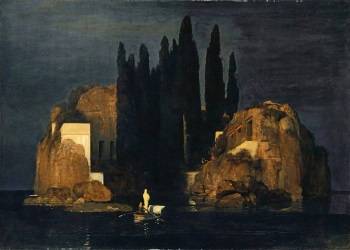 However, despite this revelation, de Chirico's pioneering metaphysical work drew upon a number of influences. Born to Italian parents in Greece, the classical and ancient world infused his imagination and thought. In 1905, following his father's death, his mother moved the family to Munich, Germany. The following year, the young artist enrolled at the Academy of Fine Arts, where the art of the German Symbolists Max Klinger and Arnold Böcklin became foundational to his aesthetic ideas and practices. De Chirico found in Böcklin's work, as he wrote in a 1920 essay, "metaphysical power [that] always springs from the precision and definition of a decided apparition. Each of his works evokes that same disconcerting shock of surprise...combining the preternaturalism of the Italian landscape with architectural elements." Of Max Klinger's work, de Chirico wrote, "by combining in a single composition scenes of contemporary life and visions of antiquity, [it] produces a highly troubling dream-reality."
At the Academy, he also encountered the philosophy of Otto Weininger, Arthur Schopenhauer, and Friedrich Nietzsche. He was later to credit Nietzsche as inspiring his paintings of Italian squares, as he wrote of the philosopher's, "innovation...a strange and profound poetry, infinitely mysterious and solitary, based on Stimmung (which might be translated ... as atmosphere), based, I say, on the Stimmung of an autumn afternoon." In 1912, de Chirico noted Schopenhauer's concept, "To have original, extraordinary, and perhaps even immortal ideas, one has but to isolate oneself from the world for a few moments so completely that the most commonplace happenings appear to be new and unfamiliar, " as the basis for the artist's idea of "revelation."
Guillaume Apollinaire
In 1911 de Chirico moved to Paris and, as art historian James Thall Soby noted, "almost immediately attracted the attention of many of the leading literary and artistic figures of the day, notably Guillaume Apollinaire." The critic Apollinaire praised what he called "the metaphysical landscapes of M. de Chirico," and added, "the painter uses that most modern recourse - surprise." While Apollinaire's praise made de Chirico famous among the Parisian avant-garde, it was the acclaim of the artist and critic Ardeno Soffici that made his work known among Italian artists. As Soffici wrote in 1914 of de Chirico's work, "One could define it as dream writing, expressing this sense of vastness, solitude, immobility and ecstasy which is sometimes produced in our souls by certain spectacles of memory when we are asleep."
Carlo Carrà
When World War I broke out, both de Chirico and his younger brother Alberto Savino returned to Italy to enlist. In 1917, while convalescing in a military hospital in Ferrara, the two met Carlo Carrà and Filippo de Pisis. De Chirico and Carrà began working closely together as they founded Metaphysical Painting. Carrà, who had been a cofounder and leading member of Italian Futurism, had begun searching for a new artistic direction around 1915, studying the works of 14th century Italian masters. He adopted a number of iconographic elements from de Chirico, while at the same time, his more modeled figures and lighter color palette introduced a new element to the movement. However, some critics including art historian Jennifer Mundy felt, as she wrote, "his works lacked de Chirico's sense of irony and enigma, and he always retained a correct perspective."
Valori Plastici
In Milan in 1918, Mario Broglio founded Valori Plastici, a magazine that extensively published de Chirico and Carrà's pictures and essays and reached a small but influential art audience. Broglio also opened a gallery in Rome with the same name, which held several Metaphysical exhibitions that traveled to Germany which brought de Chirico's work to the attention of the Dada group there, including Max Ernst.
At the same time the magazine played an inadvertent role in the breakup of the Metaphysical movement. In 1917 Carrà had been put on leave from the army and left for Milan where he held a 1917 exhibition of his works, including both his early Futurist work and his recent Metaphysical pieces. He also published a number of essays, emphasizing his role in developing the movement in Valori Plastici. As a result, critics began crediting him as the founder of Metaphysical Painting, and in 1919 he published a book, Pittura Metafisica (Metaphysical Painting) that gave further emphasis to his claim. Remaining in Ferrera until the end of the war, de Chirico's first exhibition was not held until 1919 in Rome, and, by then, acrimony had broken out between the two artists. The movement officially came to an end, though, paradoxically, when it had begun to reach a larger European audience.
Concepts and Styles
Iconography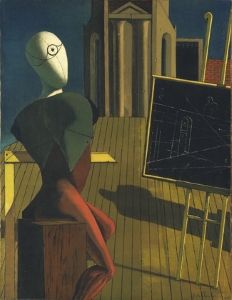 De Chirico developed his own iconography, using a number of everyday objects: fish, statues, mannequins, mirrors, and architectural elements in startling juxtapositions to create a sense of ambiguity and mystery. These motifs were widely adopted by all of the Metaphysical painters. De Chirico strove to differentiate his motifs from their established cultural associations, as he wrote, "all symbols must be put aside. Thought must so detach itself from all usual logical and sense, must so remove itself from all human fetters that all things appear to it anew - as if lit for the first time by a brilliant star." The artist's iconography thusly became connected to his interior vision, as in 1909 he began reducing, as art historian Paolo Baldacci wrote, "every shape to an archetype," which he could employ in various works over his lifetime. As Baldacci noted, de Chirico "realized that he could transform his sensations into a vocabulary of forms that were capable of eliciting in the viewer not only an understanding of specific concepts, but rather emotions and sensations similar to those from which the work originated." Statues were prevalent in his early work, as art historian Adriano Altamira wrote; they drew attention to "a fiction within a fiction." By 1914 de Chirico began using mannequins, which further heightened the effect, by drawing attention to the found object as a construction within a painting's spatial construction, as Altamira noted, "The fiction within fiction becomes real, just as two negations cancel each other out."
Still Life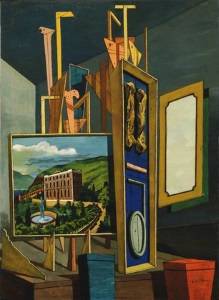 In Metaphysical Painting, still life took on the role of creating unexpected juxtapositions as seen in de Chirico's The Philosopher's Conquest (1914) where two large artichokes are placed next to the muzzle of a cannon surrounded by cannonballs within an Italian square. As de Chirico wrote, "The absolute realization of the space that any object should occupy in a picture and of the space that separates the various objects, establishes a new astronomy of all things which are bound to the planet by the law of gravitation." James Thrall Soby described this as "his genius for poetic dislocation," an effect due not only to the improbability of the juxtapositions but the aesthetic composition of containing a genre of painting within a painting. During his Metaphysical period, Giorgio Morandi, the most famous of Italian still life painters, adopted aspects of de Chirico's iconography and his use of geometric forms, as he painted works like Still Life with a Mannequin (1918) where a mannequin's head, along with a ball and a compass, are displayed in a box.
Portraiture
Portraiture was not a primary focus of Metaphysical Painting, yet works like de Chirico's Premonitory portrait of Guillaume Apollinaire (1914) had an influential impact. Depicting the figure realistically, the portraits also contained unusual juxtapositions, like the marble column with a large plaster mold of a fish and a shell framing Apollinaire, and a shadow profile above him with a target-like design on his forehead. As a result, the works evolved mere portraiture to a new level in which psychological undertones or other mysterious associations were alluded to. The Surrealists viewed Guillaume Apollinaire's portrait as a premonition of the poet's death and would go on to adopt similar approaches to portraits as seen in Andre Masson's Portrait of André Breton (1941), presenting the founder of Surrealism as a double-faced plaster head on a table.
Landscape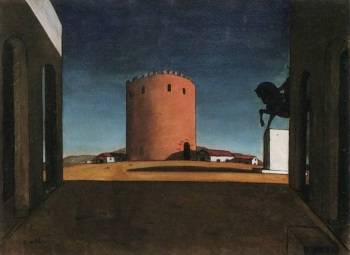 Metaphysical landscape painting could be more aptly characterized as urbanscape painting as the painters associated with the movement depicted the plazas and architecture of Italian cities, often with some elements of modernization, including trains, factory smoke stacks, or a high rise building glimpsed along the horizon or through a window. These elements gave the works an air of modernity, while also ambiguously placed within a context that evoked the classical past. The juxtaposition resulted in a sense of surrealism for the viewers because, for all the realism of the treatments, most of the landscapes were invented. For example, de Chirico's The Red Tower (1913), which evoked both the famous tower, Mole Antionelliana, and a 19th century statue of Carlo Alberto that was reconfigured and placed near a farm at the base of a hill.
Later Developments - After Metaphysical Painting
In the early 1920s Italy, Morandi, Carrà, and Sironi abandoned the metaphysical approach in favor of the realism of the Novecento Italiano movement. At the same time, de Chirico returned to Paris where, influenced by the classical masters, he turned toward realism and abandoned his metaphysical approach. However, his work had become a major influence upon the emerging Surrealist movement and its leading artists. André Breton, Max Ernst, Yves Tanguy, René Magritte, and Salvador Dali all credited his work with their turn toward Surrealism. Seeing a reproduction of de Chirico's The Song of Love (1914), Magritte described the experience, as "one of the most moving moments of my life: my eyes saw thought for the first time." The group, and Breton in particular, tried to persuade the artist to revive his metaphysical style, though with little consistent success. De Chirico did at times, through the 1920s, return to elements of the style and, even in his realistic approach, often used the same iconographic motifs.
De Chirico's work also influenced other artists, as exhibitions of his work in Germany in 1921 and 1924 inspired George Grosz of Neue Sachlichkeit (New Objectivity) and Oskar Schlemmer of the Bauhaus, who both adopted de Chirico's mannequin imagery. The Metaphysical Paintings of Italian squares also influenced Italian architecture in the period between the two World Wars, as new squares were built in Varese, Brescia, and Rome to self-consciously evoke their atmosphere.
Other artists influenced by de Chirico include Paul Delvaux, Carel Willink, Philip Guston, Harue Koga, Jacques Prévert and Paul Grimault, and Russell Drysdale in Australia.
Metaphysical Painting influenced the later movements of Lettrism, Situationism, and Pop Art. During the 1960s noted filmmakers Valerio Zurlini and Michelangelo Antonioni cited de Chirico as an influence. His work also influenced a number of noted writers, including Sylvia Plath, John Ashbery, Mark Strand, and Gabriele Tinti. His metaphysical images have also had a cultural impact as his art has been used as album covers and box art for contemporary video games.
Key Artists
Giorgio de Chirico was a Greek-Italian painter and sculptor commonly associated with Surrealism. Initially discovered by Picasso and Apollinaire in France, de Chirico's best known Surrealist paintings incorporated metaphysical subject matter and sculptural still-life. Instead of land- or cityscapes, de Chirico's art is more emblematic of a dreamscape.

Carlo Carra was a leading figure of the Futurist movement that flourished in Italy during the beginning of the twentieth century. In addition to his many paintings, he wrote a number of books on art.

With a sparse selection of household objects and familiar landscapes, painted in muted tones and warm light, Giorgio Morandi bridged the grand legacy of Italian art and twentieth-century modernism.
Do Not Miss
Magic Realist art plays off subtle strangeness, merges present and past, invents strange objects, and juxtaposes unlike things.

Perhaps the most influential avant-garde movement of the century, Surrealism was founded by a small group of writers and artists who sought to channel the unconscious as a means to unlock the power of the imagination. They hoped that the psyche had the power to reveal the contradictions in the everyday world and spur on revolution.

Symbolism is an artistic and literary movement that first emerged in France in the 1880s. In the visual arts it is often considered part of Post-Impressionism. It is characterized by an emphasis on the mystical, romantic and expressive, and often by the use of symbolic figures.
Content compiled and written by Rebecca Seiferle
Edited and revised, with Summary and Accomplishments added by Kimberly Nichols
"Metaphysical Painting Movement Overview and Analysis". [Internet]. .
TheArtStory.org
Content compiled and written by Rebecca Seiferle
Edited and revised, with Summary and Accomplishments added by Kimberly Nichols
Available from:
First published on 02 Sep 2019. Updated and modified regularly
[Accessed ]