Artworks and Artists of Abstract Expressionism: Second Generation
Progression of Art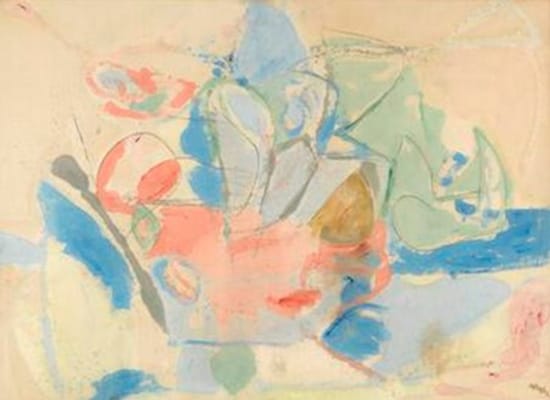 1952
Mountains and Sea
Light, airy washes of paint breeze effortlessly through this painting, capturing the invigorating, expansive freshness of an oceanic landscape. Sketchy lines hint at the outlines of mountainous forms, but they are wispy and fragile, emphasizing the fleeting effects of nature. Rather than depicting a realistic place, the work conveys an emotional, individualized response to the memory of time and place before it slips away.

Frankenthaler made this painting when she was just 23 years old following a visit to the coastal regions of Nova Scotia, where the wide-open space and sharp, crisp air deeply moved her. But she went beyond representation in this painting, evoking instead an experiential moment through abstraction. The art critic Barbara Rose admired Frankenthaler's ability to create "the freedom, spontaneity, openness and complexity of an image, not exclusively of the studio or mind, but explicitly and intimately tied to nature and human emotions."

This painting was a breakthrough for Frankenthaler, in which she first pioneered the "soak-stain" technique by pouring turpentine-diluted paint directly onto raw, unprimed canvas laid out flat on the floor. This process took influence from Jackson Pollock and his "all-over" floor paintings, but whereas Pollock's work was richly textured and tightly structured with webs of dark paint, Frankenthaler's style was to become all about airy color and atmospheric space. In both their expression and method, her early 1950s works marked a new departure into the second wave of the movement. Washington Color School painter Morris Louis famously described this iconic painting as a "bridge between Pollock and what is possible."
Oil and charcoal on canvas - National Gallery of Art, Washington, D.C.
1953
Black Still Life
A grid-like formation underlies this painting by Grace Hartigan, which references objective reality through carmine blocks resembling plant pots and shades of green reading as plants. They are arranged on the same plane, like on a table. In this artwork Hartigan brought the legacy of Abstract Expressionism - the use of layered, rough swirls of paint, the showcasing of brushstrokes and texture - in contact with the still life tradition. The affinity between Abstract Expressionism and another painting tradition, landscape, had been explored by painters such as Mitchell and Frankenthaler. Hartigan's work demonstrates another possibility of the Abstract Expressionist style in its second phase.

Born in 1922, Hartigan was first taken by Abstract Expressionism through the work of Jackson Pollock, which she saw in an exhibition in 1948. Departing from Pollock and the Greenbergian critical orthodoxy that had made his career, however, Hartigan was eclectic in her approach to subject matter, embracing modern life and its representation even as she experimented with shifting between abstraction and figuration. "I want an art that is not 'abstract' and not 'realistic,'" she wrote. At a time when male painters dominated the art world, Hartigan exhibited under the name "George" in the early 1950s, an homage, she said, to the writer George Eliot. But the name also allowed her work to be taken seriously by critics. Along with other women painters, Hartigan was at the vanguard of a rising tide in the art world that was slowly opening up to more diverse viewpoints and art styles in the 1960s.
Oil on canvas - The University of Arizona Museum of Art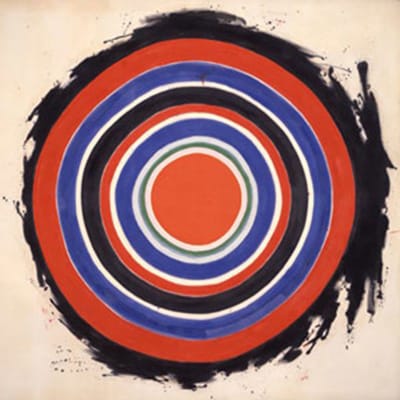 1958
Beginning
In this immediately arresting image Kenneth Noland plays with the "Target" motif that would occupy much of his mature art. A series of concentric circles in bold, contrasting colors create a lively optical effect as each circle seems to recede or move forward in space, drawing our eyes in. Painterly brushstrokes are left visible to lend the artwork an improvised, spontaneous spirit, while the outer rim is an energized swirl painted to appear as if moving round in space.

Noland began his career as an Abstract Expressionist painter, but his introduction to the work of Helen Frankenthaler in 1953 moved him towards a greater appreciation of color and space. He started to explore how ambient patterns and vivid hues could invest his canvases with the expansive qualities of light and air. To achieve this weightless quality, Noland worked directly on raw canvas, a process he took from Frankenthaler. Like Frankenthaler, Noland saw this method as an immediate, improvisatory act in which every move counts, famously calling himself a "one-shot painter."

Like other artists associated with late-phase Abstract Expressionism, Noland's circular motifs made reference to the exterior world, suggesting military targets, the Cold War, and the space race. Art historian Paul Hayes Tucker argues that Noland's art was one "for the atomic age, pulsating with explosive power yet emanating uneasiness." With their exploration of modern signs and their meanings rendered in an ultimately abstract language, Noland's "Targets" bridge a gap between Abstract Expressionism and the rising styles of Neo-Dada and Pop Art by artists such as Jasper Johns, Robert Rauschenberg and Robert Indiana.
Magna on canvas - Hirshhorn Museum and Sculpture Garden, Washington, D.C.
1960
Rock Bottom
A wild tangle of energized color, Rock Bottom is dominated by thick streaks of cobalt blue that form a messy pool of darkness in the centre. The initial chaos of the image slowly reveals a sense of underlying structure over time, as sharp edges and hard angles gradually emerge from the wilderness like craggy rock edges or cliff faces, before dissolving back into the chaos.

Joan Mitchell made this painting while she was living in Long Island, New York in the summer of 1960. Rich, electric hues of blue began to appear in her work during this time, likely a reference to the vivid colors of the Long Island shoreline. Mitchell drew references to the exterior world back into an Abstract Expressionist language by filtering images of landscapes through her own subjective interpretations. Writing about this particular painting, Mitchell once said, "It's a very violent painting... And you might say [that about] sea . . . rocks." Her work also typified the second-phase of Abstract Expressionism with a fluid and instantaneous approach that echoed Kenneth Noland's "one-shot" attitude to making art.

French critic Pierre Schneider praised Mitchell's ability to create images that teetered between states of control and chaos, praising her first solo exhibition in Paris in 1960 for its "conflicting hesitations and mutually abolishing decisions."
Oil on canvas - Blanton Museum of Art, The University of Texas, Austin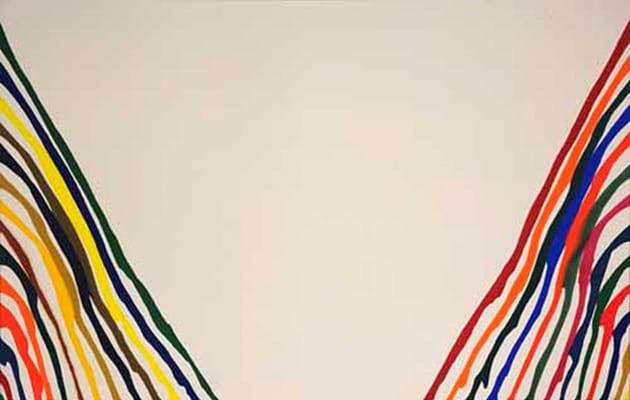 1961
Beta Lambda
Rainbow streaks of color drip in waves down each side of the canvas, forming a near symmetrical motif with a great chasm of wide-open space in the center. Like many painters of his generation, Morris Louis was concerned with the relationship between vivid, intense colors and how they could invoke sensations of freedom and space within the painted pictorial field.

The "Unfurled" series are immense in size. Morris worked on them when he was making art in the dining room of his small home in Washington, D.C. The works were made on rolls of canvas that could not be fully unfurled in this small space, hence the title of the series. Their epic scale also made it difficult for the paintings to fit in many gallery spaces, hence only two of the paintings in a series of over 100 works were exhibited during his lifetime.

In the early 1950s Morris saw the art of Frankenthaler and was inspired to experiment with a new process of using liquid paint and a semi-controlled pouring process in which he tipped his canvas upright and allowed paint to run in ribbons and rivulets down its surface. The resulting works featured striped bands of ambient, atmospheric colors, which were placed in playful arrangements that let them bounce off and respond to one another. In works such as this one he took the spontaneity of Abstract Expressionism in a new direction, carefully balancing the application of color by a process that was controlled yet ultimately defined by chance.
Synthetic polymer paint on canvas - Museum of Modern Art, New York
1963
Fatal Plunge Lady
Color is the defining feature of this expansive canvas that is almost entirely eclipsed by a glowing orb of radiant red, tingled with lilac in the center. Small accents of turquoise blue and purple hover in the far-right corner, adding a sense of space and weightlessness to the entire canvas. Art critic Roberta Smith describes this painting as "a burnt orange astral body orbited by a tiny red satellite, buffered by a patch of green."

Influenced by Mark Rothko and Helen Frankenthaler, New York-based artist Jules Olitski began making "stained" paintings in the early 1960s, infusing diluted paint into raw canvas and allowing it to soak deep into the core of the surface, where it could create tactile, painterly blooms, as can be seen in this work. The process allowed him to create a sense of light, depth, and space in his work, a quality that typified the Color Field painting style. Art critic Clement Greenberg praised Olitski's works for their emphasis on the formal, modernist properties of scale, color, atmosphere, and drama, at one point describing Olitski as "the best painter alive."

Although almost entirely abstract, Olitski's art often made oblique reference to the female body, with the use of curvaceous, voluptuous shapes suggesting of body parts . Titles, too, play a role, such as this work he called Fatal Plunge Lady. This reference point allowed Olitski to tie his art to the great masters of the past, from Rembrandt to Rubens, but it also betrayed the macho, male gaze that was still so prevalent in art practices of the time.
Acrylic on canvas - Estate of Jules Olitski
1964
Icarus
Energized, rhythmic marks form a blizzard of colorful pattern across the entire canvas, allowing it to pulsate with energy and life. Dark, calligraphic lines are scrawled across the surface like an illegible form of handwriting, evoking a spontanoues, personal language of self-expression. The hot coral and fuchsia pinks in this work typify Krasner's mature works, which are characterised by shockingly bright, high impact color schemes.

Krasner made this work in the mid-1960s, after she had moved into her late husband Jackson Pollock's large barn studio to paint. Following his death in 1957, grief often kept her up at night. She turned to art, and it gave her a sense of drive and purpose. The vast space gave her room to branch out in new directions both literally and figuratively. She was known to work by jumping in the air with long handled brushes to reach the far corners of her largest works. Much like the earlier Abstract Expressionists with whom she was closely involved, Krasner worked intuitively on these canvases, allowing their forms and patterns to emerge organically. She observed of her working method, "There's a blank, and something begins to happen, and the hope is that it comes through."

Even when Abstract Expressionism had seemed to run its course, Krasner kept the flame burning for a little while longer with her unique visual language. As art critic Adrian Searle points out, "for Krasner the gesture wasn't spent. These stampedes and blizzards have a percussive, Stravinsky-like rhythm."
Oil on canvas - Pollock-Krasner Foundation