Movements, Styles, and Tendencies
Arte Povera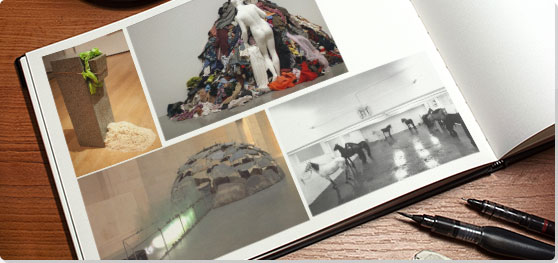 Arte Povera
Started: 1962
Ended: 1972

Summary of Arte Povera
Arte Povera - "poor art" or "impoverished art" - was the most significant and influential avant-garde movement to emerge in Europe in the 1960s. It grouped the work of around a dozen Italian artists whose most distinctly recognizable trait was their use of commonplace materials that might evoke a pre-industrial age, such as earth, rocks, clothing, paper and rope. Their work marked a reaction against the modernist abstract painting that had dominated European art in the 1950s, hence much of the group's work is sculptural. But the group also rejected American Minimalism, in particular what they perceived as its enthusiasm for technology. In this respect Arte Povera echoes Post-Minimalist tendencies in American art of the 1960s. But in its opposition to modernism and technology, and its evocations of the past, locality and memory, the movement is distinctly Italian.
Key Ideas
Although Arte Povera is most notable for its use of simple, artisanal materials, it did not use these to the exclusion of all else. Some of the group's most memorable work comes from the contrast of unprocessed materials with references to the most recent consumer culture. Believing that modernity threatened to erase our sense of memory along with all signs of the past, the Arte Povera group sought to contrast the new and the old in order to complicate our sense of the effects of passing time.
In addition to opposing the technological design of American
Minimalism
, artists associated with Arte Povera also rejected what they perceived as its scientific rationalism. By contrast, they conjured a world of myth whose mysteries couldn't be easily explained. Or they presented absurd, jarring and comical juxtapositions, often of the new and the old, or the highly processed and the pre-industrial. By doing so, the Italian artists evoked some of the effects of modernization, how it tended to destroy experiences of locality and memory as it pushed ever forwards into the future.
Arte Povera's interest in "poor" materials can be seen as related to
Assemblage
, an international trend of the 1950s and 1960s that used similar materials. Both movements marked a reaction against much of the abstract painting that dominated art in the period. They viewed it as too narrowly concerned with emotion and individual expression, and too confined by the traditions of painting. Instead, they proposed an art that was much more interested in materiality and physicality, and borrowed forms and materials from everyday life. Arte Povera might be distinguished from Assemblage by its interest in modes such as performance and installation, approaches that had more in common with pre-war avant-gardes such as
Surrealism
,
Dada
and
Constructivism
.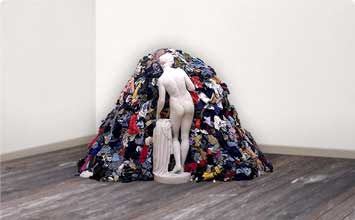 Saying, "I chose to use poor materials to prove that they could still be useful. The poorness of a medium is not a symbol: it is a device for painting," Alberto Sacchi turned to art while he was in a prison of war camp in 1944. His first works were made of burlap bags, and his series of Sacchi (Sacks) pioneered Arte Povera.
Important Art and Artists of Arte Povera

The below artworks are the most important in Arte Povera - that both overview the major ideas of the movement, and highlight the greatest achievements by each artist in Arte Povera. Don't forget to visit the artist overview pages of the artists that interest you.


Artwork Images

Floor Tautology (1967)

Artist: Luciano Fabro

Artwork description & Analysis: By the time he joined the Arte Povera group, Luciano Fabro was already a well-known artist associated with the likes of Piero Manzoni and Lucio Fontana, two important precursors of the movement. His Floor Tautology involves an area of floor, kept polished and covered with newspapers to dry. Shown in Germano Celant's first survey of Arte Povera, Fabro's celebration of an ordinary task was instrumental in his attempt to recalibrate the concept of fine art. The elevation of a duty associated with housework - and most often coded as women's work - became a theme in his later pieces that utilized bed sheets and other fabrics.

Floor, newspapers


Artwork Images

Untitled (1968)

Artist: Giovanni Anselmo

Artwork description & Analysis: Giovanni Anselmo worked as a graphic designer, and began to experiment with the arts in his spare time. One of his first installations, which involved thin metal rods vertically attached to pieces of wood, suggested his fascination with the effects of nature upon inanimate objects. Similarly, Untitled (sometimes referred to as Eating Structure) comprises a small block of granite attached to a larger, plinth-like block by means of a head of lettuce and a length of wire. If the lettuce is allowed to dry out, the smaller block will fall, therefore the sculpture has to be regularly "fed" with lettuces to maintain its structure. Its concern with balance and gravity echoes some of the interests of American Post-Minimal art, though its comic tone, and its use of such mundane materials as a head of lettuce, is typical of Arte Povera's evocation of poor and rural life.

Granite, copper wire, lettuce - Centre Georges Pompidou, Paris


Artwork Images

Artist's Shit (no. 4) (1961)

Artist: Piero Manzoni

Artwork description & Analysis: Piero Manzoni began his artistic career as a self-taught painter. As his style evolved, he continually questioned traditional methods and interpretations of art. While Manzoni is not considered a true member of the Arte Povera group (more of a precursor), his work reflects the principles of the movement. Supposedly containing 30 grams of excrement, Manzoni's Artist's Shit reprises such famous avant-garde provocations as Marcel Duchamp's presentation of a urinal as a work of art, in Fountain (1917). Ninety cans were produced, canned and labeled in an identical manner, mocking the practices of mass production and consumption, and satirizing the reverence usually accorded to artist's work.

Tin can, contents unknown - The Tate Modern, London
More Arte Povera Artwork and Analysis:
If you see an error or typo, please:
tell us
Cite this page

Content compiled and written by Tracee Ng
Edited and published by The Art Story Contributors
" Movement Overview and Analysis". [Internet]. . TheArtStory.org
Content compiled and written by Tracee Ng
Edited and published by The Art Story Contributors
Available from:
First published on 21 Jan 2012. Updated and modified regularly.


[Accessed ]