Stéphane Mallarmé and Important Artists and Artworks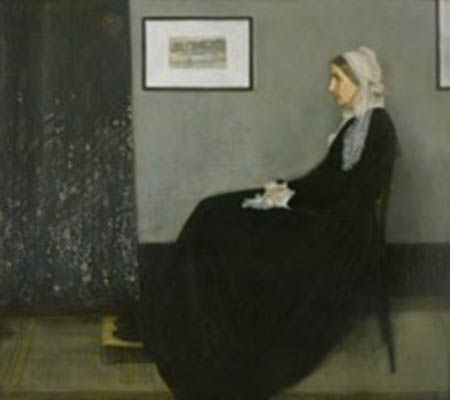 Arrangement in Grey and Black No.1 (1871)
Arguably James McNeill Whistler's most famous painting - often referred to as Whistler's Mother - this work shows Anna McNeill Whistler seated in left profile in the artist's studio in London. Wearing a black dress and a white lace cap, she stares steadily forward, her hands folded in her lap. The background is as austere as her dress, featuring a long black curtain or textile of Japanese design and one of Whistler's own etchings of the Thames River, Black Lion Wharf. The simplicity and shallow space of the composition, its emphasis on broad shapes, and the painting's original designation as an "arrangement" all highlight the artist's desire to focus on the abstract qualities of form and color rather than on narrative content in his work.

These goals surely appealed to Mallarmé, who similarly wished to capture immaterial effects in his poetry. The two men met in 1888 at Claude Monet's studio where, according to author Gordon Millan, "Mallarmé was greatly impressed by Whistler, whose ironic sense of humor and independent spirit struck a particular chord." Their professional relationship was initiated when the poet translated the artist's "Ten O'Clock Lecture" (in which he argued for the aesthetic value of art for its own sake) into French. And in 1891, when Whistler sought to sell the Arrangement in Grey and Black, Mallarmé was instrumental in securing its purchase by the French government, initially for the Luxembourg Museum to be transferred later to the Louvre. The painting also earned Whistler the honor of being named a chevalier of the Légion d'honneur, which Mallarmé himself presented to him in 1892. Whistler, for his part, made a lithograph portrait of Mallarmé which was published as the frontispiece to an anthology of his poems in 1893.
Oil on canvas - Musée d'Orsay, Paris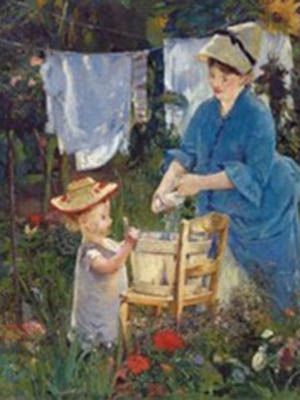 Le Linge (Laundry) (1875)
A woman accompanied by her child stands in the somewhat overgrown yard of a Parisian house, hanging out laundry to dry. The child is intent on her mother's chore, fascinating by the water pouring into the bucket, while the mother is equally absorbed in tenderly observing her child. Manet's painting was rejected for exhibition in the Paris Salon of 1876, so the artist determined to display it in his own studio, which he opened to the public for two weeks in April in an act of protest against the art establishment. The rejection also inspired Mallarmé to write an article for the September issue of the London periodical The Art Monthly Review titled "The Impressionists and Édouard Manet" in which he defined and defended Impressionism and its artists, although Manet never participated in the exhibitions that defined the group. It was, according to author Margaret Werth, "...arguably the most sophisticated reading of Impressionism in the 1870s."

In this now famous article, Mallarmé described the vibrant colors and play of light in this painting as a "fusion or ... struggle ever continued between surface and space, between color and air." He went on to suggest that contemporary artists' true medium was air, as they painted subjects outdoors that "palpitate[d] with movement, light, and life." As Werth notes, Mallarmé's emphasis on the atmospheric space around objects in Manet's work parallels his own search for meanings and sensations that eluded expression in the words of his poetic writing. This essay identified some of the radical goals of Manet and his Impressionist colleagues and helped solidify the relationship between the artist and the poet.
Barnes Foundation, Philadelphia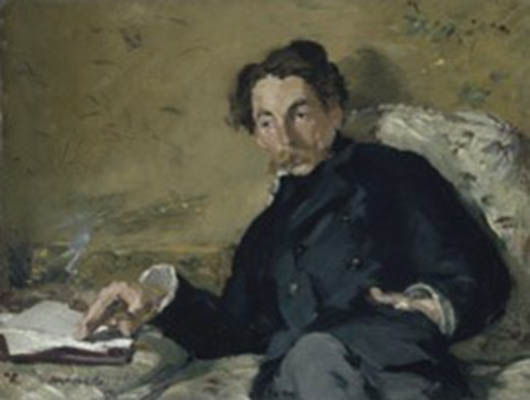 Stéphane Mallarmé (1876)
This painting captures a sense of Mallarmé's relationship with Manet, as well as of the poet's creative process. It depicts him comfortably seated in the artist's studio, which he visited "every day for ten years," he later claimed, to spend the afternoon in conversation with the artist and his colleagues. It was painted in the same year that Mallarmé wrote his article "The Impressionists and Édouard Manet," and that Manet supplied illustrations for Mallarmé's "Afternoon of a Faun." Mallarmé proudly displayed this portrait in his own apartment, where visitors to his Tuesday evening salons could admire it, and kept it throughout his life, passing it down to his daughter who then gave it to the Louvre.

The artist's body is entirely relaxed, leaning back into the sofa, while his mind seems actively engaged in reverie. The smoke rising from his cigar - which rarely left his hand - suggests his drifting state of mind, but it also gives visible form to the movement and air that Mallarmé proposed in his article as the true subject of the plein-air painters of contemporary life. In a poem published some twenty years later, he directly linked cigar smoke and creative expression, writing "all the soul is summarized / when we exhale it slowly / in several rings of smoke / abolished by other rings." Even the gesture of resting his hand on several sheets of paper suggests the creative act, as if his thoughts were being directly transmitted to the page. Although the portrait is small, Manet has effectively created both a physical and spiritual likeness of his friend.
Oil on canvas - Musée d'Orsay, Paris
The Train at Jeufosse (1884)
Claude Monet painted the Seine throughout his life - as Mallarmé noted in his 1876 article "The Impressionists and Édouard Manet," "...Monet loves water, and it is his especial gift to portray its mobility and transparency, be it sea or river, grey and monotonous, or colored by the sky." In 1883 Monet moved to the village of Giverny, which he chose in part for its proximity to the river, and outfitted a boat to serve as a floating studio. The following year he found the subject of this painting when he took his boat a short distance up the river to the village of Jeufosse, executing about ten canvases in this location. In this work, the atmosphere is suffused with light which glimmers on the surface of the water, dissolves the background in a haze, and tinges with pink the thick puffs of smoke emanating from a train cutting through the landscape.

Monet was a frequent guest at Mallarmé's Tuesday evening salons. It was most likely at one of these events that Mallarmé formed the idea in 1887 to create a volume of poetry he wanted to title Le Tiroir de laque (The Lacquer Drawer) which would include original illustrations by many artists in his circle. The project was never realized, however, as most of the artists struggled to complete their tasks. Monet was to illustrate a prose-poem that described a train trip, but since he had little experience as a printmaker, he felt unable to create the required lithograph. Instead, several years later in summer 1890, when Mallarmé along with Morisot and her husband Eugène Manet were visiting Monet in Giverny, the artist invited the poet to choose a painting as a token of their continuing friendship. Perhaps because of the subject matter, he chose The Train at Jeufosse, and as he wrote to the artist, he was so pleased with it that he "slept little the first night, looking at it." Like the portrait of the poet by Manet, this painting remained with Mallarmé and his descendants until at least the 1930s.
Oil on canvas - Private collection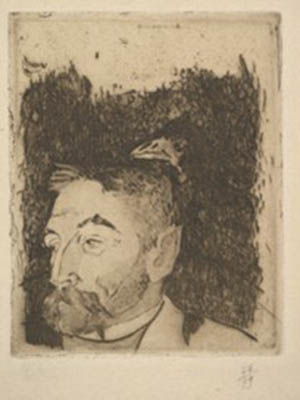 Portrait of Stéphane Mallarmé (1891)
In this enigmatic portrait, Gauguin has placed Mallarmé's head unusually low in the composition, filling the remaining background with dark, heavily worked marks and tones and leaving the empty space of the sheet above. A raven's head partially emerges from the darkness, hovering over the poet. The two men met in late 1890 or early 1891 through a mutual friend, Symbolist poet Charles Morice, who brought Gauguin to one of Mallarmé's Tuesday evening salons. To raise money to travel to Tahiti, Gauguin was planning a sale of his paintings in February 1891, and hoped that Mallarmé would write an article supporting his work and the sale. Although Mallarmé declined the request, he attended the event, which successfully raised several thousand francs. By April Gauguin had left Paris, but on his subsequent return visits he always made an effort to attend Mallarmé's mardis, and the poet continued to support his work.

Gauguin's portrait alludes to the artistic and creative network to which he and Mallarmé belonged. The raven clearly points to what the writer considered one of his greatest achievements, a translation of Edgar Allan Poe's The Raven. Its form also echoes the lithograph Édouard Manet made in 1875 for the poster and outer cover of the illustrated volume of Mallarmé's translation, which similarly features just the bird's head in profile. Gauguin's portrait is also one of his only etchings, as he usually preferred the techniques of woodcut or monotype. As writers Jessica Keuskamp and Heather Lemonedes have suggested, the artist may have wished to portray the refined, cerebral poet in a more precise medium than the rougher, more forceful techniques he usually used.
Etching - Metropolitan Museum of Art, New York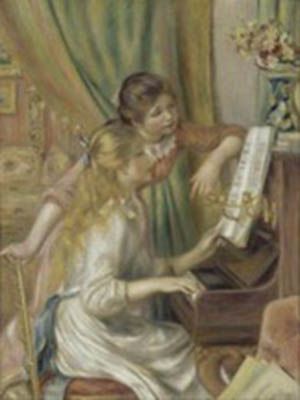 Young Girls at the Piano (1892)
This work is characteristic of Renoir's later style, as the forms of the figures and the background are clearly defined and the brushwork soft and evenly blended. Renoir had treated the subject of young women playing music several times earlier, as he did in the 1888 portrait of the daughters of Symbolist poet Catulle Mendès. Here, rather than depicting identifiable individuals, he has rendered a more generalized image of youthful grace and beauty, and comfortable bourgeois leisure. The subject also alludes to traditional images of women playing music by artists such as Jean-Baptiste-Siméon Chardin, a historical precedent that was perhaps appropriate for an official commission.

This is one of five versions Renoir painted of this composition, which he produced at the request of the Fine Arts administration; Mallarmé, along with the writer Roger Marx, had played a significant role in prompting the informal commission from the French State. Knowing that the painting would enter the Luxembourg Museum, the national collection of living artists' work, Renoir labored longer over the project than nearly any of his other paintings. The artist, who twenty years earlier had joined his Impressionist colleagues in rebelling against the state-controlled art system, saw this painting's acceptance as a validation and confirmation of his artistic significance. In an act of appreciation Renoir painted Mallarmé's portrait, just one of many artists to thank the poet in this way.
Oil on canvas - Musée d'Orsay, Paris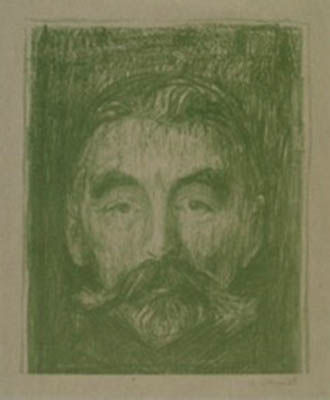 Stéphane Mallarmé (1897)
Like so many artists and writers, Munch was drawn to Mallarmé's well-known Tuesday evening salons, and first met the poet during a trip to Paris in 1896-97. Munch's interest in expressing emotion and sensations in his work aligned with the ideas of the Symbolist movement with which Mallarmé was affiliated, although Munch's images were often more intensely expressive than those of his French colleagues. He was also a skilled printmaker, making innovative use of varied techniques, media, and color. This portrait presents the poet's disembodied head against a dark, atmospheric background, while the artist's choice of a dark greenish ink lends it a mystical, otherworldly quality.

The print may have been intended to illustrate a volume of Mallarmé's poems, although like a number of these projects, the book seems never to have been realized. Nonetheless, Mallarmé was pleased with the work, describing it as "a gripping portrait, which gives me an intimate sense of myself'."
Transfer lithograph with crayon and scraping in green on cream Japanese paper - Art Institute of Chicago
Related Artists
Related Movements & Topics