Daniel-Henry Kahnweiler and Important Artists and Artworks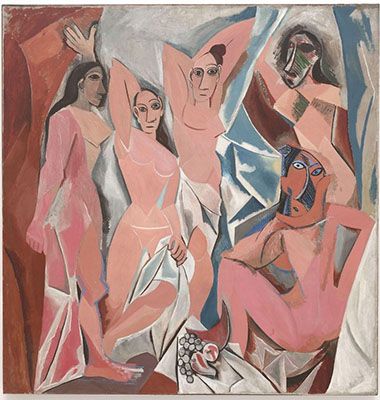 Les Demoiselles d'Avignon (1907)
This proto-Cubist work by Picasso - destined to become one of the most iconic works in the history of world art - depicts five prostitutes on the Carrer d'Avinyó in Barcelona. Most of the figures engage the gaze of the viewer in a direct manner and this, coupled with the artist's general preference for disjointed representation, amounted to a flagrant affront to the conventions of the female nude. Indeed, the women, described by Kahnweiler as "rigid, like mannequins", are imposing in their collective stance. Reflecting Picasso's interest in primitivism, meanwhile, the facial features of the two figures to the right are modelled, not on Western ideals of female beauty, but rather on African masks. The flat, two-dimensional space the women inhabit is similarly angular with an overall effect that marked a truly radical move away from traditional European paintings.

Kahnweiler visited Picasso's studio where he became mesmerized by Les Demoiselles d'Avignon (as it was named later). Though he had been reluctant to sell, Picasso, who was still an unknown artist at the time, and who had become dispirited by the negative responses to the work, was won over by the 23-year-old German's genuine enthusiasm for his painting. Kahnweiler remarked later that something "admirable, extraordinary, inconceivable had occurred" between the two men, and his positive response, coupled with his immediate decision to purchase the painting, proved a turning point in the career of a newly galvanised artist. Kahnweiler saw this painting as the birth of Cubism, writing "this is the first upsurge, a desperate titanic clash with all of the problems at once".
Oil on canvas - The Museum of Modern Art, New York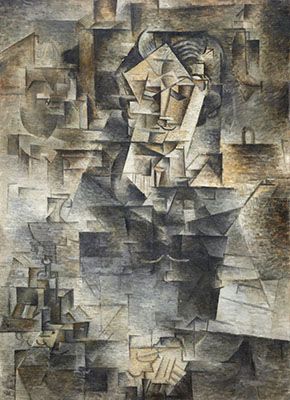 Portrait of Daniel-Henry Kahnweiler (1910)
Keen to support his star artist in his Cubist experiments, Kahnweiler sat for this portrait no less than 30 times. Although working in a traditional idiom - a seated portrait of the artist's dealer - Picasso was not interested in literal representations. He represented his sitter through a series of angular shapes and shifting surfaces which combine to create only an impression of the subject. The planes convey multiple viewpoints, bringing into view Kahnweiler's face and hands via use of lighter shading while other details are discernible amidst the cutting lines and edges of the shapes: Kahnweiler's watch chain (which could be an allusion from Picasso to his dealer's obsession with punctuality), and the waves of his hair, for example. The art critic Jonathan Jones observed that Kahnweiler "haunts [the painting] like a shadow of himself, a nuclear ghost imprinted in space [...] It is not a picture of him. And yet he is fully there, his identity glimpsed with a strange warm intimacy through the shattered glass of the modernist age".

Picasso's contract gave him the financial security he needed to develop his style freely; a decision the Spaniard acknowledged when he observed: "what would have become of us if Kahnweiler hadn't had a business sense?". Indeed, despite their combustible personalities, the two men made a formidable team. As Philip Hook said of Kahnweiler, "in the end, his life and career was justified by his unlikely relationship with Picasso". This portrait was one of the many paintings "sold off" in the notorious Hôtel Drouot auctions in Paris in June 1921 and was purchased by the Swedish expressionist painter Isaac Grünewald before eventually finding its way into the permanent collection of the Art Institute of Chicago.
Oil on canvas - The Art Institute of Chicago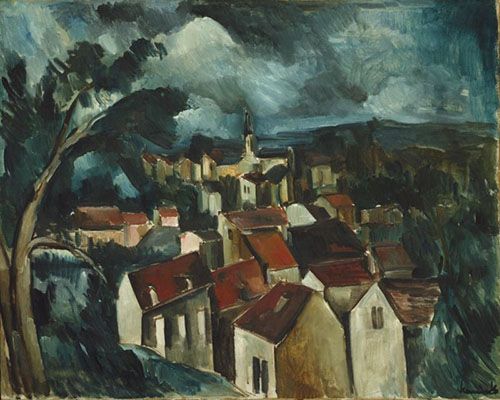 Village (c.1912)
Considered one of the principal figures in the Fauvist movement, Village is typical of Vlaminck's pre-war period when the artist sought to capture mood and atmosphere over realistic picture detail. He achieved this through the use of heavy brushwork and a distinctively bold palette. In this particular painting, Vlaminck's use of thick dabs of color in place of individual leaves on the tree in the left foreground mirror the wide strokes of the clouds in the sky, thereby creating a sense of movement and stormy foreboding.

Vlaminck met fellow painter André Derain on a train to Paris in the early 1900s and the two forged a lifelong friendship, even renting studio space together at the start of their careers. Derain had been one of the first artists to sign an exclusive contract with Kahnweiler in 1912, and Vlaminck followed suit in 1913. Kahnweiler influenced both artists in encouraging them to explore the medium of woodcuts and African art. Despite his close relationship with the art dealer, however, Vlaminck was staunchly resentful of Cubism (and particularly Picasso) and remained steadfast in his commitment to the more expressive Fauvist style. Unlike Picasso, Vlaminck was loyal to Kahnweiler during the German's forced exile and publicly protested the Hôtel Drouot sales of his collection following the First World War.
Oil on canvas - The Art Institute of Chicago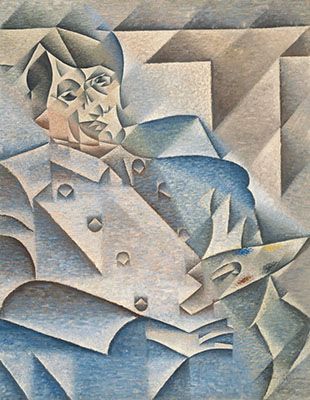 Portrait of Pablo Picasso (1912)
In this painting Gris depicts his friend and colleague Pablo Picasso. He experimented in the style that became known as Analytic Cubism which he had been practicing since his move to Paris (from Madrid) in 1906. Picasso's face is shown from multiple viewpoints and Gris used various planes and simple shapes to create an organized yet fractured overall view of his sitter. His choice of colors is also simple: here he opted for muted blues and browns, with smaller bursts of brighter colors in the palette Picasso is holding in his left hand. The colors are rendered through the use of diagonal shading, which gives a uniform finish to the work, creating an almost crystalline structure that was typical of Gris's style at this time.

This portrait was the first painting that Gris exhibited publicly after it was chosen for inclusion in the 28th exposition of the Société des Artistes Indépendants in Paris in 1912. His choice of subject matter for his debut is telling and demonstrates his respect for Picasso as an artist at the forefront of Cubism. Having moved to Paris six years previously, Gris moved in similar circles to Picasso and befriended many other artists who were on Kahnweiler's roster, such as Georges Braques, Guillaume Apollinaire, and Fernand Léger. Following his debut at the exposition, Gris too signed an exclusive contract with the dealer, and this painting joined many others in Kahnweiler's expanding Cubist repository. But as with so many canonical pre-war works belonging to Kahnweiler, Gris's portrait was auctioned-off at the 1921 Hôtel Drouot sale in Paris. The painting would eventually come back into Kahnweiler's hands at the Galerie Louise Leiris in the 1940s.
Oil on canvas - The Art Institute of Chicago
Bottle of Rum (1914)
This work is typical of Braque's artistic output in the early-to-mid-1910s. He took the traditional artistic genre of the still life and used in to experiment with geometry and multiple perspectives. Through his shifting use of spots and patterns, the artist creates the impression of a collage built up of layers of paper, when in fact the work is oil paint on canvas. The label denoting the bottle of rum is scattered throughout the painting, as are the curves of the bottle itself. Upon seeing this work at Kahnweiler's gallery, the French art critic Louis Vauxcelles, referred to it with incredulity: a "cubic oddit[y]" that "reduced everything [...] to geometric schemas".

In the years preceding this work, Braque had worked closely with fellow Kahnweiler artist Picasso. Indeed, it was Kahnweiler who introduced the two men who then embark on a seven year relationship founded on a tight friendship and a bitter rivalry (Picasso said of this period that "Almost every evening, either I went to Braque's studio or Braque came to mine. Each of us had to see what the other had done during the day"). Though the men would go their separate ways with the onset of war, they enjoyed a period of extraordinarily productive collaboration that is unequalled in the history of modern art. As with Picasso, it was Kahnweiler's faith in his artists and the financial umbrella he offered them that allowed Braque to experiment with form and texture. This painting was one of the works in Kahnweiler's collection that was seized and sold in the post war auction of his seized assets (as seen in the lot number '19' in the lower left corner of the canvas).
Oil on canvas - The Metropolitan Museum of Art, New York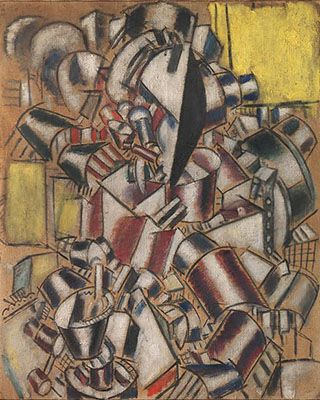 Le Fumeur (The Smoker) (1914)
In this painting, Léger uses tubular forms to depict a smoker, leaning left, in a three-quarter view. The side of the figure's face is rendered in a solid black curved form, with a rod-shaped red pipe protruding from his mouth. The use of white curved forms, this time with less opaque texture, drifting upwards from the red pipe denote the fumes of smoke. The figure appears to sit at a small table in the lower left foreground, with large square and rectangular planes of yellow in the background. The Smoker was a character Léger returned to in many paintings as he explored the themes of modern urban life. This style is typical of the artist's increasingly abstract paintings at this time, using simple forms and bold colour to create what Guillaume Apollinaire described as "cylindrical painting".

Léger proved to be one of Kahnweiler's most dedicated and loyal artists. He signed an exclusive three-year contract with the dealer in October 1913 in which Kahnweiler agreed to buy all of Léger's oil paintings. Upon returning to Paris in 1920 following his exile, Kahnweiler found continued support in Léger, who agreed to sell part of his output through his new Galerie Simon. During the difficult year of 1921, in which Kahnweiler had to endure the sale of his pre-war collection, Léger supported the dealer by offering him first refusal on all new works. Their relationship went beyond the professional, as evidenced in a friendship that saw them vacation together with their wives in August 1922 in Germany and Austria. Much to the dealer's chagrin, this particular painting was sold in the first Hôtel Drouot sale in June 1921 for the price of 1000 francs.
Oil on canvas - The Metropolitan Museum of Art, New York
Related Artists
Related Movements & Topics