The Art of This Century Gallery, although short-lived, played a key role in launching the careers of many Abstract Expressionists. Opened by Peggy Guggenheim, who was first and foremost a fan of Surrealism and Dadaism, the gallery showcased the works of European artists, including Kandinsky, Arp, Miró, Braque and many others. Not long after its opening, however, Art of This Century became a champion of many American artists - most of whom were experimenting with abstraction - who had been working and struggling for years in New York and elsewhere. Art of This Century gave many of the soon-to-be celebrated Abstract Expressionists their first solo exhibition, most notably Jackson Pollock, whose fame was a direct result of his association with Peggy Guggenheim.
Background of Peggy Guggenheim
In 1898, Marguerite Guggenheim was born into great wealth and prosperity. Her father, Benjamin Guggenheim, was director of the Guggenheim family's industrial mining and smelting interests, and her uncle was Solomon R. Guggenheim was the founder of New York's museum of the same name.
Home schooled and sheltered from the outside world for most of her childhood, Peggy became fascinated with leftist politics during her formative years. After a brief stint working for the Defense Department, she took a job at the radical New York bookstore, Sunwise Turn, where she continued to absorb socialist politics and the avant-garde. In 1919, Guggenheim inherited a large sum of money ($450,000) from her family trust and moved to Paris, where she began subsidizing the work of several artists and writers.
The Guggenheim Jeune Gallery
By 1938, Peggy was living in London and had opened the Guggenheim Jeune Gallery, a Modern art gallery that, among others, became famous for an exhibit of the artist Jean Cocteau curated by Marcel Duchamp. Receiving much of guidance in European Modern art from Duchamp, the Jeune Gallery also exhibited works by Kandinsky, Calder, Arp, Ernst, Picasso and Miró.
Guggenheim had plans to start a museum of her own in London, but after the outbreak of World War II, decided the venture would be too difficult. Nonetheless, she continued traveling to Paris to collect artworks from the likes of Giacometti, Magritte and Braque. In 1940, only days before the German invasion of Paris, Guggenheim left for New York City along with hundreds of her artworks, and her soon-to-be husband Max Ernst.
Art of This Century Opens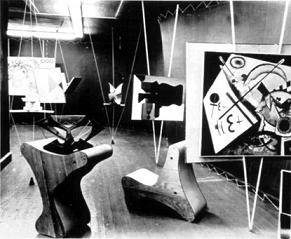 Using the many works of art she had acquired in Paris, Guggenheim opened her Art of This Century Gallery in October 1942. The gallery's initial displays showcased the work of European Surrealists and Cubists. Soon after its opening, the gallery began representing Americans like Pollock and Motherwell as well as European emigres like Rothko and Hofmann.
Art of This Century was renowned for its unique interior design, with concave walls and protruding, razor-thin wooden frames in the middle of the gallery space, which gave the hanging canvases a free-floating effect. Guggenheim, along with the gallery's architect Frederick Kiesler, believed that each painting should literally stand on its own and not be bound to the wall.
The Uptown Group
For a number of reasons, many American artists did not participate in World War II. Some were classified 4F (physically unfit for military service), while others were illegal aliens, conscientious objectors or draft dodgers. In the early 1940s, a small and largely disorganized group of artists found themselves without suitable venues to show their work, until the opening of Peggy Guggenheim's uptown gallery. Known as The Uptown Group, its unofficial membership included Pollock, Krasner, Gottlieb, Motherwell and Reinhardt. In later years, following the end of World War II, newer members included Newman and Still.
Guggenheim Returns to Europe
In 1947, with her entire private collection of Modern art about to be shown in a grand palazzo on Venice's Grand Canal, Guggenheim closed down her New York gallery and moved back to Europe, eventually settling in Venice. Before leaving New York for good, Guggenheim had to find new representation for her many Uptown Group artists, among them Jackson Pollock, one of her favorites. Most of the artists were transferred over to the Betty Parsons Gallery, which had opened one year prior on East 57th Street, not far from Art of This Century.
Legacy
Throughout her life, Peggy Guggenheim gave away much of her private collection. The works she acquired in the 1930s and 40s in particular, with the counsel of Duchamp and Ernst, were among the finest Modern artworks of the 20th century. Her Art of This Century Gallery, despite being open for only five years, was renowned for being the primary gallery that gave many Abstract Expressionists their very first opportunity to show their art to the public. In addition to those members of The Uptown Group, other unknown artists at the time who showed at Art of This Century included Joseph Cornell,
Willem de Kooning
, Robert De Niro, Sr., and William Baziotes.
Most Important Exhibitions:



Run time:

January 5 - 31, 1943



Artists Represented:

Alice Trumbull Mason, Gypsy Rose Lee, Frida Kahlo, Dorothea Tanning, Hedda Sterne and many others.



Importance:

This show was the first of its kind, devoting the gallery space exclusively to Modern women artists, most of whom were operating in New York. When Guggenheim dispatched Max Ernst, her husband at the time, to go and select paintings for the exhibition, one of Ernst's favorites was a self-portrait by Dorothea Tanning, which he named Birthday. Ernst and Tanning had a love affair, which led to Ernst resigning from from his advisory role at Art of This Century and his eventual divorce from Guggenheim in 1946. After Ernst left, Guggenheim hired Howard Putzel as the gallery's new advisor. Putzel was well-connected with several downtown artists and it was at this point that Art of This Century became less a space for Surrealism and more for Abstract Expressionism.



---




Run time:

November 9 - 27, 1943



Artists Represented:

Jackson Pollock



Importance:

Jackson Pollock was the first of his generation of AbEx artists to exhibit regularly and earn a substantial living from his art. This all began with his first ever solo show in 1943 at Art of This Century. MoMA's James Thrall Soby visited the exhibition and was instantly amazed by Pollock's work. Consequently, the painting She-Wolf was purchased by MoMA's Acquisitions Committee and placed in its permanent collection. After the show, Guggenheim placed Pollock on an annual stipend, which allowed him and wife Lee Krasner to purchase their home in Springs, Long Island. Guggenheim was so enamored with Pollock's paintings that when she transferred representation of her artists over to Betty Parsons in 1947, she wrote Parsons a letter to personally thank her for taking on Pollock and giving him his own show at the new gallery. Guggenheim did this service for no other artist.


Quotes
"Art of this Century" was of the utmost importance as the first place where The New York School could be seen.. Her Gallery was the foundation, it's where it all started to happen."
- Lee Krasner
"Newman, Gottlieb, Rothko and Still each thought (and thinks) himself the greatest painter in the world. That one might owe a debt to another becomes not a matter of simple ordinary fact, but a major issue of debate - like a trial for high treason. They made a tactical alliance, not a team, nor a group style, nor even a tendency."
- Thomas B. Hess, discussing prominent members of the Uptown Group
"I realized that I should have had only 30 women in the show."
- Peggy Guggenheim, after her husband Max Ernst left her for Dorothea Tanning, one of the thirty-one artists represented at Art of This Century's
Exhibition by 31 Women
We need your donation to maintain and grow The Art Story. Click
here
to help us.
THIS PAGE IS OLD
The Art Story Foundation continues to improve the content on this website. This page was written over 4 years ago, when we didn't have the more stringent/detailed editorial process that we do now. Please stay tuned as we continue to update existing pages (and build new ones). Thank you for your patronage!
WORKS OF ART: