Artists
Francesca Woodman
Biography and Legacy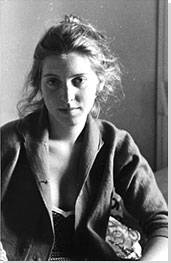 Born: April 3, 1958 - Denver, Colorado
Died: January 19, 1981 - New York City

"I feel like I am floating in plasma. I need a teacher or a lover. I need someone to risk being involved with me. I am so vain and I am so masochistic."
Biography of Francesca Woodman
Childhood
Francesca Woodman was born in Denver in 1958. She was the daughter of two American artists, George Woodman, a painter and photographer who held a teaching post in art criticism at the University of Colorado, and Betty Woodman, an increasingly important ceramic artist. Growing up in Boulder, surrounded entirely by painters, filmmakers, and critics, Francesca was close to her older brother Charles, himself an aspiring video-artist.
Whilst they were children, Charles and Francesca's home acted as a creative and social hub for the art community of the town. Art critic Ken Johnson accurately stated, "the real family religion was art". As such, art making defined a way of life, both socially and personally for the Woodmans, thus making it "all but pre-ordained that Woodman would become an artist" according to the art critic, Kyle Macmillian. Today, Betty Woodman continues to live and make ceramic art in New York City. Charles Woodman is an electronic artist working in video and expanded media, based at the University of Cincinnati. George Woodman died in 2017.
Education and Early training
In 1963, Woodman began attending a public school in Boulder, interrupted only in 1965 when the family re-located to live in Italy for a year. The family ignited a shared passion for Italy and European culture at this time and as a result, George and Betty bought a house in Antella, a small town in the neighboring lands of Florence, in 1968, where they spent every summer from then on.
In 1972, at age 13, Woodman began high school at the Abbott Academy, a private Massachusetts boarding school, taking along the camera that her father had given her and her already blossoming interest in photography. At school she attended a photography class, learning basic skills and starting her own projects. She found valuable guidance in one of her teachers, Wendy Snyder MacNeil. Woodman later said that she was always in need of a lover or a teacher to bring her reassurance.
In 1975 she moved to Providence to study at the Rhode Island School of Design (RISD), one of the oldest and best art schools in the United States, where the established photographer Aaron Siskind became one of her teachers. Here she was also heavily inspired by Doug Prince, a tutor whose work centered around the complex printing of composite negatives. During that time, she lived in an industrial studio and had become fully devoted to photography. Described as being 'loyal and intense' and being the kind of person that one either loves or hates, writer and journalist Betsy Borne, her colleague and friend at the time, further wrote that Woodman was "an old fashioned artist, the professionally unprofessional variety that can never get with the programme that passes for real life. She did not choose to be an artist - who in their right mind would? She simply was one".
During Summers spent in Italy, Woodman became fascinated with La Specola, the Museum of Natural History in Florence, making friends with the guards so that she could be allowed in to take pictures when the museum was shut to the public. After her graduation in 1978, she went to live in Rome for a whole year, as part of the School of Design's Rome Honors Program. American artist Edith Schloss was one of her professors also based in Rome at the time. Schloss's work was included in an exhibition at the Libreria Maldoror, a bookshop and gallery full of literature on Surrealism that became another favorite place of Woodman's in the city.
Woodman is generally said to have disliked the label 'self-portrait' and was known for taking her work paradoxically intensely seriously and very playfully. Art critic Will Brand claims that "she was headstrong, self-absorbed, and immensely driven" and that the nudity of her images showed "an expression of her openness".
Mature Period - New York
In 1979 Woodman moved to New York, where she lived in various places, including with her parents. She worked part-time as a photographer's assistant and considered working in fashion photography. During this period, Woodman was upset following a failed romantic relationship and troubled by the fact that her work was not yet gaining enough attention. Despite these concerns, people around Woodman did not fear for her mental health or consider her to be depressed. Art critic Ken Johnson even said that she had a "terrific charisma" at this point and her father, likewise, described her as someone with an "incredible sensibility". Perhaps the only words that suggest the sadness soon to come are those of Alex Riding, who expressed the opinion that in exploring complex themes and pushing herself to the limits, Woodman was "unaware of the dangers involved, like a moth flying ever closer to a candle flame". At this time, Woodman continued to work as prolifically and intensely as she had done since the age of 13.
In 1980, Woodman was awarded a summer fellowship as an artist in residence at the MacDowell Colony in Peterborough. She thoroughly appreciated the opportunity to work undisturbed, with her own darkroom and studio, and made some powerful work, mostly outside immersed in the new landscape that she was exploring. At the beginning of 1981, she witnessed the publication of one of her notebooks that she had been working on since 1976 in the form of a book entitled Some Disordered Interior Geometries.
Death
Shortly after her first publication, at age 22, Francesca Woodman committed suicide by jumping from a loft building on the East Side of New York City. At the time of her death "hardly anyone beyond her family, friends, classmates, and teachers knew about the phenomenal body of work she had produced" art critic Ken Johnson explains.
Her father suggests that her suicide was related to an unsuccessful application for an arts fund, an idea echoed by art critic Rachel Cooke who claims that she was scared and troubled by the competitive nature of the art world. However, her mother Betty claims that "things were not rosy and wonderful for Francesca" emphasizing her depressive tendencies as the cause of her suicide. The likelihood is that the decision to take her life was the result of a culmination of various factors.
The Legacy of Francesca Woodman
A year after her death, Ann Gabhart, the director of the Wellesley Art Museum, upon seeing Woodman's work at her parent's house, decided to organize an exhibition. The show opened some years later, in 1986 and was visited and reviewed by the established art critics Abigail Solomon-Godeau and Rosalind Krauss.
Since then, and especially since the beginning of the 1990s, recognition of Woodman's work has steadily increased. Even though only a quarter of her 800 photographs have at this point been made public (with the rest remaining private in the artist's estate maintained by her parents), she is generally considered a prolific young prodigy whose work expresses great emotive depth and continues to challenge perceptions of identity and the medium of photography even to this day. Art critic Michèle Kieffer claims "Woodman has become an icon, a 'rock star' of contemporary photography".
It is generally considered that her suicide influences the way that her artwork is perceived, as emphasized by art critic Alan Riding, when he claims that this awareness provokes "an almost unconscious search for evidence of impending self-destruction in her powerful and often disturbing self-portraiture". An opinion also validated by art critic Kyle Macmillian, who claims that "the cultish romanticism that grew up around her suicide long clouded serious discussions of her work". In this context Woodman can be mistakenly labeled as a tragic victim, or as a raging feminist. It is important, however, to look beyond the desire to firmly classify such an illusive oeuvre. The growing interest in her work, propelled by the various solo exhibitions, documentaries, and books produced in both the United States and Europe, support a more subtle and outward reaching view of such multi-layered and complex imagery.
Artists who suffer for some sort of depression and/or periods of psychological distress are undoubtedly attracted to this body of work. Woodman manages to give voice struggles within which typically render sufferers mute. She also acts as an unsurpassable inspiration for students and young people starting artistic careers; they are very few figures that successfully produce such mature art during the transitional phase between being a child and becoming an adult.
Most Important Art
Self-Portrait at Thirteen (1972)

In this self-portrait at the age of thirteen, one of Woodman's first, she photographs herself turning her head away from the camera in a debut gesture of defiance against usual portrait photography in which we expect to see the face of the sitter. Woodman holds a rod to release the shutter which once intentionally blurred and out of focus transforms to become an otherworldly shard of darkness. Her face is covered completely by her hair and the space around her is composed of fragmented elements, including a door, the under lit bench upon which she sits, and an empty chair.

The work already possesses many of the qualities that define the artist's oeuvre more generally. By including the camera cord she makes it clear that she herself is the author of her image, and through the use of techniques of long-exposure, an unusual low perspective, and the play of extreme light and dark she shows that she is not making 'straight' and easy to digest photography. Somewhat paradoxically, through the use of a square format she introduces her interest in traditional 19th-century techniques to capture and print images.

Like many of her works, the photograph portrays a moment between adolescence and adulthood, exploring aspects of both presence and absence. For the art historian Chris Townsend these are works that "stop being about aesthetics, and they're about the properties of photography". This particular picture bears many similarities to a photograph taken by Duane Michaels in the same year, a black and white portrait of Joseph Cornell. The parallel affirms Woodman and Michael's shared interest in conjuring mystical atmosphere, and highlights the fact that Woodman was powerfully influenced by the work of others. Woodman had encountered Michael's work in exhibitions.

Read More ...

Francesca Woodman Artworks in Focus:
Francesca Woodman Overview Continues Below
If you see an error or typo, please:
tell us
Cite this page

Content compiled and written by Sarah Frances Dias
Edited and revised, with Synopsis and Key Ideas added by Rebecca Baillie
" Artist Overview and Analysis". [Internet]. . TheArtStory.org
Content compiled and written by Sarah Frances Dias
Edited and revised, with Synopsis and Key Ideas added by Rebecca Baillie
Available from:
First published on 16 Dec 2017. Updated and modified regularly.


[Accessed ]