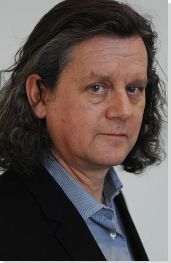 Jeff Wall - Biography and Legacy
Canadian Photographer
Movement: Photo Conceptualism
Born: September 29, 1946 - Vancouver, Canada

From Our Sponsor
"Just as in the cinema you wouldn't think that a realistic film is any less filmic than a musical fantasy. They're both part of the cinema. And I see that this is the same in my work, they are different genres that I am interested in and I move between them."
Biography of Jeff Wall
Childhood
Jeff Wall was on born September 29, 1946, in Vancouver, Canada. He describes his parents as not "hugely interested in the art thing," but they did have a monthly subscription to the Abrams Art Book Series of full-color monographs on master painters, such as Cézanne and Rembrandt. These books influenced Wall throughout his childhood, introducing him to the most prominent artists throughout history and showing him how these artists explored the boundaries of various painting styles and artistic movements. Inspired by what he found, Wall began drawing, and, when he was sixteen, his father built a studio for him in a backyard shed, so he could begin to create large paintings.
Early Training and Work
After high school, Wall studied art history at the University of British Columbia, Vancouver, where he met his future wife, Jeannette, originally from England. After reading Sol LeWitt's Paragraphs on Conceptual Art from 1967, Wall responded to LeWitt's claim that good Conceptual art depended on the quality of the idea behind it. Wall stopped painting and drawing, choosing instead to take what he calls "pseudo-conceptual" photographs with a point-and-shoot Nikon F camera given to him by his father. Wall ceased making art upon graduating with his MA in Art History in 1970, but accepted an invitation to attend the Courtauld Institute of Art, in London, England. Although he "never had any intention of finishing any thesis," Wall and his wife moved to England with their two young sons and stayed until 1973, at which time they returned to Vancouver. Upon returning, he began teaching at the Nova Scotia College of Art and Design (1974-75) and later the Simon Fraser University (1976-87) and University of British Columbia (ending in 1999).
Mature Period
In 1977, Wall returned to art making, stimulated by returning to where he had first played with painting in his youth. Now he negotiated the terms of painting, photography, and film in his new works, producing large "cinematographic" and "near-documentary" photographs in which he re-staged scenes that he had encountered in his life and included overt references to the modern art masterpieces he revered. The photographic images were installed in backlit lightboxes, accentuating the visual details and intensifying the colors of the pictures. His use of these lightboxes at once resembles the large, illuminated film posters found at movie theaters or advertising billboards, and also hints at the crafted lighting and staging of cinema itself. In 1978, he exhibited the seminal The Destroyed Room, a large transparency in a fluorescent lightbox in the storefront window of the Nova Gallery, in Vancouver. Wall's reconfiguration of the viewer's typical experience with a photograph by increasing its physical scale, presenting it within a designated art gallery space, and visibly referencing art history together worked to question how photographs are usually shown and experienced. The display of The Destroyed Room also raised questions about the position of photography in the art world. At this time, photographers were challenging the traditional boundary of photograph-as-fact with new, conceptually-based practices, manipulating images to emphasize ideas rather than images found in reality.
Wall is considered a pioneer of 'The Vancouver School,' a loose group of lens-based artists living in Vancouver during the late 1980s through the early 1990s. This group of artists, including Ian Wallace, Rodney Graham, Roy Arden, Stan Douglas, and Ken Lum, attempted to redefine the photographic and moving image, the media, and the ever-shifting contemporary art world. Wall's cinematic style and use of the lightbox did just that. As evidenced through Wall's visual and written work in those years, he was in close contact with artists in New York who also played with the limits of Conceptual art, such as Dan Graham, and those who began returning to images based in the real world, such as the photographers of the Pictures Generation and others experimenting with the appropriation and application of elements from mass media and popular culture.
Current Practice
Although Wall continues to make large, highly stylized photographic tableaus that engage with and reflect the world, he has shifted from an interest in "near-documentation" to one of a purely aesthetic "emphatic picture making," indicating a greater desire to produce unique-looking scenes rather than establish a theoretical or historical lineage for his images. He describes this shift as "the need to diverge from that [near-documentation] and try to make pictures that are more emphatically pictorial." For Wall, the process of creating the picture is more interesting than capturing a moment. He explains that "Photography is supposed to be instantaneous," but for him "the plasticity of the process, where things turn into something else, comes from the time I spend on it." He makes very few finished works each year, and his photo shoots often require several days to complete with production costs that can be over $100,000. In similar fashion, the price of his photographs has dramatically risen over the years, with recent gallery exhibitions and museum retrospectives only heightening his status within the art world.
The Legacy of Jeff Wall
Wall is considered an innovative pioneer in reshaping conceptual photography and questioning the nature of a photographic 'truth.' According to Sheena Wagstaff of the Metropolitan Museum of Art, "He worked against the grain to develop the photographic genre into areas that it had utterly rejected or ignored." Furthermore, she claims that "globally, he has really affected the way people see the world through the lens." His work has influenced subsequent generations of artists, such as the Düsseldorf Group, which includes photographers Thomas Struth, Thomas Ruff, Candida Höfer, and Andreas Gursky - Gursky said that Wall was "a great model for me." Wall's works have opened the possibility for photography to break out of its traditional confines, both in the realm of fine art and also its role in depicting real life as it unfolds.
Wall is also a highly respected art theorist and teacher, writing and lecturing on contemporary art and artists. His essay 'Marks of Indifference': Aspects of Photography in, or as, Conceptual Art" (1995) is still considered to be one of the most important essays on the development of conceptually based art today for its insistent but clear discussion of the theories and procedures involved in art making and art's reception. Much of his writing can be found in his book, Jeff Wall: Selected Essays and Interviews.
His influence extends beyond the fine art world. For instance, in her performance at the Grammy Award Ceremony in 2015, the singer Sia replicated the light bulbs and apartment setting of Wall's After "Invisible Man" by Ralph Ellison, the Prologue, citing Wall's ability to create a sense of magical realism as an inspiration for her own artistry. In the words of curator Peter Galassi, "When Jeff's pictures succeed, they succeed in a way that nobody else's do - it's a kind of art that no one else practices."
Most Important Art
The Destroyed Room (1978)

The Destroyed Room, from 1978, is one of Canadian artist Jeff Wall's first and most iconic photographs. The work consists of a large photograph printed as a cibachrome transparency within a fluorescent lightbox. Around 5 by 8 feet in size, the work is both vivid and imposing. Offering a stark view of a seemingly ravaged space the image forces the viewer to confront the destruction of items found within the typically intimate space of a bedroom. Clothes are spilling out of the drawers of a wooden dresser, a bed is turned on its side with its pale green mattress slashed, possessions such as clothing and accessories are strewn about the floor, and large pieces of the red wall are missing, exposing the pink insulation underneath.

With this photograph, Wall first began making overt references to some of the most famous examples of classical painting from the 19th century. In The Destroyed Room, the large-scale oil painting titled The Death of Sardanapalus, painted by Eugene Delacroix in 1827, is the source of inspiration. The painting depicts an Assyrian king, Sardanapalus, casually reclined on an enormous red bed as he watches his most prized possessions - living and non-living - being destroyed. The slaughter of concubines and servants, horses and dogs, was prompted by an invading enemy. Rather than surrender, the king decides to end his life, but not before ensuring that his belongings would never be enjoyed by anyone else. Many elements in Wall's photograph echo the visual details of Delacroix's painting, including the diagonal composition of objects from the top left corner to the bottom right corner of the frame, the bright pink and red hues that invoke the nudity of the female concubines and the blood of the violent acts, and the likely evidence of physical struggle.

While The Death of Sardanapalus depicts an act of violence as it occurs, Wall shows an aftermath. Whereas the painting shows the luxurious space of a male ruler, the photograph seems to show a woman's small living space. Wall's work is devoid of people, though, leaving the viewer to imagine who might have occupied the space and why the room became destroyed. However, Wall has purposely left remnants of the staging process of the scene in the final image, making the fabrication of the room obvious. Upon scrutiny, it's possible to see that at least one of the room's three walls is only barely supported with wooden beams. In an article entitled "The Luminist" in The New York Times Magazine on the occasion of Wall's retrospective exhibition in 2007, Arthur Lubow remarks how Wall has admitted that he enjoys the process of artistry just as much as the final product.

In The Destroyed Room, Wall not only hints at the creative process, but also engages with the questions raised by Conceptual artists of the time. Throughout the 1970s, photography was increasingly used by artists to call attention to the fabricated quality of art and the performance of subject matter and ideas within artworks. For these artists, including Wall, photography was freed from its role of visually capturing the real world. By creating a large-scale, fictional image that recalls the grandeur and narrative of classical painting, Wall challenges the documentary role that photography often plays. But by mounting the image in a lightbox, his work also resembles imagery from cinema or advertising found in popular, contemporary culture. Thus, Wall simultaneously highlights the real and imagined in art, raising photography to the level of fine art typically held by painting over the ages while referencing elements of the modern day.

Read More ...

Jeff Wall Artworks in Focus:
Jeff Wall Overview Continues Below
If you see an error or typo, please:
tell us
Cite this page

Content compiled and written by Hope Guzzo
Edited and revised, with Synopsis and Key Ideas added by Meggie Morris
" Artist Overview and Analysis". [Internet]. . TheArtStory.org
Content compiled and written by Hope Guzzo
Edited and revised, with Synopsis and Key Ideas added by Meggie Morris
Available from:
First published on 12 Sep 2017. Updated and modified regularly.


[Accessed ]