Artists
Hiroshi Sugimoto
Biography and Legacy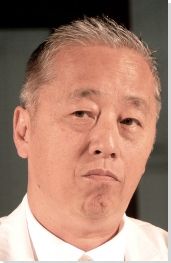 Born: February 23, 1948 - Tokyo, Japan

"Every time I see the sea, I feel a calming sense of security, as if visiting my ancestral home; I embark on a voyage of seeing."

Biography of Hiroshi Sugimoto
Childhood
Hiroshi Sugimoto was born in Tokyo in 1948. Reflecting on childhood memories, Sugimoto feels he gathered images and sensations that he would later explore through art. Sugimoto was moved by specific subjects, such as the view of the horizon across the ocean seen through the window of a train (which he recalls from age five), and he discovered new ways to look at the world, imagining himself from alternate perspectives, including from the ceiling of a room. This interest in creating distance between the viewer and everyday life through shifts in perspective can be seen across many of Sugimoto's later works. Sugimoto was given his father's Mamiya 6 camera when he was twelve and began experimenting with it as a teenager; he would photograph Audrey Hepburn on screen as her movies played at the local theatre.
Education and Early training
Photography, in Sugimoto's youth, was only beginning to emerge as an art form. He did not initially consider the discipline as a profession and instead studied politics and sociology at Rikkyo University in Tokyo. Sugimoto was very uncertain of his future after graduation and spent time travelling, visiting the Soviet Union, Poland, Western Europe and the United States of America. His decision, in 1971, to apply to study commercial photography at the ArtCenter College of Design in Pasadena, near Los Angeles, was motivated largely by his desire for a visa that would allow him to spend an extended period in California. Sugimoto, noticing that American students had an interest in Zen Buddhism and realizing that his own interest in foreign cultures had led him to neglect Japanese culture, began to study Eastern philosophy informally. Sugimoto has noted that such pursuits meant he was not a diligent student while enrolled at the ArtCenter; his understanding of Zen Buddhism, however, had a substantial influence on subsequent work.
After graduating, Sugimoto returned briefly to Japan before moving to New York in 1974, where he held a succession of jobs as assistant to various commercial photographers, all of which he has described as ending in mutual dissatisfaction. Sugimoto spent much of the late 1970s and early 1980s visiting shows at small galleries in Soho and considering his own relationship to contemporary art; in 1976, he began to take photographs at the Museum of Natural History, which would lead to his first substantive series of photographs, entitled Dioramas. Sugimoto has described his process of artistic exploration in this period as relatively slow, but many of his best-known series were begun in these years; he took his first images for Theaters in 1978 and for Seascapes in 1980, and Sugimoto would continue to expand on these series over subsequent decades.
In 1979, Sugimoto and his wife opened a Japanese antique shop on West Broadway, opposite Walter de Maria's Broken Kilometre. This shop provided an independent income source and a space that could be used as a darkroom, and Sugimoto met many artists central to the Minimal and Conceptual Art movements, including Isamu Noguchi, Donald Judd and Dan Flavin alongside de Maria. These artists shared an interest in Japanese art and philosophy and were regular visitors to Sugimoto's shop; his circle subsequently expanded as they introduced him to other artists in New York, including On Kawara and Nam June Paik. Sugimoto is often seen less as a photographer than as a Conceptual artist working with photography, and his exposure to Soho's artistic community in this period provided a context that shaped and has continued to inform his work.
Mature Period
In 1980, he was awarded a Guggenheim Fellowship and he had his first major solo show in 1981, at the Sonnabend Gallery in New York. Sugimoto established himself as a photographer using a large-format wooden camera, working only in black and white due to his belief that color photography appeared artificial and undermined the viewer's belief in the image. He has always developed his own film and mixes the chemicals for this by hand, following the recipe of Ansel Adams. Despite his growing success, Sugimoto continued to run his antique shop until 1989; after closing it, he continued to collect antiques and began to incorporate these and other objects into his work.
Sugimoto's 1995 solo show at the Metropolitan Museum of Art in New York led to greater recognition and the financial means to expand his artistic practice. The artist began photographing modern architectural sites that year and was subsequently able to expand on this series through extensive travel. He subsequently began designing interior spaces in which to take photographs and designing objects to photograph, which were subsequently displayed alongside the resulting images. This work led to a number of commissions for more ambitious spatial projects and Sugimoto, hiring three architects with whom to work, started an architectural practice, New Material Research Laboratory, in 2008. Sugimoto's architectural work can be seen as an expansion of, rather than a departure from, his photographic work, giving him greater control over the presentation of his images in museums and allowing him to explore his core themes in multiple dimensions.
Current Work
Sugimoto has continued to add images to his early series, including Dioramas, Theaters and Seascapes, throughout his career, expanding these groups as he identifies new locations in which to shoot. In the projects he has recently begun, Sugimoto has gravitated toward architecture, designing a number of restaurants and teahouses. His architectural work, like his photographic practice, is guided by his belief that minimalism and simplicity in aesthetics can prolong an audience's attention and generate deeper focus. He has spent the bulk of the last decade focused on the Enoura Observatory in Odawara, Japan, which opened in October 2017, housing Sugimoto's collection of Japanese antiques alongside a teahouse and spaces for the production and performance of traditional Japanese theater. The structure, overlooking the ocean, provides a view of the horizon analogous to Sugimoto's Seascapes and Sugimoto selected the site for its proximity to the place where he first, as a child, began thinking about the ocean as an orientation point in human consciousness.
The Legacy of Hiroshi Sugimoto
Sugimoto's work has had a substantial influence on contemporary understanding of photography and has, in concert with work by critics, curators, and other photographers over the same period, served to expand the possibilities of the medium. He serves as a bridge between photography's craft tradition and digital future, connecting analog techniques with concepts of dematerialization that hint at the vastness of humanity's past and future. In creating work which served to question, rather than simply document, the world, Sugimoto expanded the field such that many other photographers have found space in which to pursue similar enquiry. His visual influence can be seen in the work of many younger photographers; some, like Yves Marchand and Romain Meffre and Takashi Homma, echo Sugimoto's removed compositions of architecture and interiors, while others, like Rika Noguchi, have continued Sugimoto's consideration of light and color. Sugimoto continues to work as a photographer and to design spaces for the display of his own work and that of others and it appears certain that his influence will grow as artists interested in his photographic work mature and his architectural work reaches a wider audience.
Most Important Art
Polar Bear (1976)

Polar Bear is amongst the earliest images in Sugimoto's Dioramas series (1976 - 2012), most of which were taken at the American Museum of Natural History in New York. The image portrays a bear in an arctic landscape paused above the body of a seal and is deliberately constructed, with use of reflectors to capture the texture of fur and careful calibration of exposure time to isolate the white shades of bear and backdrop, so that the scene appears real. Sugimoto's photographs of dioramas provoke a questioning of the ways in which museums display natural history, suspending time through images in which the slippage between the wild and the artificial becomes palpable. Sugimoto creates his work with a large-format wooden camera and photographs in black and white, developing the images according to the recipes of Ansel Adams, furthering the illusion of the diorama as he removes the artificial colors of the painted backdrop.

This image, like Sugimoto's work more broadly, is closely involved with the history of photography and notions of time in relation to and apart from human history. The diorama, as a means of presenting the world, became popular in the late-19th century, in the same period in which photography began to be lauded for its scientific accuracy, and both technologies derived power from their ability to capture and preserve specific moments. Sugimoto's major contribution to visual art lies in the craft with which he uses the camera's relationship to time and its capacity for illusion to focus our attention on ways in which humans makes sense of the natural world. Sugimoto has continued exploring the concepts central to the Dioramas series in other works, including Portraits (1999 - present), which takes another 19th-century technology, the wax figure, as a subject.

Read More ...

Hiroshi Sugimoto Artworks in Focus:
Hiroshi Sugimoto Overview Continues Below
If you see an error or typo, please:
tell us
Cite this page

Content compiled and written by Sarah Frances Dias
Edited and revised, with Synopsis and Key Ideas added by Anna Blair
" Artist Overview and Analysis". [Internet]. . TheArtStory.org
Content compiled and written by Sarah Frances Dias
Edited and revised, with Synopsis and Key Ideas added by Anna Blair
Available from:
First published on 25 Feb 2018. Updated and modified regularly.


[Accessed ]