Biography of Karl Schmidt-Rottluff
Childhood and Early Period
Karl Schmidt was born in Rottluff, a small town in eastern Germany where his father owned a mill (he added the name of his birthplace to his own name in 1906). As a child, he attended the Humanistische Gymnasium, a secondary school that focused on the classics, including the arts. There he met Erich Heckel, who was a year older. Their friendship flourished in the "Vulkan" club, their school's arts and debating society, where they had lively anti-bourgeois art and philosophy discussions. When Heckel left to study architecture at the Sächsische Technische Hochschule in Dresden in 1904, Schmidt-Rottluff followed him the year after, though he dropped out after one semester.

While his formal studies in Dresden were brief, it was there that Schmidt-Rottluff met two other individuals significant in his early artistic formation: Ernst Ludwig Kirchner and Fritz Bleyl. Together with Heckel, they founded Die Brücke (meaning "the bridge,") on June 7, 1905. The name was suggested by Schmidt-Rottluff, inspired by a line from Nietzsche's Thus Spoke Zarathustra: "What is great in man is that he is a bridge and not an end." That year, the group had its first exhibition in Leipzig, where the artists displayed works that exemplified their desire to reject traditional bourgeois social values and academic art in favor of a new, more personal and direct approach; Schmidt-Rottluff noted that, "what we wanted was a refusal of the outmoded, overly-cultivated art practices." The works made by Schmidt-Rottluff during this period, like those of his peers, were heavily influenced by Art Nouveau and Neo-Impressionism, though his works stood out because of the simplicity of his forms, balanced compositions, and focus on rural scenes rather than cityscapes.
Despite being a founding member of Die Brücke, Schmidt-Rottluff kept himself relatively on its periphery, and was known as the loner of the group. The artists usually spent summers together at rural retreats, in search of a direct connection with nature and an escape from urban society, but in 1906, Schmidt-Rottluff chose to visit fellow artist Emil Nolde on the Danish island of Alsen rather than join rest of the Brücke group at the Moritzburg lakes outside Dresden. In the following several years he spent summers at Dangast on the North Sea coast, although Heckel and Max Pechstein, a later member of the group, occasionally joined him. Schmidt-Rottluff also convinced Nolde to join Die Brücke - if only for a year - and the two became ardent proponents of woodcut as a medium. Indeed, printmaking became an important component of the group's identity, both for its bold, graphic quality and for its use in promotion; they published seven annual print portfolios between 1906 and 1912 to gain financial support from patrons.
Although Die Brücke found considerable success in Dresden, Schmidt-Rottluff and the other members of the group decided to move to Berlin, Germany's largest city and cultural hub, in 1911. Within this more varied and dynamic urban context, the group began to lose its collective nature, and Die Brücke dissolved in 1913, marking a point of transition in Schmidt-Rottluff's artistic development.
Mature Period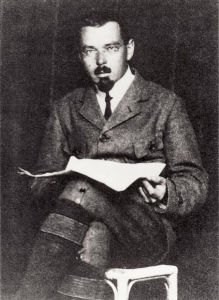 Schmidt-Rottluff moved to Berlin just a few years before the outbreak of World War I; he was conscripted in May 1915 and served for three years on the Eastern Front. As a non-combatant attached to the Press Unit, he was able to continue making art, although the circumstances and emotional trauma meant that he was unable to paint. Nevertheless, he continued to make woodcuts. While he did not directly record the harrowing experiences of the war in his work, there was a marked increase in religious subject matter in the following years, which scholars such as Starr Figura view as the artist seeking solace.
The artist quickly reintegrated into the social and artistic circles in Berlin following the war. Although he did not express openly political views, he joined a group of artists, architects, and intellectuals who had been provoked by the war to call for radical social change and to form the Arbeitsrat für Kunst (Workers Council for the Arts) in late 1918. This union, which included many members of the former Brücke, sought to organize collectively to abolish state-run systems and make the arts more openly available; as a flyer from 1919 stated, "art shall no longer be a luxury of the few but should be enjoyed and experienced by the broad masses." In spring 1919 Schmidt-Rotluff married Emy Frisch, a photographer who was already within his circle of friends; he had made a woodcut visiting card for her in 1915, and Ernst Ludwig Kirchner had represented her in about a dozen works in the early 1900s.
The 1920s were a period of relative ease for the artist. He continued to experiment stylistically, moving from the angular forms and rough brushwork of his early work toward a somewhat smoother and more refined yet still powerful execution. His work entered museum collections and was published in articles and books, including a catalogue raisonné of his prints written by art historian Rosa Schapire (he gradually lost interest in printmaking, however, and stopped altogether by 1927). His reputation during this time flourished as Expressionism became more widely popular, and in 1931 he was accepted into the Prussian Academy of Arts, a long-established institution of a type that Schmitt-Rottluff and his more radical colleagues had previously wished to dismantle.
Later Period
Just a few years later, Schmidt-Rottluff's status and acclaim began to diminish as the Nazi party rose to power, and when Hitler became chancellor in 1933, the artist was forced out of the Academy. The subsequent years were difficult for him, as he was soon branded a degenerate artist and in spring 1941 was forbidden from painting, though he continued to produce watercolors in secret. In 1937, over 600 of his works were seized from public collections. Most of these were destroyed; others were exhibited in Hitler's infamous degenerate art exhibitions. When his studio and apartment in Berlin were destroyed in a World War II bombing raid in 1943, Schmidt-Rottluff and his wife returned to his hometown of Rottluff.
Upon his return to Berlin three years later, Schmidt-Rottluff's reputation began to flourish once again. He was quickly hired as a professor at the University of Fine Arts in Berlin, where he influenced a new generation of painters. In 1964, he and his wife Emy led the effort to create the Brücke Museum, dedicated to presenting works made by the Brücke artists. He gave 75 of his own works to the city of Berlin, and the museum opened in 1967 largely thanks to a grant from the new German government. From then on, he spent much of his time collecting works by his former artistic colleagues - many of whom were by that time deceased - and transferred all his acquisitions to the museum. This was his focus until he passed away in Berlin in 1976.
The Legacy of Karl Schmidt-Rottluff
Schmidt-Rottluff's legacy is most strongly felt through the Brücke Museum, which currently holds over 1,000 works by artists associated with Die Brücke and manages the artist's estate. The museum acts as the single most comprehensive collection of German Expressionism in the world. Through annual exhibitions and rigorous scholarship, the museum has restored the place of these seminal modern artists within the narrative of modernism that Hitler and the Nazis sought to erase.
While Schmidt-Rottluff's predominant legacy is the Brücke Museum, his impact can be traced on subsequent artists. His bold colors and forms influenced the aesthetics of some artists of the Harlem Renaissance, such as Hale Woodruff. Similarly, his role in popularizing the woodcut print as one of the defining forms of German Expressionism led to its prominence as a modernist medium.
Content compiled and written by Ximena Kilroe
Edited and revised, with Summary and Accomplishments added by Sarah Lees
"Karl Schmidt-Rottluff Artist Overview and Analysis". [Internet]. .
TheArtStory.org
Content compiled and written by Ximena Kilroe
Edited and revised, with Summary and Accomplishments added by Sarah Lees
Available from:
First published on 05 Dec 2020. Updated and modified regularly
[Accessed ]