Artists
Albert Pinkham Ryder
Biography and Legacy
Albert Pinkham Ryder - Biography and Legacy
American Painter
Movements and Styles: Romanticism, Tonalism, Symbolism, Early American Modernism
Born: March 20, 1847 - New Bedford, Massachusetts, USA
Died: March 28, 1917 - New York City, New York, USA

"What avails a storm cloud accurate in form and color if the storm is not therein?"

Biography of Albert Pinkham Ryder
Childhood
Albert Pinkham Ryder was born in 1847 in New Bedford, a growing port in Massachusetts then known for its role in the whaling industry. Both his parental ancestors were of old Cape Cod families, and it is presumed that many in the family had been sailors. Albert, the youngest of four sons, began attending a public grammar school for boys, but had to quit due to poor eyesight resulting from a vaccination that went wrong. This visual impairment was never completely healed, and Ryder may have perceived colors and depth in a slightly altered way, contributing to his distinctive style.
It was during this time that he began to paint outdoors, mainly inspired by the sea and the countryside that surrounded him. His interest in the sea as a subject would develop further and in a unique way. Ryder later remarked that when his father gave him paint and brushes and he stood in front of an easel for the first time it was a kind of revelation for him. None of these early paintings survives to show us how that revelation manifested itself, but it was more about the possibilities that young Albert sensed than about what he achieved at the time.
Education and Early Training
When Albert was in his early twenties, the family moved to New York City, where his older brother was already managing the Hotel Albert. Ryder applied to the National Academy of Design but his application got rejected. Either following advice from the Academy or on his own initiative, he then began lessons with the painter William Edgar Marshall, a former pupil of Thomas Couture in Paris. After this period of training, his application was accepted, and Ryder began his studies at the Academy in 1870. It was there, in 1873, that he met the artist Julian Alden Weir, who would become his lifelong friend. That same year he exhibited his work in the Academy for the first time.
In 1875, Ryder participated in an exhibition with John La Farge and William Morris Hunt (both ex-pupils of Couture) who, after having their work rejected several times for exhibition by the National Academy, had decided to set up on their own. The exhibition was sponsored by the English interior design firm Cottier & Company and Daniel Cottier, one of the owners, quickly became Ryder's friend and dealer.
In 1877, Ryder made his first trip to Europe. There he studied the paintings of the French Barbizon School and visited the Netherlands where he became familiar with the Dutch Hague School, whose use of somber colors appealed to Ryder.
On his return, Ryder became a founding member of the Society of American Artists, a group that felt the National Academy was too conservative and academic for their interests. Other members of the group included Julian Alden Weir, Augustus Saint-Gaudens, Robert Swain Gifford, and John La Farge, all of whom are now considered to have been among the most progressive American artists of the time. Ryder maintained a close relationship with the group, exhibiting with them from 1878 to 1887.
Mature Period
In the early 1880s, Ryder came to know the Symbolist painter Robert Loftin Newman, a Tennessee-born ex-Confederate soldier who studied briefly under Couture in France and is thought to have influenced Ryder's shift from the Barbizon style of pastoral landscapes towards subjects based on folklore, literature, and opera. Ryder's studio, which Newman may have briefly shared, was located at the Benedick Building on Washington Square East, a recently opened apartment block intended for single men and named after Benedick, the confirmed bachelor in Shakespeare's Much Ado About Nothing. A building janitor and basic maid service offered amenities including breakfast. The Benedick suited Ryder's prioritizing of painting over practicalities and he settled in there for a decade. A trip to North Africa with Daniel Cottier and sculptor Olin Levi Warner during the summer of 1882 was by far the most ambitious of his infrequent forays away from the Benedick.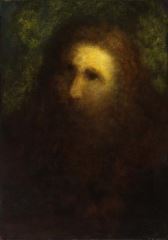 Portrait of Albert Pinkham Ryder. Artist unidentified, but formerly attributed to Robert Loftin Newman
Ryder never married, and there is no evidence of his having been involved in any significant romantic relationships with women. Nor did he seem to care much for worldly affairs, money, or for his own artistic reputation. He is celebrated for claiming that, "The artist needs but a roof, a crust of bread and his easel, and all the rest God gives him in abundance. He must live to paint and not paint to live."
Despite asserting that "catching mice is more my line than fishing," referring to his preference for city apartment life, Ryder visited Weir's farm a few times. He found it inspiring, writing in 1897 that "the landscape and air are full of promise." By then Ryder had left the Benedick and was living in a dingy tenement building on West 15th Street in New York from which an escape to the farm may have been occasionally welcome.
Late Period
After 1900 and the death of his father, Ryder stopped creating new works. Instead he spent most of his time re-working old paintings that were stacked in his rooms. These paintings, due to his eccentric technique that had little regard for drying times of oils and varnishes, had cracked or darkened over time, and Ryder tried to restore them to their original condition, in most cases quite unsuccessfully.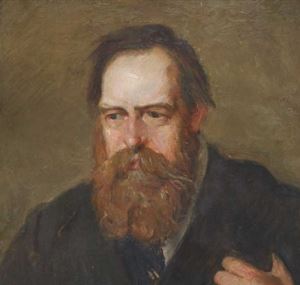 Portrait of Albert Pinkham Ryder attributed to his friend Julian Alden Weir (c. 1902)
During this time Ryder did become more reclusive. He had a disregard for personal and domestic cleanliness and the few visitors he had were left shocked by the condition of his apartment. He remained, nonetheless, a genial if shy host and took pleasure in telling stories about his work. Although Ryder himself had largely lost interest in exhibiting his work, public and critical interest in his paintings greatly expanded during this period, and they were increasingly sought out by collectors. In 1902 he was elected to membership of the National Academy of Design, for which Weir painted his portrait.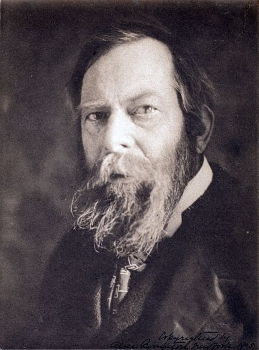 Ryder photographed by Alice Boughton (1905)
In 1904, Ryder wrote a letter to Weir wishing "that your fish will thrive ... your work will answer, your farms too, your haystacks grow, and rocks disappear, and everything be as you wish." In a way, this blessing seems like a gesture of farewell to his friend. Not much else is known of Ryder's final decade, but he was recognized by inclusion in the now famous Armory Show in 1913 which the then frail Ryder went to see on the arm of a friend.
Soon after that he was taken in by Charlie Fitzpatrick, a burly and unsophisticated ex-sailor, and his wife Louise, an amateur painter, who had been Ryder's neighbors on West 15th Street. Louise was Ryder's only student and she both adored and venerated him. The Fitzpatricks took Ryder to their new home on Long Island from where Louise reportedly kept his old friends away until his death. His 1917 obituary in the New York Times said that Ryder "was one of the most interesting artists America has ever produced" and that "every picture that he painted was the result of years of reflection and experiment." Seventy years later, a critic writing in the New York Times could justifiably say that Ryder's paintings "form part of a collective American folk-memory."
The Legacy of Albert Pinkham Ryder
A year after his death, the Metropolitan Museum of Art in New York staged a memorial exhibition in his honor, by which time artist Walt Kuhn could claim that there was "only Ryder in American painting" - a statement that sounded credible to many, at least in the influential Manhattan art world. Art critic Robert Hughes has said that this elevation of Ryder "had something messianic and hopeful about it," as if Ryder embodied a vision of American art's ambitions to be different, special, and profound.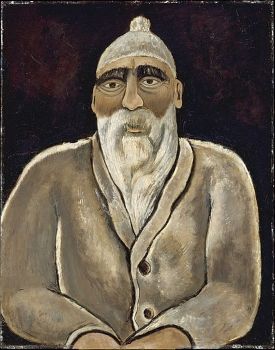 Portrait of Ryder (1938), painted long after his death by Marsden Hartley, who was inspired by his work
Ryder influenced many painters of the time. Kenneth Hayes Miller, a Symbolist, considered Ryder to be a father figure and took care of him in his old age, until the Fitzpatricks took him in. Although Ryder never taught (except the devoted Louise Fitzpatrick), he had a lasting effect on a younger generation of painters of his time, especially Arthur B. Davies, Marsden Hartley, Rockwell Kent, and Walt Kuhn. Hartley wrote that seeing Ryder's paintings "shook the rafters of my being." Later, Georgia O'Keeffe, Winslow Homer, Jackson Pollock, and Mark Rothko all greatly admired Ryder's work, especially his unique use of color. In fact, Pollock said that, "The only American master who interests me is Ryder." Critic Robert Hughes adds that these American artists looked up to Ryder "as an emblem of aesthetic purity, a holy sage, and the native prophet who linked tradition to modernism."
Although he did not think of himself as contributing to any movements, Ryder's daring simplicity of form and painstaking intensity of focus added a new psychological vigor to American Romanticism and a new profundity to Tonalism, and he delivered to modernism as it developed in America a reminder that form without vision can lack soul.
Most Important Art
The Spirit of Autumn (c. 1875)

A contemporary critic remarked about Ryder's early work that a shortfall in drawing skills was made up for by the overall effect of his "masses embodying a poetic impression". The figure in this very early painting is certainly an example. Like The Spirit of Spring from the same period, a circle of illumination accompanies a serene figure by a tree, but everything is softly defined, and the overall impression is of a contemplative mood rather anything more clearly delineated. This softness in the forms was a technique Ryder derived from some of the artists associated with the Barbizon school of French painters, but he was recognized as different from early on, another critic calling his work "dream-pictures." The artist's natural world may have been around his childhood home in New Bedford, Massachusetts, but in a painting like Spirit of Autumn the natural seems to be more dream-like than real, and the overall effect is delicate, restrained, and introspective.

Ryder in his twenties and early thirties, living in New York, was a shy and likeable man with an attitude to women that an acquaintance described as "chivalrous." He would never marry, and it is tempting to see in these early paintings an other-worldliness that seems celibate in its detachment; Ryder's figures less physical bodies than presences in a landscape of imagination. Ryder's Tonalism in the making, his use of color for atmospheric effect, was less the self-conscious adoption of a style shared with others than Ryder's own very personal interest in giving his restrained palette a life of its own, beyond its purely representational capacities. His cows and sheep from this early period are pulpy material presences of color in the landscape. So too, the figure here is an assemblage of color masses on the surface of the panel. What both intrigues and presages the achievements of his later, mature work, is the intense feeling of a presence in the image.

Read More ...

Albert Pinkham Ryder Artworks in Focus:
Albert Pinkham Ryder Overview Continues Below
If you see an error or typo, please:
tell us
Cite this page

Content compiled and written by Sarah Frances Dias
Edited and revised, with Synopsis and Key Ideas added by Daniel Xavier Fleming
" Artist Overview and Analysis". [Internet]. . TheArtStory.org
Content compiled and written by Sarah Frances Dias
Edited and revised, with Synopsis and Key Ideas added by Daniel Xavier Fleming
Available from:
First published on 14 Feb 2018. Updated and modified regularly.


[Accessed ]