Progression of Art
Date Unknown
Untitled (14H)
Rebay began creating collages around 1915 after being exposed to the medium by her then lover Jean Arp. For her, they became the perfect vehicle to express what she considered the purest form art should take: non-objectivity. This piece is one of her earliest experiments with the medium, and Rebay combines collage with watercolor drawing. Bits of colored paper and white shading create a dynamic, whimsical composition that is at once abstract and also suggestive of a rider on a horse, perhaps even the famed Don Quixote. According to art historian Brigitte Salmen, eventually her approach would mature and she would progress to creating "pure collages out of delicate strips and thick patches of colored paper. " In discussing these works, Salmen explains, "These mostly small-format works show an increasing freedom - in part owing to the technique itself. Over time Rebay developed a wholly personal collage style in which sparingly placed shapes float against empty, undelineated grounds. These carefully composed pictures present glowing colors sensitively attuned to one another. "

These early collage works also show the influence of German Expressionist Wassily Kandinsky. Having met him through Arp, she was impressed with his own dedication to non-objectivity. Kandinsky often described his paintings as visual manifestations of music, and in later pieces, she often titled her own creations with musical terminology as a nod to her mentor. According to museum director Karole Vale, Rebay was "inspired by the writings of Kandinsky, whom she described as 'a prophet of almost religious significance. '" For both Kandinsky and Rebay, art was a vehicle for spiritual enlightenment.
Collage and watercolor on paper, mounted on paper - Solomon R. Guggenheim Museum, New York
1913
Paris through the Window
A celebration of duality that combines figurative and abstract aspects, Marc Chagall's painting can be read as a celebration of his new hometown of Paris while at the same time a longing for his native land of Russia. While representational images are present in this work, curator Jennifer Blessing suggests that it was Chagall's adoption of Robert Delaunay's Orphic Cubism to create the overlapping shapes of color that appealed most to Rebay and why she suggested that Guggenheim purchase it. Rebay's biographer Joan Lukach explains that Rebay reported to Guggenheim that "the Chagall was fine, Mrs. Guggenheim especially liked it" and added that she wished she could buy it for herself. Rebay encouraged Guggenheim to purchase several Chagalls over the years and became one of his great champions. He became the prominent artists in what Rebay called Guggenheim's "objective collection." According to Lukach, Rebay admitted that non-objective painting was "not at all [Chagall's] style. Still, I prefer Chagall to most of the non-objective paintings. "

The personal migration Chagall visually represented in this painting from his native Russia to France was not the only move he would make in his lifetime, and Rebay and Guggenheim played key roles in supporting him later in life. When World War II broke out, Chagall, as a Jew, felt he was no longer safe in Europe, and Guggenheim was instrumental in arranging his relocation to America in 1941. When he and his wife arrived, they stayed with Rebay at her home for a period of time, strengthening the bond between the curator and the artist.
Oil on canvas - Solomon R. Guggenheim Museum, New York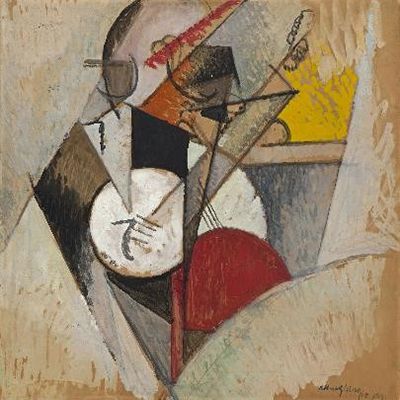 1915
Composition pour Jazz
While Hilla Rebay's collaboration with Solomon Guggenheim began with the goal of helping him acquire an impressive collection of non-objective art, sometimes they went beyond this original mandate and acquired works in other styles, including, Albert Gleizes's Cubist painting, Composition pour Jazz. Rendered in simplified, broken down geometric forms, one can make out two musicians: one in a black suit holding a banjo, and the other perhaps a singer in a red hat. The loosely applied brushstrokes and unfinished quality of the painting mirrors the improvisational style of jazz.

Rebay had been friends with Gleizes since the late 1920s, and according to author Joan Lukach, in addition to liking his "very abstract" works "the two were in the same ideological camp, sharing the mystical view that 'non-objective' painting could be equated with an expression of the divine, and as such was a universal expression of religious man. Both believed, too, that when this connection was finally understood there would be peace in the world. "

Rebay introduced Guggenheim to Gleizes's art, and he purchased several over a period of years. This painting, while providing an example of Rebay's keen curatorial eye, more importantly provides proof of her interest in supporting the artists (often her friends) whose work she collected on behalf of Guggenheim. Lukach explains that Gleizes "was satisfied to have his paintings in a collection whose fundamental tenants he shared...." Despite Gleizes's reliance on the objective world to create his compositions, their spiritual kinship he shared with Rebay insured her continued support.
Gouache on cardboard, mounted on Masonite - Solomon R. Guggenheim Museum, New York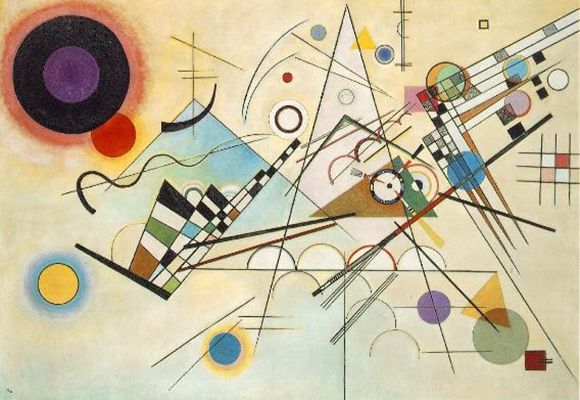 1923
Composition 8
Hilla Rebay was drawn to the strong, non-objective compositions of Wassily Kandinsky's paintings. In Composition 8, circles and triangles, grids and lines, mosaics and squiggles pulse on the surface of the canvas. The dynamic composition is frenzied, but the repeating and familiar geometric shapes work to tone down the chaos. The generic title Composition calls attention to the abstract nature of the work but also has musical connotations as well. Many describe music as the most abstract of the arts, and Kandinsky often played with the connections and overlaps between music and painiting.

Rebay encouraged Guggenheim to begin purchasing works by Kandinsky, and his art became one of the cornerstones of the future museum's collection. The facilitation of the purchase of this work is just one small example of a myriad of actions she undertook to help nurture Kandinsky's career. She arranged the first meeting between him and Guggenheim in July of 1930 that would lead to Guggenheim also becoming one of the artist's biggest champions. Eventually, Rebay and Kandinsky had a falling out that lasted for several years, because she felt that he did not sufficiently support fellow artist (and Rebay's sometime lover) Rudolf Bauer. Despite her feelings, she continued to oversee the purchases of many of his paintings for several decades. Her final act on Kandinsky's behalf occurred less than a year after his death, when she planned a retrospective of his work at the Museum of Non-Objective Art in March of 1945 as a memorial tribute.
Oil on canvas - Solomon R. Guggenheim Museum, New York
1926
T1
László Moholy-Nagy's T1 is a celebration of non-objectivity. In this complex work, Moholy-Nagy combines industrial materials (a kind of new, shiny black plastic) and techniques (airbrush), with avant-garde tactics (abstraction and collage). The airbrushed circles at the top and bottom of the work seem to float in front of the surface, while the smaller, central orb - made of silver paper - is collaged onto the plastic. Moholy-Nagy incised the straight line that connects two of the circles and then carefully painted it white. While non-objective art is sometimes considered disconnected from the concrete world we inhabit, Moholy-Nagy turns that assumption upside down by using non-traditional, industrial materials that firmly connect the non-objective and the objective.

Rebay was a strong advocate for Moholy-Nagy's art, and according to author Joan Lukach, he in turn "became one of Hilla Rebay's staunchest supporters and a true friend...[and] Rebay often sought his advice on a variety of topics. " Having first met in Berlin in the late 1920s, it is likely that Kandinsky alerted Rebay to Moholy-Nagy. After first seeing his work, Rebay was immediately impressed, and she directed Rudolph Bauer to purchase T1 for Guggenheim's collection. In time, Rebay and Guggenheim became avid collectors of Moholy-Nagy's work and exhibited them regularly at the museum.
Oil, sprayed paint, incised lines, and paper on Trolit - Solomon R. Guggenheim Museum, New York
1928
Solomon R. Guggenheim
Despite her championing of non-objective art, Hilla Rebay studied and displayed a skill in portrait painting, and she took on many commissions to support herself in the early years of her career. Her portrait of Solomon Guggenheim was without doubt her most important commission. It was arranged through his wife, Irene, who had seen an exhibition of Rebay's work and purchased two pieces. An impressive portrait, Rebay rendered her subject as a distinguished gentleman in a variety of shades of brown.

More importantly however, this painting captures a key moment in both the painter's and the sitter's life. It is likely that during this session, Rebay spoke at length with Guggenheim about non-objective art, and by the time the painting was finished, she had convinced him to start his own collection with her help. Shortly after, the pair would begin a series of trips to Europe to purchase paintings. More than a simple portrait, we see a visual manifestation of the start of a lifelong friendship and mutually beneficial partnership that would help to shape and promote modern art in the mid-twentieth century.
Oil on canvas - Solomon R. Guggenheim Museum, New York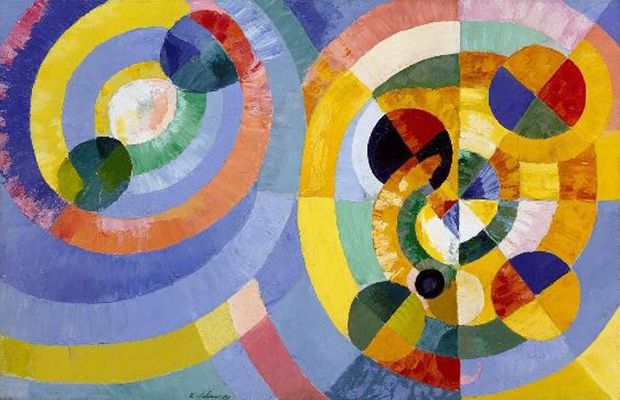 1930
Circular Forms
Robert Delaunay's painting, which is comprised of circles in a celebration of vivid colors, is an important example of the Orphism style which he developed. Hilla Rebay and Delaunay were kindred spirits and, as author Joan Lukach describes, theirs was "a meeting of like minds.... The friendship was cemented by a jointly held belief that abstract art was misunderstood and neglected, and by the common goal of forging an international alliance of non-objective artists.... " Rebay for her part helped achieve this goal by advocating that Solomon Guggenheim collect key artists of this style, including Delaunay.

Interestingly, in the beginning of their relationship, while she respected Delaunay, she considered him, according to Lukach, "primarily as a precursor of non-objective art." Later, however, as his works became more abstract, in part through his development of Orphism, he became a leader of non-objectivity. Circular Forms was among Delaunay's important paintings that Rebay advocated for to be added to Guggenheim's collection. Paintings like this support Rebay's belief that "non-objectivity will be the religion of the future.... Non-objective paintings are prophets of spiritual life. Those who have experienced the joy they can give possess such inner wealth as can never be lost. This is what these masterpieces in their quiet absolute purity can bring to all those who learn to feel their unearthly donation of rest, elevation, rhythm, balance, and beauty. " For Rebay and many of the artists she championed, abstract, or non-objective, art had the ability to heal the spiritual malaise that many blamed on modernity and industrialization.
Oil on canvas - Solomon R. Guggenheim Museum, New York
1933
Invention (Composition 31)
A brightly colored non-objective painting, Rudolf Bauer's Invention (Composition 31) demonstrates how, according to art historian Karole Vail, "in the late 1920s and early 1930s, Bauer's work became more geometric and may have been influenced by the modernist and functional rigor of the Bauhaus and Russian Constructivism. " The sharply delineated forms stacked atop one another seem to float above the surface of the canvas and call to mind the Suprematist compositions of Kasimir Malevich.

For many artists and friends, Rebay's and Guggenheim's support of Bauer was incomprehensible for an otherwise astute collecting pair, as many saw his works as derivative and not very innovative. Rebay's support, in part, stemmed from her complicated romantic involvement with the cantankerous artist, but he also served as a prime example of what she could do with a Museum of Non-Objective Painting. Rebay's practice of turning to Bauer to facilitate purchases of paintings for Guggenheim when she could not be in Europe led to Guggenheim's strong support of Bauer as well. Most specifically, according to Vail, "In 1930, thanks in part to the purchase of his paintings by Guggenheim, Bauer opened his museum gallery Das Gestreich as a private salon where he exhibited his own and Kandinsky's works and which was inspirational for Rebay when she began to formulate her thoughts for a museum for Guggenheim's collection. " Despite their volatile relationship, Rebay's support was unwavering, and she chose this painting as the catalogue cover for the Museum of Non-Objective Painting's first exhibition which opened to the public on June 1, 1939.
Oil on canvas - Solomon R. Guggenheim Museum, New York
1950-56
Rhythmic Delight
Hilla Rebay's painting Rhythmic Delight is a good example of her non-objective approach. In describing the work, museum director Karole Vail states, "Here she seems to have found the perfect balance, or 'interrelation of rhythm, line, balance, and measure' and 'cosmic inner order.'" The central orange circle, loosely painted, frames the intersecting horizontal and diagonal lines. The rhythmic squiggles emanating from the center have a musical and harmonic feeling. The colorful triangles along the outer edges of the canvas resemble elements of Rebay's earlier collages but also encircle the central shapes as if dancing in step around them, creating a pulsing dynamism.

For Vail, this painting, "one of Rebay's major paintings, executed when she was in her sixties, best conveys the 'diagram of the soul,' as Rebay described non-objective painting.... Rebay's paintings radiate masterly individuality.... She created her cosmos, her own ethereal world in them, blending geometric and organic elements in a single, integrated space and providing a vital sensation of energy. " For Rebay, the artist was a conduit for the divine, conveying the spiritual and the cosmic through their painting, and the dynamic and balanced composition of Rhythmic Delight speaks to her desire to express the interrelation at the heart of the world as she understood it. After her stint at the Museum of Non-Objective Art came to an end, Rebay devoted herself to painting again and to bettering the world.
Oil on canvas - Private Collection
Related Artists
Related Movements & Topics