Biography of Fra Filippo Lippi
Childhood and Early Training
Fra Filippo Lippi was born into a large and poor family on the street of Ardiglione in Florence around 1406. At the age of just two, Filippo, whose mother, it is thought, had already passed, became an orphan after the death of his father, Tommaso, and was taken in by his paternal aunt, Mona Lapaccia. He was such an unruly and headstrong child that Mona consigned him (and a brother) to the care of the monks at the Santa Maria del Carmine convent which he attended between the ages of eight and seventeen, this despite it becoming increasing obvious that Lippi did not possess the temperament for life as a friar (although, in 1442, "Fra" Lippi was appointed rector of the Church of San Quirico in Legnaia).
The famous Renaissance biographer and artist, Giorgio Vasari, recorded that Filippo was "dexterous and ingenious" with his hands from an early age but had a "great distaste" for books. Indeed, such was that distaste he covered his schoolbooks with cartoons. However, the Prior of the convent recognized his latent ability for drawing and directed Filippo towards learning how to paint. In the nearby Chapel, Santa Maria del Carmine, the famed painter Masaccio had recently produced a series of frescoes which were destined to become some of the most celebrated and influential of the Early Renaissance. Lippi greatly admired these works and went regularly to study Masaccio's technique. Practising in the chapel, and exceeding the efforts of his own peers in art, Lippi's reputation began to grow. He left the convent leaving behind frescoes in the church and in the cloister. On the evidence of these pieces, Vasari noted, "it was held for certain that one day he would do marvellous things".
Mature Period
Vasari wrote of a strange occurrence in Lippi's life that, although the story has been discredited, serves nevertheless as an example of an "origin story" for an ingenious artist that stressed the almost preternatural talent he was said to possess. According to Vasari's fanciful tale, Lippi was abducted from the city of Ancona by a contingent of Moors and brought to North Africa where he was held captive for 18 months. While there, he was said to have drawn a full-length portrait of his master with a humble shard of coal. Such was the master's astonishment at the uncanny realism of the picture, he ordered Lippi's release, and he was freed at the port of Naples. Though details of this period remain sketchy, the art historian Valerio Mariani notes that "It is known that in 1434 the artist was at Padua [and while none of] the works executed while he was at Padua are known [...] the effect of his presence may be recognized in the paintings of others there, such as Andrea Mantegna".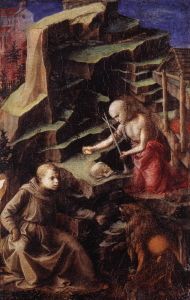 By the mid-1430s, Lippi was back in Florence where he secured the patronage of the all-powerful Cosimo de'Medici who employed him to execute frescoes and altarpieces for several Florentine convents and churches. Mariani explains how "the qualities he acquired during his years of travel are affirmed with clarity in two works of 1437, immediately after he returned from Padua: The Virgin and Child Between SS. Frediano and Augustin and the Madonna and Child". Mariani adds that in these works, "the colour is warm, toned down with shadings, approaching the limpid chromatics of his great contemporary Fra Angelico".
In 1439 Lippi produced Saint Jerome in Penance, in which he blended his picture plane into spatially and temporally distinct (what we might call a "split screen" technique) areas featuring two stories of an older and more youthful Jerome. Confirmation of Lippi's genius soon followed with the Annunciation (believed previously to be a more mature work but now dated between 1441-43). It was innovative in its use of irregular perspective and wonderful contrasts between colour and form and, in Mariani's reading, "the suggested movement of the light garments of the two frightened girls at the door is rendered with such sensitivity as to anticipate Sandro Botticelli".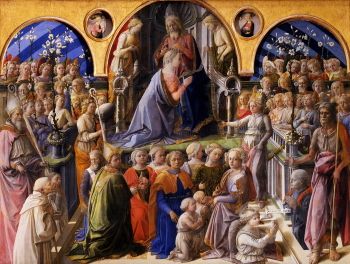 In 1442 Lippi was made rector of the Church of San Quirico in the Legnaia district of Florence. It was an inspired time for Lippi who produced the Coronation of the Virgin for the Church of Sant'Ambrogio. Such was the scale of the task, Lippi had to call on a team of six external painters to complete the predella (stepped) altarpiece which Mariani called "a historic point in Florentine painting in its success in uniting as one scene the various panels of a polyptych". It what might be considered a subversive act, and one that certainly adds and extra dash of realism to the altarpiece, comes in the shape of a self-portrait of Lippi in the right corner. This inclusion was confirmed by the artist himself who wrote: "Well, all these / Secured at their devotion, up shall come / Out of a corner when you least expect, / As one by a dark stair into a great light, / Music and talking, who but Lippo!"
Late Period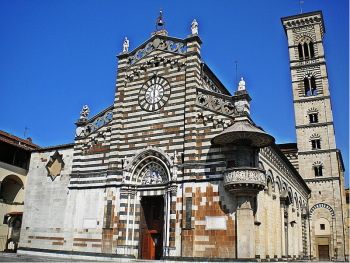 In 1452, Lippi had been invited by the City of Prato to paint frescos for the main chapel of Prato cathedral. They depict the Stories of St John the Baptist and St Stephen on the two main facing walls and are considered Lippi's monumental works. The figure of the dancing Salome is generally thought to show a clear lineage to the later works of his pupils, Sandro Botticelli, and Lippi's own son, Filippino. Lippi's perspective is again informal while he places most importance on theatrical effects and story continuity. Of these scenes, Vasari made special mention of the "beautiful folds" in the draperies and in general the "excellent design, colouring, and composition". Vasari spoke also of Lippi's "very merry life" and that all of Filippo's escapades and misdoings "were passed over in silence" due to the quality of his painting. Vasari was moved enough, in fact, to cite Lippi as the precursor to Michelangelo.
Following his rise to fame, Mariani describes how Lippi became "dominated by love affairs and impatient of methodical or tranquil conduct". Also commenting on the artist's licentious conduct, Vasari wrote: "It is said that Fra Filippo was so lustful he would give anything to enjoy a woman he wanted if he thought he could have his way, and if he couldn't buy what he wanted, then he would cool his passion by painting her portrait and reasoning with himself. His lust was so violent that when it took hold of him he could never concentrate on his work. Because of this, when he was doing something for Cosimo de' Medici, Cosimo had him locked in so he wouldn't wander off. After he had been confined for a few days, Fra Filippo's amorous, or rather animal, instincts drove him one night to seize a pair of scissors, make a rope from his own bedsheets, and escape through a window to pursue his own pleasures for days on end!"
Vasari's account may or may not be absolutely accurate, but it is accepted fact that in 1456 Lippi abducted a nun, Lucrezia Buti, from the convent in Prato. After painting Buti as the Virgin Mary, the pair absconded together and, Vasari suggested, "Francesco, the girl's father, never smiled again". Buti bore Lippi a son and daughter, the former named Filippino who would later study in his father's workshop with Botticelli.
In 1467 Lippi, Filippino, and Fra Diamante headed for Spoleto Cathedral, where they were commissioned to paint decorations and frescoes. These included the Nativity, the Annunciation, the Death of Mary, and, in the semidome of the apse, the Coronation. Lippi died while working on the Storie della Vergine (Scenes of the Life of the Virgin Mary) in the apse. Amongst the painted bystanders one can see a self-portrait of Lippi, and portraits of Filippino, Fra Diamante, and Pier Matteo d'Amelia.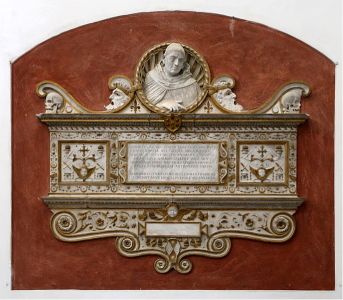 Lippi died in 1469 and Vasari even conjectured that he was the victim of poisoning by a relative of one of his lovers. After his burial in the cathedral at Spoleto, Lorenzo de' Medici sent correspondences to the town requesting the removal of Filippo's body to Santa Maria del Fiore in Florence. This request was declined, citing the dearth of famous burials in the town in comparison to Florence. In response Lorenzo commissioned Filippino to design a marble tomb for his father in Spoleto. It contained the following excerpt from the Latin epitaph by Angelo Politian: "Nature herself, as I revealed her, own'd / In wonderment that I could match her arts". Writing in the early twentieth century, the art historian Paul G. Komody stated effusively of Lippi: "Always ready to learn and to assimilate new principles, he never stooped to the imitation of mere mannerisms. From any such inclination he was saved by his temperament, his human sympathy, his artistic curiosity".
The Legacy of Fra Filippo Lippi
Mariani writes that "Posthumous judgments of Filippo Lippi were often coloured by the traditions of his adventurous life [and that] his works have been criticized from time to time for their borrowings from other painters" However, Mariani asserts that it is more widely agreed that Lippi's art was not diminished but, rather, "enriched and rendered more balanced by what he took from Masaccio and Fra Angelico. He was constantly seeking the techniques to realize his artistic vision and the new ideas that made him one of the most appreciated artists of his time". He adds that critics have come to appreciate in Lippi "a 'narrative' spirit that reflected the life of his time and translated into everyday terms the ideals of the early Renaissance".
Through Lippi's fluid, but complex, narrative compositions, he introduced a humanist and psychological aspect to religious imagery which brought an unprecedented level of realism to devotional art. Lippi is also considered a pioneer in striking a balance between mathematical and irregular perspective in the pictorial sphere - producing what the art historian Michael Baxandall called "uncanny but completely composed worlds" - and, as such, his influence can be seen in many of the greatest Renaissance masters, not least Botticelli (his pupil), Michelangelo and Piero della Francesca. His legend was further cemented by the Victorian poet Robert Browning whose 1855 dramatic monologue, Fra Lippo Lippi, used the Vasari's biography of Lippi as a vehicle for posing the question whether art should be naturalistic or idealistic.
Content compiled and written by Shane Lewis
Edited and revised, with Summary and Accomplishments added by Antony Todd
"Fra Filippo Lippi Artist Overview and Analysis". [Internet]. .
TheArtStory.org
Content compiled and written by Shane Lewis
Edited and revised, with Summary and Accomplishments added by Antony Todd
Available from:
First published on 06 Sep 2021. Updated and modified regularly
[Accessed ]