Progression of Art
1974
Prostitution Notes
With Prostitution Notes, Lacy sought to examine sex work not as stand-alone subject, but rather to locate the experience of prostitutes within her own life, "looking for echoes of their lives in mine." To accomplish this, she spent four months in Los Angeles interviewing friends, contacts, and sex workers at various restaurants and cafes about their opinions and experiences in regards to prostitution. She meticulously wrote down what she was told, took photos of the location of the interviews, and recorded what everyone ate, collecting matchbooks, stickers, and other mementoes.

The work was a combination of performance, subjectivity, and research that acted as a record of her emotional response to what she learned. By the end of the project, ten large diagrams emerged depicting the psychosocial spaces Lacy uncovered, recording the language and power dynamics of the relationships involved. The work also highlighted our communal denial of aspects of society that exist alongside us in our everyday life. Lacy wrote, "The street corners, restaurants and bars of Los Angeles took on a new appearance... Sunset at Highland is a very hot spot for hooking. I'm amazed, since I've passed it hundreds of times."

She added, that "Most of what we knew at that time came from literature and films that greatly glamorized the life. I didn't want to flirt with their reality as a performance, or to relate their stories as an anthropologist might. Rather, I would locate the work inside my own experiences and record the process of my research. 'The Life' as it was called wasn't far from mine."

In 2010, Lacy reinvented Prostitution Notes as a performed reading of her original drawings for the Serpentine Gallery's Map Marathon in London. The work illustrates the strong ethics that have underpinned her entire career, social impact often more important than the endurance of its artistic value. As she explained in 2019, "I don't care as much about art as I care about human trafficking."
Performance - Los Angeles, USA
1977
Three Weeks in May
Three Weeks in May was a mixed media performance piece that sought to examine sexual violence and end societal silence surrounding rape. Lacy's original intentions were to broadcast locations of said violence while expressing women's feelings, and/or personal experiences with rape. For three weeks, Lacy collected reports from the police and printed the word RAPE in red capital letters on a map to coincide with the incident locations. She then would repeat the word in faded printing nearby to represent all the acts of sexual violence that went unreported. A second map illustrated where women could go to get help. Lacy also went to various physical locations where rape had occurred and documented this on the street in red letters, such as "Two women were raped near here. May 9, May 21." Although she initially planned to display the maps in a gallery, she was inspired by Allan Kaprow's "Happenings" and realized that if she put them in a public space they would have a greater impact.

The work was produced at a time when Los Angeles was considered the "Rape Capital" of the United States; in fact, in California it was still legal for men to rape their wives. Rape was so taboo that Lacy stated, "Women never, ever admitted to anyone that they had been raped. To admit to rape in 1970 was to admit that there was essentially something terribly wrong with you."

The work had a powerful effect and caused real social change. As Lacy described, "I got access to City Council, the police department. I began to make relationships in convincing that this was an important area of public concern." Consequently, the LAPD set up rape reporting call lines and the City Government began to address violence against women.

The work was examined in Vivien Green Fryd's book Against Our Will: Sexual Trauma in American Art Since 1970 as a source of incredible power in its combination of activism, education, and theory, marking the beginning of "new genre public art." Fryd explained, "As a political activist committed to fighting oppression, Lacy learned ways to affect cultural attitudes, the criminal justice system and the media through her visceral performance that forced discussion about the formerly silent subject of rape. She wielded her strategic agency through this performance to challenge gender norms...and contribute to the anti-rape movement in the United States."

Participating artists included Barbara Cohen, Melissa Hoffman, Leslie Labowitz, and Jill Soderholm. In 2012 Lacy recreated Three Weeks in May for the Getty Pacific Standard Time Performance Festival with her piece Storytelling Rape.
Performance - Los Angeles, USA
1977
The Life and Times of Donaldina Cameron
Marginalized people and populations are a common subject throughout Lacy's work. This work, produced in collaboration with activist, writer, and artist Kathleen Chang, examined the immigrant experience. The performance took place for an audience on a ferry to Angel Island, the historical point of entry for Asian immigrants to the San Francisco Bay area. The audience was made up of art supporters and unsuspecting tourists, who each received a piece of paper written with stories of Asian Pacific women, trafficked into the country, legal immigrants, and Japanese war brides. When the ferry arrived at the island, artists dressed in period costumes, walked up the hill to meet it. Lacy portrayed Donaldina Cameron, a social reformer, while Chang played a relative who had come to the new world. On her website, Lacy stated, "Taken together, the narratives offered indictment, challenge, and historical understanding to the complicated cross-racial organizing process, commenting on how the very missionaries who transformed and subverted Chinese culture in their subjects were often the only hope for women's education and health."

Since the 1960s, artists had been exploring identity politics as a way to understand issues of agency and power. Yet Lacy was radical in her impetus to explore and understand social cross-sections by assimilating into, with, or alongside their unique experiences. Explaining this piece, she described, "I do not become black or Chinese, but I integrate myself as closely as possible into that experience to understand the correlations of our shared experience, to expand my identity and become the other." As art historian Sharon Irish said, "Lacy chose to use her body and to collaborate with other bodies to animate her concerns and questions during a time when identity politics both defined groups and wrenched them apart."

Understandably, while she examined racial difference in pieces such as this, Lacy attracted controversy. Marvin Carlson said in Performance, A Critical Introduction, "Lacy encountered much resistance from Chinese artists, who felt that a white feminist with her own agenda could neither understand nor represent their concerns, and saw this attempt to speak 'for' them little different from male dramatists speaking for women."
Performance - San Francisco Bay, USA
1985-87
Crystal Quilt
In Crystal Quilt (and later in 2013's Silver Action) Lacy wanted to produce "a very complex social strategy" around two themes: our societal erasure of a woman's visibility as she ages and the leadership capacity of older women. To do so, she brought together 430 women over 60 years old on Mother's Day in 1987 to a shopping center in Minnesota. They sat together at a grid of tables bedecked with black tablecloths, which were unfolded to show either red or yellow. The women would then have what Lacy termed "sculpted conversations" around key questions that involved the present and future, but purposefully not the past. Because, as Lacy said, "It was important that we didn't see older women as reservoirs of memory but as potential activists within public sphere." Every 10 minutes the participants would move their hands so that from above, where the performance was viewed and filmed, it would appear as if stitches on a quilt were changing. 3,000 people came to watch the performance and at the end were invited to flood the stage bearing hand-painted scarves, transforming the austere choreography of the living quilt design into a chaotic patchwork of color.

Lacy collaborated with Phyllis Jane Rose, Miriam Schapiro, Nancy Dennis, and Susan Stone on the project. The performance was not political in the way that much of her other work was, but still aimed to effect societal change. In an interview following her 2013 reprisal Silver Action, she explained, "An artwork is not as effective as a treaty or a law or a budget change. I don't think a single artwork transforms society. But what an artwork does is create a cultural milieu within which things will be understood differently. That is what we're hoping to achieve."

The work was considered one of Lacy's most successful and achieved substantial scholarly attention. It helped her further define her signature brand of "new genre public art" as "visual art that uses both traditional and nontraditional media to communicate and interact with a broad and diversified audience about issues directly relevant to their lives."
Performance - Minnesota, USA
1994
Alterations
Alterations, was a collaboration between Suzanne Lacy, Susanne Cockrell, and Britta Kathmeyer, performed at San Francisco's Capp Street Gallery. The installation consisted of three enormous piles of textiles; one red, one white, and one blue to symbolize the American flag. Every day a small group of different women would sit in a circle near the piles and hand stitch garments out of the fabric while talking to each other. The hearkening to a traditional sewing circle was tinged political through the use of women from different races such as Asian and African American, as well as the location of the gallery, which was in the middle of the garment district. Viewers could walk around, watching and listening, but the women's conversations competed greatly with the sound of a sewing machine chattering in their center.

The work raised issues about the role of race and class in the production of clothes in the United States, addressing the cost of women's labor, immigration, patriotism, and capitalism. As art historian Bridget Quinn said, "Women hand-stitch fabric from towering piles...that are replenished every evening, creating an endless stream of work that calls attention to San Francisco's own garment district, where mostly female immigrant labor sews to feed America's consumer maw, and to feed their families. Sewing is a double bind for women in art, signifying both virtuous women's work and sex (the old in and out)."

In this, as in all her work, collaboration was an important factor in attaining agency and power. Lacy said, "I don't know if I'll see a woman elected president my lifetime, and that's a long time waiting. But in that long haul of social justice work, it's very critical that you value those people who have come before you and on whose shoulders you stand. Collaboration is a way to mobilize people who have shared values. It places you in a long trajectory, of those who came before you and those younger folks who will continue this movement towards social justice."
Performance - San Francisco, USA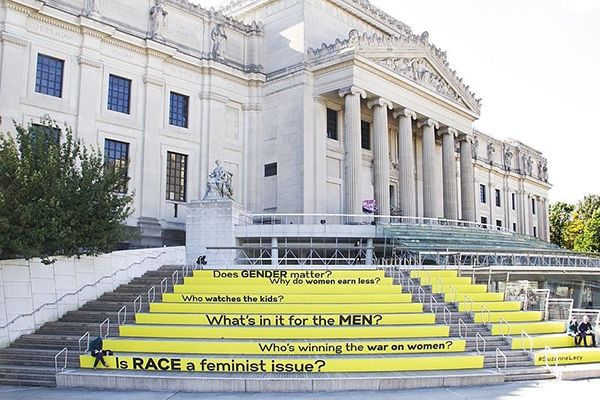 2013
Between the Door and the Street
This was Lacy's first work to take place on the streets of New York and was born out of a series of conversations that took place over a five-month period between the artist and a group of activists in the city. The piece would culminate for one day in Park Place, Brooklyn on a closed off street where 400 women and a few men converged to partake. The steps of the Brooklyn Museum, which sponsored the event, were painted yellow with questions to represent various issues, and concerns that had resulted from her conversations. The aesthetics of the work were also important. While participants could wear what they chose, they were unified by yellow scarves, which tied together the curb markings and yellow potted plants.

The location was also relevant because Lacy wanted to attract a public audience with her message that was meant for everyone on the street. She described, "I think, in general, museums don't attract the diversity of audiences I'm interested in. For that, I think you have to go where people are, where they live." Her participants came from a variety of socio-economic, religious, and racial backgrounds and she told them before the event, "The most important thing about this project is how many of you have come together to construct it. Can you see what this looks like and feels like? This is amazing. We have so much going on in the world, there are so many voices mobilized against women, people of color and poor people. This is a symbolic gesture. Whatever you want to say - that is completely up to you." 2,500 people came to watch and listen the dialogue surrounding domestic violence, sexual politics, gender identity, race, and inequality.

The work was radical for its time as it provided an arena for underrepresented voices to be heard in a mass way. Unlike today's proliferation of political discourse through widely accessible means such as social media, Lacy's distribution relied on congregation, physical interaction, and use of a highly-populated public space. Art historian Bridget Quinn said that Lacy "confronts issues of gender, violence, race, aging, and capitalism, among other pressing sociopolitical concerns, through a striking visual language that is at once alarming, witty, moving, eye-opening, and, often, beautiful."
Performance - New York
Related Artists
Related Movements & Topics