Artists
Frans Hals
Biography and Legacy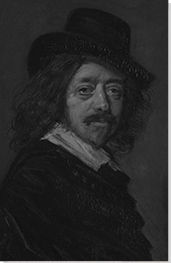 Born: 1582/83 - Antwerp, Flanders
Died: 26 August 1666 - Haarlem, Dutch Republic

Biography of Frans Hals
Childhood
Frans Hals was born in either 1582 or 1583 in Antwerp to Franchois Fransz Hals van Mechelen, a cloth merchant, and Adraentje von Geertenryck. Antwerp was at that time part of the Spanish Netherlands and during the Fall of Antwerp a couple of years later (1584-1585) Hals' family fled to Haarlem in the Dutch Republic. Frans had two brothers, Dirck and Joost, both of whom also went on to become painters, although none of Joost's work survives today (he died before 1626). Even though Hals and his parents were Catholics, Dirck was baptized in Haarlem in the Protestant faith.
Education and Early training
From 1600, Hals trained with Karel van Mander, a prominent Mannerist painter and art writer in Haarlem. His style and teachings, however, are not strongly reflected in Hals's work. In 1610, Hals joined the painter's guild of St Luke, at 27 or 28 years old, this was unusually late for someone to become a guild member for the first time. Alongside his painting, he also began to work as an art restorer for the city council.
It was around this time that he married Anneke Harmensdochter. As she was a Protestant whilst he was Catholic, they were married at the city hall instead of having a church wedding. Anneke died only a few years later, in 1615. They had three children in their short marriage, of which only one, Harmen, survived past infancy. It has been claimed that Hals abused his wife, but this was disproven by art historian Seymour Slive, who showed that it was another Haarlem resident with the same name, who was charged with this offence in 1616. The fact that Anneke had died in 1615 further supports this.
Mature Period
Hals served as a musketeer in Haarlem's Saint George civic guard from 1612 to 1624, for whom he was commissioned to paint a portrait of the company's officers in 1616 and this was his first large-scale, public commission. He made a rare trip to Antwerp the same year, where he would have come across works by contemporaries such as Rubens and the teenage Van Dyck. It is possible that this encounter influenced Hals' loose brushwork and his use of blue and green shadow tones as these stylistic devices can be seen in works by Rubens around this period. Hals was also involved in a Haarlem rhetoric society, De Wijngaardranken (The Vine Tendril) from 1616 until 1624.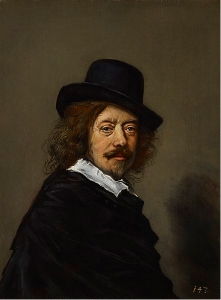 Portrait of the Artist, after Frans Hals, c. 1650, Indianapolis Museum of Art. This is one of 15 extant copies of a lost original self-portrait.
Two years after his first wife's death, in February 1617, Hals married Lysbeth Reyniers in Spaarndam near Haarlem. She gave birth to a girl only nine days later and they went on to have eight children together. According to local records, Lysbeth was cautioned by Haarlem authorities for brawling a number of times. The subsequent years of Hals' life were spent in Haarlem as a respected but financially modest portraitist. He painted many of Haarlem's citizens including wealthy merchants, politicians and dignitaries but also less wealthy members of the public.
Late Period
In 1644 Hals became a director of the Guild of St Luke. His work, however, declined in popularity as he got older, and he struggled to make a living and to support his family. He supplemented his income restoring paintings and advising the city council on art taxes. Nonetheless, he fell into debt and court records show that he had to sell his belongings (a handful of furniture and paintings) to pay off a debt in 1652. He spent the last years of his life in relative poverty but received a yearly pension from the town administration from 1664, indicating that he was still a well-respected citizen. He died in Haarlem in 1666, where he was buried in St Bavo's Church. His wife Lysbeth outlived him and spent her last years in an almshouse.
Frans Hals's financial struggles and a lack of written evidence have led to many speculations regarding his life, such as the 18th-century biographer Arnold Houbraken, who suggested he led a debaucherous lifestyle characterized by heavy drinking. This idea was derived from his genre paintings of jovial characters such as musicians and courtesans, as well as his portraits of brewers. As Walter Liedtke argues, however, in his seminal treatise Frans Hals: Style and Substance (2011), the latter were amongst the wealthiest citizens of the town and would have placed a strong emphasis on having themselves represented in a favorable manner. Liedke further argues that "[s]uch an illogical inference (are the heirs to vineyards all winos?) must have been encouraged not only by hazy notions of Haarlem society but also by Hals's posthumous reputation for bad behavior."
The Legacy of Frans Hals
Hals's ability to infuse his portraits with a sense of deep individuality and personality and his unique brushstrokes inspired a large number of artists, including his brother Dirck and five of his sons who also became painters (Harmen Hals, Frans Hals Junior, Jan Hals, Reynier Hals and Nicolaes Hals). Other contemporary painters who drew from Hals' work include Jan Miense Molenaer, Judith Leyster, Adriaen Brouwer, and Adriaen van Ostade, the latter two of which are also believed to have been Hals's students.
Despite the fall in popularity that his work suffered later in his career as well as during the two centuries following his death, his importance as a groundbreaking artist was rediscovered in the second half of the 19th century. Courbet, Manet and Whistler found inspiration in his technique as did Max Liebermann and Lovis Corinth. The latter described Hals as the biggest influence on his work, whilst Liebermann sought to emulate his spontaneous and expressive application of paint. Vincent van Gogh also admired Hals, saying that he achieved "the painting of humanity, let's rather say of a whole republic, through the simple medium of the portrait".
Most Important Art
The Banquet of the Officers of the St George Militia Company in 1616 (1616)

This large-scale work was Hals's first of three paintings for the St. George civic guard in Haarlem. It shows the officers at their farewell banquet having just ended their three-year tenure. Their seating arrangement reflects their ranks, with the colonel and the provost at the head of the table on the left. The middle is occupied by the three captains whilst the three lieutenants sit at the end. The three men standing, who wear the company's red and white sashes, are ensigns, each of whom carries a flag. The central flag is that of Spain, a trophy from the Spanish occupation of Haarlem which ended in 1580, the other two flags are red and white, the colors of St George as well as the City of Haarlem. The figure standing at the back without a sash and carrying a plate is their servant.

Group portraits such as this (called shuttersstukken), were popular in the 17th-century Netherlands and were often commissioned by civic organisations such as guilds, militias and charities to mark notable events. They were highly representative works where much emphasis was placed on detail in clothing, emblems and decoration. The group would decide collectively on the format of the work and then each member would sit separately to have their likeness painted. They also split the cost of the commission, albeit not equally but according to their rank. Painting a shuttersstuk would have brought the artist a good income for up to a year and often led to further commissions by individual group members. In Hals's case, the success of this work led to two more group portraits for the militia of St. George (1627 and 1639) as well several more portraits of the sitters and their families.

The overall composition of the painting is modelled on Cornelis van Haarlem's group portrait of the St. George's militia from 1599. Van Haarlem's painting, however, is much more static and formal than Hals's interpretation. Hals's painting shows each member of the militia in a slightly different position, some looking at the viewers while others are engaged in conversation. Their highly individualized portraits are full of character and the entire composition is kept dynamic through varying hand gestures and postures. The fact that Hals was himself a member of the same militia company may have enabled him to convincingly convey the subtleties of the group. The bodies of the men form a circular shape around the table, which leads the eye around, causing the viewer to note and acknowledge each of the sitters individually. It is highly likely that Hals's more dynamic approach to group portraiture influenced later group works such as Rembrandt's The Night Watch (1642).

In addition to the figures in the painting, Hals demonstrates his talent in still life. In particular the luxuriously decked table shows off his ability to convey minute detail, down to the figurative pattern on the white table cloth, reminiscent of Early Netherlandish painting. He also displays a mastery in textures, showing off elaborate folds and various fabrics in the company's clothing and room decorations, as well as metal plates and glasses as part of the banquet.

Read More ...

Frans Hals Artworks in Focus:
Frans Hals Overview Continues Below
If you see an error or typo, please:
tell us
Cite this page

Content compiled and written by Alexandra Rivett-Carnac
Edited and revised, with Synopsis and Key Ideas added by Kate Stephenson
" Artist Overview and Analysis". [Internet]. . TheArtStory.org
Content compiled and written by Alexandra Rivett-Carnac
Edited and revised, with Synopsis and Key Ideas added by Kate Stephenson
Available from:
First published on 23 Nov 2018. Updated and modified regularly.


[Accessed ]