Biography of Philip Guston
Childhood
Philip Guston was born Philip Goldstein, in Montreal, Canada, in 1913. He was the youngest of seven children born to a Jewish couple who had come to America after fleeing the pogroms in Russia. America seemed to offer shelter from persecution, yet the family found life difficult in their new country. Guston's father had been a saloon keeper, but he struggled to find work; in 1919 the family moved to Los Angeles with hopes of better fortunes, but they only encountered more hardship and also met with the racism that surrounded the growth of the Klu Klux Klan in the period. Around four years later, his father committed suicide by hanging and Guston discovered the body, an experience which profoundly marked him. As he moved into adolescence, Philip retreated in the fantasy world of comics, and started to become interested in drawing, which led his mother to enroll him in a correspondence course at the Cleveland School of Cartooning, thus beginning his training as an artist.
Early Training
In 1927, Guston attended Manual Arts High School in Los Angeles, where he met Jackson Pollock, and studied Cubism alongside the mystical philosophies of Krishnamurti and Ouspensky. After he and Pollock were expelled for distributing a leaflet mocking the English department, Guston was awarded a scholarship in 1930 to study at Otis Art Institute; in 1931 he had his first solo exhibition. Between his curtailed academic studies, and relocating to New York, he took odd jobs and traveled through Mexico to study anti-war murals. This inspired the painting of his own figurative murals, modeled after his favorite Renaissance masters and Mexican muralists, using thin layers of oil paint or fresco techniques. It was this enthusiasm that led to his enrollment in the Works Progress Administration's Federal Arts Project (WPA/FAP), and in the following years he would paint murals throughout the U.S.; in 1939 he completed a commission to paint an exterior wall of the WPA Building at the New York World's Fair.
Mature Period
During the winter of 1935 Pollock urged Guston to move to New York permanently, and introduced his friend to many of the New York School painters. Guston would continue to paint murals until 1942, but in the early 1940s he began a return to easel painting and evolved a more personal style influenced by elements of abstraction, realism, and references to myth. Over time the surfaces of his canvases became increasingly textured and he began developing his signature color palette, in which tones vary widely but hues are restricted. A major breakthrough came in 1950 with the completion of his first abstract works. Among them was Red Painting, in which the sharp separation between figure and ground vanishes, forms come in and out of focus and brushstrokes leave a palpable trace. A variety of unlikely influences were united in evolving this style: Chinese calligraphy, Mondrian's 'plus-minus' paintings of the 1910s, and Buddhism. Guston's interest in the latter was encouraged in part by his friendship with John Cage and Morton Feldman. His abstract style was certainly less grandly expressionistic than that of many of his peers, yet he still viewed the brushstroke as essentially autographic - a trace of the soul of the artist.
Late Period and Death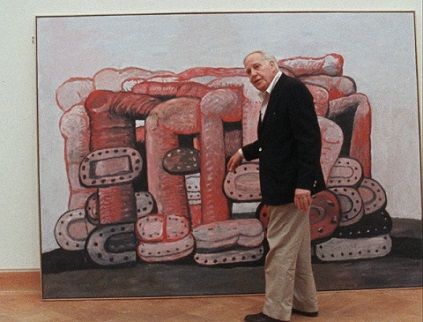 By the mid 1960s Guston was becoming uneasy with the meditative isolation that abstract painting encouraged, and political turmoil in the U.S. encouraged his return to figuration. Then in 1970, at the Marlborough Gallery in New York, he first exhibited pictures in the late style for which he is famous. These images are populated by enigmatic hooded figures, reminiscent of members of the Klu Klux Klan; they are not meant to directly reference racism but rather to take a stand against war, injustice, and the hypocrisy Guston witnessed in American politics. During the years before his death, in 1980, Guston continued to hone this imagery, creating increasingly enigmatic compositions reminiscent of still lifes or spare landscapes, with clusters of figures, heavy boots and tools, and cycloptic heads.
The Legacy of Philip Guston
Although the abstract painting which launched his career in the 1950s continues to be highly respected, Philip Guston remains best known for the figurative pictures he completed after 1970. These proved important in showing a way back to figurative painting after the long dominance of abstraction, as well as suggesting how painters inclined towards abstraction and gestural painting might address pop culture. In this respect Guston is unique among the Abstract Expressionists for the status accorded to his figurative work.
Content compiled and written by The Art Story Contributors
Edited and published by The Art Story Contributors
"Philip Guston Artist Overview and Analysis". [Internet]. .
TheArtStory.org
Content compiled and written by The Art Story Contributors
Edited and published by The Art Story Contributors
Available from:
First published on 21 Nov 2011. Updated and modified regularly
[Accessed ]