Biography of Charles Gleyre
Childhood
Marc Gabriel Charles Gleyre was born in Chevilly, a small village in the French speaking Vaud region of Switzerland. Although little is known of his formative years, it is known that Charles's parents died when he was eight or nine and he was taken into the care of his uncle, a modest broker, who lived in Lyon, France. His enrolled his nephew in a technical college in Lyon with the expectation he would work in the textile industry.
Early Training and Work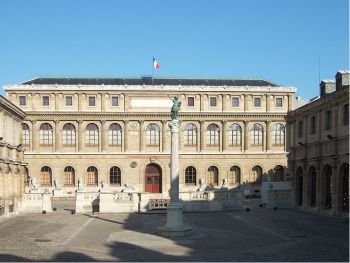 Showing a lack of aptitude for design work, his interests leaned instead towards fine art. He attended his first formal lessons in Lyon under Jean-Claude Bonnefond, a painter renowned for peasant scenes rendered in a cool, precise style. By 1825 Gleyre had moved to Paris where he studied at the École des Beaux-Arts and enrolled at the studio of Louis Hersent. It was here, according to Musée d'Orsay, that "Gleyre displayed a distinctly Romantic temperament in love with freedom and excess. He copied Théodore Géricault and Pierre-Paul Prud'hon, tragic figures whose recent demise was a frequent subject of conversation in the studio".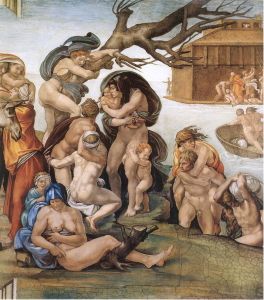 In 1828 Gleyre travelled to Rome to absorb the Italian capital's heritage. But his Roman sojourn was blighted by inactivity and a general feeling of despondency which was brought on by his wonder at the beauty of the Renaissance Masters, and in particular the works of Michelangelo. Gleyre was so humbled in fact that his mood turned somewhat misanthropic. In a letter home he wrote: "I don't see anything in the world that is worth a hope or a regret. I distrust all men and myself most of all". The d'Orsay records, however, that while in Rome, Gleyre "made the acquaintance of fellow Swiss artist Léopold Robert, whose scenes of brigands in the Roman countryside, a picturesque, heroic and modern subject, were hugely successful at the time. Drawing on the same subject, in 1831 Gleyre produced his first painting, The Roman Brigands, a scene of unprecedented sadistic realism. In line with the frenetic songs of Berlioz [the French romantic composer], the work was so violent and irreverent that it could not be exhibited and was doomed to languish unseen in his studio. From then on, the young painter was painfully aware of the gulf between his dream of fame and the freedom to express his creativity".
In April 1934, a despondent Gleyre met the French painter Horace Vernet who recommended him to an eccentric American philanthropist named John Lowell Jr., who was looking for an artist to document his ethnographic tour of North Africa and the eastern Mediterranean. The d'Orsay records that "Gleyre initially shared his patron's enthusiasm [for the tour] and produced stunning watercolours of sites ranging from Pompeii to Luxor, but the increasingly exhausting and dangerous conditions on the journey, punctuated by dysentery, sunstroke in 45°C heat in the Nubian desert, and a serious eye infection [trachoma] sapped the young painter's strength and morale". Their journey, which took in Greece, Turkey, Sudan and Egypt (where Gleyre entered into a relationship with a Nubian woman), lasted from early 1834 until November of the following year. By now Gleyre was fearing for his health (not to mention the sanity of his employer) and left Lowell (who died six months later in Bombay) in Khartoum and set off for home; a treacherous journey that took him over two years.
Despite the toll on his physical and mental wellbeing, the d'Orsay described how the artist's "adventure of a lifetime [...] set him apart" from other Orientalists: "In the 1830s, even the most daring among them [Orientalists] neither ventured beyond the confines of Greece, which had just thrown off the shackles of Ottoman rule, nor beyond the Turkish coast and the North African countries colonised by French troops. Gleyre's epic journey therefore had little in common with the comfortable diplomatic mission which Eugène Delacroix had accompanied to Morocco two years earlier".
Mature Period
Having arrived back in Lyon in 1838, in what he described as an "infinitely worse state than the prodigal son", Gleyre regained his health before moving to Paris where he set up a small studio on the rue de Université. Thus began his life-consuming preoccupation with painting and republican politics. In this modest dwelling, Gleyre began to build a career as a history painter. Initially, he sought to exploit the public demand for scenes of eastern exoticism. He worked up his watercolors and sketches into finished paintings but his enterprise failed him before a wholly unreceptive public. This set back led him to begin producing imitations of works by Alexandre Decamps, Horace Vernet and Eugène Delacroix. Though copies, these works brought him some financial stability, but very little by way of artistic fulfilment.
Having abandoned his Oriental imitations, Gleyre was free to concentrate on his own art and produced two decorative panels, Diana leaving the Bath, and a Young Nubian, but these failed to attract significant public attention. He soon gained recognition, however, with St. John on the Island of Patmos which he exhibited at the 1840 Salon. Though reviews of the painting were somewhat lukewarm, it led to many lucrative commissions. One such commission came from the Duc de Luynes who employed Gleyre to decorate the grand staircase of the Château de Dampierre, in the Chevreuse Valley. Gleyre began working on an allegorical piece but the commission turned out to be a bona-fide disaster for the artist with scathing criticism of his work-in-progress coming from by none other than Ingres (who was decorating an adjacent chamber). Indeed, the celebrated Neoclassical master, and erstwhile teacher of Gleyre, comments led to half the original work being painted over and restarted.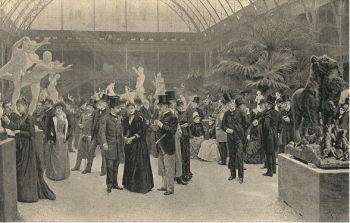 Like the phoenix rising from the ashes, Gleyre's reputation soared at the Salon of 1843 with the display of Evening, later named Lost Illusions. As the d'Orsay records, the painting "met with unanimous acclaim from the public and critics alike. It was awarded a gold medal and acquired by the French State, which exhibited it at the Musée royal des artistes vivants (Royal Museum of Living Artists). Widely disseminated as a print with the Balzacian title The Lost Illusions, the picture became embedded in the popular imagination of several generations of French people". Newly galvanized, Gleyre painted Separation of the Apostles (1845) which was also bought by the French State and word of his rising star soon reached his homeland of Lausanne. He was commissioned to produce two large historical paintings, Major Davel and Romans Under the Yoke, both of which commemorated Swiss independence. The works were hailed as national masterpieces and took pride of place in of Lausanne's newly built Museum of Fine Arts.
In 1843, Gleyre took over the Paris studio of the renowned history painter, Paul Delaroche. While under Gleyre's 25-year management, the atelier took in over 600 male and female students. Gaining a new reputation for its open approach (it welcomed both historical and landscape painters) Gleyre counted amongst his students Jean-Louis Hamon, Jean-Léon Gérôme, James McNeill Whistler, and future pioneers of the Impressionist movement, Claude Monet, Pierre-Auguste Renoir, Alfred Sisley and Frédéric Bazille. In keeping with Gleyre's political sympathies, the atelier was tagged "The Republic" and his students were invited to pay a voluntary contribution in exchange for a voice in the running of the studio. Yet the ideas of the master and his pupils could be incompatible with younger, "modern", students who were not won over by their master's historical subject matter. Yet Gleyre was innovative in crucial aesthetic areas. He introduced the method of covering oil with pastel, a modern technique that would later prove popular with the likes of Edgar Degas. He also encouraged painting en plein air which was the preferred method of the Impressionists. Renoir later explained that the benefit of learning in Gleyre's studio was that his pupils were granted free rein in terms of process and aesthetic.
According to the University of Glasgow (and its collection of the correspondences of Whistler) by the time "Whistler arrived in Paris in the summer of 1855 Gleyre's studio carried an air of fashionability [and through] Gleyre, Whistler learned to systematically arrange the colours on his palette and to paint in opaque pigments over a dark ground". It adds that although Whistler would eventually rebel against the studio set up, Gleyre's "method essentially informed his painting practice throughout his career [and that] even later works such as Arrangement in Black: Portrait of F. R. Leyland and Arrangement in Black, No. 2: Portrait of Mrs Louis Huth showed Whistler still following 'the system taught by Gleyre'". (The radical reputation of "The Republic" was confirmed, meanwhile, when satirised by George du Maurier in his hugely popular 1885 gothic novel Trilby).
Late Period
Untouched by the allure of fame and fortune, Gleyre preferred the quiet and solitary pursuit of his artistic goals. He worked slowly and methodically, bringing some paintings to fruition years after their beginnings. He rarely exhibited at the Salon after his earlier forays. He did, however, develop an ardent interest in the politics of the day and during the reign of Louis-Philippe his atelier became a meeting place for a group of liberal thinkers. Gleyre was a staunch Republican, as was made evident in his glorification of the people in his Romans Under the Yoke (1858).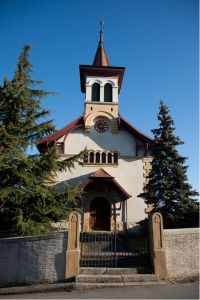 His snub of the offer of the Legion d'Honneur, and his abstention from showing at the Salon, merely confirmed Gleyre's credentials as a radical. However, after the coup d'état of Louis Napoleon in 1851, the Napoleonic family legacy had come to stand for aristocratic entitlement. The situation was a fatal assault on Gleyre's political sensibilities and he retreated even further from public life. He was met with a further blow when, in 1864, he had to retire from teaching due to a serious eye ailment. The studio suffered financial hardship and finally closed its doors in 1870 on the eve of the Franco-German war. His final, unfinished canvas was Earthly Paradise, a serene mirror-image of the lamenting melancholy of Evening, which the writer Hippolyte Taine described as "a dream of innocence, of happiness and of beauty - Adam and Eve standing in the sublime and joyous landscape of a paradise enclosed in mountains".
Gleyre died in 1874 and his remains were moved no less than four times. Firstly he was interred in Montparnasse Cemetery in Paris, then at his birthplace in Chevilly. He was move from there to the more central Calvaire Cemetery in Lausanne in 1896, before finally being returned to Chevilly in 1947. Gleyre never married and remained a life-long Swiss citizen.
The Legacy of Charles Gleyre
Gleyre remains largely unknown outside the scholarly sphere of nineteenth-century Academic painting, and even then he is often better remembered as the teacher of some of the leading Impressionists. Artists like Renoir, Bazille and Sisley could be said to have learned from Gleyre's dictum of "always thinking of it" in relation to the producing the work at hand. His promotion of plein air painting also had a profound influence on the practice of the Impressionists. Yet it is simplistic to reduce Gleyre to the role of tutor.
He was a key influence on the idea of "antique realism", a technique which mitigated some of the harsher aspects of the burgeoning Realist movement. It was adopted by his students Jean-Léon Gérôme and Auguste Toulmouche and informed Academy painters such as Bouguereau and Chavannes. Gleyre also anticipated Symbolism in art. His attempts at a synesthetic experience in Evening or Romans Under the Yoke (1858), for instance, points beyond the realistic or the idealistic portrayal of the world, towards a more mysterious realm in which the origins and workings of creativity are typically related to the feminine. Indeed, in this relation, Gleyre went beyond the tradition of representing womanhood in terms of either domesticity or the exotic nude. He was also a key influence on the Neo-Grec (Greek revival) school which became popular in painting, the decorative arts and architecture during France's Second Empire (1848-65).
Content compiled and written by Shane Lewis
Edited and revised, with Summary and Accomplishments added by Antony Todd
"Charles Gleyre Artist Overview and Analysis". [Internet]. .
TheArtStory.org
Content compiled and written by Shane Lewis
Edited and revised, with Summary and Accomplishments added by Antony Todd
Available from:
First published on 17 Mar 2021. Updated and modified regularly
[Accessed ]