Biography of Carel Fabritius
Childhood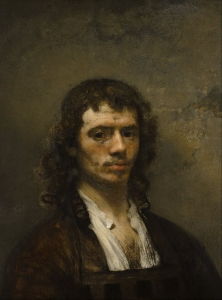 The eldest of three boys, Carel Pietersz was born to Pieter Carels and Berbertje van der Maes in Middenbeemster, a village in the Beemster polder (a low-lying tract of land), just north of Amsterdam, in 1622. His father was a sexton, painter and schoolteacher and Carel and his siblings, Barent and Johannes, would also go on to become painters. It seems highly likely that the three brothers would have received painting lessons from their father. However, it is known that Carel and Barent worked for a short time as carpenters and soon after adopted the surname "Fabritius" (carpenter in Latin). In early 1641 Carel joined the Dutch Reformed Church and later that same year he married Aeltge Velthuys whose brother was the local pastor Tobias Velthusius and with whom she lived in the parsonage next to Carel's house.
Education and Early Training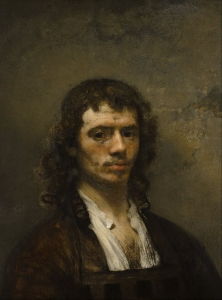 In 1641, Fabritius relocated to Amsterdam to train under Rembrandt. He was joined by his brother, Barent, and the painter Samuel van Hoogstraten, with whom he would maintain a lifelong friendship. Indeed, historians such as Piet Bakker have speculated that Hoogstraten might have later worked for Fabritius as a "full-fledged assistant". According to Ariane van Suchtelen, curator of the Mauritshuis museum, Fabritius learned a great deal from Rembrandt in a short time (about 20 months) particularly "about light and the ability to capture emotions while using them to tell a story".
Fabritius's stay in Rembrandt's workshop was cut short when Aeltge died, probably in childbirth, in the spring of 1643. It is not known if Fabritius's return to his parent's home in Middenbeemster was necessitated by financial concerns. That proposition seems unlikely however given that an inventory of Aeltge's assets show that she left behind 1,800 guilders, indicating a level of financial comfort (also listed were two "ruw raengesmeerd" - roughly painted or sketchy - pictures that were in all likelihood the work of her widowed husband). His earliest known painting was The Raising of Lazarus (1643) and could have been painted either in Middenbeemster or Amsterdam.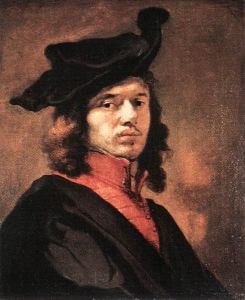 Biographical details remain hard to come by but documents do confirm that Fabritius was made godfather to his youngest sister, Cornelia, in 1646. It was around this time that he painted Mercury and Argus and Mercury and Aglauros, works that mark the start of his move away from the direct influence of Rembrandt. It is not clear if these works originated in Middenbeemster or in Amsterdam but, as Bakker observed, it is "difficult to imagine that sparsely populated Middenbeemster afforded him sufficient clientele, and it is therefore tempting to assume that he travelled back and forth to Amsterdam periodically in the years after his wife's death but before his departure for Delft in 1650".
It is known from the biographies of his small circle of patrons, however, that Fabritius painted a number of portraits before his relocation. In 1649, for instance, he painted the portrait of the silk merchant Abraham de Potter who owned an estate in Middenbeemster, and, in the same year, fellow trader and estate owner, and art collector, Balthasar Deutz. It is also thought that he painted a self-portrait for the Amsterdam silk-thrower Cornelis Smout and his wife Catharina Scharckens. Though they resided in Amsterdam, the Smout family owned an estate in Middenbeemster.
Mature Period
Having relocated to Delft in 1650, Fabritius set up his own studio, established a circle of donors, and even took on a pupil, Mattias Spoors. On August 14, he married the widow Agatha van Pruyssen. The wedding took place in Middenbeemster though the couple's residence was listed as the Oude Delft (in Delft). It was here that Fabritius painted the majority of his "thirteen" paintings, including The Goldfinch and The Sentry. It was a further two years, however, before Fabritius joined the Delft painters' guild, the Guild of Saint Luke. Other members included Johannes Vermeer, Nicolaes Maes, and Pieter de Hooch, and it is highly likely that Fabritius spent time with these artists.
Bakker attributed Fabritius's delay between arriving in Delft and joining the Guild to the fact that that there was a "profound crisis affecting the art market, which elsewhere in the Dutch Republic was felt strongly only as of the 1660s [but which] had already begun to impact Delft in the 1640s". Indeed, the fact that Fabritius accepted 12 guilders from the Delft town council to paint its coats of arms suggests that he was finding it difficult to make a living wage as a fine artist. Nevertheless, Fabritius still secured lucrative commissions including a number of large vistas of Delft such as those for the home of Theodorus Vallensis, dean of the Delft surgeons' guild and court physician to Stadholder Frederick Henry (His Highness the Prince of Orange). Bakker suggests in fact that one of the reasons that so few of his paintings have been preserved is because "every time new residents moved into a house there was a chance that - driven by taste or fashion - they would replace the wall painting with another kind of decoration".
Death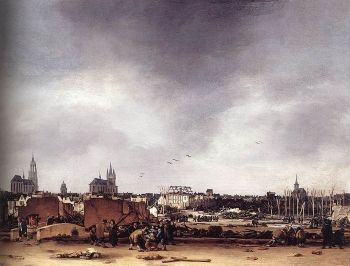 Fabritius died suddenly and tragically, in the explosion of the Delft gunpowder magazine on October 12, 1654. The blast destroyed a quarter of the city, including Fabritius's studio and several of his paintings. Fabritius's student Mattias Spoors, and local church deacon Simon Decker, who were with Fabritius in his studio working together on a religious painting at the time, were also killed. Fabritius was buried just two days after the explosion. Fabritius's death threw up a new mystery, however. Agatha (his widow), when signing an acknowledgment of debt, referred to her late husband "painter to His Highness, the Prince of Orange". Bakker reports that there was "not a shred of evidence for any commission executed for either Stadholder Frederick Henry or his son William II". However, Bakker argues that it would have been "inconceivable that Fabritius's widow would call him a 'court painter' without good reason" and that the blast would most likely have destroyed paintings newly commissioned by Amalia von Solms, the widow of Stadholder Frederick Hendrick.
The Legacy of Carel Fabritius
Fabritius was a leading member of the Delft School, and his influence, particularly in terms of experimentation with perspective and complex spatial effects, as well as the use of soft, atmospheric lighting and daylight effects, can be seen in the works of his esteemed Delft school colleagues, Johannes Vermeer and Pieter de Hooch.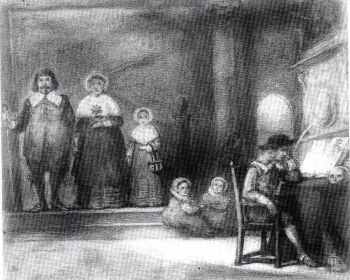 Given the tragic circumstances surrounding his death, art historian David R. Bakker has summed up Fabritius's legacy in terms of his potential - of what could, or should, have been. He wrote: "Famous paintings like The Goldfinch and The Sentry bespeak such originality and artistic quality that we can only regret all the works he never painted. Unfortunately, his untimely death has made it virtually impossible to determine whether his talent would have eventually been great enough to equal, if not surpass, that of his teacher, Rembrandt Van Rijn". Indeed, the promise shown in his small body of work has prompted other historians to predict that he might have supplanted Rembrandt as the grand master of the Dutch Golden Age.
What is beyond question however is his exploration on the "domestic interior" narrative that became a staple of the Delft School. His influence can be traced through the work of his contemporaries Vermeer (on whom his use of shadows and background light had a particularly marked effect), de Hooch and, indeed, other Dutch artists including Nicolaes Maes.
More recently, Fabritius's public profile gained fresh impetus following the release of Donna Tart's novel The Goldfinch, for which she received the 2014 Pulitzer Prize for Fiction. The Goldfinch, in which Fabritius's "priceless" painting survives a devasting gallery explosion, was turned into a Hollywood movie starring Ansel Elgort in 2019. The protagonist and secret custodian of the painting, Theo, says this of the artwork: "it is a glory and a privilege to love what Death doesn't touch. For if disaster and oblivion have followed this painting down through time - so too has love. Insofar as it is immortal (and it is) I have a small, bright, immutable part in that immortality".
Content compiled and written by Alexandra Duncan
Edited and revised, with Summary and Accomplishments added by Anthony Todd
"Carel Fabritius Artist Overview and Analysis". [Internet]. .
TheArtStory.org
Content compiled and written by Alexandra Duncan
Edited and revised, with Summary and Accomplishments added by Anthony Todd
Available from:
First published on 03 Dec 2019. Updated and modified regularly
[Accessed ]