Artists
VALIE EXPORT
Biography and Legacy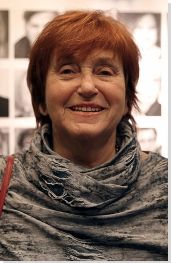 Born: May 17, 1940 - Linz, Austria

From Our Sponsor
"Art is a synthesis, a connection of perception, imagination, and idioms into a kind of knowledge always to be seen in its social, scientific, and technological relation. Knowledge: seizing of an object by a subject in a world of variable condition."
Biography of VALIE EXPORT
Childhood
From an early age, VALIE EXPORT was attuned to the social injustices around her and particularly to gender inequality. She recalls noticing that "something was really not right, that boys were allowed to do so much more than girls." Raised amongst women, she was born Waltraud Lehner in 1940 in Linz, Austria and lived with her mother, a teacher, and her three sisters (her father had died in combat in Africa fighting in the Second World War for the Nazis when she was an infant). As a young child she was raised religious and studied in a convent school until she turned 14. Entering adulthood in a resurgent Europe that was still in the process of restructuring itself in the aftermath of war and nationalism, but was also marked by a youth movement in which people were beginning to explore new ways of thinking about society, EXPORT became interested in issues of justice particularly as they related to gender and turned to art as a means to express these.
Early Training
From 1955 to 1958, EXPORT studied at the School of Applied Arts in Linz. There she was first introduced to painting and photography. During this time Export was briefly married and had two children. She left her children with her sister in order to go to Vienna to study design at the National Technical School, before regaining custody in the early-'60s. That this process was made difficult due to the content of her work demonstrates both EXPORT's early avant-garde sensibility and the conservative social attitudes of the time.
Vienna in the 1960s, as was much of Europe, was in the midst of artistic turbulence as it was struggling to find relevant artistic directions. At the time the aggressive fringe avant-garde group, The Viennese Actionists, emerged creating their violent, scatological and political performances in the city. Although not directly involved, Actionism was important to EXPORT, leading her to write the text "Aspects of Feminist Actionism" in 1989. Questioning the implicit (and sometimes explicit) misogyny of their approach, EXPORT saw the provocative spirit of the work and the ways in which in Actionism "material = body" as crucial for later feminist practice, writing: "Feminist Actionism shall free men's products, that is, women, from their thing-character. Just as action aims at achieving the unity of actor and material, perception and action, subject and object, Feminist Actionism seeks to transform the object of male natural history, the material "woman," subjugated and enslaved by the male creator, into an independent actor and creator, subject of her own history."
During the mid-'60s she started working in film as a script writer, an editor, and an extra and by 1967, she had started shooting her own films under her newly adopted name, VALIE EXPORT. She sometimes collaborated with her then partner, the Austrian artist Peter Weibel, believing that her chances of being respected were greater when working with a male partner. She was interested in various forms of experimentation, during the 1970s, for example, she conducted a series of actions in which she dressed up in different costumes at night to sleep in, in order to see if they affected her dreams. Her early works were influenced by Allan Kaprow's "happenings", Fluxus, and second-wave feminism. While the first two informed her interest in performance, ephemera, and multimedia, the latter influenced her depiction of the female body. She was subject to controversy for what was seen as extreme work at the time, with one newspaper responding to her 1968 performance Tapp und Tastkino by saying "Is that a film? No! We don't have witches now, we live in a modern time, but if we want witches, we must take Valie Export and burn her!"
Mature Period
During the late 1970s and 1980s, EXPORT's interest shifted from performance art to intermedia, particularly film and video installation, creating a distinctive style that has received attention from art historians such as Elisabeth Lebovici. Thematically, psychoanalysis became increasingly important for the artist, reflecting its broader post-war resurgence, particularly in the Neo-Freudian theories of Jacques Lacan. In line with other feminists for whom Lacanian theory offered a way of considering psychoanalysis anew, EXPORT's film and video work put renewed emphasis on examinations of identity and its construction. Even in spite of this shift and in spite of some critical acclaim, there was still a negative response to her work. She was accused of cutting up a bird or a mouse in her 1976 film Invisible Adversaries which led to a great deal of criticism, something that remained with her for months afterwards. One newspaper columnist kept writing columns that attacked her practice to the extent that she had to take a lawsuit out against him, resulting in the newspaper having to print a letter by the artist that addressed his accusations.
During her mature period, EXPORT was often overlooked by the commercial art world, a realm she was ambivalent about, and relied on teaching as a means to support herself. However, she increasingly gained attention for her work and her film The Practice of Love (1985) was selected for the official competition at the Berlin International Film Festival. This was a breakthrough for her as a filmmaker.
Late Period
In the early 1980s EXPORT was invited to teach in the US, being a professor and guest professor in universities such as the University of Wisconsin-Milwaukee, the San Francisco Art Institute, and the California State University San Francisco. From the late 1980s and 1990s, she started to gain more recognition, which has increased in recent years as represented by the acquisition by the Museum of Modern Art, New York of some of her most important works in 2012.
The Legacy of VALIE EXPORT
EXPORT was a pioneer of engagements with intermedia and this has been influential on subsequent generations of new media practitioners, particularly in relation to Feminism. In the last decade, there have been a number of exhibitions and screenings dedicated to her work and EXPORT's early performance work has become an important touchstone for the medium; Action Pants, Genital Panic (1969) was one of the canonical works reenacted by Marina Abramović in her Seven Easy Pieces (2005). Her direct influence can also be seen on a number of subsequent artists. Carey Young, for example, created work in direct dialogue with her practice in her Body Techniques (2007) which explicitly reference Body Configurations (1976).
EXPORT's texts too have been influential. Her writings including 'Women's Art Manifesto', 'Feminism and Art', and 'The Real and Its Double: The Body', offer a broader theoretical underpinning for the work that has contributed to feminist practice and its understanding. Her role as a teacher has also been important, and she still teaches multimedia performance in the University of Cologne - spending her time between Austria and Germany. Her increased recognition has led to the acquisition of her estate by her hometown of the city of Linz which will form the basis of a future center for media and performance in her name.
Most Important Art
Tapp und Tastkino (Tap and Touch Cinema) (1968)

Walking in the street during a film festival in Vienna, EXPORT wore a styrofoam box extending roughly six inches from her body, a hole cut out of the front with a curtain covering it, resembling the architecture of a movie theater. Moving through the crowd, EXPORT invited passersby to put their hands under the curtain and touch her naked breasts, denying them the more conventional visual experience of the erotically charged gaze at the sexualised female form, and instead offering the experience of touch in order to critique the ways in which women's bodies were shown in cinema.

Seeking to complicate the structures of film and its reception in a work of expanded cinema (briefly defined as the exploration of the possibilities of the medium beyond the projection of a film strip on a screen), EXPORT claimed it as "the first real women's film". She states: "As always, the screening takes place in the dark. Only the movie theatre has become a bit smaller. There's only room inside for two hands. In order to see the film, meaning in this case to sense and feel it, the viewer (user) must guide his or her two hands into the movie theatre by way of the entrance. With that, the curtain, which up till now was raised only for the eyes, is finally raised for both hands too. The tactile reception stands against the deception of voyeurism [...] Tapp und Tastkino is an example for the activation of the audience through new interpretation."

Tapp und Tastkino then, offers a challenge to the patriarchal structures of film and, in art historian Roswitha Mueller's terms, represents "a woman's first step from object to subject." EXPORT's examination of the ways in which the body - especially women's bodies - are rendered passive in film preempts later critiques such as Laura Mulvey's "Visual Pleasure and Narrative Cinema" (1975) which considers how women on screen are objectified and presented so as to invite a sexualized male gaze. Seeking to complicate the existing understanding of the body in cinema, as well as the presumed hetrosexuality of the gaze, Tapp und Tastkino offers a physical engagement between the viewer/user and the artwork, moving beyond conventional modes of viewing and acting as an early example of EXPORT's feminist challenge to cinema.

Read More ...

VALIE EXPORT Artworks in Focus:
VALIE EXPORT Overview Continues Below
If you see an error or typo, please:
tell us
Cite this page

Content compiled and written by Vitoria Hadba-Groom
Edited and published by The Art Story Contributors
" Artist Overview and Analysis". [Internet]. . TheArtStory.org
Content compiled and written by Vitoria Hadba-Groom
Edited and published by The Art Story Contributors
Available from:
First published on 16 Jul 2018. Updated and modified regularly.


[Accessed ]