Artists
John Currin
Biography and Legacy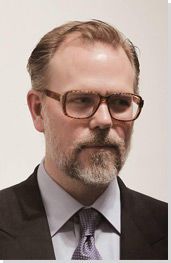 John Currin - Biography and Legacy
American Painter
Born: 1962 - Boulder, Colorado

"I find I can't get rid of my trashiness as an artist."

Biography of John Currin
Childhood
Currin was born in Colorado to a physics professor father and piano teacher mother, the third of four children. Shortly after his birth, the family moved to Northern California, first settling in Palo Alto, and later, Santa Cruz. They finally moved to Connecticut when he was ten.
As an adolescent in Stamford, Currin took regular art lessons from a classically trained Russian painter named Lev Meshberg. He discussed his former mentor with New York magazine in 2007 saying, "I painted with him on weekends from the time I was 14. He had one of these completely romantic studios, with a bird in a cage and musty old books. I learned how to hold a palette, how to squeeze paint out of the tube. In art school, they don't really show you that stuff. They do everything in their power to kill the attractiveness of the whole procedure."
Early Training
Currin went on to study at Carnegie Mellon University in Pittsburgh, where he obtained a BFA in 1984. Immediately afterward, he pursued an MFA at Yale, where he became close friends with the painter Lisa Yuskavage and conceptual artist Sean Landers. Currin later remarked about the latter, "With Sean, our work was stylistically very different. He made these drawings, fictional letters to his loan officer on yellow legal pads - they're really weird, and I always loved them. It inspired me, because I was trying to find my style. Sean hit on something that was his alone earlier than I did."
He completed his MFA in 1986, then moved to New York City. The year 1989 marked his first major exhibition with a series of portraits of young girls derived from photographs in high school yearbooks. By this point he had developed a distinct, kitschy style of figurative painting that focused on bold depictions of women and men, drawing inspiration from sources like Playboy and Cosmopolitan. This subject matter placed Currin at odds with the more politically charged artworks of the time. By 1992, Currin was selling his work at the influential Andrea Rosen Gallery, and had established himself as a critical and financial success. Currin and Rosen briefly dated during this time and although they eventually split, he continued to show his work at the gallery for ten more years.
Mature Period
Currin met his wife, artist Rachel Feinstein, in 1994 when she was living in a gingerbread house modeled after the story of Sleeping Beauty in a New York gallery for six weeks. A mutual friend had told Currin that Feinstein resembled some of the women in his paintings with her tall, slim physique and pre-Raphaelite hair. They were engaged two weeks after this meeting and married three years later. Feinstein also became his muse, modeling for many of his paintings. They have worked on a number of creative projects together and have come to be regarded as an art world "power couple." Currin credits Rachel with a shift in the tone of his work, telling The New Yorker in 2008, "With Rachel, I realized I could be different from everyone else just by being cheerful in my work. In art school, I wanted to be intense, like Francis Bacon, but I'm not - I'm better when I'm jokey and cheerful." The couple has three children.
The frank sexuality of Currin's work attracted its fair share of controversy throughout the 1990s, with a number of critics dismissing it as sexist and misogynistic. One critic with The New Republic argued, "His work is toxic - art pollution." Yet Currin steadfastly maintained that his art offered a satirical commentary on perceptions of women in contemporary culture. Despite these issues surrounding his work, his reputation continued to grow, and by 2003, his paintings were selling for "prices in the high six figures." Around the same time, he started showing at the Gagosian Gallery in Chelsea, New York.
Late Period
Currin's popularity continues to bloom along with, and perhaps despite, his commitment to pushing society's buttons. His recent works merge the influence of 16th-century Northern European paintings with pop culture pinups and Internet porn, interrogating the boundaries between the beautiful and the grotesque. He once again defended his use of provocative source material in New York magazine in 2007, claiming, "It's not a shock tactic. In every art school in the world there's a guy doing porn. As a failed shock tactic, that's kind of interesting to me."
Currin and Feinstein continue to enjoy a colorful, glamorous social life that expands beyond the insular New York art scene in which they maintain studios and call home. They count people like Mick Jagger, Marc Jacobs, Tom Ford, and Anna Wintour among their circle of friends.
The Legacy of John Currin
Currin's satirical portraits take on highly charged social and sexual taboos with impeccable, classical painterly techniques. This elbow to the ribs and tongue in cheek stab into the annals of tradition has introduced humor into an otherwise seriously inclined historical genre. His investigation of cultural norms surrounding femininity and beauty has influenced a number of artists, including Cindy Sherman, whose photographs highlight the performative nature of femininity in contemporary America. His influence can also be seen in the painstakingly detailed, though visually jarring portraits of Sarah Ferguson and his old friend from Yale, Lisa Yuskavage.
Most Important Art
Bea Arthur Naked (1991)

Before achieving his current level of fame, Currin painted this portrait of the popular television actress as part of a series of images focusing on mature, well-to-do women. At the time, Arthur would have been in her late sixties, while he was in his late twenties. He told New York magazine in 2007, "The Bea Arthur painting is from Maude, which I used to watch as a kid. In the eighties, I didn't have TV for, like, a whole decade. When I started watching again in the nineties, The Golden Girls was in syndication. When I had a loft with Sean and Kevin Landers, we'd always take a break in the afternoon and watch The Golden Girls. When I made the painting, I was living in Hoboken and still making abstract paintings, and I was very frustrated. I was walking back from the PATH train and this vision of Bea Arthur just came to me."

With her biting wit, matronly hairstyle, and deep voice, the television comedienne is an unconventional choice for this type of portrait, which typically features a very feminine, youthful subject. Currin does not depict Arthur in a particularly erotic or sexualized manner, but instead presents a thought-provoking challenge to the viewer. By presenting the plainspoken Arthur in the nude on a flat yellow background, he interrogates the ageism associated with sexuality in much of late-20th-century popular culture, as well as long-standing artistic conventions.

Read More ...

John Currin Artworks in Focus:
John Currin Overview Continues Below
If you see an error or typo, please:
tell us
Cite this page

Content compiled and written by Jen Glennon
Edited and published by The Art Story Contributors
" Artist Overview and Analysis". [Internet]. . TheArtStory.org
Content compiled and written by Jen Glennon
Edited and published by The Art Story Contributors
Available from:
First published on 15 Jul 2016. Updated and modified regularly.


[Accessed ]