Artists
Frederic Edwin Church
Biography and Legacy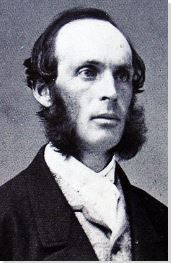 Born: May 4, 1826 - Hartford, CT, USA
Died: April 7, 1900 - New York City, NY, USA

From Our Sponsor
"Imagine this fairy-like Temple blazing like sunlight among those savage black rocks."
Biography of Frederic Edwin Church
Childhood and Early Training
Frederic Edwin Church was born into a mercantile family in Connecticut in 1826. Though his ancestors were amongst the Protestant founding fathers of the United States, his immediate heritage was rather more prosaic. His father and uncle made a living from manufacturing bonnets, and from other business ventures including milling and insurance. Nonetheless, Church's father was wealthy and well-connected, and when his son showed an early talent for art he arranged through his contact Daniel Wadsworth, a noted Connecticut collector, for Frederic to study under the painter Thomas Cole.
The English-born Cole was, by the 1840s, regarded as the founding figure of the Hudson River School and of American landscape painting. His annual painting trips up the Hudson River Valley to the Catskill Mountains had become the stuff of art-historical myth. During a four-year tutelage from 1844 to 48, Church became Cole's favored pupil, and would carry forward the project of American Romantic landscape painting. At first, Church focused like Cole on the landscapes of upstate New York, where he settled in 1849. But increasingly he travelled far and wide in search of subject-matter, including to Vermont and Bar Harbor, Maine, and to South America, the Levant, and the Arctic Circle.
Middle Years
Church had achieved significant critical acclaim by the end of the 1850s, and had also proved himself to be an astute businessman, viewing his paintings almost primarily as financial assets. When his 1859 work The Heart of the Andes was transported to England for exhibition, for example, Church insisted that it was insured for up to $10,000, a huge sum of money at the time. His decision to display his paintings on both sides of the Atlantic - in New York and London - was also an important contributing factor to his success. His vast painting Niagara (1857) was promoted in the same way, exemplifying a policy of maximum exposure which allowed him to increase his audience size and gain an international following. Art critic and Church specialist Tim Barringer has noted that Church's activities were exemplary of the cross-Atlantic culture of the period, when there was a constant flow of artists and businessmen back and forth across the Atlantic. It was this culture that kept Church, like his master Cole, in touch with the European landscape tradition, and especially with British artists such as John Constable and J.M.W. Turner.
In 1860 Church married Isabel Carnes. It has been suggested that their relationship was prompted in part by the enormous success of Church's touring exhibition The Heart of the Andes, an event that lasted two years and took in eight American cities and Britain. Church himself was a highly peripatetic spirit and, having achieved considerable financial success, was able to travel widely. In 1859 he undertook a two-man voyage with his friend the pastor Louis Legrand Noble to the North Atlantic, where he sketched icebergs between Labrador and Greenland, studies that would later be worked up into finished oil paintings.
Mature Period
Shortly after his marriage, Church settled with Isabel on a small estate in upstate New York. The property included a vantage point which he had used to sketch from some two decades earlier, while he was still a student of Thomas Cole. Church set about transforming the 126-acre plot, introducing a dairy herd, planting many trees, and building a small house named Cosy Cottage. He would regularly commute from his new home to New York City, where he took a studio in the 10th Street Studio Building. In 1865, Frederic and Isabel suffered a terrible loss when their two infant children died of diphtheria. During a six-month period of recovery, the couple lived in Jamaica, a trip that would ultimately prompt further work. The following year, their son Frederic Joseph was born, the first of four children who would survive into adulthood.
Having made a substantial amount of money through painting, Church turned his hand later in life to a different kind of creative project. Acquiring a plot of land adjacent to his estate, in 1869 he began designing a home for him and his wife. Church had just returned from an eighteen-month tour which included a pilgrimage in the Holy Land, and was inspired by the details of buildings in Damascus, Jerusalem and Beirut to bring an Oriental sensibility to the design of the house. Christened Olana, his new home was completed in 1872, and still stands on a striking site overlooking the Hudson River. The architectural style of the building complements his work from this period, much of which depicts sites from the ancient Middle Eastern - as in Springtime in the Levant (1879) - and has an exoticizing, Oriental glamor.
Late Period
Church's work fell out of the public imagination towards the end of his life, partly because rheumatoid arthritis hampered his ability to create new work; partly because his most daring, creative landscapes were behind him. He continued to live at Olana, creating paintings that were often derived from his earlier experiences of travel to the Middle East and the North Atlantic. In order to escape the cold New York winters, Church travelled annually to Mexico. His son Louis and daughter-in-law Sally continued to live with him at Olana until his death in 1900.
The last years of Church's life were not unhappy ones. His days at Olana were full of pleasures, including visits from Mark Twain, who read poetry for him, and Robert and Emily de Forest, who photographed the house and its surroundings. Church had also achieved a degree of material prosperity that freed him from the burden of creative work; indeed, such was his financial acumen that by the 1890s he was able to start buying back his own paintings, including Catskill Mountains from the Home of the Artist, which he purchased at auction in 1890.
The Legacy of Frederic Edwin Church
Church was a talismanic figure to a subsequent generation of American painters, including Edward Hopper, George Bellows, and other members of the so-called Ashcan School. His influence on such artists stemmed in part not from any particular quality of his work but from its sheer ubiquity, a product of the international renown and commercial success he had achieved during the middle years of his life. Nonetheless, for the scale and quality of his output, Church can be regarded as a central figure in the canon of American artists. His legacy is managed today by the Olana Partnership, a charity established by Church himself, which oversees the upkeep of his house in upstate New York and stages regular exhibitions of his work.
Church's artistic process, involving plein air sketches on site followed by detailed studio work combining motifs from various different locations, provided an important precedent for so-called American Impressionism, a loose-knit movement associated with artists such as Winslow Homer. While rejecting his compositional process of building elaborate pictorial conceits from different sketches, such figures built on his basic observational methods and approach.
Most Important Art
Morning, Looking East over the Hudson Valley to the Catskill Mountains (1849)

This atmospheric sunrise is exemplary of Church's early work, and of the influence of Thomas Cole in particular. In keeping with Church's Romantic heritage, the piece is subtly but carefully composed. A crescent-like break in the rocky terrain opens out onto the Valley, as the silver sliver of the Hudson River glistens far below. The clouds are streaked with reddish light, while the figure in the foreground - turned away from the viewer to observe the landscape, a motif familiar from earlier European works such as Caspar David Friedrich's Wanderer above the Sea of Fog (c. 1818) - contemplates the world spread out before him. His presence serves as a fulcrum, offering the viewer a point of access into the scene, and presenting the landscape as a vessel for human desires and expectations.

The landscape of upstate New York was of vital significance to the American school of landscape painting that coalesced around the figure of Thomas Cole during the 1820s-40s. Cole, Church's artistic and spiritual mentor, had been visiting the Hudson Valley since 1825 to make sketches for his work. In paintings of Cole's like The Oxbow (1835-6), the landscape is at once depicted in hyper-naturalistic detail and presented as a symbol of all the hopes and contradictions of American settler culture. Church, like Cole, was a devout Protestant, and his early landscapes show the same coded engagement with themes such as Manifest Destiny. This scene in particular, presents ample opportunities for spiritual or symbolic allusion by playing on the relationship between the river plane below and mountains above and beyond.

However, in works such as Morning we can already sense a pronounced emphasis on atmospheric effects which is largely absent from Cole's work, and which would become more striking in the sublime works of Church's maturity. His handling of the American wilderness in this early work reflects a distinctively American order of Romanticism still coming into focus in the mid-nineteenth century.

Read More ...

Frederic Edwin Church Artworks in Focus:
Frederic Edwin Church Overview Continues Below
If you see an error or typo, please:
tell us
Cite this page

Content compiled and written by Luke Farey
Edited and revised, with Synopsis and Key Ideas added by Greg Thomas
" Artist Overview and Analysis". [Internet]. . TheArtStory.org
Content compiled and written by Luke Farey
Edited and revised, with Synopsis and Key Ideas added by Greg Thomas
Available from:
First published on 09 Aug 2018. Updated and modified regularly.


[Accessed ]