Biography of Jean-Baptiste-Siméon Chardin
Early Training
Not much is known about the early years of the life of Jean-Baptiste-Siméon Chardin. Born on the Rue de Seine in Paris, Chardin spent his childhood accompanying his father, a maker of billiard tables, at his workshop. Successful but humble, Chardin's family was part of a class of bourgeois artisans, which would come to influence the subjects of many of his later genre paintings. The young Chardin first joined the studio of the painter Pierre-Jacques Cazes, where he learned the techniques of academic drawing, and then that of Noël-Nicolas Coypel, a celebrated history painter. Though Chardin would go on to have little interest in history painting, an assignment from Coypel, of copying a musket from life for inclusion in one of the master's hunting paintings, led him to the style of meticulous observation with which his name would become synonymous. He received further training at the Académie de Saint-Luc, a guild akin to that of the Guild of St Luke, the patron saint of painters. Chardin's work in these early years included a number of genre scenes, as well as a signboard commissioned for a Parisian surgeon's office.
It was his still life scenes, however, which garnered the attention of the Académie Royale de Peinture. By September of that year, he had been received by the Académie as a painter "of animals and fruit." Selecting seemingly mundane objects such as kitchen utensils, vegetables, copper pots, eggs, and other household items, Chardin reveled in the various textures and simple forms of his subjects. By 1731, Chardin was earning enough of an income to marry Marguerite Saintard, to whom he had been engaged since 1723, never having sufficiently secure finances to allow for the union. Soon after, he received his first official commission for the Parisian home of Conrad-Alexandre de Rothenbourg, the French ambassador to Spain, for which he produced a pair of decorative panels entitled Attributes of the Arts and Attributes of the Sciences (1731).
Mature Period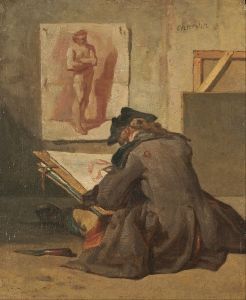 Though Chardin's newfound position as an Academician brought him more respect and artistic freedom, the 1730s were not peaceful years for the painter's personal life; in 1735, his wife died, followed by the death of their daughter only a year later. Suffering this considerable distress, Chardin himself struggled with illness into the early 1740s. Such personal difficulties, however, did not stand in the way of the artist continuing to cultivate his career and repertoire. Perhaps driven by financial considerations - still lifes had a fairly modest price - as well as a rise in popularity of seventeenth-century Dutch paintings, Chardin began to develop his skills as a genre painter, though still with a notable taste for domestic interiors. The human figure had long since been the mark of standard for Academicians attempting to make a name for themselves, and so it is no surprise that Chardin took to genre scenes as a way to increase both his income and his prestige. The re-establishment of the Salon in 1737 offered Chardin further motivation for developing his oeuvre beyond still life. A number of these scenes were engraved by Charles-Nicolas Cochin (1688-1779), who is cited as one of Chardin's few close friends. That one of Chardin's closest acquaintances was with his engraver highlights just how small his social circle was, and how serious a manner in which he worked. Although Chardin lived in Paris and rarely left, his self-contained attitude to painting often led to his being mistaken for a rural painter.
Chardin remarried in 1744, this time to Françoise-Marguerite Pouget, with whom he had a daughter who did not survive past infancy. Perhaps the struggle of losing yet another child led him to return to painting still lifes in the late 1740s, though very little record of his personal life and experience survives from this period. Though he would stop producing new figural genre scenes after 1750, he continued to reproduce his own works and motifs with slight variations, suggesting their popularity and salability in European art markets. His second period of still lifes saw a return to the kitchen and pantry scenes of his early career, though with a markedly increased variety of objects and configurations. It is probable that his increased financial standing allowed him access to finer household wares, as indicated by the inclusion of glassware, fine silver, and porcelain vessels in these later works.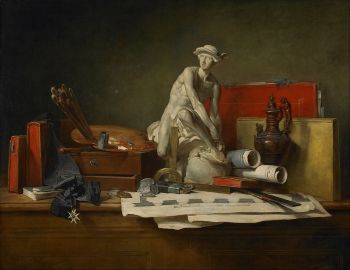 Chardin's focus shifted from the minute details of each object to the overall effects of their composition as an ensemble, as can be seen in works such as The Butler's Table (1763) and The Basket of Wild Strawberries (1761). However, his lifelong penchant for representing the effects of light and shadow bridges both his early and late periods of still life practice. Despite the fact that, overall, commissions for still life paintings were few and far between, Chardin's reputation had garnered him considerable favor, and he received a number of commissions for overdoors in the 1760s, such as those still found in the Château de Choisy and the Château de Bellevue. In 1766, Catherine the Great commissioned an overdoor for the lecture hall at the St. Petersburg Academy of Fine Arts, for which he produced The Attributes of the Arts and Their Rewards (1766). These decorative panels demonstrate his ability to elevate the officially lesser genre of still life to new heights, as he instills his allegorical subjects with a sense of dazzling monumentality and significance. The renowned art historian Pierre Rosenberg wrote of them, "Never was decoration less decorative."
Late Period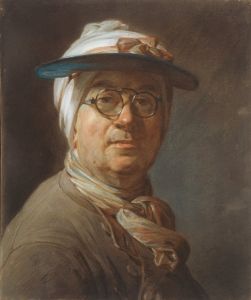 Chardin's submission to the Salon of 1771 shocked his peers and public alike; in the place of his usual still lifes or genre paintings, he exhibited three pastels, including his Self-Portrait with Spectacles (1771). There had already been rumors spreading around Paris that he had fallen ill, but it was not until the early 1770s that it was discovered that the great painter's eyesight was failing him. He wrote in a letter to Comte d'Angiviller, "My infirmities have prevented me from continuing to paint in oils, and I have resorted to pastels." The lead-based oil paints used by eighteenth-century artists emitted fumes that aggravated Chardin's already weakened eyes. Pastels, on the other hand, had no such adverse effects, and thus allowed him to continue to work. Coincidentally, this same condition, amaurosis, a paralysis of the eyes, would strike Edgar Degas a century later; he too would turn to pastels as a solution. Chardin's pastel portraits are characterized by bold color and a painterly touch, as he experimented with the textures that different papers allowed him. Though he had made very few portraits throughout his career, these late works demonstrate Chardin's talent both for life drawing and for rendering subtle modulations of light and tone.
The last decade of his life proved difficult for Chardin. Tragedy struck his personal life yet again in 1772 when his only surviving child, Jean-Pierre, who had followed in his father's footsteps and begun a career as a history painter, drowned in Venice. Moreover, a change in leadership at the Académie put the painter out of favor, and soon, out of popularity. The emergence of Neoclassicism as the official style of painting at the end of the eighteenth century meant that Chardin's work was associated with the frivolity and indulgence of Rococo painting, despite his lifelong taste for humble subjects, simplistically represented. By the time Chardin died in 1779, his name had been virtually forgotten by the Parisian art world.
The Legacy of Jean-Baptiste-Siméon Chardin
Though he ended his life and career in near obscurity, Chardin was highly influential for a number of important artists in the generation that followed him, including Jean-Honoré Fragonard, who studied with him before going on to work with François Boucher, and Jacques Louis David, whose efforts in the Académie Chardin had supported, despite their stylistic differences. He later received his due honors in the mid-nineteenth century when he was "rediscovered" by Realist critics such as Théophile Thoré and Jules Champfleury, the latter being the great champion of Gustave Courbet. A series of articles on Chardin published by the brothers Edmond and Jules de Goncourt in the early 1860s introduced him to the painters with whom the birth of modernism is associated, most significantly, Édouard Manet, whose own still life paintings betray the influence of Chardin's subtle depictions of light, as well as his lifelong celebration of the dignity in everyday subjects. Paul Cézanne would go on to praise Chardin's pastels, and Henri Matisse once called him his favorite painter. This later return to popularity among painters and critics led to the Louvre moving swiftly to acquire his work, firmly reinstating his illustrious position in the history of French painting. Freed from the aristocratic associations of the Rococo, Chardin stands as a singular painter in the history of eighteenth-century art, as his taste for simply composed, humble subjects allowed his talents to shine through in both oil and pastel.
Content compiled and written by Nikki Georgopulos
Edited and revised, with Summary and Accomplishments added by Mel Francis
"Jean-Baptiste-Siméon Chardin Artist Overview and Analysis". [Internet]. .
TheArtStory.org
Content compiled and written by Nikki Georgopulos
Edited and revised, with Summary and Accomplishments added by Mel Francis
Available from:
First published on 02 Jul 2018. Updated and modified regularly
[Accessed ]