"I like very structured painting. I simply try to make a logical, a seemingly logical, space that could exist."
"I like the fact that you took as a starting point something that so many people knew about. It's the 'shock of the familiar'."
"In spite of great success, I think he's been underrated. I thought he was the most important living painter in this country"
"I try not to overpaint too much because I like the flat surface. I like the idea that things have been done in the most minimal fashion, that you don't keep adding"
"Well that is a funny thing, that one does live in fear, you know, that maybe this time you won't be able to do it. I think, I suppose artists must feel like that."
"The most inexplicable thing about Patrick was his work. It was and remains an enigma. Patrick was charming, graceful and seemingly impassive; he rarely showed his inner passions. He concealed everything that mattered to him from all but a few."
"His pictures are indescribable of course, except that he was not a Pop artist but rather a very modern, up-to-date and cool maker of pictures which constantly refer to other art and to appearances of a kind which can be codified, such as cast shadows, preferably from artificial light. His technique is so elegant and self-effacing"
Summary of Patrick Caulfield
Describing himself as a "formal artist", Caulfield's reputation was built on a series of eye-catching artworks rendered through simplified forms. But beneath the artist's preference for clean lines, and large areas of pure color, lay a deceptively ambiguous and cryptic quality. Adding to his many works that drew on the history and traditions of European art, Caulfield became equally well-known for a series of empty public interiors that brought an added Romantic and elegiac quality to his repertoire. Although there can be little mistaking a Caulfield artwork, his shyness, and his general reluctance to engage with the blunt commercial aspects of the art world, meant he did not perhaps reap the dizzy heights of fame enjoyed by some of his contemporaries.
Accomplishments
Caulfield's early art is identifiable for its pared down quality and the thick black lines that contain his luminous fields of gloss paint (on board). His paintings, which often play with traditional perspective, only rarely introduced human figures although they regularly imply an "off-screen" human presence. His art of this period has been compared favorably to that of the American Pop Art icon, Roy Lichtenstein.
Unlike his friends and colleagues who were associated with the rise of the British Pop Art movement, Caulfield avoided commercial imagery and turned instead to established art history genres including landscapes, still-lifes, and domestic interiors. It is true that, like the Pop artists, he was interested in the idea of appropriation. But rather than objects and icons drawn from consumer culture, Caulfield's art was more inclined to reference the likes of European masters such as Juan Gris, Eugène Delacroix, Francisco de Zurbaran, and Pablo Picasso.
Amongst Caulfield's most iconic works are his empty and still restaurant interiors. Works such as After Lunch (1975) and Paradise Bar (1974), rendered through a simplified use of line, and dominated by saturated colors (of blue and red respectively in these examples), the effect is one of melancholy as the viewer is asked to consider what types of human interaction that had gone before (or, indeed, is yet to come). As historian Simon Martin put it, "[his interiors] are like stage-sets with the minimum of props in order to provide the atmosphere that the viewer needs to mentally enter the drama".
From early on in his career, Caulfield was attracted to the direct and simple quality (if not necessarily the content) of commercial sign painting. It provided the inspiration for his screen-printing which complemented his paintings. In both spheres, Caulfield employed lurid colors and thick black outlines that recalled something of the style of Fernand Léger and inspired next generation British artists such as Gary Hume and

Julian Opie

.
The Life of Patrick Caulfield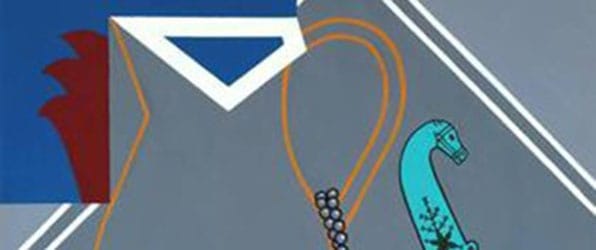 Known for its deceptive simplicity, Caulfield said of his art, "I try not to overpaint too much because I like the flat surface. I like the idea that things have been done in the most minimal fashion, that you don't keep adding."
Important Art by Patrick Caulfield
Progression of Art
Biography of Patrick Caulfield
Childhood
Patrick Caulfield was born to working class parents in the London suburb of South Acton (in an area he later dubbed "Bagwash City" because several residents ran makeshift laundries from their garages). Shortly before the outbreak of World War II, Patrick, with his elder brother, John, moved with their parents' to their hometown of Bolton in northern England to be closer to extended family, and from where, his parents aided the war effort: Patrick's father worked at the De Havilland aircraft factory; his mother in a local cotton mill. As the war neared its end, the Caulfields returned to London where Patrick attended Acton Central Secondary Modern School. He left school at the age of 15 as his parents were unable to pay for his continuing education.
Early Training and Work
With the help of his brother, Caulfield secured a job at the food company Crosse & Blackwell. He initially worked as a filing clerk, but later joined the commercial art department where he washed brushes and varnished chocolates for displays. Called up for National Service, the 17-year-old Caulfield enlisted in the Royal Air Force (RAF) with whom he spent three years. He was stationed in Northwood, north London, and during that time attended evening classes in life drawing and portrait painting at Harrow School of Art. The classes gave him the confidence to apply to art school, and in 1956 he was accepted to Chelsea School of Art where he studied graphic design before transferring to the fine art department. At Chelsea he experimented with different styles, from works inspired by the naïve style of Henri Rousseau, the diagrammatic stylized paintings of apartment buildings, to the abstract tendencies pioneered by the French Tachisme movement.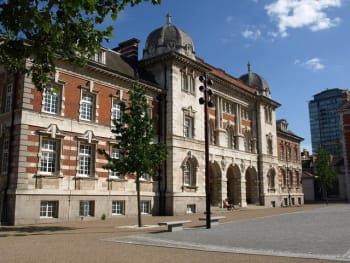 While at Chelsea, Caulfield was taught by Lawrence Gowing, who was appointed principal in 1959. Gowing was very supportive of Caulfield, encouraging him to continue his studies at the Royal College of Art (RCA). Before he joined the RCA, Caulfield traveled abroad for the first time. He took a train to Greece with seven fellow students, among them painter Pauline Boty, and returned home by hitchhiking to London through Italy and France. On his trip, he collected postcards of the Minoan frescoes in Crete. He admired the frescos for their simplicity and decorative quality but when he himself arrived Crete, Caulfield noticed something different about the Minoan frescoes: the black lines on the postcard reproductions had actually been added by the printer. Nevertheless, the postcards left a strong impression on Caulfield: "these cards struck me as being very amusing and quite strong imagery. So I thought about using lines around my own work".
When he commenced his studies at the RCA in earnest in the autumn of 1960, he joined the likes of David Hockney, Derek Boshier and R. B. Kitaj, who belonged to a student cohort one year above. While still at the RCA, Caulfield participated in the Young Contemporaries exhibition, an annual showcase of student's works exhibited at the galleries of the Royal Society of British Artists (RBA). This was a rare opportunity for young artists like Caulfield whose works were featured in the exhibitions between 1961-1963. After he completed his studies in 1963, Gowing offered Caulfield a part time teaching position in the painting department of Chelsea School of Art (his former school). Among the staff were artists Mick Moon and John Hoyland. The trio would become lifelong friends.
Mature Period
From around 1963-64, Caulfield's art reflected his interest in romantic and exotic themes, for which he frequently turned to the great French Romantic artist, Eugène Delacroix, for inspiration. The crumbling ruins in the background of Greece Expiring on the Ruins of Missolonghi (1828), for example, became the subject of the print View of the Ruins (1964), while exotic objects taken from the Frenchman's art, such as Mughal daggers and Turkish pottery, were appropriated by Caulfield in still lifes including Still Life with Dagger (1963) and Still Life with Necklace (1964).
In 1964, Caulfield big break came when he was invited to participate in the New Generation exhibition at the Whitechapel Gallery. With a rollcall that included: Derek Boshier, Anthony Donaldson, David Hockney, John Hoyland, Paul Huxley, Allen Jones, Peter Phillips, Patrick Procktor, Bridget Riley, Michael Vaughan and Brett Whiteley, Caulfield became linked to the British Pop Art movement. But it was a connection that the artist, who described himself as a "formal artist", politely rejected. The Oxford Dictionary of Modern and Contemporary Art states, "Discussing his painting in the 1964 New Generation catalogue, David Thompson argued that Caulfield was interested in 'devalued' motifs, the way in which a painting by Delacroix or a device from Cubism or early abstraction could become 'vulgarized'".
Caulfield's participation in the New Generation exhibition saw him receive considerable attention, including from the London art dealer, Robert Fraser. Fraser, who already represented artists including Peter Blake, Richard Hamilton, Eduardo Paolozzi and Bridget Riley, took on Caulfield and mounted his first one-man show in 1965. Still teaching at Chelsea, Caulfield tutored Pauline Jacobs before she transferred to the fabric printing department at the RCA. The pair were married in 1968, and over the next decade they raised three sons (Luke, Louis and Arthur).
From around the mid-60s Caulfield, who had been introduced to its creative possibilities by Hamilton, and the printer Chris Prater, had been working extensively with screen printing. But, as historian Simon Martin writes, from the early 1970s Caulfield was painting "almost exclusively in acrylic paint on canvas. He would plan his detailed paintings of interiors featuring black lines on flat coloured backgrounds carefully in advance using precise squared-up drawings, sometimes even transferring the entire composition from a full-scale felt-tip pen drawing on polythene".
In 1980, the Caulfield family moved to Primrose Hill in north-west London, where they were neighbors with Hoyland. That year Hoyland was set to begin an artist residency in Melbourne, and he invited Caulfield to join him. Although Caulfield's work was exhibited in Australia, it would be his first visit to the country. The artist recalled having a "fantastic time" and postcards he collected from is trip inspired the color scheme of his painting Still Life: Maroochydore (1980-1981).
In August 1981, Caulfield had his first major retrospective (featuring 48 works) at the Walker Gallery in Liverpool. A great success, the exhibition moved to London before touring Japan. The exhibition marked a turning point in his career. As curator Michela Parkin writes, "In 1983 [Caulfield] stopped using the [black] outlines both in his paintings and his prints, choosing instead to use areas of entirely flat colour. He continued to use flat areas of black, particularly in his prints, to create a dynamic interplay of light and shadow and a play on the relationship between two and three-dimensions". Indeed, Caulfield himself reflected, "having painted and drawn in a linear way, without shadow, I gradually abandoned the linear structure and began to rely much more on light and shade which is perhaps a more sculptural interpretation of my visual world". Caulfield further expanded his repertoire when he accepted a commission to design the set and costumes for Michael Corder's ballet Party Game that premiered at London's Royal Ballet in 1984.
In 1986, his move to a new studio (in London's Belsize Square) coincided with his separation from Pauline, although the two remained close. Caulfield then began his relationship with fellow artist Janet Nathan, the woman with whom he would spend the remainder of his life. Also in 1986, the National Gallery invited Caulfield to mount an exhibition of his work which he titled The Artist's Eye. The solo collection was shortlisted for the Turner Prize the following year.
Late Period
Caulfield continued to enjoy professional success throughout the 1990s. His second retrospective, which was held at the Serpentine Gallery in 1992, presented some of his most emblematic works dating back to 1963. In 1994, he was commissioned to design the rotunda at the extension of the National Museum of Wales in Cardiff. The result was Flowers, Lily Pad and Labels, a mosaic that referred to Claude Monet's waterlily paintings in the adjacent gallery and the labels that surround the wall of the space. In 1995 he designed the set and costumes for the Royal Ballet's new production of Frederick Ashton's Rhapsody. Caulfield's third career retrospective opened to acclaim at the prestigious Hayward Galley in February 1999. The exhibition, organized by the gallery and the British Council, later toured Luxembourg, Portugal, and the United States.
In the late 1990s, Caulfield was diagnosed with cancer of the tongue and throat (he attributed his condition to his love of whiskey). In November 1999, he married his longtime partner, Janet Nathan. Caulfield continued to work despite his tough health battle, finishing his last painting Braque's Curtain in 2005, just two weeks prior to his death. He dedicated the painting to Janet thanking her for her devotion and care. He died of cell cancer in September 2005 at his home in Belsize Square aged 69. Even in death, Caulfield managed to maintain his wry sense of humor, having designed his own tombstone with cut out letters spelling "DEAD". The road on which he was born, was renamed "Caulfield Road" following his death.
The Legacy of Patrick Caulfield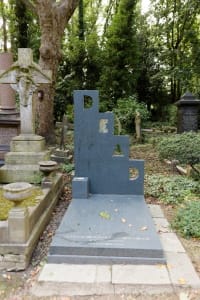 Despite their obvious aesthetic similarities, Caulfield distanced himself from the the British Pop Art movement. He was in search in subject matter that acknowledged (rather than broke with) the traditions of European painting. As historian Bojan Zlatkov (citing the Daily Telegraph) writes, "[Caulfield] absorbed the wavering of 20th-century art in his own original and authentic way, yet his control of the design can be compared with Ingres's, his pallet with Matisse's and the Fauves, the setting up the rules of his own world to Picasso and the Cubists. Patrick Caulfield was 'a painter's painter, an artist whose work revealed great depths when contemplated, and to those with an understanding of art, its history and possibilities, his work could resonate on a grand scale'".
Caulfield himself seldom gave interviews, and this reserve, which extended towards a tendency to shun publicity and promotional opportunities, likely prevented him from reaching the same level of acclaim enjoyed by some other British artists from his generation. Nevertheless, Caulfield's place as one of the most important British painters of the second half of the twentieth century is now undisputed. The Oxford Dictionary of Modern and Contemporary Art states, "What Caulfield was actually doing was using a highly accessible and apparently simple pictorial language, not out of irony, but to achieve effects of the utmost refinement. Although on the surface his style changed comparatively little, the uses to which he put it were extraordinarily varied". Indeed, the legacy of his his deceptively simple imagery can be traced in the work of Irish conceptual artist Michael Craig Martin, and in the art of next generation British artists, Duggie Fields, Gary Hume, and Julian Opie.
Influences and Connections
Influences on Artist

Influenced by Artist
Friends & Personal Connections
John Hoyland

Mick Moon

Pauline Jacobs

Janet Nathan
Artists
Julian Opie

Duggie Fields

Michael Craig Martin
Friends & Personal Connections
Marc Bolan

Syd Barrett

Fiona Rae

Simon Linke
Useful Resources on Patrick Caulfield
Books
The books and articles below constitute a bibliography of the sources used in the writing of this page. These also suggest some accessible resources for further research, especially ones that can be found and purchased via the internet.
biography
artworks