Artists
Marcel Broodthaers
Biography and Legacy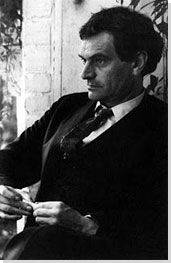 Born: January 28, 1924 - Brussels, Belgium
Died: January 28, 1976 - Cologne, Germany

"I remove the object from it usual context, I place it in another... "

Biography of Marcel Broodthaers
Childhood
Marcel Broodthaers was born in Brussels in 1924. As a youth he was known to be bright and academically-inclined. From a relatively early age Broodthaers was involved in political and social issues. Around the age of 16, he was introduced to the "Surréalisme Revolutionnaire," a branch of the surrealists in Belgium, and during World War II he joined the anti-Nazi resistance.
Early Training
Broodthaers worked as a poet from the age of 20 until the age of 40. Between 1943 and 1951 he was a member of the Communist party, and his written works discussed the ways in which creativity and cultural expression could influence society. In 1945, Broodthaers befriended René Magritte, whose exploration of the boundaries and meaning of language greatly influenced him. That same year his poetry first appeared in print, though he did not release an entire volume of poetry until Mon Livre d'Ogre was published in 1957.
Broodthaers did not receive popular or critical success for his writings, and lived in poverty during his 20s and 30s, supporting himself as a journalist and bookseller. His class consciousness would inspire much of his later visual work that explores a sense of Belgian national identity as intertwined with themes of power and establishment. This theme would pervade so much of Broodthaers' work that Magritte once asked him, "Come to think of it, Broodthaers, aren't you more a sociologist?"
In the 1950s Broodthaers, whose work in journalism had included photography, also began experimenting with film, creating his homage to Kurt Schwitters, La Clef de l'Horloge, un poème cinématographique (1957). While working as a docent at the Palais des Beaux-Arts In Brussels in February 1962 he famously met the conceptual artist Piero Manzoni, who was exhibiting there at the Galerie d'Aujourd'hui, where the Italian declared Broodthaers to be a "Living Sculpture" and signed a certificate of authenticity to that effect. Later that year Broodthaers moved to Paris before returning to Brussels in 1963 and starting to produce visual art.
Mature Period
Broodthaers began sculpting in 1964, only twelve years before he ultimately died at age 52. In some ways, this meant his artistic practice began at a period of maturity in his life that allowed him to reflect on both his experiences as a poet and his Belgian identity. Broodthaers was inspired to turn to visual arts in part due to the changing notion of the art object in the 1950s and '60s, which may have been advantageous for someone like him who had no formal art training and might be predisposed to consider art in more unorthodox ways. Broodthaers noticed how Pop art often made use of humor and word play and saw in it a potentially lucrative opportunity for his creativity with words.
Broodthaers' art quickly found critical acclaim, and his output during those years was staggering. He produced over 50 different films between 1967 and his death in 1976, and in the twelve-year career he staged some 70 one-man exhibitions. His first solo show was in 1964 at Galerie St. Laurent in Brussels, where he unveiled his first piece, Pense-Bête (Memory Aid), a work that encased the unsold copies of his final volume of poetry of the same name in plaster. At this time, he also started using mussels and other found objects. Mussels, one of the most common Belgian dishes, and other organic detritus, such as eggshells, became ways to represent both Belgian identity and the passage of time and memory. His use of materials would go on to include objects like worked metal and plastic signs, as well as discarded clothing and art. The themes of memory and the difficulty of preservation pervades every medium of Broodthaers' work, from installation to painting to readymade object.
1968 was a tumultuous year in Europe, with revolts by students in Paris in May that soon developed into a general strike; these protests also spread north to Brussels. There, a group of students and artists occupied the Palais des Beaux-Arts, and briefly, Broodthaers served as their spokesperson, challenging the control that the museum exerted on the artists whose work was displayed inside. But he quickly dissociated himself from the occupiers, realizing that all art is inextricably linked with commercial value. Instead, he soon afterwards sought to make his home and studio a gathering place for intellectuals, artists, and critics to discuss the state of European art and politics. This provided the impetus for what would be one of his most famous works, the Musée d'Art Moderne, as these meetings were reputedly held under a sign in his apartment for the "section of eagles" - eagles being a preferred symbol of power and strength used by organized institutions and the state. The "Department of Eagles" was also, initially, the only division of his house-museum - its contents were all related in one way or another to the imagery of the bird.
The "museum" also took on different "exhibitions" and sections to directly call into question the role and function of museums and institutions, and, by extension, confronted the possibility of recontextualizing art and the art object. For example, one of the first versions, Musée d'Art Moderne: Documentary Section from 1969, consisted of a traced-out museum floor plan on a beach.
Occasionally Broodthaers would pose for public stunts. In 1974, for example, he appeared in front of the Palais des Beaux-Arts in Brussels with the camel from the Antwerp Zoo and its two handlers.
In 1970 Broodthaers left Belgium for Germany, living in Düsseldorf for a couple of years before moving to London briefly in 1973. Broodthaers then returned to Germany, this time to Berlin, for an artist exchange program, in which he had an impressive six solo shows during 1974 and late 1975. Broodthaers died on his 52nd birthday in January 1976 in Cologne, after a battle with liver disease. He rests in a cemetery in Brussels under a tombstone that he designed.
The Legacy of Marcel Broodthaers
Broodthaers' legacy can be seen in the many postmodern installations and conceptual pieces that continue to pervade the contemporary art scene, as well as in the experiential art that takes the viewing experience to an interactive level. For example, it goes without saying that the Young British Artists generation is in some ways incredibly influenced by Broodthaers' work. Tracey Emin's installations, including My Bed, echo Broodthaers' La Salle Blanche in terms of recreating an artist's lived experience, and her neon signs both use fabrication processes and language to impart meaning to the viewer. The staging of objects to create meaning can also be seen in the work of Damien Hirst. Even in the works of the American artist Matthew Barney, the idea of exploring themes of experience and humanity in almost surreal scenery can be traced back to Broodthaers.
His open-ended edition of gold ingots can be almost directly seen in the works of contemporary conceptual artist Danh Vo, who uses gold bars and gilding to comment on his own experiences with his nationality and the influence of his family. Also, Broodthaers' use of text as visual language can be seen in the works of Ed Ruscha, and his fabrication processes have similarities in the work of artists like John Baldessari, who employed sign-painters for some of their works, similar to the way that Broodthaers did.
Most Important Art
La Clef de l'Horloge: Poème Cinématographique en l'Honneur de Kurt Schwitters (The Key to the Clock: Cinematographic Poem in Honor of Kurt Schwitters) (1957)

Broodthaers decided to become an artist full-time in 1964, but he experimented before then with various media - most significantly, film, to which he returned repeatedly throughout his subsequent career. In Broodthaers' films, he reveals his inner playfulness even more so than in his other works, and La Clef de l'Horloge, made in 1957, hints at this. Its creation is the result of an after-hours shoot of an exhibition of Kurt Schwitters' work at the Palais des Beaux-Arts in Brussels (Broodthaers was only able to gain access with the assistance of the night guards). Broodthaers focuses closely on fragments of Schwitters' works, in many cases collages, where Schwitters has removed excerpts of material from advertisements, labels, and other commercial packaging - usually featuring numbers and letters - and recast them in a nearly-nonsensical context akin to Dada works. The narration at the beginning of La Clef de l'Horloge consists of a man describing the works, noting that Schwitters was the inventor of "Merz" art - a combination of the contemporary influences of commercialism and the disruptive nature of Dada. It then shifts to the recitation of a love poem, fitting because Schwitters himself was a poet, like Broodthaers. Much of the spoken words in the film are recorded over the tick-tock of a clock, suggesting the passage of time.

La Clef de l'Horloge thus not only highlights some of the influences on Broodthaers, but also touches on themes that would emerge significantly in his later work. Its nearly "homemade" quality - Broodthaers had to balance his camera on the shoulders of one of the guards and rely on a torch for light - echoes both the materials used in Schwitters' work and later, Broodthaers' own pieces - shells, postcards, patio furniture, for example. It is implicitly a critique of the museum itself and public access to art, with institutional rules about viewing hours, proper lighting and display, and even security of its spaces. Finally, with his "after-hours" viewing, Broodthaers thus gives the public viewer of the film an arguably even-more-privileged view of the exhibition than the social elite of the museum's patrons - in literally a completely different light, no less.

Read More ...

Marcel Broodthaers Artworks in Focus:
Marcel Broodthaers Overview Continues Below
If you see an error or typo, please:
tell us
Cite this page

Content compiled and written by The Art Story Contributors
Edited and revised, with Synopsis and Key Ideas added by Peter Clericuzio
" Artist Overview and Analysis". [Internet]. . TheArtStory.org
Content compiled and written by The Art Story Contributors
Edited and revised, with Synopsis and Key Ideas added by Peter Clericuzio
Available from:
First published on 28 Nov 2016. Updated and modified regularly.


[Accessed ]