Biography of Larry Bell
Childhood and Education
Larry Bell was born in Chicago in 1939. The family moved to California in 1945 when Larry was five years old. His father was an insurance salesman and his mother would later re-enroll in community college to study art. The family resided in what was then the rural community of Van Nuys located in the San Fernando Valley, just north of Los Angeles. He recalls being the first family on his street to own a television set, which became a strong influence during his youth.
Bell's formal introduction to art effectively began post-high school when confronted with the choice of, in the artist's words, "school, work or the army." He chose the prior and enrolled in Chouinard Art School in 1957 to study animation with the goal of working at Walt Disney Studios. He had previously attended a summer course at the college on a scholarship fueled by his talent for drawing cartoons.
Part of Chouinard's curriculum required Bell to enroll in painting classes, where he met first-time instructor Robert Irwin who later became a leading figure in the Light and Space movement. Irwin, who has remained a lifelong friend and influence on Bell, exposed the young artist to ideas associated with what he described as "Perceptualism." As defined by art critic Peter Frank for the Brooklyn Rail, the aesthetics of Irwin's 'perceptualism' posits the eye is a gullible organ, "and the brain even more, so that art can make us aware of this by taking advantage of visualization in ways at once pleasurable, illogical, and subversive, even threatening." In addition to Irwin, Bell took classes from influential instructors including Richards Ruben, Robert Chuey, Emerson Woelffer and Herbert Jepson, who earlier founded the Jepson Art Institute (1945-54).
Early Training
Bell created his earliest paintings in the tradition of Abstract Expressionism, still the dominant voice of contemporary art in the United States during the late 1950s. "From here," explains historian Robin Clark at a 2015 symposium for the artist at The Chinati Foundation, "Larry started to eliminate the texture of the brushstrokes, applying opaque color to the unprimed canvas and masking off shapes to create straight-edge parallelograms." After departing from the gestural tradition, Bell explored notions of volume rendered on the flat surface on uniquely shaped canvases.
While on break from Chouinard, Bell worked at a commercial frame shop and would often experiment with leftover framing supplies. One day, he noticed the intriguing effect of light passing through a cracked piece of glass, making three separate lines simultaneously: the shadow, the light and the crack itself. Inspiration struck. Bell first introduced fragments of glass to his canvases in 1959, and within a few years he had integrated both mirrored and transparent glass in multiple collaged constructions depicting geometric forms.
After Chouinard, Bell set up his studio in the coastal community of Venice, CA, alongside many of his peers, including Billy Al Bengston, Ken Price and Robert Irwin. By 1962, Bell had his first of three solo exhibitions at the now-legendary Ferus Gallery (1957-1966), a nucleus of the nascent contemporary art scene then forming in Los Angeles (gallery was co-founded by curator Walter Hopps and artist Ed Kienholz). The innovative gallery programming at Ferus, which includes the first solo exhibition for legendary Pop artist Andy Warhol in 1962, launched the careers of numerous West Coast artists, such as Bengston, Ed Ruscha, Joe Goode, Ed Moses, and Craig Kauffman. Nicknamed the "Cool School," these artists, Bell included, represented a break from the dominance of Abstract Expressionism in Los Angeles. Hopps left Ferus in 1962 to become curator of the Pasadena Art Museum, where he oversaw the first retrospective for the iconic Marcel Duchamp the following year. While Duchamp visited the Los Angeles region in preparation for this survey, he made a surprise visit to Larry Bell's studio, who later recalled being speechless upon realizing just who happened to walk in.
The earliest cube sculptures made their debut at the artist's second solo exhibition at Ferus Gallery in 1963. This led to a group exhibition at Sidney Janis Gallery in New York the following year, which in turn yielded a solo exhibition at the prestigious Pace Gallery in New York in 1965. Shipping the fragile works across country proved difficult and multiple glass panels were damaged in transit. After the costly repair, Bell purchased his own aluminizing machine, putting the creative process entirely within the artist's domain.
Following his sold-out show at Pace, Bell decided to remain in New York where he befriended numerous New York artists, among them celebrated Minimalists Donald Judd and Frank Stella. However, despite the financial success and active contemporary art scene, Bell did not stay long on the East Coast. After just two years, during which he experienced the infamous Northeast Black Out of 1965 and the Blizzard of 1966, the artist decided it was time to leave New York.
Mature Period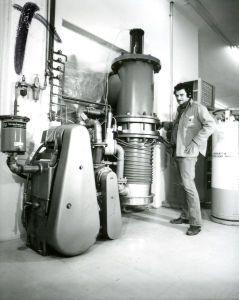 Bell returned to Venice Beach in 1967, transporting his vacuum-coating chamber to his re-established Market Street studio. Before long Bell grew restless, feeling he had explored much of the potential offered by the cube sculptures. Also feeling frustrated by the limited scale he could produce with his current technology, he commissioned a custom-built, large-scale vacuum chamber, nicknamed the "the tank," the following year. This new machine allowed Bell to experiment on a much greater scale, enabling him to coat plates of glass up to six-by-ten feet in size.
Within a few years of his return, Bell's life took a new direction. Recently married to Janet Webb, he traveled with longtime friend, innovative ceramic sculptor Ken Price, to Taos, New Mexico. Bell has since described Price as the biggest influence on his sculptural work. This move marks a revival of the modern art community first established in the region during the 1940s. In the earlier period, it was largely New York artists who commuted to the Southwest artistic center, while this revival consisted largely of Los Angeles artists who chose to relocate or spend part of the year in Taos during the 1970s. The initial curiosity with the city is often credited to actor Dennis Hopper, also active in the LA art scene, who first went to Taos during the filming of Easy Rider (1969) and moved to the city shortly thereafter. Bell joined his friends in 1972, at first maintaining his Venice Beach studio until 1975, when he moved the cumbersome vacuum-evaporation system to a new studio in Taos.
Bell has described his move to the desert community as a means to "control his distractions," joking on more than one occasion that he liked the LA art scene perhaps "too much." The change of atmosphere proved both social and environmental. Peter Frank describes in the 1995 catalogue essay, Understanding the Precept, "The brilliant light and emphatic spaciousness of the high desert encouraged a more expansive approach, in terms both of size and of formal elaboration." Over time, the scale of his work significantly increased, culminating with the massive 56-piece installation titled The Iceberg and Its Shadow (1974-77).
The industrial nature of Bell's glass sculptures aligned him with the trend toward art and technology in the 1970s. At the start of the decade, Bell was a participant in the inaugural Art & Technology program at the Los County Museum of Art, which put artists in direction collaboration with leading technology and scientific research companies. That same year, he also collaborated with fellow Light and Space artist Eric Orr on Solar Fountain, a public artwork for the city of Denver, Colorado.
Through the 1980s and 1990s, Bell began to experiment with paper and Mylar, in addition to glass sculptures. He concentrated on both the large-scale installations as well as returning to two-dimensional works with multiple series of collaged papers that were also treated with vaporized metals before being assembled together. Later, a collaboration with the renowned postmodern architect Frank Gehry in the early 1990s led to the development of his engaging "stick figure" bronze sculptures. Quite unlike any earlier body of work, Bell used a computer program to render the sketch-like designs for what he titled his Sumer series. Bell explains the designation as a reference to a fictionalized mythology he created that was inspired by the ancient Mesopotamian culture associated with early Bronze Age technology.
Late Period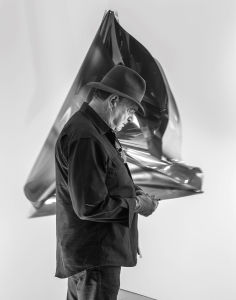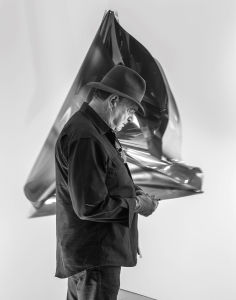 In 2002, an initiative funded by the Getty Foundation and the Getty Research Institute (GRI), known as Pacific Standard Time, began an effort to conserve and provide an institutional platform for scholarship documenting the historical activity of Los Angeles' postwar art scene. This culminated in 2011 with a series of exhibitions throughout Southern California, collectively titled Pacific Standard Time: Art in L.A. 1945 - 1980, "exploring the richly diverse and often-overlooked contributions of Los Angeles artists from the post-war period through the rise of the contemporary era." Leading up to and during this period, Larry Bell was featured in over 20 exhibitions related to or inspired by this initiative in Southern California alone. Since then, the artist has maintained an increasingly active exhibition schedule at leading galleries and museums in the United States and internationally.
In the essay Shaping Light (1995), Douglas Kent Hall writes, "As he moves along a continuum, conceiving of new projects and formulating ways to realize them, Bell loops back again and again to ideas and methods he developed earlier. He makes no attempt at repetition: he simply draws to each new idea everything he has previously learned that will help bring the project to life." Bell's most recent work strongly attests to that facet of his working methodology. Recently, the artist was featured in Art Basel in Hong Kong (2016) and the Whitney Biennial at the Whitney Museum of American Art (2017) with a series of large-scale glass installations that recall the scale and monumentality of his earlier Standing Wall series with another ingredient added to the mix. In addition to the optical phenomenon of light, the new works are explorations of pure, unabashed color. Again, Bell pushes the continuum forward unveiling the reserve of unlimited possibilities in his pursuit of light.
The Legacy of Larry Bell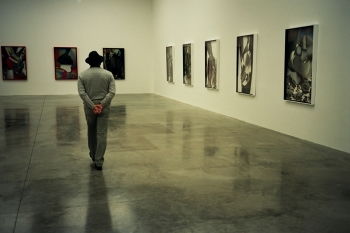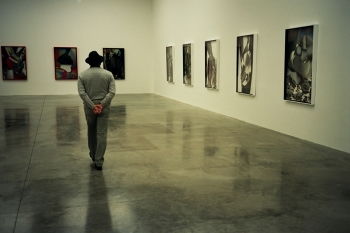 Among the Light and Space artists, Bell found early recognition for his pioneering glass and mirror cube sculptures that proved highly influential among his peers on both coasts, including the likes of Peter Alexander, Frederick Eversley, and Donald Judd. Significantly, Bell's ground-breaking investigations into the amorphous nature of light via such commonplace objects as glass and mirror continues to serve an influential role to later artists. As Stephanie Hanor points out in her essay for the Phenomenal: California, Light, Space, Surface exhibition catalogue, "Such an appropriation of the materials and processes of commercial manufacturing to the production of fine art was becoming increasingly important for American artists and, in particular, young Southern California artists." This legacy manifests in the continued explorations of light, materiality and perception in works by artists as diverse as Dan Graham, Doug Aitken, Olafur Eliasson and Jeppe Hein. As suggested by Hanor's essay, the impact of Bell's contributions has particular sway among the budding generation of artists in Los Angeles, who are similarly preoccupied with exploring the subtle nuances of reflected light, color and perception, including painters Jimi Gleason, Eric Johnson and multi-media installation artist Phillip K. Smith III.
Content compiled and written by Molly Enholm
Edited and published by The Art Story Contributors
"Larry Bell Artist Overview and Analysis". [Internet]. .
TheArtStory.org
Content compiled and written by Molly Enholm
Edited and published by The Art Story Contributors
Available from:
First published on 22 Aug 2018. Updated and modified regularly
[Accessed ]