Artists
August Sander
For Educators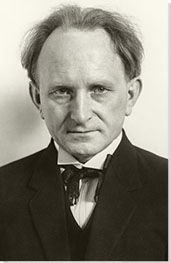 August Sander
German Photographer
Movements and Styles: New Objectivity, Social Realism, Documentary Photography
Born: November 17, 1876 - Herdorf, Germany
Died: April 20, 1964 - Cologne, Germany

'I hate nothing more than sugary photographs with tricks, poses and effects. So allow me to be honest and tell the truth about our age and its people'.
Synopsis
August Sander is acclaimed for a life-long undertaking known as People of the Twentieth Century. Though it was realized as one single volume only posthumously (through the efforts of his son) his career defining mission gave rise to the greatest portrait collection of the 20th century. Sander's goal was to produce a comprehensive photo-sociological document of the cross-section - from land workers to factory workers; to artistic and professional elites; to the frail and the elderly - of German society as it unravelled during his own lifetime. Despite the emergence of the new, faster and more mobile, 35MM Leica camera, Sander remained steadfast in his commitment to the heavy large-format camera that used glass negatives and demanded long exposure times. For him the greater detail offered by the latter format far outweighed the benefits of the former. Sander represented all his sitters, whom he identified, not by name, but by occupation or type, with a respectful and unadorned neutrality, and always within their familiar surroundings.
Key Ideas
Ranked as one of the greatest socio-historical documentarians, Sander's oeuvre is typically defined by its homogeneity and the sheer scale of its ambition. Rejecting all forms of expressionism and romanticism, Sander's portraiture is associated with the rise of the
New Objectivity (Neue Sachlichkeit)
movement that gained momentum in German artistic circles during the inter-war years. However, that observation, though quite correct, rather belies the fresh artistic and humanist quality Sander's brought to photographic portraiture that had been defined hitherto in its relationship to painting, and by the way it 'described' its subject with the help of flattering backdrops and secondary objects (or 'props').
Sander opposed the traditional (some would say 'bourgeois') style of studio portraiture that tried to imitate painting. He favoured the glossy paper format used in technical photographs because it offered him the greatest image detail, and even though that preference necessitated the use of cumbersome large plate cameras, Sander remained committed to taking portrait photography out of the studio into the real world. Shooting always from a single perspective - face-to-face as it were - he considered the relationship between location and sitter to be the most essential ingredient for communicating both the status and essence of his or her personality.
Sander saw himself very much as a patriot: an agent of, and for, the German people. Very nearly his whole career was devoted to documenting 20
th
century Germany through photographic portraits of the individuals who would make up an egalitarian montage of
the whole
of German society. Sander was not however interested in capturing the mystique of his subjects (as was the goal of someone like
Edward Steichen
, for example). Nor could his approach to his subjects be described as intuitive. Rather, Sander's planned compositions worked always towards the aim of creating an artefact possessed of lasting national posterity. He was able to achieve his goal by using his camera to honor the propriety of the unique individuals that comprised his beloved nation.
Biography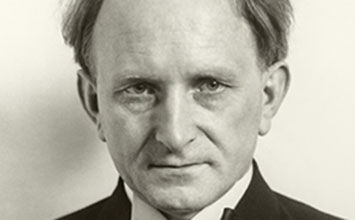 Childhood
One of several siblings, August Sander was born on the 17th November 1876, in the German village of Herdorf, to Justine and August Sander. Before the family set up their own modest farm, August Sr. earned his living as a carpenter working in the mining industry. August Jr. seemed destined to follow in his father's footsteps when, as expected, he took up an apprenticeship at the San Fernando Iron Ore mine in 1889. However, while working at the mine, he was tasked with assisting a technical photographer. The experience proved to be a turning point for the young Sander who became captivated by this new medium for making pictures. Two years later, and with a financial gift from a kindly uncle, an enthused Sander purchased a camera (his first) and some basic dark room equipment.
- - - - - - - - - - - - - - - - - - - - - - - - - - - - - - - - - - - - - - - - - - - - - - - -
August Sander Biography Continues

Important Art by August Sander

The below artworks are the most important by August Sander - that both overview the major creative periods, and highlight the greatest achievements by the artist.


Artwork Images

Young Farmers (1914)

Artwork description & Analysis: Forming part of a series on rural people residing in the low mountain region of Westerwald, Young Farmers (Jungbauern) was taken by Sander in 1914, shortly before he joined the medical corps at the outbreak of the first World War. Arguably his most analyzed image, it was first published in Sander's Face of Our Time collection in 1929, and again, posthumously, in his magnum-opus People of the Twentieth Century.

In the image, three suited young men are seen walking along a rural path, probably on their way to a dance. The men look directly at Sander, yet their bodies are turned away from his camera. This suggests that Sander caught his subjects unexpectedly, or in mid-stride. But that proposition seems a little incongruous when one considers the length of exposure time required of the large format, glass plate camera that Sander used. However, the fact that the subjects posed for the camera - probably aping poses seen in men's apparel and tobacco advertisements - does nothing to distract from the fact that the men's attire defied the archetypal provincial peasant portrait. Indeed, when taking into consideration the time the photograph was taken, and the barren rural landscape in which the young men are pictured, the Marxist art critic John Berger suggested that Sander's image perfectly captured a new generation of country type. Young farmers were now within easy reach of 'aspirational advertising campaigns' and 'travelling salesmen' thus allowing them to 'emulate the higher quality attire of the bourgeois urban class'.

Photograph, gelatin silver print on paper - Tate and National Galleries of Scotland. Lent by Anthony d'Offay 2010


Artwork Images

Matter (c. 1925-7)

Artwork description & Analysis: The volume People of the Twentieth Century featured over 500 images. Young Farmers belonged to the first, introductory, category ('The Farmer'), while Matter featured in the last, closing, category ('The Last People'). 'The Last People' is focused on those who occupied the margins of society: namely the elderly, the infirm, the disabled and the mentally impaired. This is one of two portraits, both bearing the title 'Matter', of deceased subjects. In this serene image an elderly woman is shown in profile on her deathbed. The image might allude in some way to the theme of the cycle of life. However, Sander's unambiguous, matter-of-fact, approach to his work suggests that its meaning might be rather more prosaic with Sander simply forcing his audience to confront head-on the inevitability of death. However, when considered in relation to his bigger sociological project, through which he was commenting upon the societal role of the individual in 20th century German, the title 'Matter' would seem to suggest that once we lose our value to society we become no more than a collection of particles ('matter') from which no further societal value can be subsumed.

Photograph, gelatin silver print on paper - Tate and National Galleries of Scotland. Lent by Anthony d'Offay 2010


Artwork Images

The Painter's Wife (Helene Abelen) (c. 1926)

Artwork description & Analysis: In 1926, the artist Peter Abelen, having become acquainted with Sander through their shared association with the Cologne Progressive Artists Group, approached the photographer with the view of making a portrait of his wife, Helene (Abelen). Though the portrait is titled The Painter's Wife Helene's pose is defiantly androgynous. Her slicked-back hair is pulled tightly across her head and Helene grips a cigarette between her teeth. She wears a fitted white shirt, a narrow dark tie and black belt, and baggy white trousers with casual white footwear. She is almost luminous when set against the muted tones of the interior walls; on which, presumably, the works of her painter husband are hung. Helene's gaze is active - confrontational one might say - since she acknowledges the camera (and photographer) by looking beyond it (him, and us).

The Painter's Wife alludes to the changing position of women in 1920s German society. In this image in particular we see the idea of the 'new woman' that gained traction during the liberating Weimar years (1919-1933). The 'new woman' was freer than previous generations of German women, with growing willingness and freedom to abandon the domestic space in favour of a place in the public labor force. Concurrently, 'old' ideas about femininity and dress codes were challenged with modern women increasingly adopted trousers as a more practical way of dressing. Seen in this context, Sander's image captures in time and place an important historical juncture in the societal position of women under the liberal Weimar administration.

Photograph, gelatin silver print on paper - Tate and National Galleries of Scotland. Lent by Anthony d'Offay 2010
More August Sander Artwork and Analysis:
Influences and Connections
Influences on Artist
Artists, Friends, Movements
Influenced by Artist
Artists, Friends, Movements

Interactive chart with August Sander's main influences, and the people and ideas that the artist influenced in turn.
View Influences Chart

Artists

| | |
| --- | --- |
| | Julia Margaret Cameron |
| | Oscar G. Rijlander |
| | Alfred Stieglitz |
| | Edward Steichen |

Personal Contacts

| | |
| --- | --- |
| | Marta Hegeman |
| | Anton Räderscheidt |
| | Alfred Döblin |
| | George Grosz |
| | Franz W. Seiwert |

Movements

| | |
| --- | --- |
| | Art Photography |
| | Pictorial Photography |
| | New Objectivity |
| | |

Influences on Artist

August Sander
Years Worked: 1897 - 1964
Influenced by Artist

Artists

| | |
| --- | --- |
| | Bernd and Hilla Becher |
| | Walker Evans |
| | Dorothea Lange |
| | Diane Arbus |
| | Rineke Dijkstra |

Personal Contacts

| | |
| --- | --- |
| | Franz W. Seiwert |
| | Otto Dix |
| | Edward Steichen |
| | George Grosz |
| | Marta Hegemann |

Movements

| | |
| --- | --- |
| | |
| | Documentary Photography |
Useful Resources on August Sander
The books and articles below constitute a bibliography of the sources used in the writing of this page. These also suggest some accessible resources for further research, especially ones that can be found and purchased via the internet.
More Interesting Books about August Sander

More Interesting Articles about August Sander

If you see an error or typo, please:
tell us
Cite this page

Content compiled and written by The Art Story Contributors
Edited and published by The Art Story Contributors
" Artist Overview and Analysis". [Internet]. . TheArtStory.org
Content compiled and written by The Art Story Contributors
Edited and published by The Art Story Contributors
Available from:
[Accessed ]