Artists
Mona Hatoum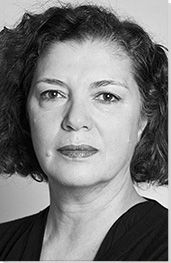 Born: 1952 - Beirut, Lebanon

"Often the work is about conflict and contradiction - and that conflict or contradiction can be within the actual object"
Summary
Hatoum weaves together a minimalist vision with actual bodily material. As such, although her work often appears to be anonymous and well-contained upon first glance, after detailed inspection we realise that it is in fact resolutely individual and scattered in pieces. There is an edge of tension at the core of this artist's practice, as she regularly unites themes of the personal and the political, the public and the private, and of pain and pleasure. She sees her role as an artist to pose questions rather than to answer them and as a Palestinian woman who has lived the majority of her life in London, the question of what is and where is 'home' constantly penetrates her work. So too does an exploration of shifting boarders (both physical and emotional) and the remains of things, be it the shedding of own bodies or the debris created after an event.

Hatoum's interest in what remains can be as historical and universal as her recent Hiroshima works, or as mundane and particular as the stains on a take away carton. The point being that apparently incidental oil stains on throwaway food plates, can, with the right eye, and a big imagination, become wondrous worlds maps that make profound statements on humanity and life lived in a global landscape. Despite Hatoum's obvious personal political struggles, her work speaks of something wider-reaching, more ambiguous, and slippery in intent and meaning. Like the Surrealists before her, Hatoum sees things differently - think of René Magritte's Personal Values (1952) and Meret Oppenheim's Fur Teacup (1936) - and encourages her audience to do the same, to explore multiple readings of her work and to start by putting a mirror up to themselves.
Key Ideas
The artist often uses threat and the suggestion of violence to make the familiar feel dangerous. For example, domestic objects such as kitchen utensils have been both enlarged and electrified to inherit sinister rather than comforting characteristics. Such inclination to re-visit familiar objects and to make them appear foreign and strange is a tendency that Hatoum shares with
Louise Bourgeois
. Both artists interestingly and successfully explore
Sigmund Freud's
concept of The Uncanny and express the notion that home is not always as it seems.
Hatoum typically infuses her work with humor. She plays with titles, for example The Grater Divide and Light Sentence, making witty references to the way that we use language. This element of her work is very important, for however serious the subject she may be investigating - this could be war or gender relations - there is always a balancing aspect that smart humor offers. In the end, it is this embedded lightness that gives the viewer the necessary means to understand an important, weighty, and deeply serious message.
The work of Hatoum investigates the concept of the 'abject' introduced by the cultural theorist, Julia Kristeva. Hatoum is attracted to a 'corporeal reality', to a breakdown between the self and other, and to facing and exploring inevitable death and decay. She explores this notion through the regular use of her own body as art material including nails, skin, and hair.
Hatoum expresses a recurring visual interest in prison, cage, or mesh-like structures. This repeated exploration of a grid motif, be it tiny or vast in scale, further reveals the artist's long-standing interest in tension and paradox. Her overlapping and interwoven lines stand as much for notions of strength and connectivity as they do for vulnerability and restriction. As such, Hatoum asserts a crucial and inherent interest in the combination of opposites and in the exploration of the illuminating tension that is created when conflicting ideas meet.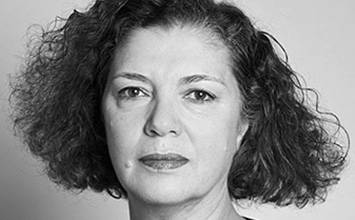 Mona Hatoum was born in 1952 in Beirut, Lebanon to Palestinian parents. She is the youngest of three siblings. Her parents had previously left their home in Haifa due to political unrest in 1948, and come to Beirut to start a new life. The couple's children were not however eligible for Lebanese Identification Cards at birth, due to a political decision to isolate Palestinian families exiled in Lebanon and in turn to prevent their integration within Lebanese society. As result, Hatoum identifies herself as Palestinian and not as Lebanese. Due to the Arab-Israeli war, her father found a job at the British Embassy in Beirut and as a matter of precaution and clever forward-thinking, obtained British passports for himself, his wife and his three daughters.
Influences and Connections
Influences on Artist
Artists, Friends, Movements
Influenced by Artist
Artists, Friends, Movements

Interactive chart with Mona Hatoum's main influences, and the people and ideas that the artist influenced in turn.
View Influences Chart


Influences on Artist

Mona Hatoum
Years Worked: 1975 - Present
Influenced by Artist

If you see an error or typo, please:
tell us
Cite this page

Content compiled and written by Marley Treloar
Edited and revised, with Synopsis and Key Ideas added by Rebecca Baillie
" Artist Overview and Analysis". [Internet]. . TheArtStory.org
Content compiled and written by Marley Treloar
Edited and revised, with Synopsis and Key Ideas added by Rebecca Baillie
Available from:
First published on 20 Feb 2019. Updated and modified regularly.


[Accessed ]