Artists
Marcel Breuer
Biography and Legacy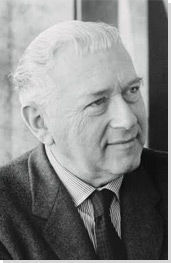 Marcel Breuer - Biography and Legacy
Hungarian-American Designer, Sculptor, and Architect
Movements and Styles: Bauhaus, Modern Architecture
Born: May 21, 1902 - Pecs, Hungary
Died: July 1, 1981 - New York City, USA

"The artist works with the highest level of feeling. The technician works with the highest level of logic."
Biography of Marcel Breuer
Early Life
Marcel Breuer was born on May 21, 1902, in Pécs, Hungary, a small town near the Danube River. After graduating from high school at the Magyar Királyi Föreáliskola in Pecs, Breuer enrolled at the Academy of Fine Arts in Vienna to study painting, where he had been offered a scholarship. He almost immediately disliked the program, however, and within weeks of joining, he left to begin an apprenticeship with a Viennese architect. Breuer was eager to work with his hands and joined the cabinetmaking studio of the architect's brother. At age 18, in 1921, he moved to Weimar, Germany, to enroll at a new school called the Bauhaus, founded in 1919 with a mission to marry functional design with the principles of fine art. Its head, the architect Walter Gropius, immediately recognized Breuer's talent and promoted him within a year to the head of the carpentry shop. At the Bauhaus, Breuer produced the furniture for Gropius' Sommerfeld House in Berlin as well as his acclaimed series of "African" and "Slatted" chairs. But he also became acquainted with many of the most important artists of this era, who likewise worked and taught at the Bauhaus, including Wassily Kandinsky, László Moholy-Nagy, Paul Klee, and Josef Albers. Breuer later reflected that Klee served as one of his two greatest teachers in life, along with his high school geometry instructor.
In 1924, he finished his studies at the Bauhaus and briefly relocated to Paris before returning to the Bauhaus after it moved to Dessau in 1925. During the late 1920s and early 1930s, Breuer supported himself largely from fees garnered from his furniture designs, most notably the widely reproduced "Wassily" chair, as his architectural commissions were few and far between at this stage in his career. In 1926, Breuer married fellow Bauhaus graduate Marta Erps. While his parents were both Jewish, Breuer was forced to officially renounce his faith in order to marry Erps, due to the anti-Semitic hostilities in Germany at the time.
Mature Work
In 1928, Breuer moved to Berlin, to begin his own architectural practice; in 1934, he designed the Doldertal Apartments for the well-known Swiss architectural historian Sigfried Giedion in Zurich. Breuer moved to London in 1936, at the behest of Walter Gropius, who was concerned for his safety during the Nazi occupation. Here, he found work with Jack Pritchard of the Isokon Company, one of the earliest champions of modern design in Britain, where he designed the "Long" chair predominantly from plywood. The following year, Breuer left Europe permanently to join Gropius in teaching architecture at Harvard University in Cambridge, Massachusetts; many of their students would themselves go on to become legends in the field, such as I.M. Pei, Paul Rudolph, and Philip Johnson. From 1938 to 1941 Breuer and Gropius collaborated on various architectural projects throughout the northeastern United States, including each of the architects' own houses as well as the Pennsylvania state exhibition at the 1939 World's Fair in New York.
Breuer finally moved to New York City in 1946, where he would work for the remainder of his life, and continued the collaborative efforts that had marked much of his career, mostly with Hamilton Smith. Over the next thirty-five years his practice expanded considerably; although he had worked mostly on small-scale domestic structures before the war, Breuer increasingly took on larger and more diverse institutional projects. He sought and regularly received internationally-renowned commissions, including the Sarah Lawrence College Theatre in Bronxville, New York (1952); St. John's Abbey and University, Collegeville, Minnesota (1953-61); the De Bijenkorf department store, Rotterdam (1955-57); the headquarters for the Department of Housing and Urban Development (HUD), Washington, D.C. (1963-68); and the Atlanta Central Library (1969-80). He retired in 1976, the same year that he was awarded the Grande Medaille d'Or by the French Academie of Architecture.
The Legacy of Marcel Breuer
Today, Marcel Breuer is regarded as one of the most important modernists in architecture and design. His furniture productions remain as influential and popular today as ever before, and continue to be mass-produced by esteemed manufacturers such as the Knoll Group. Breuer's most famous chair, the "Wassily," in the words of New York Times journalist Maura Egan, is a manifestation of "modernism's faith in technology, convenience, and the promise of a better life." Breuer's continual interest in the possibilities of new materials and technologies and the reexamination of trends in architectural practice also mark him as an important practitioner of modernist theory. Although he eventually abandoned teaching in favor of his own practice, Breuer also left an important legacy as an instructor, both at the Bauhaus and eventually also at Harvard, where he and Gropius introduced the International Style on a large scale to American students and architects for the first time.
Most Important Art
Club chair (model B3) (1927-1928)

Made of leather and cantilevered steel, the Wassily chair has become one of the world's most enduring and iconic pieces of furniture. Breuer designed the chair at the age of the 23, while still an apprentice at the famed Bauhaus in Weimar, Germany. Inspired by the Constructivist principles of the De Stijl movement and the frame of a bicycle, the Wassily chair distills the type to its bare essentials, reflecting the Bauhaus' proclivity for functionality and simplicity. Breuer viewed the bicycle as an object that represented the paragon of design, owing in part to the fact that its form had remained largely unchanged since its inception. The tubular steel of the bicycle's handlebars also intrigued Breuer, as it was light, durable, and suitable for mass production (a manufacturer by the name Mannesman had recently perfected a type of seamless steel tubing that was capable of being bent without collapsing). Breuer once mused to a friend regarding the bicycle, "Did you ever see how they make those parts? How they bend those handlebars? You would be interested because they bend those steel tubes like macaroni." Breuer bent the steel components so that they were devoid of any weld points and could thus be chromed piecemeal and assembled. He named the chair after the painter Wassily Kandinsky, a professor at the Bauhaus, who was so enamored by the piece during a visit to Breuer's studio that Breuer fashioned a duplicate for Kandinsky's home. First mass-produced by Thonet, the license for manufacturing the chair was picked up after World War II by the Italian firm Gavina, which was in turn bought out by the American company Knoll in 1968. Knoll retains the design trademark and the chair remains in production today.

Read More ...

Marcel Breuer Artworks in Focus:
Marcel Breuer Overview Continues Below
If you see an error or typo, please:
tell us
Cite this page

Content compiled and written by Nicholas Coyote
Edited and revised, with Synopsis and Key Ideas added by Peter Clericuzio
" Artist Overview and Analysis". [Internet]. . TheArtStory.org
Content compiled and written by Nicholas Coyote
Edited and revised, with Synopsis and Key Ideas added by Peter Clericuzio
Available from:
First published on 02 Sep 2016. Updated and modified regularly.


[Accessed ]