Artists
François Boucher
Biography and Legacy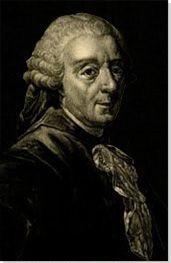 François Boucher - Biography and Legacy
French Painter, Draughtsman and Etcher
Movement: The Rococo
Born: September 29, 1703 - Paris, France
Died: May 30, 1770 - Paris, France

"Nature is too green, and poorly lit."
Biography of François Boucher
Early Training
The son of a draftsman, painter and embroiderer, François Boucher was of humble yet artistic origins. His earliest training came with his father in Paris until his work was noticed by the respected painter François Lemoyne. Although the 17-year-old Boucher only remained under Lemoyne's tutelage for a few short months before going to work for the publisher Jean-François Cars, he quickly absorbed the academic style of his first master. Boucher's skill as both a painter and engraver was admired by the highly-respected collector and great patron of the arts, Jean de Jullienne, who entrusted the young artist with the task of engraving the drawings of Antoine Watteau. Despite not having formal training at the Académie, Boucher won the Prix de Rome, the Académie's highest honor, at only age 20.
Boucher's Rinaldo and Armida, painted in 1734, was his official reception piece at the Académie. His use of chiaroscuro and classical architecture demonstrate the lessons that he had absorbed when traveling in Italy.
Though this prize should have funded a scholarship to study in Italy for three years, internal politics within the Académie interfered. Boucher turned to private commissions for paintings, drawings, and etchings, his skills proving prodigious enough that he was able to fund his own trip to Italy in 1728. There, he studied the work of Michelangelo and Raphael, as well as Baroque masters such as Bernini and Castiglione. Upon his return to Paris, Boucher was formally admitted to the Académie; seemingly overnight, he was the sensation of the French art world. His portraits were some of the most sought after among the Parisian élite, his clientele extending all the way to King Louis XV.
Mature Period
As an academician, Boucher's career took off. He was in great demand by royal and aristocratic collectors for his mythological scenes, as well as genre paintings, landscapes, and portraits. More affordable prints and engravings after his work were highly collectable among less wealthy admirers, and were widely published and sold. In the late 1730s, Boucher's reputation expanded further yet, when he was invited to create designs for the tapestry factory at Beauvais. Boucher's tapestry cartoons of pastoral scenes were highly treasured, and were exported not only within Europe, but also as far as China. He would also later be appointed to Inspector of Works at the Gobelins tapestry manufacture. His signature Rococo style was well suited to the decorative arts; soon his designs were reproduced on porcelain. An interest in theatre soon translated into a role overseeing stage set designs for the royal opera.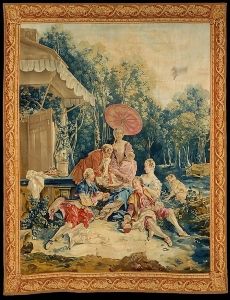 Boucher designed many tapestries including a series known as the Fêtes Italiennes, which featured idyllic landscapes and lighthearted picnic scenes.
Despite his many diverse projects, Boucher remained primarily a painter, working for the aristocratic and international elite living in Paris. Madame de Pompadour, the official chief mistress of King Louis XV became his most important patron, commissioning a series of large-scale portraits as well as a number of grand mythological works, such as The Toilet of Venus (1751) and religious paintings like The Light of the World (1750), a nativity scene of maternal love and warmth. With the support of Madame de Pompadour, Boucher was appointed Premier Peintre du Roi - the official painter to the king - in 1765.
Late Period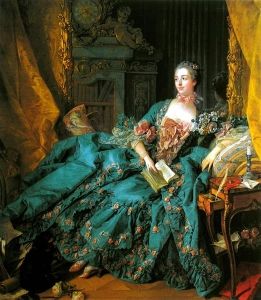 Boucher's 1756 portrait, Madame de Pompadour, balances the beauty and erudition of his most important patron, lavishing attention both to the elegant details of her gown and the books and papers that surround her.
In the same year that he ascended to the king's official painter, Boucher also succeeded the artist Carle Vanloo as the Director of the Académie Royale, solidifying his dominance over French art and its institutions. Though he had reached the highest rungs of official success, however, his reputation and influence began to fade in the face of growing Enlightenment morality and philosophy. He exhibited less at the Salon, perhaps due to the scathing reviews written by influential critics such as Denis Diderot, who dismissed his work as amoral, insincere, and retrograde. In juxtaposition with the early iterations of what would become Neoclassicism, an intellectually rigorous and moralizing style of painting, the aristocratic subjects and pastel palettes of Rococo artists like Boucher were seen as indulgent and frivolous. Despite this shift in public opinion, however, Boucher never wavered from his personal style; he remained a popular choice for aristocratic commissions, carrying out his official duties at the Académie and in the court despite the rising tide of more restrained Neoclassicism and bourgeois morality.
By the late 1760s, Boucher continued to work, although he suffered from poor health, including trouble with his eyesight. He died suddenly in his studio at the Palais du Louvre in 1770, having completed (by his own, perhaps exaggerated, estimate) over 10,000 drawings and 1,000 paintings in his lifetime.
The Legacy of François Boucher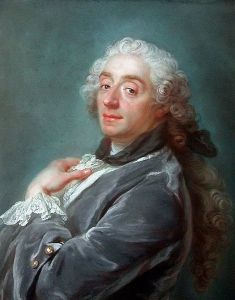 This portrait of Boucher, painted by Gustaf Lundberg in 1741, highlights the aristocratic indulgence and elegance associated with the artist and his work.
By the time of Boucher's death, the Rococo style had fallen out of favor among critics and artists alike. Boucher's name would quickly become synonymous with the outmoded and immoral lifestyle associated with the Ancien Régime. As art historian David Wakefield writes, "Of all the painters of the French eighteenth century, Boucher has perhaps suffered the worst fate at the hands of posterity." In his day, he was recognized as a master and eulogized as "the painter of the graces." Even Jacques-Louis David, the leader of the Neoclassical style that would overshadow Boucher's Rococo, had high praise for him, admonishing his students for deriding the late master and saying, "Not everyone can be Boucher."
It would not be until well after the French Revolution that Boucher's formal skills would be appreciated during a Rococo revival during the 1860s and 1870s. Paul Mantz, an early art historian and champion of Théodore Rousseau and Eugène Delacroix, would defend Boucher as a true painter of his age, faithfully representing his contemporaries, tying him to the nascent principles of nineteenth-century Realism. The impressionist master Auguste Renoir, whose buxom nudes and penchant for pastels bear the obvious influence of Boucher, called his predecessor "the man who best understood the female body." Though still associated with the foppishness and over-indulgence of the aristocracy, today's scholarships have repositioned Boucher as one of the most productive and technically skilled artists of the eighteenth century.
Most Important Art
The Breakfast (1739)

Five figures gather around a small table taking coffee from a stylish service, tendrils of steam curling up from the freshly poured cups. This elegantly appointed, fashionable sitting room brings the viewer into the home of a wealthy Parisian family. In particular, details such as the Chinese porcelain figurine on the shelf, the gilt sconces mounted above the mantel, and roundel painting are elements of Rococo decoration that reveal this to be a modern scene of elegant domesticity. (Indeed, Rococo painting took its name from the term rocaille, referring to the shell-shaped architecture and furniture design that was popular at the time.) Boucher demonstrates his knowledge of fashion not only in the Rococo décor, but also in his figures: the young woman at center-right dons a mouche, a black beauty spot worn at her temple that was highly fashionable among the French upper classes. Even that the family is drinking coffee marks their stylishness, as the drink was a recent and newly popular import to France.

Though most commonly associated with elaborate mythological scenes and erotically charged figures, Boucher here demonstrates his talent for genre scenes, as he depicts a domestic ritual of familial bliss, the figures appearing to be contentedly interacting with one another. Perhaps reflecting the growing Enlightenment thinking on motherhood, Boucher depicts a warmth between generations, echoed in the seated young girl with a doll. Some scholars have suggested that the artist was depicting his own family, including his wife (at right), two children, and his sister, who appears feeding the young girl who catches the viewer's gaze and gives the scene an informal and instantaneous, almost photographic quality (although this was painted well before the development of photography). Whether or not the painting is autobiographical, it is exemplary of Boucher's art historical knowledge (particularly his familiarity with paintings of seventeenth-century Dutch interiors), his love of ornamentation, his awareness of new philosophical thinking on family dynamics, all set in his cool palette of blues, greens, and cream tones.

Read More ...

François Boucher Artworks in Focus:
François Boucher Overview Continues Below
If you see an error or typo, please:
tell us
Cite this page

Content compiled and written by The Art Story Contributors
Edited and published by The Art Story Contributors
" Artist Overview and Analysis". [Internet]. . TheArtStory.org
Content compiled and written by The Art Story Contributors
Edited and published by The Art Story Contributors
Available from:
First published on 15 Aug 2018. Updated and modified regularly.


[Accessed ]