Artists
Peter Blake
Biography and Legacy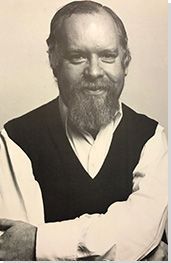 Peter Blake - Biography and Legacy
British Painter
Movement: Pop Art
Born: June 25, 1932 - Dartford, England

"I have always had this great adoration of people who are different, and I have always celebrated them."
Biography of Peter Blake
Childhood
Peter Blake grew up in Kent, England in a typical blue-collar household as a son of an electrician. Although he had a younger brother and sister, he claims he was always "a solitary child" who was "extremely shy". He experienced a disruption in his education when his family was evacuated during the Second World War.
At age 14 he began attending the Gravesend Technical College Junior Art School where he learned creative foundations such as life drawing skills, typography and joinery. It was there that he was first introduced to highbrow culture such as fine art and classical music. However, he never lost touch with his working-class roots, continuing to pursue interests in jazz clubs, football, speedway, and wrestling, as well as remaining close with his mother and aunt.
When he was 17, Blake had a serious cycling accident, which changed the way he looked. He remembers, "I knocked out four teeth and had 35 stitches - my mum didn't recognize me when she came to the hospital." He grew a beard to hide the scars, which he has had ever since.
Early Training
Blake originally applied to the Royal College of Art as a graphic designer. He sent one painting in with his portfolio, and on the basis of it he was accepted into the painting course instead. He was taught at the RCA by Ruskin Spear, an artist whose Dada-inspired work utilizing banal objects Blake described as "proto-pop". This encouraged Blake to start looking to popular culture for the subjects of his art. He says, "from about 1954 I realized that I could paint the subjects I liked such as wrestlers and strippers and the rest of it."
While studying at the RCA, he wrote a dissertation about nude performances in the music hall scene. In the middle of the 1950s, music halls were diminishing in popularity, so its participants tried to increase attendance by including naked women; however, they weren't allowed to move, but instead had to stand still throughout the show.
At the end of his studies, Blake was granted a scholarship to travel for a year. He notes that most people used this time to study traditional artworks or phenomena, such as "the light on north Italian chapels", whereas he went rogue, focusing on the exploration of popular art. Rather than visiting museums, Blake attended bullfights, football and wrestling matches and even traveled with the circus for a couple of weeks.
Returning in 1957, Blake got various jobs teaching art and drawing, and began to focus on building his practice and body of work.
Mature Period
Blake began mixing in with the social circles that would come to produce Pop art. In 1958 he attended a dinner party hosted by Lawrence Alloway, an art critic and important member of the Independent Group of burgeoning British Pop artists that originated at the Institute of Contemporary Art in London. It was reportedly in response to Blake's statement about his artistic intentions that Alloway became one of the first people to use the term "Pop art".
In 1961, Blake was included in the "Young Contemporaries" exhibition at London's Whitechapel Gallery. The show was vital in launching the careers of several younger members of the Pop art scene, and Blake's work was shown alongside that of David Hockney and RB Kitaj. In the same year, he received the John Moores prize and his work was consequently featured in the first edition of the Sunday Times color supplement.
Although by this point Blake's work was receiving relatively wide attention from the art world, he was introduced to the public through a BBC television program made in 1962 called "Pop Goes the Easel".
In 1963, Blake found representation by Robert Fraser, the notorious art dealer who was later arrested with Mick Jagger for drug possession. This put Blake at the center of the swinging scene of 1960s London alongside leading figures of popular culture. It was Fraser who introduced Blake to Paul McCartney, and recommended him for designing the iconic album cover for The Beatles' Sgt Pepper's Lonely Hearts Club Band. Although this gig positioned Blake's work in the international limelight, he frequently recalls that he was only paid £200 and given no copyright or royalties on the final cover.
At the end of the 1960s, after the closure of Fraser's gallery, Blake moved to Wellow, Avon (a small village near Bath) with his wife, fellow artist Jann Haworth, whom he had married earlier, in 1963. There he formed a group named The Ruralists that pursued a different, more naturalistic style of painting. Blake received a great deal of negative publicity for leaving the creativity and havoc of London behind. At the time, Blake created many images of fantasy and myth including many works that depicted fairies. He also illustrated Lewis Carroll's Through the Looking Glass with artist Graham Ovenden. His time here ended after his wife began a relationship with someone else and asked for a divorce. It was an incredibly painful process for Blake, who shared two daughters with Jann, prompting his move back to London where he met his second wife Chrissy Wilson.
Blake's life blossomed again in London, breathing second life into his career. He spent time in Los Angeles with fellow artist David Hockney, which inspired him to revisit earlier collage techniques and modern subject matter. He was made a member of the Royal Academy in 1981.
During the 1990s, Blake did a residency at London's National Gallery. This was an important time for him and the evolution of his art. He later recalled, "every day when the museum closed and the guards had gone, I'd spend an hour or so wandering around on my own."
Late Period
In 1997, Blake talked about retiring as he craved a retreat from the competitiveness and obsession that had infiltrated the art market. He continues to draw, paint and create multimedia works today.
Unlike many artists, Blake felt the need to define his own late period, which for him marked the era from the late 1990s up to the present day. He coined this, "a time when an artist can do almost anything they want. It doesn't have to relate to the earlier work if you don't want it to and it is a wonderful feeling of freedom. Usually other people decide when your Late Period is or was, but rather than wait for anyone else, I've decided very consciously to have mine now."
He continues to work prolifically, often on collaborative and design-based projects. For example, he has worked on fabrics for Stella McCartney, produced a portrait of Queen Elizabeth II and designed several record covers for bands including Oasis and Band Aid. He is also working on a ten-year long project to illustrate Dylan Thomas' play Under Milk Wood.
In 2002, he was knighted for his services to art, an honor of which he is very proud.
The Legacy of Peter Blake
Blake's influence can be seen in the work of many Pop artists, including American Pop artist Andy Warhol. He is also a champion of the Young British Artist generation who came to the fore in the 1990s. He is friendly with many of them, and has often promoted their artwork. He has said, "I'd like to think of myself now as part of a club standing vaguely behind the YBAs." His influence is clear in their borrowing of popular culture and their exposing of the grittier and less-documented side of youth, much like with Blake's earlier Self Portrait with Badges (1961).
Most Important Art
On the Balcony (1956-7)

In this famous painting, Blake combines images of ordinary, everyday people with a plethora of references to the theme "On the Balcony." These range from ephemeral magazines and snapshots to consumer goods to the art found in museums and galleries. For example, the figure on the left-hand side holds a copy of Eduard Manet's The Balcony (1868), while a copy of LIFE magazine obscures another figure's head (in all, approximately 32 versions of images of balconies are in the image). The youthful subjects appear to be teenagers and can be seen as tokens of a fresh generation receptive to Pop art's key principles, which were the breakdown of traditional understandings of the art object and sources, and the reassessment of distinction between art and life. Because each of the painting's references are shown as part of a cohesive whole, carted by figures representing the gimlet eyes of youth, we might ascertain Blake's provoking invitation to regard everything in our midst as valid objets d'art. In fact, Blake made many images of youths and children, tightly cropped and depicted head-on stares throughout the 1950s. It has been argued that head-on stares were more direct and natural than profiles of faces that are considered more sophisticated.

Although On the Balcony may look like a collage, it is actually an oil painting. This is a prime example of Blake's signature technique of making metapictures, or paintings of pictures within pictures. The perceived value between the accumulated imagery disappears amongst this singular plane - a thumb in the eye to the hallowed halls of the institution of painting.

Read More ...

Peter Blake Artworks in Focus:
Peter Blake Overview Continues Below
If you see an error or typo, please:
tell us
Cite this page

Content compiled and written by Anna Souter
Edited and revised, with Synopsis and Key Ideas added by Kimberly Nichols
" Artist Overview and Analysis". [Internet]. . TheArtStory.org
Content compiled and written by Anna Souter
Edited and revised, with Synopsis and Key Ideas added by Kimberly Nichols
Available from:
First published on 19 Nov 2016. Updated and modified regularly.


[Accessed ]