Artists
William Baziotes
Biography and Legacy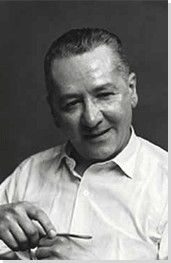 Born: June 11, 1912 - Pittsburgh, Pennsylvania
Died: June 6, 1963 - New York, New York, USA
"It is the mysterious that I love in painting. It is the stillness and the silence. I want my pictures to take effect very slowly, to obsess and to haunt."

Biography
Childhood
William Baziotes was born in 1912 to Greek parents in Pittsburgh, Pennsylvania. His family moved shortly thereafter to the working class city of Reading, Pennsylvania, where Baziotes spent his childhood. As a young adult, Baziotes worked at the Case Glass Company from 1931 to 1933, antiquing glass and doing other chores while taking an evening drawing class. It was in Reading that Baziotes met Byron Vazsakas, a poet who became a good friend and who introduced the painter to the work of Charles Baudelaire and the Symbolist poets, whose writing would have a significant impact on his work throughout his life. Vazsakas encouraged Baziotes to pursue art and Baziotes moved to New York City to study painting in 1933.
Early Training
Baziotes attended the National Academy of Design in New York City from 1933 until 1936 and also studied the work of the Old Masters during this period. He taught in Queens for the Works Progress Administration of the Federal Art Project from 1936 to 1938 and then worked on the WPA Easel Project from 1938 through 1941, where he was paid to stay in his studio and make art. It was in these various jobs that he was introduced to artists working in the Surrealist idiom, many of them European immigrants. He met the Chilean Surrealist painter Roberto Matta who was a proponent of automatic painting and who exerted a large influence on Baziotes. Robert Motherwell, whom he also met during this period, became a close friend. Baziotes married Ethel Copstein in 1941, and they lived in Morningside Heights, New York. One of Baziotes's early group shows was the First Papers of Surrealism exhibition in New York in 1942.
The Surrealist interest in the psychic and subconscious dimension manifested itself in the odd, lyrical forms that populate Baziotes's paintings, with the Spanish painter Joan Miró being a particular inspiration. Many other New York painters in addition to Baziotes, including Adolph Gottlieb, Clyfford Still, and Mark Rothko also turned to what they deemed primitive or mythological forms in an attempt to get at a more universal significance.
Mature Period
Baziotes was a major figure in the galleries, schools, and clubs that constituted the social world of Abstract Expressionism. He had his first solo show at Peggy Guggenheim's Art of This Century Gallery in 1944 and a second one in 1946 at the Samuel Kootz Gallery. Even more important than the galleries were the schools and clubs that the Abstract Expressionists founded and attended. Some of these were quite informal, like the regular discussions that took place at the Cedar Street Tavern on Eighth Street in Greenwich Village. Others were more purposeful. In 1948, Baziotes, along with David Hare, Robert Motherwell, and Mark Rothko, founded the Subjects of the Artist School, a group that, among other things, provided a speakers' forum where American and European artists could address topics of interest for the modern painter.
Late Years and Death
Unlike Rothko and Still, who moved away from mythic symbols and allusions to more purely abstract work, Baziotes's paintings maintained a Surrealist and figurative quality.
Baziotes worked throughout the 1950s as a teaching artist at the Brooklyn Museum Art School, New York University, the People's Art Center at the Museum of Modern Art, and the City University of New York, Hunter College. In 1962, he was included in Sydney Janis's important exhibition Ten American Painters. Baziotes died of lung cancer in 1963.
Legacy
While stylistically Baziotes remained somewhat apart from the main Abstract Expressionists, he exerted a tremendous and shaping influence on many painters at the time. He was one of the first New York artists to actively experiment with automatic drawing and other Surrealist techniques, and he created forums for debate that were central to the New York scene in the 1940s.
Most Important Art
Dwarf (1947)

This work is one of a group of paintings from 1947 that are all distinguished by a single figure dominating the composition. The primitive, grotesque figures are derived from Surrealist biomorphism and are not clearly human or animal. Like The Parachutists (1944), this work is also about war, but without the lighthearted, almost playful quality of the former. Dwarf instead captures the gruesomeness and violence of war in its reference to a mutilated figure without arms who has oversized, sharp teeth. All of the images in the group have concentric circles or spaces in their lower halves that are meant to be suggestive of female genitalia or targets. The works are a good example of the "biomorphic abstraction," that marked much of the artist's output, characterized by organic forms that are familiar, resembling both plants and animals, but that do not coalesce into recognizable shapes. His use of such imagery is perhaps tied to his interest in Symbolist poetry that is characterized by indirect descriptions, making multiple meanings possible.

Read More ...

William Baziotes Artworks in Focus:
William Baziotes Overview Continues Below
If you see an error or typo, please:
tell us
Cite this page

Content compiled and written by The Art Story Contributors
Edited and published by The Art Story Contributors
" Artist Overview and Analysis". [Internet]. . TheArtStory.org
Content compiled and written by The Art Story Contributors
Edited and published by The Art Story Contributors
Available from:
First published on 05 Dec 2014. Updated and modified regularly.


[Accessed ]