Modern Movements and Styles - Full List
Modern Movements in Interwar Modern Art
Display Movements by Period:
1850 - 1914




Early and Pre-War Modern Art
1914 - 1945




Interwar Modern Art
1945 - 1970




Post-war Modern Art
- - - - - - - - - - - - - - - - -
1970 and Beyond




Roots of Contemporary Art
- - - - - - - - - - - - - - - - -
Movements and Styles in Interwar Modern Art
This section provides information about important movements, styles, tendencies, groups, and schools of Modern and Contemporary Art.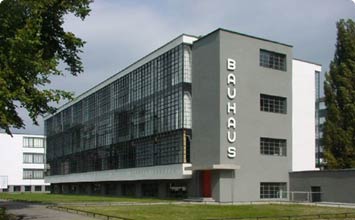 Bauhaus

Bauhaus is a style and movement associated with the Bauhaus school, an extremely influential art and design school in Weimar Germany that emphasized the functionality and efficiency of design alongside its material properties. Prominent teachers include Josef Albers, Walter Gropius, Wassily Kandinsky, Ludwig Mies van der Rohe, and Paul Klee.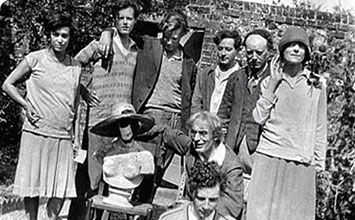 The Bloombury Group Artists

The artists of the Bloomsbury Group were innovative British painters, designers, and art critics Bell, Grant, Wood+ breathed fresh life into the stuffy 1900's art scene.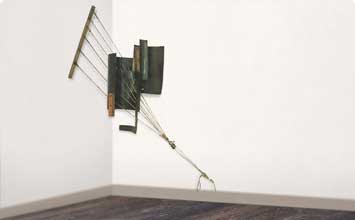 Constructivism

Contructivism was a movement that emerged in Revolutionary Russia among such artists as Vladimir Tatlin, Aleksander Rodchenko, Antoine Pevsner, and Naum Gabo. Celebrating 'art as machine,' it emphasized space, construction, and industrial materials.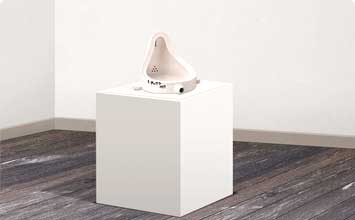 Dada

Dada emerged in the early twentieth century as a literary and artistic movement that celebrated random chance, readymade artworks, and outragous performances. Its practitioners, including Hugo Ball, Tristan Tzara, and Marcel Duchamp, scorned bourgeois conventions of high culture, especially the appreciation for artistic intention and skill.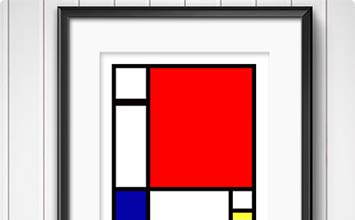 De Stijl

Founded in the Netherlands in 1917, De Stijl was an avant-garde dedicated to isolating a single visual style that would be appropriate to all aspects of modern life, from art to design to architecture. Taking its name from a periodical, its most famous practitioners were Theo van Doesburg and Piet Mondrian, whose mature art employed geometric blocks of primary colors and vertical and horizontal lines.
The International Style

The International Style was a style of modern architecture that emerged in the 1920s and '30s. It emphasized balance, the importance of function, and clean lines devoid of ornamentation. Glass and steel buildings, with less emphasis on conrete, is the most common and pure realization of structures in this style.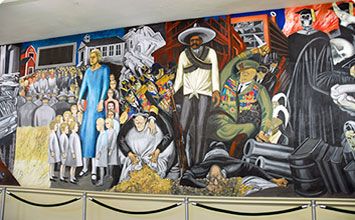 Mexican Muralism

Mexican Muralism was a vibrant movement whose artists created large-scale works, executed in Mexico and the US. Relying on a mixture of Mexican heritage and classical Italian styles, murals were frequently done in a figurative, allegorical style and dealt with political, social, and radical themes.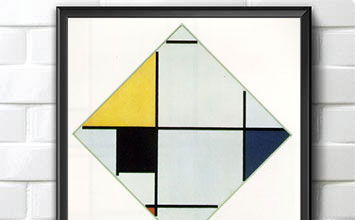 Neo-Plasticism

Neo-Plasticism was the guiding philosophy behind the art of Dutch painter Piet Mondrian and many of his peers in the De Stijl circle. Articulated by Mondrian in 1917-18, the approach stipulates the strict use of only horizontal and vertical lines and the primary colors red, yellow, and blue.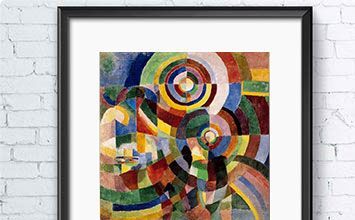 Orphism

Orphism was a French art movement that brought together contemporary theories of philosophy and color. This movement was pioneered by Robert and Sonia Delaunays, a couple who immersed the viewer in dynamic expanses of rhythmic form and chromatic scales rather than the monochromatic Cubist experiments of the time.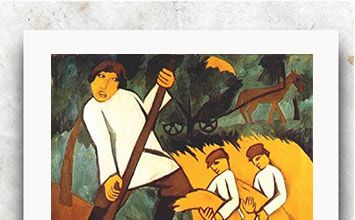 Russian Futurism

After the Russian Revolution, collaborative groups of futurists formed in St. Petersburg and in Moscow, publishing journals, organizing debates, and curating exhibitions of their work. Artists such as Natalya Goncharova, Kasimir Malevich, and Vladimir Mayakovsky reject past approaches and looked to Russian icongraphy, French Cubism, and the avant-garde of Europe for new directions for art-making.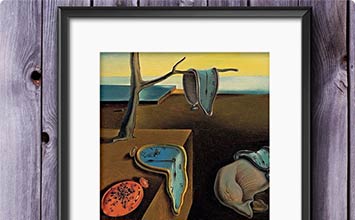 Surrealism
Perhaps the most influential avant-garde movement of the century, Surrealism was founded in Paris in 1924 by a small group of writers and artists who sought to channel the unconscious as a means to unlock the power of the imagination. Much influenced by Freud, they believed that the conscious mind repressed the power of the imagination. Influenced also by Marx, they hoped that the psyche had the power to reveal the contradictions in the everyday world and spur on revolution.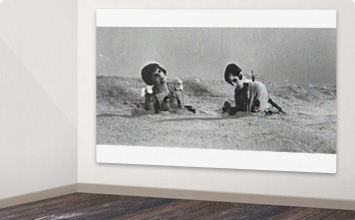 Surrealist Film

Surrealist films, an important part of the greater Surrealism movement, explore, reveal, and possibly even replicate the inner-workings of the subconscious mind in a highly visual and accessible manner.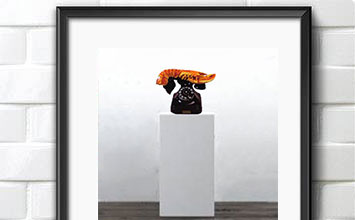 Surrealist Sculpture

The objects and sculptures of Surrealism pierced the veil between reality and our more primitive desires, fantasies, taboos. A number of the Surrealists specialized in making three dimensional objects that conjured images and ideas from the primal, subconscious spaces of their psyches.