LECTURE: Making the Most of MoMA: Insight into the Museum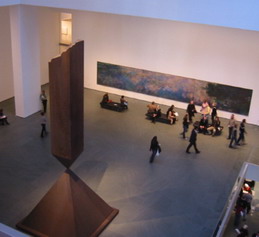 Location:
The Peter Findlay Gallery - 16 East 79th Street, 2nd floor, Manhattan, NY
Date:
Tuesday, October 18th, 2011
Time:
6:00pm Doors, 6:30 Lecture, 7:30 Wine and Cheese reception
Synopsis:
An overview of the Museum of Modern Art, highlighting selections from the permanent collection. Art professional, Nicole Berry, will walk through the main works in the collection with a focus on art history and the organization of the Museum.
Level of Material:
Individuals new to modern art with little or no formal art history education
Price:
Past Event
Related Materials:
The following information pages and educational tools are available on The Art Story website and will be partially utilized during this event.

The Top 50 Greatest Modern Works Timeline

The Modern Art Movements Timeline

Individual Artist Pages such as Cézanne, Picasso, and Pollock



About The Art Story Foundation:

We are a 501c3 organization with the mission to make modern art more accessible and digestible to the general public by providing information that is easy-to-understand, professionally designed, and logically presented. Through our online resources and live lectures, we continue to allow more people to enjoy modern and contemporary art.

We are an emerging organization so please feel free to provide

comments and suggestions

or join our

Mailing List

. Also, please consider

donating

to The Art Story Foundation to help us continue our work.

Visit The Art Story Website


About Nicole Berry and Accessible Art:

Nicole Berry is an art historian, critic, curator and dealer. She has been actively involved in the international art world since 2002- first working in the Contemporary Department at Sotheby's in London then subsequently at three prestigious galleries in New York City. She started her own advising business; leads tours through the often intimidating gallery and museum scene; curates exhibitions; and writes a monthly newsletter reviewing shows and providing information about global art events with a focus on New York City.



Visit Accessible Art Website




About Peter Findlay Gallery:

The Findlay family has a history of over 140 years in the art gallery business. Specializing in modern and contemporary American and European paintings, drawings, sculptures and prints with a focus on secondary market works the gallery now operates from a beautiful space on East 79th street.



Visit Peter Findlay Gallery Website
Disclaimer: The Art Story Foundation, Peter Findlay Gallery, Nicole Berry, and Accessible Art are not affiliated with the Museum of Modern Art in any way.