Modern Sculpture (+Jewish Artists)
Presented by Tobi Kahn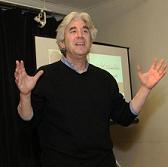 Location:
UJA-Federation of New York
130 E 59th St (between Lex and Park Ave), New York 10022
Date:
Monday, July 23rd, 2012
Time:
8pm start of lecture
Price:
$15
Synopsis:
Tobi Kahn, an award-winning, internationally recognized artist and lecturer, takes the audience through some important themes in sculpture of the last 100 years. The goal of the event is to introduce the audience to artists and ideas, while simultaneously discussing the progression and development of modern art. The lecture will focus on the work of Jacques Lipchitz, Alberto Giacometti, Louise Bougeois, George Segal, and Tom Friedman.
Related Materials:
The following information pages and educational tools are available on The Art Story website and will be partialy utilized during this event.

Modern Sculpture Timeline

The Greatest Jewish Modern Art Achievements Timeline

Artists with Jewish backgrounds highlighted on The Art Story Foundation

About The Art Story Foundation:
We are a 501c3 organization with the mission to make modern art more accessible and digestible to the general public by providing information that is easy-to-understand, professionally designed, and logically presented. Through our online resources and live lectures, we continue to allow more people to enjoy modern and contemporary art.
We are an emerging organization so please feel free to provide
comments and suggestions
or join our
Mailing List
. Also, please consider
donating
to The Art Story Foundation to help us continue our work.

Visit The Art Story Website

About RJeneration:
RJeneration is a community of young ex-Soviet Jews that allows its members to develop their unique multi-hyphenated Russian-American-Jewish identity, rooted in our Soviet experience and immigration journey, and creates a bridge for young Russian-American-Jews to develop their own unique voice and impact within the Jewish community at large.



Visit RJeneration Facebook Page
This event is made possible through a grant by the Blueprint Fellowship project of COJECO, funded by the UJA-Federation of New York and Genesis Philanthropy Group, with support from RJeneration.