The Greatest Jewish Achievements
in Modern Art
Presented by Tobi Kahn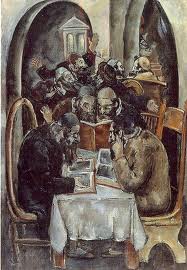 Location:
TACT Studio - 900 Broadway, Suite 905, Manhattan, NY 10003 (corner of 20th St.)
Date:
Tuesday, October 25th, 2011
Time:
6:00pm Doors, 6:30 Lecture, 7:30 Wine and Cheese reception
Synopsis:
Tobi Kahn, an award-winning, internationally recognized artist and lecturer, takes the audience through the most significant achievements in Jewish modern art. Well-known artists and works will be discussed from historical, Jewish, and artistic angles. A wine and cheese reception will follow the presentation.
Price:
Sold Out
Related Materials:
The following information pages and educational tools are available on The Art Story website and will be partialy utilized during this event.

The Greatest Jewish Modern Art Achievements Timeline

Mark Rothko Jewish Themes Overview

This Event was Sold Out

About The Art Story Foundation:
We are a 501c3 organization with the mission to make modern art more accessible and digestible to the general public by providing information that is easy-to-understand, professionally designed, and logically presented. Through our online resources and live lectures, we continue to allow more people to enjoy modern and contemporary art.
We are an emerging organization so please feel free to provide
comments and suggestions
or join our
Mailing List
. Also, please consider
donating
to The Art Story Foundation to help us continue our work.

Visit The Art Story Website

About RJeneration:
RJeneration is a community of young ex-Soviet Jews that allows its members to develop their unique multi-hyphenated Russian-American-Jewish identity, rooted in our Soviet experience and immigration journey, and creates a bridge for young Russian-American-Jews to develop their own unique voice and impact within the Jewish community at large.



Visit RJeneration Facebook Page
This event is made possible through a grant by the Blueprint Fellowship project of COJECO, funded by the UJA-Federation of New York and Genesis Philanthropy Group, with support from RJeneration.